Lemon Zucchini Bread is a forever favorite. Made with gluten-free flour, specks of zucchini, a burst of lemon, and finished with a zesty glaze, you can't go wrong with this flavor combo!
When my garden is loaded with zucchini, I'll also make almond flour lemon zucchini bread and lemon zucchini muffins.
This lemon zucchini bread is one of our favorite quick breads I made to date! It came out fantastic! I added a simple glaze icing for a sweeter, cake-like bread that's more like a dessert. But we still enjoy it for easy breakfast and snack. It is so flavorful and fluffy, you gotta try!
Also here are some other reader favorites and mine too – zucchini banana bread with whole wheat flour, healthy zucchini bread and almond flour zucchini bread. Perfect for baking on a cool summer day during zucchini season and year round!
Why You'll Love This Recipe
Easy: My goal is to create easy, healthy recipes. This zucchini bread is just that! Made in one bowl, with a simple list of ingredients, minimal cleanup, and little time in the kitchen.
Soft and fluffy: Zucchini is known for adding moisture and texture to baked goods. This sweet bread is baked to perfection and comes out light and tender every time.
Gluten-free: This bread recipe is naturally gluten-free and dairy-free.
Versatile: Add flavor, texture, or make it into healthy muffins. I've listed some variations and add-ins below.
Ingredients for Lemon Zucchini Bread
You'll need a few baking essentials and of course, zucchini and lemon, to make this lemon zucchini bread recipe.
Eggs: You'll need large eggs to create structure and add moisture to this cake-like bread.
Lemon: We'll be using fresh lemon juice and fresh lemon zest to really infuse that citrus flavor.
Sweetener: I go through a lot of maple syrup and honey, especially to make healthy dessert recipes. They're slightly better than refined sugar, add moisture, and flavor. Other liquid sweeteners will work also but they will change the taste a bit.
Oil: Adds richness and gives zucchini lemon bread a tender texture. Use a mild oil so you taste the other flavors and not the oil. I like avocado oil, some readers use vegetable oil or canola oil.
Vanilla extract: Certainly a pantry staple! It enhances the overall flavor in all baked goods, and pure vanilla extract will give you the best results.
Baking essentials: Small quantities of baking powder and baking soda provide lift and texture, and salt enhances the flavor of all ingredients.
Gluten-free flour: I tested this bread with Bob's Red Mill 1:1 gluten-free baking flour and I was very happy with the results. You can try this recipe with another gluten-free brand, but any other type of flour will not work.
Zucchini: I have many healthy zucchini recipes! This hidden green veggie helps add moisture, gives a boost of nutrition, and becomes sweeter when cooked or baked with a mild enough flavor that's not overpowering. You do not need to peel or squeeze the zucchini, see the FAQ section below.
Icing sugar: A zesty lemon icing is the perfect finishing touch, I combined icing sugar with lemon juice for a simple glaze. You can make it any thickness you like by adjusting the amount of sugar and juice.
How to Make Lemon Zucchini Bread
Here's an overview of how to make this zesty lemon zucchini bread. I kept it quick and simple, all you'll need is 2 bowls and a loaf pan.
There is a full recipe card below.
Before you start mixing, preheat the oven to 350 F. Spray a 9 x 5 non-stick loaf pan with cooking spray, and set aside.
Mix wet ingredients: Whisk the eggs, lemon zest, lemon juice, maple syrup and vanilla extract in a large bowl. Then add in the baking powder, baking soda, and salt and whisk until smooth and foamy with no lumps.
Add flour and zucchini: Gently fold in the flour, the batter will thicken. Then stir in the shredded zucchini until evenly incorporated.
Bake: Pour the batter into the greased loaf pan, level with a spatula, and bake for 60-70 minutes. Your bread is ready when a toothpick inserted in the middle comes out clean.
Cool: Once you've removed the bread from the oven, keep it in the pan. Transfer it to a wire rack and let it cool for 10 minutes. Then remove bread from the loaf pan to cool completely before topping with the glaze.
Make lemon glaze: In a separate small bowl, whisk icing sugar with lemon juice. Drizzle the lemon glaze on top of cool bread then sprinkle with lemon zest. I let the glaze set for about 1 hour before slicing.
Do You Shred or Grate Zucchini for Zucchini Bread?
A great question that comes up all the time. First of all, do not peel or seed zucchini. I like to grate it on the medium size of a box grater. You do not want to use the very small holes on one side or the very large holes on another side which is used for shredding.
When you grate the zucchini, it's easier to hide. It almost disappears completely, you'll just see the faintest green specs throughout the loaf.
It's also important you do not squeeze the liquid. The excess water from the zucchini will release while the bread bakes, giving it more moisture.
And lastly, pack the grated zucchini into a measuring cup, just as you would when measuring brown sugar.
Tips for Best Results
Make light, tender, ultra-moist zucchini lemon bread by following these tips.
Use fresh lemons: I would like to highlight that fresh lemon makes a world of difference, bottled lemon juice doesn't have that bright, vibrant flavor.
Zest only top layer of lemon: It's easiest to zest the lemon first, before cutting it in half. I like this zester, you can also use the small holes of the box grater. When you zest, make sure to only zest the outer layer, the white layer has a bitter taste.
Remove lemon seeds: After cutting the lemons in half, remove the lemon seeds before squeezing the lemon.
Measure flour correctly: Always use the scoop and level method when measuring flour. Use a spoon to scoop the flour into the measuring cup, then use the back of a knife to level off the measuring cup. If you scoop right out of the bag your bread might be dense and dry from too much flour.
Let bread cool: For glazing. If you glaze it while bread is still warm the glaze will drip. That's what I tried, and I didn't love the results.
Glaze tips: Feel free to mix water or milk with the powdered sugar for less lemon flavor. Water will have a more neutral taste, and milk will yield a creamier icing. Start with 3 teaspoons, then add half teaspoon at a time after that.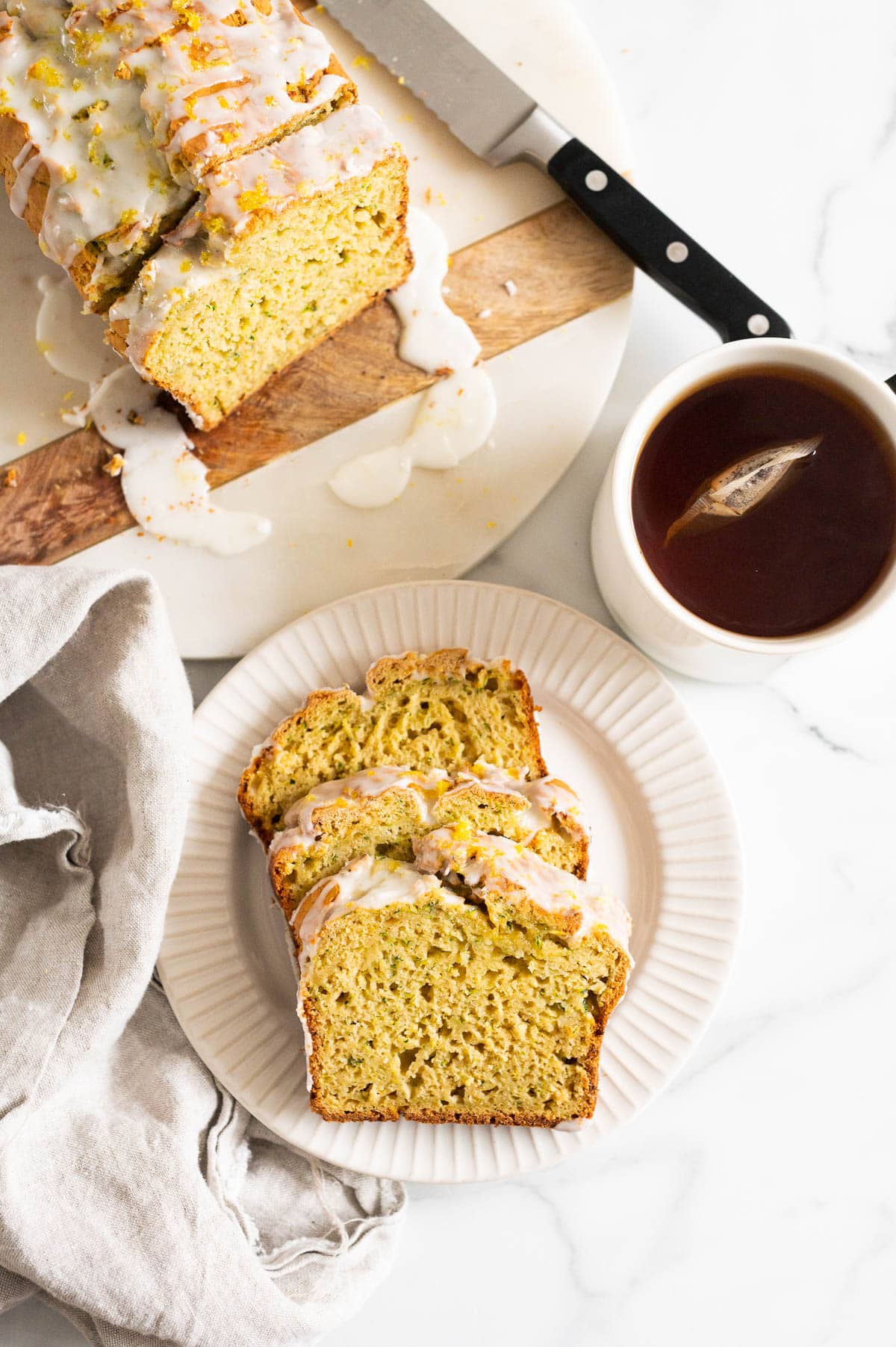 Variations and Add-Ins
Here are some easy variations and add-ins to experiment with. I've tried a few already and can't wait to try the rest.
Coconut flakes: I sprinkled coconut flakes on top and let me tell you, it was delicious! That added texture and flavor screams Spring and Summer. You can use unsweetened coconut, sweetened coconut, or lightly toasted coconut flakes.
Blueberries: A great way to enjoy summer flavors year round. Add some fresh blueberries or thawed frozen blueberries to the batter for a savory lemon blueberry loaf.
Poppy seeds: I haven't added poppy seeds to this recipe, however, it is a classic combination and we love my healthy lemon poppy seed bread made with almond flour.
Almond extract: Add a nutty taste and swap vanilla extract with almond extract. If you really want to bring out the almond flavor you can add sliced almonds on top too!
Make muffins: Muffins are great for grab-and-go. Follow the same recipe, pour batter into muffin pan openings, and bake for a total time of 22 – 25 minutes until toothpick comes out clean.
Omit the lemon glaze: Make this zucchini bread healthier by skipping the lemon glaze.
How to Store
Store: Keep the bread covered at room temperature in a cool dry place for up to 3 days. After that, store any leftovers in the fridge for another 2 days.
Freeze: I'll often double the recipe so we can enjoy one right away and freeze one for later. The loaf will keep in the freezer for up to 3 months, but do not glaze the loaf. Store in an airtight container or double wrap it with plastic wrap and aluminum foil.
FAQs
Do you peel the skin of zucchini?
No, leave the skin on for extra nutrients without the zucchini taste. Zucchini skin is thin and disappears once baked, so save time and leave the skin on.
Do you get excess moisture out of zucchini?
No, do not squeeze the shredded zucchini. The extra water content helps make the quick bread moist. Just grate, mix, and bake.
What if my bread is browning too quickly?
This is unfortunately common with some ovens. To stop the outside from burning, cover the bread loosely with parchment paper about half way through baking.
What if my bread is underbaked?
Remember all ovens vary. Always bake until a toothpick comes out clean. If your bread is underbaked try to bake longer. And next time try baking at 375 degrees F.
More Zucchini Recipes to Try
More Lemon Recipes to Try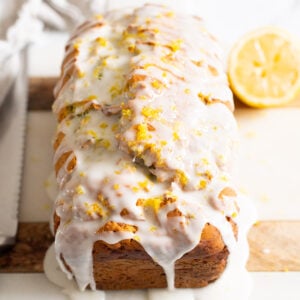 Lemon Zucchini Bread
This Lemon Zucchini Bread is made with gluten-free flour, specks of zucchini, a burst of lemon, and finished with a zesty glaze!
Ingredients
For Lemon Zucchini Bread:
Instructions
Preheat oven to 350 degrees F and spray 9 x 5 non-stick loaf pan with cooking spray. Set aside.

In a large mixing bowl, add eggs, lemon zest, lemon juice, maple syrup and vanilla extract. Whisk well. Then add baking powder, baking soda, and salt. Whisk until no lumps are visible. Mixture will be foamy.

Add flour and gently mix, batter will be thick. Then add zucchini and stir until incorporated.

Transfer batter into previously prepared loaf pan and level with spatula. Bake for 60-70 minutes or until the toothpick inserted in the middle comes out clean.

Remove bread from the oven and transfer to a cooling rack to cool off for 10 minutes. Then remove bread from a loaf pan and let it cool completely, so the glaze can stick to it.

In a small bowl, whisk icing sugar with lemon juice until lemon glaze forms. Drizzle it on top of cool bread and sprinkle with lemon zest. Let glaze set for about 1 hour and then slice with sharp serrated knife.
Notes
Store: Store bread covered in a cool dry place for up to 3 days. After refrigerate for another 2 days.
Freeze: In an airtight container for up to 3 months.
Feel free to add 1/2 cup blueberries or 1 tablespoon of poppy seeds to the batter.
Nutrition
Serving:
1
slice
|
Calories:
250
kcal
|
Carbohydrates:
47
g
|
Protein:
6
g
|
Fat:
6
g
|
Saturated Fat:
1
g
|
Trans Fat:
0.01
g
|
Cholesterol:
56
mg
|
Sodium:
335
mg
|
Fiber:
4
g
|
Sugar:
20
g