25 minute low carb and healthy Pad Thai Zucchini Noodles is a crunchy and healthy salad version of the classic noodle dish. It's made with zoodles, shrimp, eggs and a peanut sauce.
Best of all you can swap out the shrimp for fried tofu recipe or air fryer tofu recipe for a meat-free version!
This Pad Thai zucchini noodles recipe is a cold salad take on a noodle dish traditionally served warm! It's a low carb version containing all the things we love in classic Pad Thai and is packed with crazy flavor.
Crunchy fresh veggies, combined with lightly browned tofu, scrambled eggs, juicy shrimp, and roasted peanuts all "drowning" in a healthy version of Pad Thai sauce.
Pad Thai zoodles get even better the next day! This recipe is a must try for a hot summer day with a lot of leftovers that everyone will be fighting for.
It's a dish great for satisfying your take out Pad Thai cravings without all the hassle and extra sodium because making this crunchy salad version at home in under 30 minutes is easy, fresh, and healthy!
Ingredients You'll Need
Wherever possible use in season local produce. Here's everything you need to make this drool worthy lighter Pad Thai recipe.
Zucchini: To form them into zoodles I use a veggie spiralizer. If you have a mandolin or even a veggie peeler, you can use those to form your strands.
Shrimp: The shrimp should already be cooked so you can decide to add them cold or heated through.
Eggs: You can use the whole egg or just the egg whites if you prefer.
Tofu: I highly recommend organic firm tofu.
Veggies: I used a combination of red bell pepper, bean sprouts, and green onion for crunch and color.
Peanut butter: Unsalted and smooth is the way to go. Smooth just makes for a silky consistency for the sauce.
Soy sauce: For a gluten free alternative, use Bragg liquid aminos. This can also be used in place of the fish sauce if you prefer, or just don't have any on hand.
Maple syrup: Adds the sweet to the salty for a delicious combination. Honey can also do the job!
Lime juice
What I loved about this salad is that it's a full meal with variations to suit your family's taste.
How to Make Pad Thai with Zucchini Noodles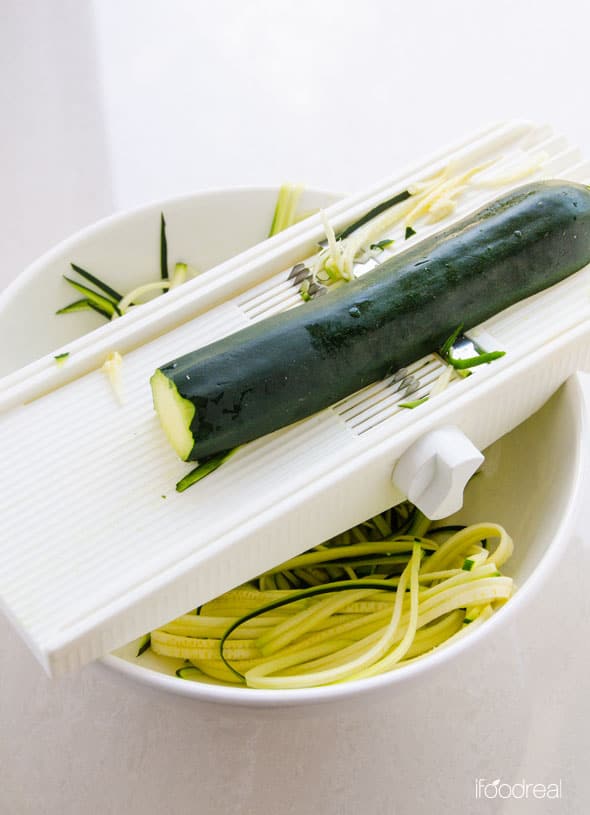 To make zucchini noodles, use a mandoline, spiralizer, or a vegetable peeler. The last one is a bit more time-consuming and yields less than perfect noodles but it's a cheaper and more accessible alternative.
Pour all sauce ingredients into a blender or food processor and blend until smooth. Set that aside for later.
Spray a large skillet with cooking spray and make scrambled eggs over medium heat. Transfer them to a large salad bowl.
Wipe that same skillet down, or rinse if you need to. Place it back over medium high heat and cook the tofu with a bit of salt until golden brown, stirring occasionally. Watch that they don't burn. When they're done they're going into the same bowl to join their egg friends.
Add the remaining ingredients for Pad Thai zucchini noodles into the bowl and pour the dressing overtop.
Mix gently, and enjoy!
I like to enjoy this cold as a salad, but it could easily be served warm too.
Variations
Veggie Options
Carrot, cut into thin matchsticks
Sliced radish
Mushrooms
Broccoli
Protein Options
Swap shrimp for crab
Chicken for tofu
Use tempeh rather than tofu, or a bit of both
How to Meal Prep this Salad?
There are a few different components to this salad, such as cooking the shrimp, the eggs, and the tofu. Also, spiralizing the zucchini and chopping veggies. Then you've got the sauce to make.
All of these things can be done ahead of time. Store separately in the fridge overnight and assemble the salad the next day.
Make extra sauce because it can be used for many other Thai dishes.
How to Store Leftovers?
Refrigerate in an airtight container for up to 2 days. It's great to pack up for lunch the next day.
More FAQs
Can I make this a vegetarian dish?
Absolutely! Omit the shrimp and replace it with extra tofu or an increase in veggies. Stick to the soy sauce and don't use any fish sauce.
Can I swap the zucchini noodles?
Sure! You can absolutely take this back to the original version of using rice noodles. Your choice whether you want to serve it warm like a pasta dish or cold like a cold pasta salad!
Can I serve this salad warm?
Zucchini noodles are perfectly delicious when eaten raw, especially when surrounded by all these great flavors. If you want to cook them lightly and enjoy this healthy Pad Thai zucchini noodles recipe warm, you can.
More Thai Inspired Recipes
More Low Carb Zucchini Recipes
You might also enjoy this list of healthy zucchini recipes!
Pad Thai Zucchini Noodles
25 minute low carb and healthy Pad Thai Zucchini Noodles is a crunchy and healthy salad version of the classic noodle dish.
Instructions
In a blender or food processor, make the dressing by processing peanut butter, warm water, soy sauce, rice vinegar, fish sauce, maple syrup and lime juice until smooth. Set aside.

Preheat large skillet on medium heat, spray with cooking spray, add eggs and cook until scrambled. Transfer to a large salad bowl.

Wipe clean or rinse the skillet, return to medium-high heat, swirl oil to coat and add tofu with a pinch of salt. Cook until somewhat golden brown, stirring occasionally and watching closely not to burn. Transfer to the bowl with eggs.

Then add shrimp, zucchini, bell pepper, bean sprouts, peanuts, cilantro, and green onion. Pour dressing over the salad, mix gently and serve cold.
Notes
Omit shrimp for vegan or vegetarian version.
Skip tofu or substitute with cooked diced chicken.
No fish sauce? Sub with soy sauce.
Store: Refrigerate covered for up to 2 days.
Nutrition
Calories:
279
kcal
|
Carbohydrates:
14
g
|
Protein:
22
g
|
Fat:
16
g
|
Saturated Fat:
3
g
|
Cholesterol:
165
mg
|
Sodium:
855
mg
|
Fiber:
4
g
|
Sugar:
9
g