Healthy Protein Cookies are soft, chewy, and packed with protein powder, peanut butter, oats, bananas and no added sugar. With only 5 ingredients, they are easy and delicious!
Other high protein treats we love include chocolate protein cookies, banana protein bread and no bake protein cookies.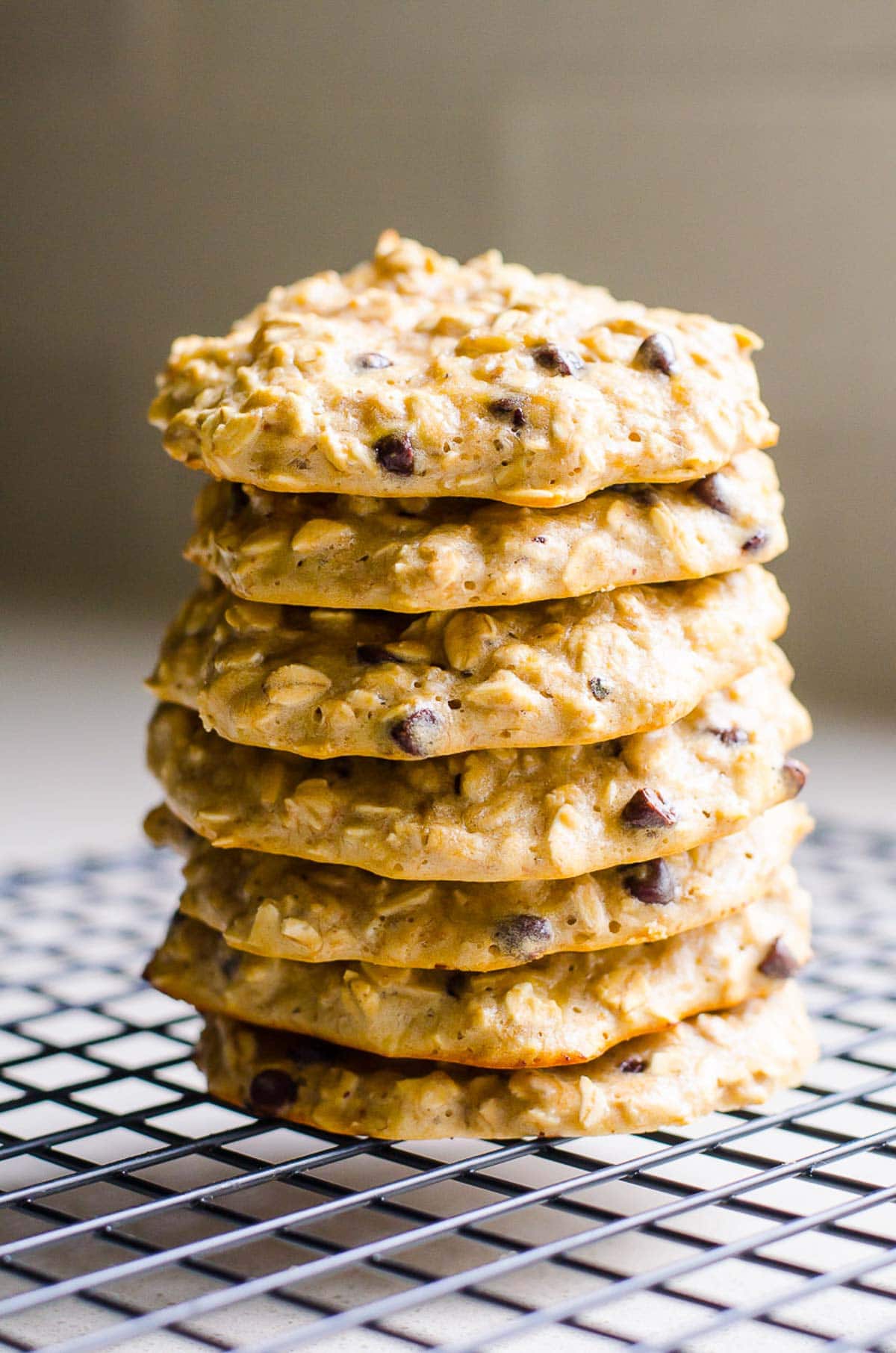 As much as I love other protein powder recipes like homemade protein bars, protein muffins and this protein pancake recipe, these protein cookies are the way to go!
In fact, they're such a versatile crowd pleaser, I have been making them since 2012.
You've probably noticed the abundance of protein cookies flooding grocery stores aisles. While they advertise tons of delicious sounding options, they're filled with weird ingredients, aftertaste, and a hefty price tag!
In comparison, these protein oatmeal cookies are naturally sweetened, use almost entirely normal pantry ingredients, and are affordable.
Plus, they're perfect for meal prep as part of breakfast, healthy snack, dessert, or an addition to lunchboxes. Best of all, each peanut butter cookie with protein contains just 92 calories and 6 grams of protein!
Ingredients You'll Need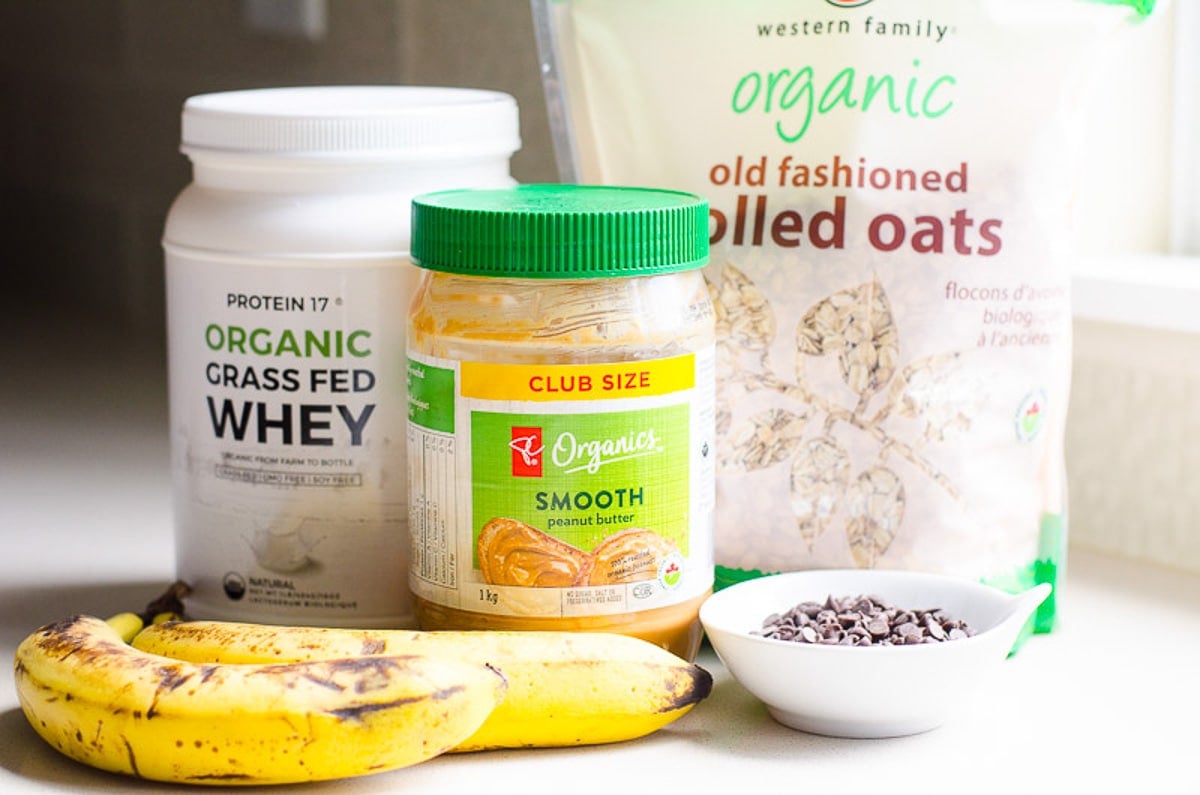 With only 5 ingredients and one bowl, these protein packed cookies are simple to whip up in less than 20 minutes and so easy to customize!
Bananas: Use overripe bananas for this recipe, as they're sweeter. Choose bananas with lots of brown spots or almost entirely brown for the best results. Here is a quick tutorial how to ripen bananas faster.
Peanut butter: I prefer to use organic natural peanut butter with no additives. However, technically any peanut butter including crunchy peanut butter will work.
Oats: You can use rolled oats or quick oats. Rolled oats are my preferred option. Save your steel cut oats for Instant Pot steel cut oats.
Protein powder: I use unflavored whey protein powder or vanilla protein powder. I recommend using a brand with minimum ingredients, preferably organic and grass-fed.
Chocolate chips: While optional, I love chocolate chip protein cookies! I use either semi-sweet, dark, or even sugar free chocolate chips. Cacao nibs would also work but won't add sweetness at all.
How to Make Protein Cookies
Preheat the oven to 350 degrees F, then line a cookie sheet with parchment paper, or use a silicone baking mat sprayed with cooking spray.
In a large bowl with a fork mash bananas. Add the protein powder, oats, and peanut butter and mix well until thoroughly combined. If you're using them, add chocolate chips now, too.
The oatmeal protein cookie dough consistency should be fairly runny.
Depending on the type of oats, peanut butter, ripeness of the bananas, and the protein powder used, this may vary.
Use a measuring spoon or small scoop for even-sized cookies. The cookies don't spread, so you can 'shape' them now.
For smaller cookies, bake for 12 minutes. For larger cookies, try 14 minutes.
Allow the protein oatmeal cookies to cool on a cooling rack for a few minutes before enjoying!
What Protein Powder Is Best for Baking These Cookies?
While I go over this in my banana protein muffins too, here is the short recap.
I recommend using a whey protein powder like this one from Organic 17. I prefer plain or natural flavor, but flavored powders also work. Just know your cookies will be sweeter and sugar count may change.
While some recipes, like my pumpkin protein bars, work better with plant based protein powders, this one does not. Vegan protein powders contain very absorbent ingredients like peas, rice, which leads to dry cookie results.
Tips for Best Protein Cookie Recipe Results
For those wanting exact nutrient calculations: I suggest plugging this recipe into a nutrient calculator yourself as the peanut butter, protein powder, and any add-ins can affect the values.
Frozen bananas: This is a great way to use up old bananas! Just be sure to thaw them first.
Quick oats: While technically could be used, due to them being more finely milled, they tend to dry out the cookies, so I avoid them, if possible.
Use whey protein powder you like: This is critical as it will affect the flavor of the protein cookies a lot, so don't use protein powder you've bought, hated, and are trying to use up. Been there, done that.
Dietary and Flavor Variations
I love how easy it is to adapt these oatmeal protein powder cookies. The amount needed will vary based on personal preference, but I usually add about 1/4 cup of add-ins altogether.
Flavored protein powder: The easiest way to adapt the flavor of these protein cookies is with flavored protein powder, chocolate protein powder, mocha, coconut almond or your favorite flavor.
Spices: Cinnamon, nutmeg, cardamom, pumpkin spice, vanilla extract, or ginger.
Nuts or seeds: Add in crushed nuts like pecans, almonds, cashews, hazelnuts, walnuts. Seeds also work, chia, flaxseed, sunflower, pumpkin.
Dried fruit: Dates, cranberries, blueberries, raisins, sultanas, etc. You could also use fresh citrus zest like lemon, lime, or orange.
Sweetener: These chocolate chip cookies with protein are naturally very subtle with sweetness. Add a little low GI coconut sugar, monk fruit sweetener, maple syrup, date syrup (or honey) for added sweetness.
Coconut: A little shredded coconut or flaked coconut will add flavor and texture to the soft chewy protein powder cookies.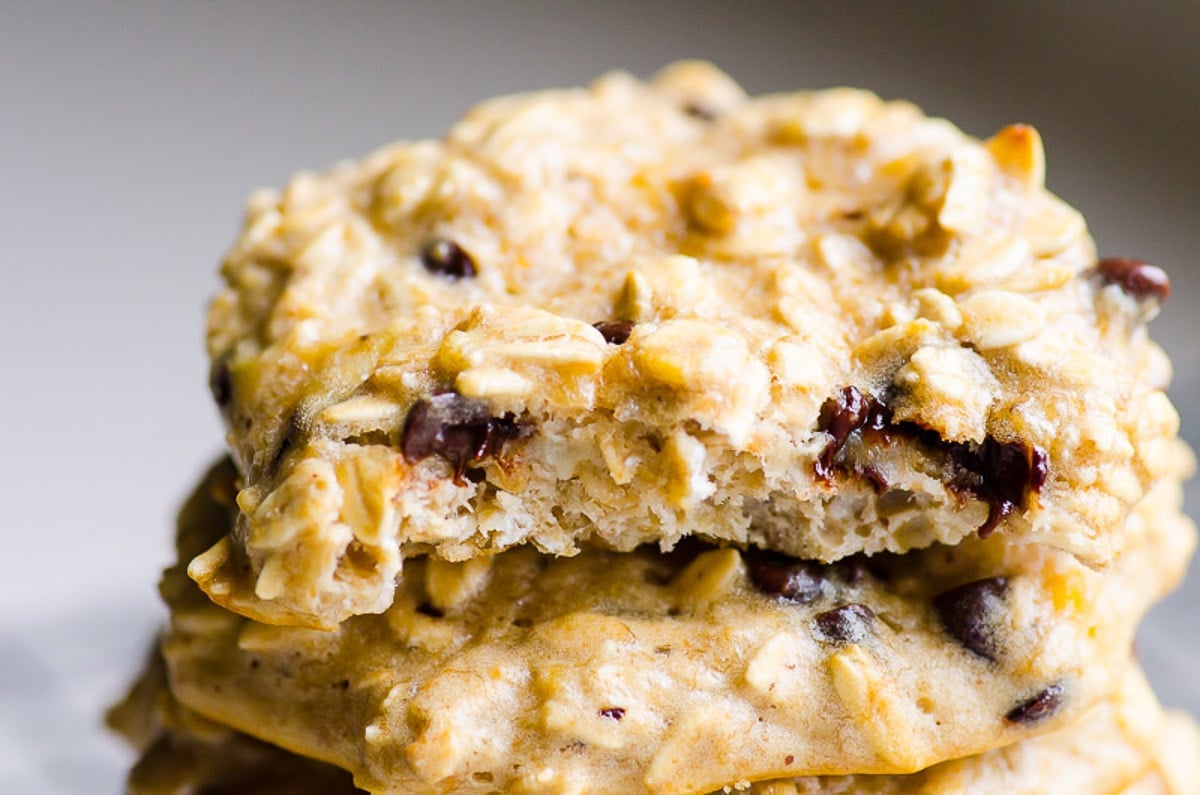 Storing and Freezing Tips
Make Ahead: Prepare the protein cookie dough and freeze it for up to 3 months, then thaw before shaping and baking. You can also pre-scoop and shape the cookies before freezing.
Storing: The baked peanut butter banana oatmeal cookies can be stored in an airtight container in the refrigerator for 1 week.
You can enjoy these oatmeal protein cookies cold or warmed up in the microwave for a few seconds, first. I love one cold in the summer with healthy frappuccino recipe!
Can I freeze protein cookies? Absolutely. You can freeze these for up to 3 months in an airtight container.
FAQs
Are protein cookies healthy?
While many popular brands like Quest or Lenny and Larry's might claim to be healthy, on closer inspection you may see that they are also filled with sugar, processed oil and less than desirable ingredients that can be hard on digestion.

By making your own cookies with protein at home, you have complete control over the ingredients! These cookies are packed with whole food, clean ingredients and contain no added sugar. They are a healthy choice and contain only 11g carbs, 3g fat and 4g of sugar!
What can I substitute for the peanut butter?
Peanut butter is an integral part of these healthy protein cookies. However, if you're unable to consume peanut butter, you could try this recipe with almond butter, tahini or sunflower seed butter.

A few readers have successfully used PB2 instead but I haven't tried.
What can I use instead of bananas?
Unfortunately nothing I am aware of. They are an integral part of the recipe. Any extract like orange or lemon extract will help mask their flavor though. On the other hand if you love bananas like I do, check out these other 10 healthy banana snacks!
How can I use a plant based protein powder?
First, I don't recommend this substitution due to these powders being too absorbent.

However, if you want to experiment with vegan protein powder, I recommend using 1/2 the amount, to begin with. You can then naturally boost the protein with additions like chia seeds and other high-protein nuts or seeds.
More Healthy Cookie Recipes
Protein Cookies Recipe
Healthy Protein Cookies are soft, chewy, and packed with protein powder, peanut butter, oats, bananas and no added sugar!
Instructions
Preheat oven to 350 degrees F. Line large baking sheet with unbleached parchment paper or silicone baking mat, and spray with cooking spray.

In a medium bowl, mash bananas with a fork. Add whey protein powder, oats and peanut butter. Stir well to combine, batter's consistency will be runny. Add chocolate chips and give a few more stirs.

Spoon mixture onto prepared baking sheet (cookies don't spread, so shape them now) and bake for 12-14 minutes (depending on size). Cool on a cooling rack for 5 minutes.
Notes
Store: Refrigerate in an airtight container for up to 1 week.
Freeze: For up to 1 month. The best way to defrost protein cookies is in a microwave. That way the moisture and softness is restored.
Flavored protein powders: You can use vanilla whey, just make sure you buy unsweetened one.
Can I use plant-based protein powder? No. It contains very absorbent ingredients like peas, rice, which yields dry cookies. For that reason, I don't recommend the substitution.
Can I use previously frozen bananas? Yes. Just make sure to thaw them before using.
Can I use quick oats? You can technically, however due to them being more finely milled, they tend to dry out the cookies, so I avoid them.
Nutrition
Serving:
1
cookie
|
Calories:
92
kcal
|
Carbohydrates:
11
g
|
Protein:
6
g
|
Fat:
3
g
|
Saturated Fat:
1
g
|
Cholesterol:
8
mg
|
Sodium:
23
mg
|
Fiber:
1
g
|
Sugar:
4
g