These Chocolate Quinoa Muffins are moist, flavorful, and absolutely packed with protein a perfect way to start the day or for a pre/post healthy muffins workout snack! Even better, this recipe is gluten-free and can be made dairy-free!
Plus, if you're looking for more high-protein snacks to add to your rotation, how about these protein cookies, homemade protein bars, or coconut protein balls?
I would go for one of these chocolate quinoa muffins in a heartbeat right now but they are all gone. We ate some, kids-neighbors ate some and friends-neighbors ate some. Honestly, I do not run with a tray of freshly baked goodies in my hands, towel on a shoulder, and tripping on Lego offering muffins to whoever comes in the door.
I know we love our clean food but not everybody does. And I do not want to see sour faces or worse than that it goes to waste, honestly. I do not throw away my hard-earned $ organic food, period. I always cringe inside when someone wants to try my treat.
Between healthy zucchini muffins and healthy pumpkin brownies, you tend to get a bit of a 'marmite' effect; people either love them or hate them! That's just the way it is! Luckily, I've worked hard to try and make it so that it's the former!
But these chocolate quinoa babies were gone in a matter of hours.
I used plain cooked quinoa, not flakes and not grinded. I always try to go the simplest route first, only simpler is using uncooked like I do in quinoa granola bars. I just hate extra special items like quinoa flakes or washing an extra appliance. Then I thought to make chocolate muffins. Considering quinoa does have a unique taste, chocolate is a great candidate to hide it.
And while this isn't the first time I've used quinoa for sweeter treats (I love this blueberry quinoa breakfast bake, and it's an excellent addition to healthy granola), the majority of the time this high-protein grain is used in lunch and dinner recipes – like Mediterranean quinoa salad and black bean quinoa casserole.
To further mask the quinoa taste I added coconut oil and coconut flakes. That always works plus makes muffins moist.
I decided to keep chocolate quinoa muffins gluten free because the whole point of quinoa muffins is meant to be gluten free, I think. I could add whole wheat flour and muffins would be bigger and fluffier but that would make whole wheat chocolate muffins. I wanted moist and denser muffin but yet soft. So, I used almond meal instead; which is quickly becoming one of my favorite flours.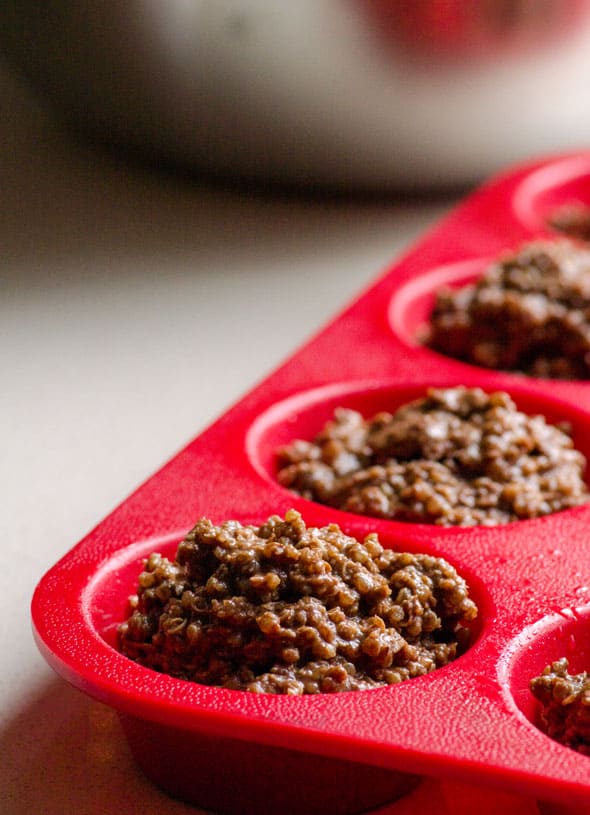 Another benefit of not using whole wheat flour is that you need less sweetener as almond meal and quinoa do not really expand. So, all I used was 1/4 cup maple syrup. Raw honey would be great as well but honestly I was too lazy to unscrew the lid, dig in the jar, get it out off the measuring cup. Whereas maple syrup flows easily from a jug. I had my quinoa stuffed eggplant in the oven so I was rushing.
These were fantastic nutrient-dense chocolate quinoa muffins! Give them a try, they are not as weird as I thought. Now, beetroot muffins would be awkward but not chocolate coconut flour muffins, right?!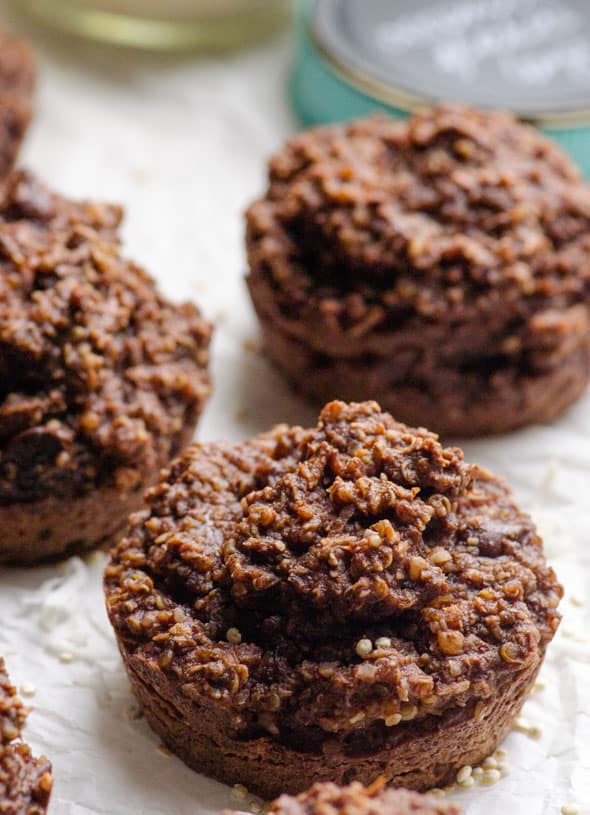 More Healthy Muffin Recipes
Browse through all my favorite healthy muffin recipes!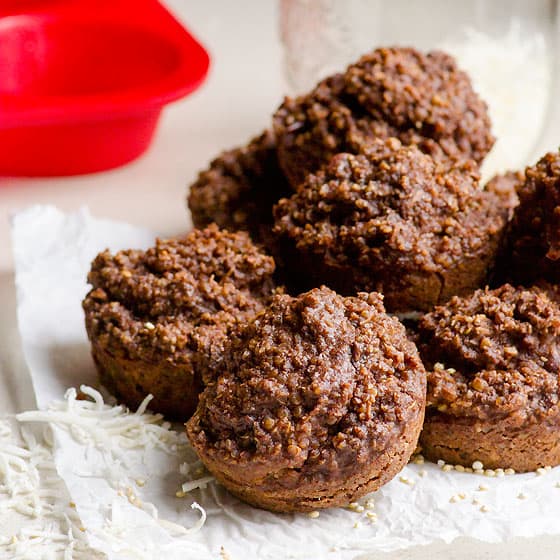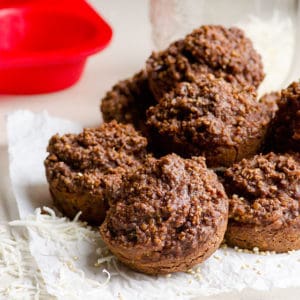 Chocolate Quinoa Muffins
Chocolate Quinoa Muffins that are low in sugar and made with cooked quinoa. Clean eating and gluten free muffins loved by all.
Instructions
Cook quinoa as per package instructions. Follow my how to cook quinoa on the stove or Instant Pot quinoa method for perfect results. Let it cool to room temperature so you do not end up with scrambled eggs.:)

Preheat oven to 375 degrees F and line muffin tin with liners or use

silicone muffin tin

. Spray with cooking spray.

In a large mixing bowl, whisk the eggs. Add milk, applesauce, coconut oil, maple syrup, cacao powder, vanilla, baking powder and salt; whisk well to combine. Add cooled quinoa, almond meal, coconut flakes and chocolate chips; stir well to combine.

Using large ice cream scoop, divide batter between 12 openings. Bake for 20 minutes. Remove from the oven and let cool for 10-15 minutes.
Notes
Store: Store in a cool dry place for up to 3 – 4 days.
Freeze: In an airtight container for up to 3 months.
Nutrition
Serving:
1
muffin
|
Calories:
207
kcal
|
Carbohydrates:
18
g
|
Protein:
5
g
|
Fat:
14
g
|
Saturated Fat:
8
g
|
Cholesterol:
27
mg
|
Sodium:
120
mg
|
Fiber:
3
g
|
Sugar:
8
g