Baked Chicken Caprese combines the fresh Italian flavors of tomato, basil, and mozzarella cheese. This delicious skillet recipe is ready in less than 40 minutes!
If you love the sweet flavor of tomatoes, try caprese chicken zucchini tomato skillet and chicken with tomatoes recipe.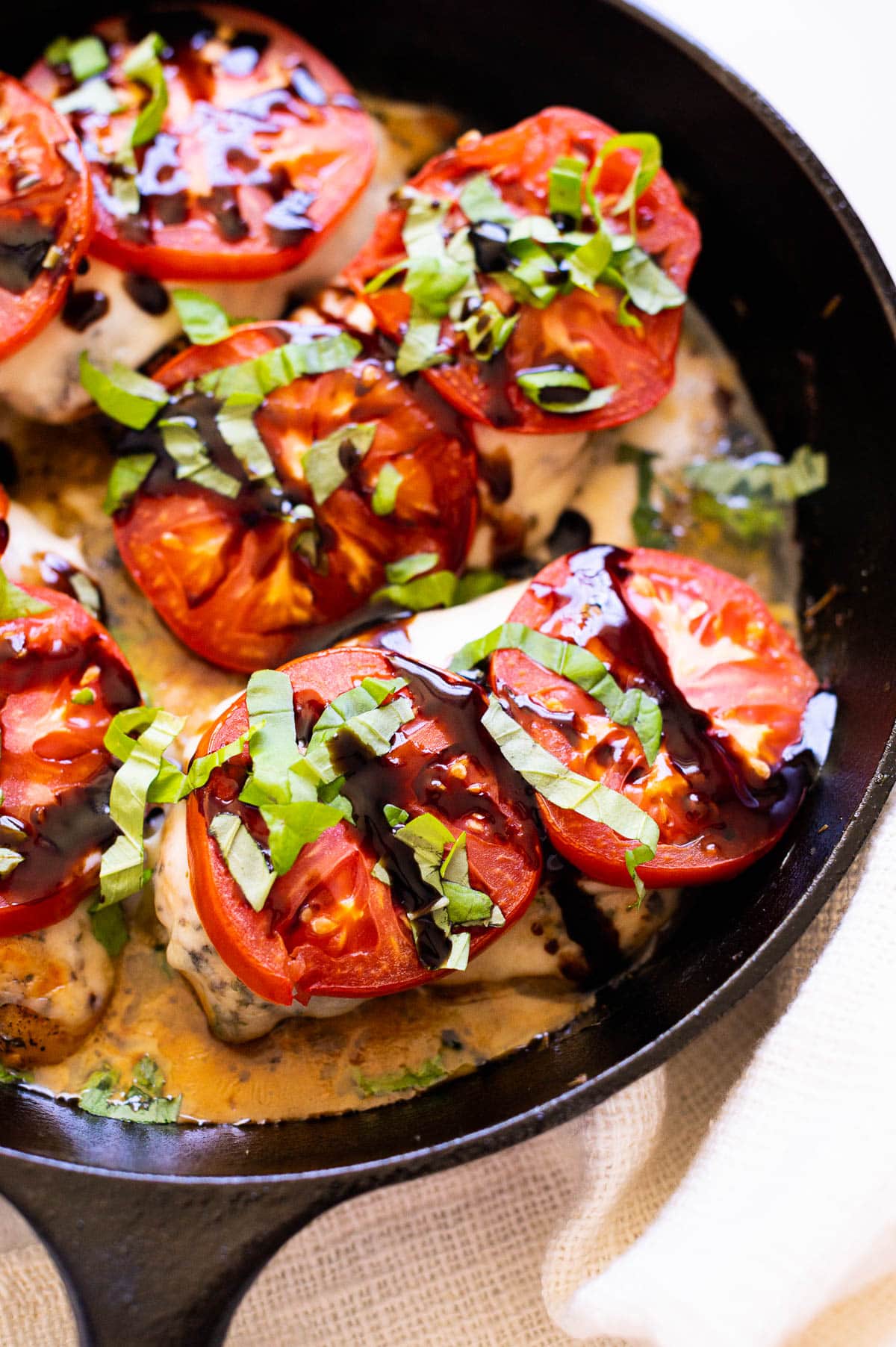 What Is Baked Chicken Caprese?
Baked chicken caprese is inspired by one of my favorite Italian appetizers, the caprese salad.
Perfectly seasoned chicken breasts are topped with melted mozzarella cheese and vibrant tomatoes, then drizzled with a sweet and tangy balsamic glaze, and garnished with fresh basil.
This caprese chicken is an easy but fancy chicken recipe that will always impress!
Other delicious twists on the caprese salad are caprese pasta salad and caprese pasta.
Ingredients for Chicken Caprese
You'll need a small handful of simple ingredients to make flavorful baked chicken caprese.
How to Make Chicken Caprese
Make baked chicken caprese in 4 simple steps. Here is a quick overview, there is a full recipe card below.
Tips for Best Results
Here are my top tips for this amazing chicken caprese recipe.
Variations
Here are some easy ways to get creative and add even more flavor to this chicken caprese recipe.
What to Serve with Chicken Caprese?
Easy baked chicken caprese is a healthy, one pan meal that pairs well with so many sides.
It sits beautifully next to roasted asparagus, healthy Caesar salad, Instant Pot baked potatoes, zucchini tomato bake or tomato mozzarella salad.
Another great option is to serve this delicious chicken beside or on top of rice, quinoa, spaghetti, or spaghetti squash noodles.
How to Store
Store: Store leftover chicken in an airtight container for up to 3 days. I prefer to store chicken breasts whole to retain the most moisture.
Reheat: For best results, heat oven to 350 F, place chicken in a casserole dish, and reheat. You can also microwave until just warm.
Freeze: Cool baked caprese chicken completely and freeze in an airtight container for up to 3 months. I recommend removing the tomato before freezing as it will turn mushy when thawed.
Thaw in the fridge overnight or on a counter for a few hours. Top with fresh tomato and heat in oven.
FAQs
How long should I bake caprese chicken?
Depending on the size of the chicken breasts, caprese chicken will need to bake for 20-25 minutes at 400 F.
How do I know when chicken is done?
Insert an instant read thermometer into the thickest part, chicken is fully cooked when it reads 165 F.
Is it better to bake chicken at 350 F or 400 F?
You should bake chicken breasts at a higher temperature to seal in the juices. For this reason I prefer baking at 400 F.

They also cook faster than at 350 F and you always end up with juicy chicken breast.
Why is my baked caprese chicken dry or rubbery?
Dry or rubbery caprese chicken is a result of overcooking. The longer it cooks the more moisture it loses.
More Chicken Recipes to Try
Baked Chicken Caprese
Baked Chicken Caprese is delicious skillet recipe with fresh Italian flavors ready in less than 40 minutes!
Instructions
Preheat oven to 400 degrees F. Place chicken breasts on a cutting board, cover with a plastic wrap and pound lightly with a meat mallet or rolling pin until even thickness.

Sprinkle each chicken breast with salt, pepper and Italian seasoning evenly on both sides.

Preheat large cast iron skillet on medium heat and swirl olive oil to coat. Add chicken breasts and cook for 3-4 minutes per side or until golden brown.

Transfer skillet with chicken to the oven and bake for 15 minutes. Remove from the oven and top each chicken breast with 2 slices of mozzarella cheese followed by tomato slices on top.

Bake for another 5 minutes and broil for a few more minutes, if you wish, to get tomatoes more wilted.

Drizzle with balsamic glaze, garnish with basil and serve hot.
Notes
Store: Refrigerate leftovers in an airtight container for up to 3 days. Freeze: Freeze in an airtight container for up to 3 months. Thaw in the fridge overnight or on a counter for a few hours.
Nutrition
Calories:
543
kcal
|
Carbohydrates:
14
g
|
Protein:
62
g
|
Fat:
26
g
|
Saturated Fat:
10
g
|
Trans Fat:
0.03
g
|
Cholesterol:
189
mg
|
Sodium:
625
mg
|
Fiber:
2
g
|
Sugar:
7
g