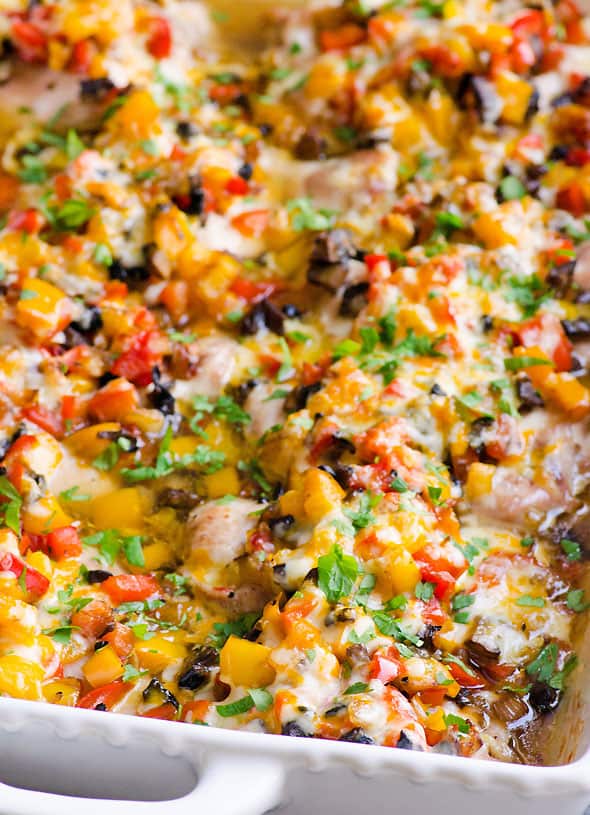 Feeling like a million bucks after a morning run, I'm sitting on a couch and writing about this gorgeous baked chicken with peppers and mushrooms I made the night before.
Simplicity of this chicken and bell peppers recipe blew my mind once again.
All you need is chicken, mushrooms, bell peppers, onions and cheese.
My neighbour made it the same night and husbands were outside after dinner sharing experiences, about chicken. Her husband said it was very European. And I guess so – minimum fresh ingredients. This cooking style is programmed in me forever but anyone can reprogram themselves in the kitchen.
It takes 30 minutes to make.
Boys enjoyed this chicken and bell peppers recipe with whole wheat spaghetti, I had mine over zucchini noodles. If you are looking for more baked chicken recipes, check out my peanut sauce chicken, maple ginger chicken thighs and miso marinated chicken which can be grilled or baked.
How to Make Baked Chicken with Peppers and Mushrooms
This is what boneless and skinless chicken thighs will look like baked. Because you cover them, delicious juices develop and chicken becomes pale in colour.
While chicken is baking, sauté mushrooms, peppers and onions on a stove top. This step adds a lot of flavour without extra calories. Sautéing and searing brings out the best flavours in food.
Top with vegetable medley and cheese, broil for 5 minutes, and serve it to a guy who you want to go down on one knee.
If you are at that stage.
Print
Baked Chicken with Peppers and Mushrooms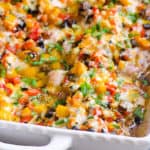 Baked chicken with peppers, onions and mushrooms is a 30 minute dinner recipe using chicken thighs and a sprinkle of cheese for the juiciest baked chicken ever!
Author:
Prep Time:

10 minutes

Cook Time:

30 minutes

Total Time:

40 minutes

Yield:

6 servings
Ingredients
3 lbs chicken breasts or thighs, boneless & skinless
1 large garlic clove, grated
1/2 tsp himalayan pink salt
Ground black pepper, to taste
1 medium onion, finely chopped
10 brown mushrooms or 2 portobellos, chopped
2 large bell peppers, chopped
1 tbsp coconut or avocado oil
1 cup hard cheese like mozzarella or marble, shredded
Instructions
Preheat oven to 425 degrees. Rinse chicken and if using breasts cut in half lengthwise. In a large baking dish, add chicken, garlic, salt and pepper. Mix well to coat evenly and spread in a single layer. Cover and bake for 20-25 minutes. Chicken is cooked when pale and surrounded by clear juices.
In the meanwhile, preheat large ceramic non-stick skillet on low-medium heat and swirl oil to coat. Add onion and saute for a few minutes, stirring occasionally. Add mushrooms and saute for a few more minutes, stirring occasionally. Add bell peppers and saute for 5 more minutes, stirring.
Remove chicken from the oven and turn broiler on High. Separate chicken a bit from each other and top each piece with vegetables (sprinkle around too) and top with cheese. Broil for 5 minutes or until cheese is melted. Serve hot with rice, quinoa or veggies.
Store: Refrigerate in an airtight container for up to 3 days.
★ Did you make this recipe? Please give it a star rating in the comments.