This easy Grilled Zucchini recipe requires just 5 ingredients (salt, pepper, and oil included!) and 20 minutes for simple garlicky, lightly charred zucchini that can be made year-round. It's the perfect side dish for potlucks, BBQs, and grill season!
We love healthy grill recipes and zucchini in all its forms! You might also love healthy zucchini bread, Tex Mex chicken and zucchini, or parmesan zucchini sticks!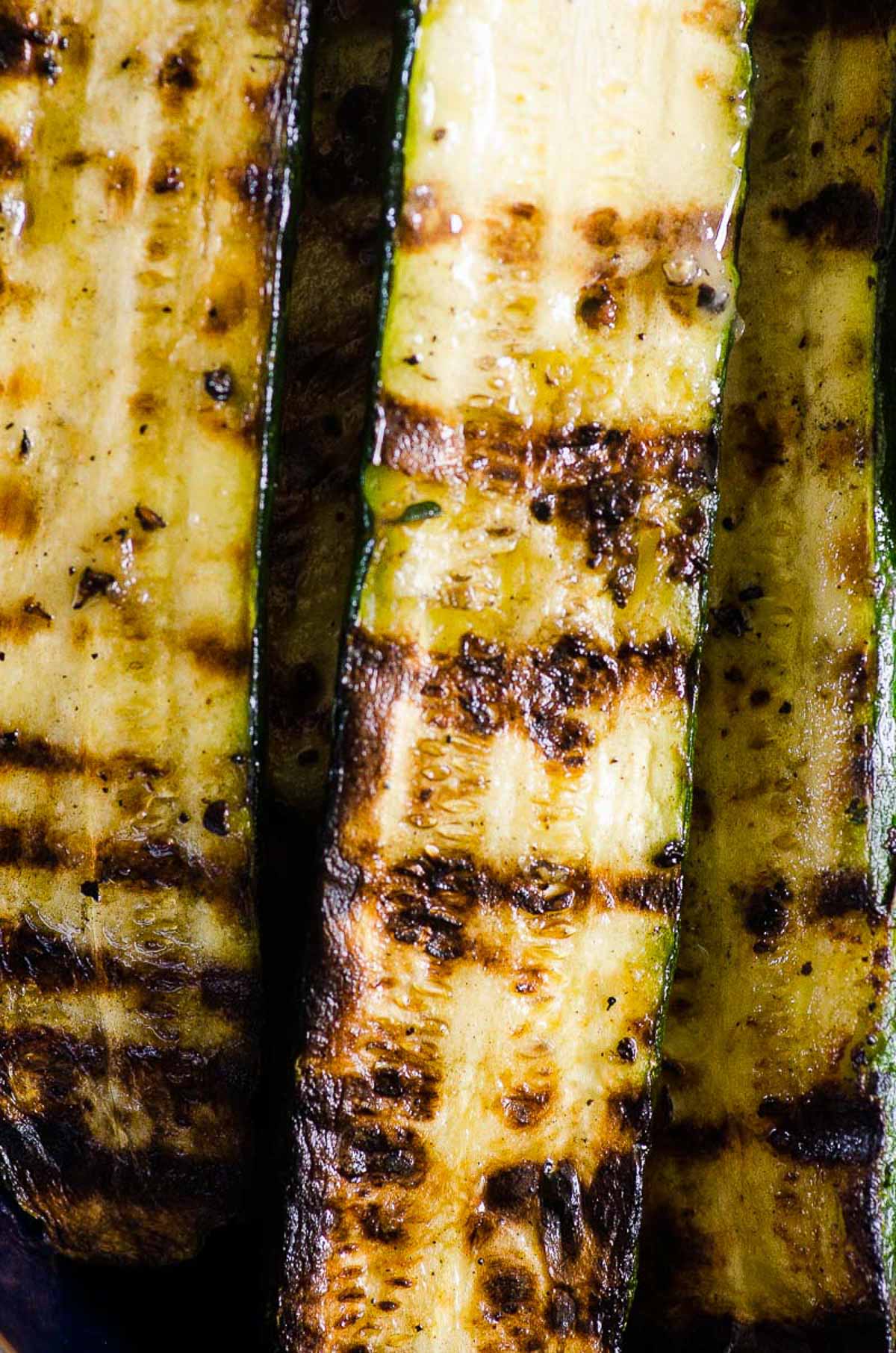 Quick and Flavorful Grilled Zucchini Recipe
If anyone comes to visit during summer, then chances are that they've tried this grilled zucchini. It's one of my family's signature dishes served up alongside grilled chicken breast, pita, and fresh side salads like Ukrainian dill coleslaw and avocado corn salad.
This grilled zucchini (and squash) also makes for a super versatile side dish with a simple garlic, salt, and pepper flavoring – that way, it'll go with everything! Or at least the garlic-loving Ukrainian in me certainly thinks so. Plus, you probably have all the ingredients in your kitchen/pantry already!
Best of all, you don't have to wait for BBQ season to enjoy this grilled zucchini recipe. This method works just as well with an indoor grill pan- which means it's perfect for low-effort mid-week meals too served alongside pasta and grains.
Even when it's not summer, I wouldn't be over exaggerating if I said that zucchini is on the table every single week. Whether it's zucchini quiche or even zucchini lasagna – I've found tons of ways to enjoy zucchini for lunch/dinner. Even better, it has snuck its way into my desserts with healthy zucchini brownies, lemon zucchini bread, banana zucchini muffins, and more!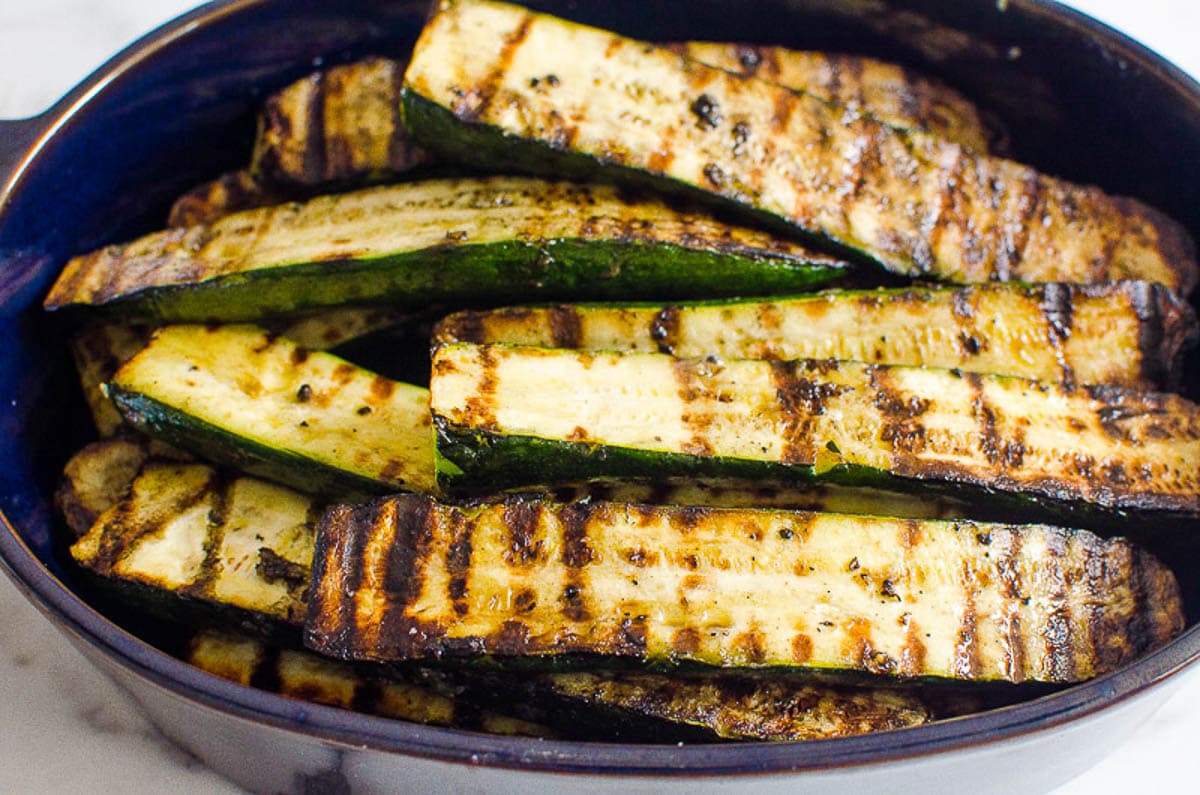 Why This Recipe Works?
In my (humble) opinion, this is the BEST grilled zucchini recipe. Here's why:
This recipe requires just 5 ingredients, and that's including oil, salt, and pepper!
The garlic, salt, and pepper seasoning perfectly enhances the flavor of the squash without taking over!
This grilled zucchini recipe requires just minutes of prep! Slice the zucchini in half, season them, then grill- voila!
This recipe works the same for both zucchini and summer squash!
Grilled zucchini and squash are super versatile and adaptable – experiment with different herbs, seasonings, and aromatics (options below!)
Zucchini grill time takes just a few minutes of cooking per side to be grilled to perfection!
You can use an outdoor grill or indoor grill pan for year-round grilled zucchini and squash!
Best of all, this recipe is low-carb, dairy-free, vegan, keto, paleo, and whole30 – perfect for serving to large gatherings!
Once grilled, you can store the veg for up to three days, wonderful for veggie meal prep!
Ingredients and Substitutions
Zucchini: Make sure to use small-medium zucchinis that can be cut in half lengthwise. If they're larger, you can quarter them lengthwise instead. You could also use baby zucchini and cook them for a couple of minutes less.
Garlic: The Ukrainian in me means garlic is an absolute must. If you don't have garlic cloves, you could also use garlic powder instead – though fresh is best.
Oil: Any neutral high-heat oil will work well. I often use avocado oil. Olive oil should also work.
Salt & pepper: To season the zucchini to your desired level.
Keep reading below (after the recipe how-to) for more information on grilled zucchini recipe add-ins and seasoning variations!
How to Grill Zucchini to Perfection
Prepare the zucchini: First, clean and chop the zucchini. Chop off both ends then slice them in half (or sliced, quartered, or coined based on the size of the zucchini/ summer squash).
Season the zucchini: Find a dish with a lid that will fit the zucchini pieces and can comfortably be shaken. Then add the zucchini pieces and oil, garlic, salt, and pepper to the dish, close the lid, and give it a good shake until all the pieces are evenly coated. Alternatively, you can brush each slice with the seasoning – but it will take longer that way.
Grill the zucchini: Using a preheated (medium-high) outdoor grill, grill the pieces covered for 4-5 minutes, then flip and cook uncovered for 2-3 minutes. Using a grill pan, there's no need to cover the zucchini; just pan-fry until tender with grill marks. You could also use a George Foreman-style grill for the zucchini (which cooks the top and bottom simultaneously, so the cooking time will be less!).
How long to grill zucchini? It's ready when it's tender to the touch with nice grill marks. If you want it to be a little firmer, remove the zucchini from the heat before it becomes tender, as it will continue to cook a little from the residual heat.
Top Tips for Grilling Squash
Slices or coins: If you have larger zucchini, then feel free to grill thick slices or coins instead of halving the squash. Make sure to cut thick pieces around 1/3-½ inch (use a mandoline slicer for completely even slices). You can also cut them into wedges and serve them as zucchini fries!
Experiment with seasonings: One of the best things about this simple vegetable side dish is how easy it is to adapt. Read below for alternative seasoning options. You can also, optionally, drizzle the grilled zucchini with a little balsamic glaze after cooking.
If you grill slices/coins: Make sure not to chop them too thin, or they'll overcook quickly, become soggy, and can even stick to the grill and become a nightmare to remove. 1/3-1/2- inch pieces are the best.
Salting the zucchini: I skip this step to save time and effort. However, feel free to salt the squash before seasoning and grilling it. This will pull out some of the excess moisture from the squash, so you end up with firm, non-mushy results. I prefer to slice the pieces thicker and cook for less time and still get wonderful results every time.
Add-ins and Variations
Below are a few optional 'add-ins' when seasoning the zucchini/ summer squash pieces.
Dried herbs: Zucchini pair well with tons of herbs; parsley, basil, rosemary, Italian seasoning, chives, etc. You could also experiment with different seasonings like taco seasoning, Cajun seasoning, curry powder, etc.
Fresh herbs: Finishing off the grilled zucchini and squash with fresh herbs also works very well (don't cook them as they're likely to burn)—for example, fresh basil, parsley, chives, dill, or mint.
For spice: You could add some red pepper flakes or even a little chili oil to add spice!
Vinegar: A little balsamic vinegar will pack a ton of flavor and helps to elevate the zucchini (like I did with this balsamic marinade for grilled vegetables). You could even combine the vinegar with herbs. I recommend using between 1-2 tablespoons of the vinegar, based on how strong you want the flavor. You could also use red or white wine vinegar.
Citrus juice: Instead of vinegar, you could use a little fresh lemon or lime juice to squeeze over the zucchini before serving for a touch of fresh, bright 'zing'!
Chimichurri sauce: You could use a simple chimichurri sauce as a marinade.
Cheese: After turning the zucchini over, you could optionally sprinkle a little parmesan over the zucchini. It will soften while the underside cooks.
Top Tip: Did you know that this recipe will also work with eggplant slices too?! Well, you do now!
FAQs
Can you freeze grilled zucchini?

I wouldn't recommend it for textural reasons as frozen and thawed zucchini can become a little soggy.
What's the best way to chop zucchini for grilling?

Aside from making sure the pieces are thick enough (1/3-1/2-inch thickness), the actual way you slice the zucchini is up to you. For these small-medium zucchinis, I sliced them in half. For larger zucchini, you could cut zucchini spears, lengthwise slices, or coins.
Best Serving Ideas
If you are wondering how to serve grilled zucchini, here are some recommend healthy meal ideas:
Grilled proteins: Like grilled chicken thighs, grilled salmon, grilled shrimp skewers, carne asada steak, or even alongside these grilled fish tacos.
Sandwiches and wraps: Grilled zucchini and squash make for a great addition to sandwiches, wraps, and pita – perhaps with tomatoes and mozzarella or a little hummus.
With tacos: Serve within tacos like these carne asada tacos, easy shrimp tacos, healthy fish tacos or grilled fish tacos, or ground turkey tacos. Alternatively, create some of your own vegetarian tacos with the zucchini, black beans, and guacamole.
Pasta: Slice them up and add to hot pasta dishes like broccoli pesto pasta, alongside roasted cauliflower mac and cheese, or within or alongside a cold pasta salad like this veggie-packed healthy pasta salad or tomato pasta salad.
Grains: Alongside dishes like this Mediterranean quinoa salad, quinoa black bean salad, Instant Pot rice and beans, Mexican cauliflower rice, couscous, etc.
Burgers: Like these healthy turkey burgers (or turkey sliders), healthy black bean burgers, or healthy salmon burgers, etc.
With dips: I'll sometimes serve the grilled squash with homemade hummus or other dips like a Greek yogurt and garlic mix.
Eggs: This tastes amazing when combined with egg dishes like this sweet potato hash, sweet potato and eggs, or a quiche like this crustless broccoli or spinach quiche or vegetable frittata.
I also love to serve these grilled zucchini and squash slices as part of a BBQ or picnic spread alongside avocado egg salad, Mexican bean salad, healthy coleslaw, and several other salad dishes.
Making Grilled Zucchini in Advance
Make ahead: You can cover the zucchini in the dressing and store the 'marinating' piece for up to 24 hours, covered, in the refrigerator before grilling.
Storing: Once cooked, the grilled zucchini can be stored in an airtight container in the refrigerator for up to three days.
More Healthy Vegetable Side Dishes
You can also browse through a collection of 45 healthy zucchini recipes for more inspiration!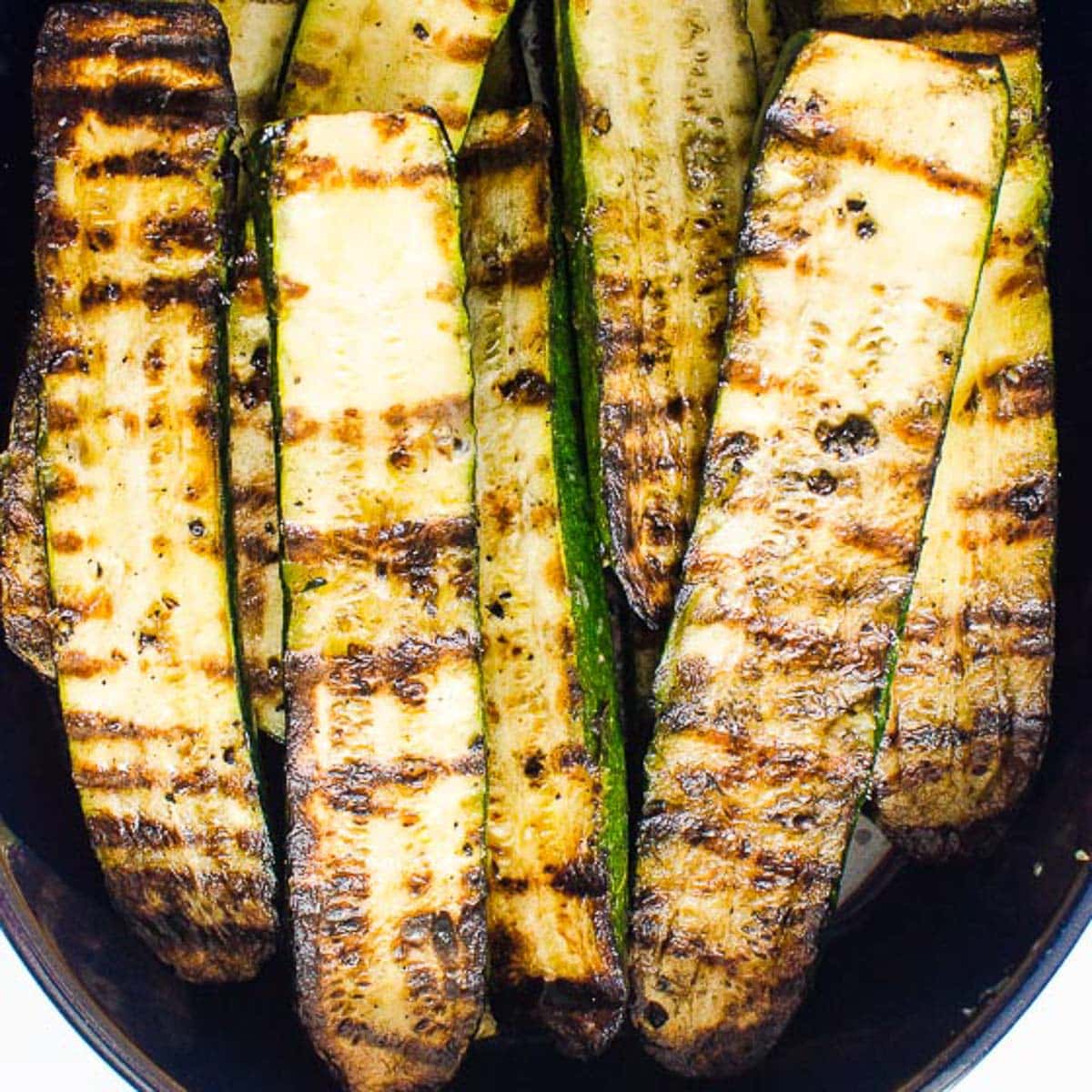 The Best Grilled Zucchini
This easy Grilled Zucchini recipe requires just 5 ingredients (salt, pepper, and oil included!) and 20 minutes – for simple garlicky, lightly charred zucchini that can be made year-round. It's the perfect side dish for potlucks, BBQs, and grill season.
Print
Rate
Servings:
8
servings (2 slices each)
Instructions
Add zucchini to a large bowl with a lid or a large baking dish.

In a small bowl, whisk together oil, garlic, salt and pepper.

Pour dressing over zucchini. Mix by either shaking the container with the lid on it or by using your hands. You can also brush the dressing onto the zucchini.

Preheat grill on medium-high heat and spray with cooking spray.

Place zucchini in a single layer on the grill, close the lid and cook for 4-5 minutes. Flip the zucchini once, cover and cook for another 2-3 minutes. Zucchini should be tender to the touch with nice grill marks when it is done. How long depends on the grill and you know your grill best.
To Make Ahead: Cut up zucchini and cover with dressing for up to 24 hours prior to grilling.
Store: Refrigerate in a glass airtight container for up to 3 days. Do not freeze.
Notes
If you have zucchini that are extra large like garden one, cut into 4 long quarter sticks.
See post for more recipe tips and FAQ.
Nutrition
Serving:
2
slices
|
Calories:
62
kcal
|
Carbohydrates:
6
g
|
Protein:
2
g
|
Fat:
4
g
|
Saturated Fat:
1
g
|
Sodium:
232
mg
|
Fiber:
2
g
|
Sugar:
4
g
Recipes and images are a copyright of ifoodreal.com. It is against the law to republish recipes without permission. Nutritional info is approximate.