Celebrate warmer weather with these healthy grill recipes! Including grilled meats, fish, shrimp, and veggies – there's something for everyone at your next BBQ/cookout! Even better, the majority of these easy outdoor grill recipes can be prepared with an indoor grill pan for those days the weather just isn't letting up!
What is the Healthiest Way to Grill Recipes?
There are a few ways you can enjoy a healthy (but delicious) BBQ experience, including:
Use lean meats: Trim off excess fat before marinading and then remove the skin from poultry (you can do this after grilling, so the meat stays moist during the cooking). Lack of excess fat also means less chance of fire flare-ups!
Avoid overly processed foods: Hot dogs and pre-packaged burgers can be filled with all sorts of preservatives, nitrates, and other 'baddies.' Skip these and stick to homemade burgers (options below) and other natural products!
Use a healthy, homemade marinade: Not only are most homemade marinades super simple to prepare, but they usually contain a fraction of the sugar/salt. More so, according to some research, marinating meats before grilling can reduce the formation of harmful HCA's (associated with an increased risk of cancer) by up to 96% – even a dry rub can reduce it by up to 70%!
Pair your protein with lots of veggies: There are tons of veggies you can sneak onto the grill while you cook and complement the below easy outdoor grill recipes. Even better, they are ready in minutes. Asparagus, squash, carrots, eggplant, zucchini, corn, leek, tomatoes, potatoes, beets, mushrooms, etc.! You can do the same with several fruits too, like mango, pineapple, figs, pear, apple, and more!
If you're worried about the formation of HCAs on your grilled meat you can also flip the food more often, which is said to help prevent the formation of HCA's – just make sure to flip it with a spatula! (if you prod the ingredients they can release juices that cause flare-ups or even fall apart!). Most of these easy outdoor grill recipes can also be made indoors with a grill pan, eliminating the risk of char altogether!
Top Tips for Grilling
Whether you're lucky enough to be grilling outside or using a grill-pan indoors, there are a few top tips for the best results every single time!
Don't forget the oil: In some cases, you can rely on a cooking spray (I use Misto), but the majority of the time, you'll need to use oil on your grill/grill pan. This is important to make sure your dishes don't stick to the grill and fall apart when trying to flip!
Enjoy grilled recipes year-round: With an indoor grill pan, you can enjoy grilled recipes even when it isn't grilling weather!
Make sure not to overcook the meat: It doesn't take long at all for juicy, tender meat/fish to become tough and dry if you're not paying attention. Chicken needs to reach an internal temperature of 165F/74C (check with a meat thermometer). For the best results, I get my chicken to 155F and then remove it from the heat and allow it to rest covered for 5 minutes, the residual heat will continue to cook the chicken and increase the temp past 165F, and your meat with be tender and juicy. Likewise, salmon should reach around 125F for medium-rare or 140F for medium; it should no longer be translucent but flaky and tender with a fork and will similarly continue to cook off the heat.
Marinating to perfection: Make sure to pay attention to the marinating instructions in the recipe. It's important to stick to maximum marinating instructions as the marinade can actually toughen, break down, or even begin to 'cook' the meats after this time, and then all your waiting was wasted!
Don't re-use marinade: While some marinades can be boiled and re-used, for food safety reasons, I recommend keeping some aside BEFORE marinating if you want to use more when serving (or make a little extra). Otherwise, get rid of the marinade after you've used it with the raw meat/fish.
Cook the meat covered: This will help the meat to cook through while also leaving those nice grill marks we all like to see!
Use Uniform ingredients: Whether you're grilling meat, fish, or vegetables, it's best to use uniform-sized pieces, so they cook at the same time. If you have different sized bits of chicken, then cook them in batches, with similar sizes together.
Make sure to allow the grilled meat to rest: After removing your grilled meat from the grill/grill pan, make sure to allow it to rest, covered, for at least five minutes to allow the juices to redistribute.
Best Sides to Serve with Grilled Food
No matter what protein you choose to grill, there are some classic healthy grill recipe 'sides' that are perfect for adding to your BBQ table, including:
You can also enjoy grilled proteins with grilled veggies that are cooked at the same time, some examples of which are included below!
Grilled Chicken Recipes
This grilled chicken breast is a tried and tested classic that yields tender and juicy results every single time! All you need is just 30-minutes of marinating and a few simple ingredients for this summer staple. Next thing you know you'll be enjoying it for dinner, lunches, with salads, over pasta – you name it!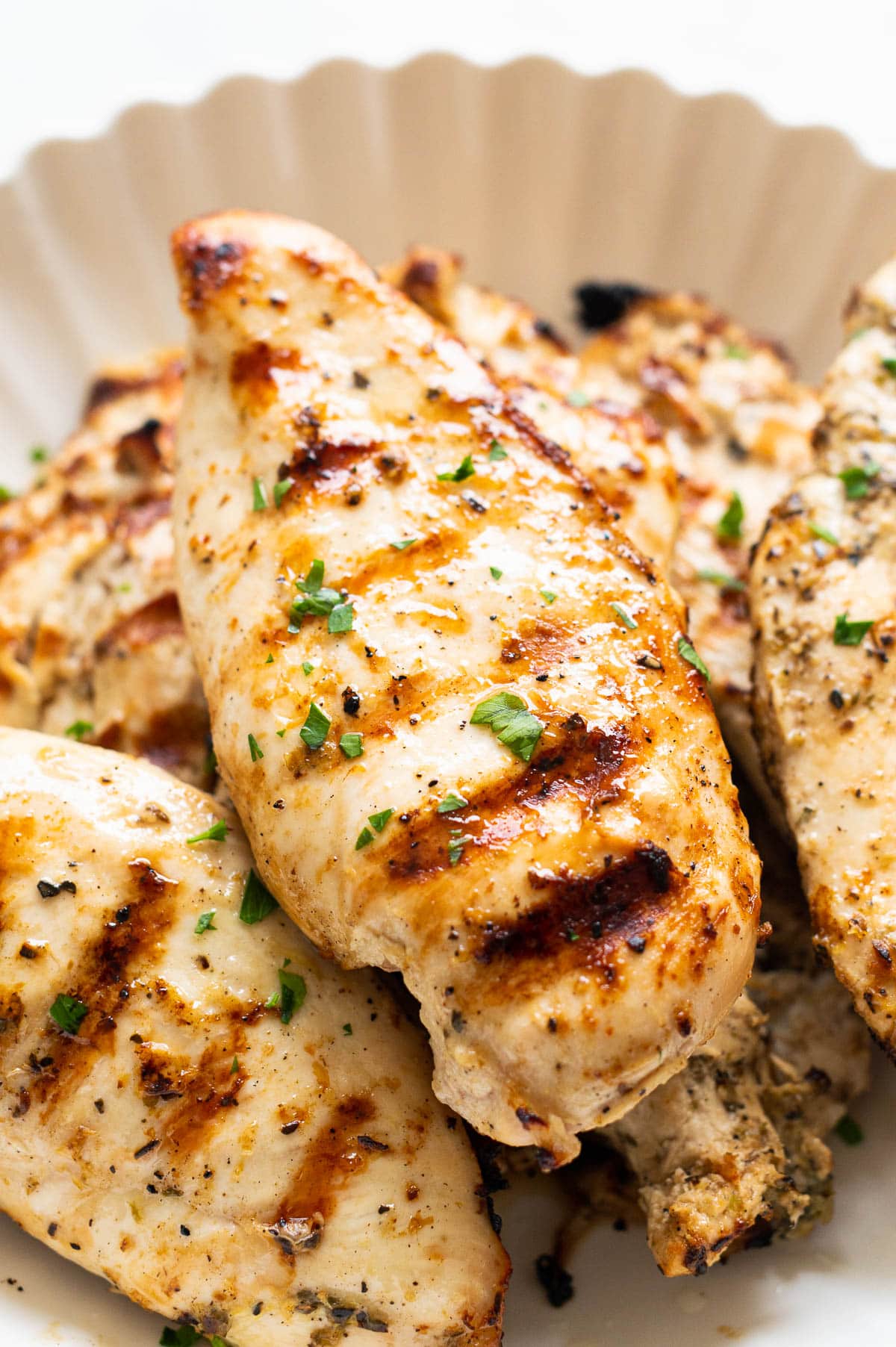 Combining coconut milk, lime, cilantro, onion, and jalapeno into a quick and simple marinade provides you with grilled chicken thighs that explode with flavor while remaining tender and moist throughout. Adapt the spice to your needs and marinate from as little as 30 minutes to 24 hours- then enjoy with skin on or off, whatever you prefer!
Chimichurri chicken is a herby, garlicky flavor-splosion waiting to happen and it's super versatile too. Use half chimichurri for a quick 30-minute marinade and half to spread over the charred-to-perfection chicken! Even better, when it's not grilling weather, you can still enjoy this chicken pan-fried or baked!
Enjoy this flavorful Mexican chili lime chicken in as little as 30 minutes with a quick and simple lime, chili, cumin, and maple-based marinade! Once grilled to perfection, enjoy it within tacos, healthy cucumber salad, burritos, fajitas, and more!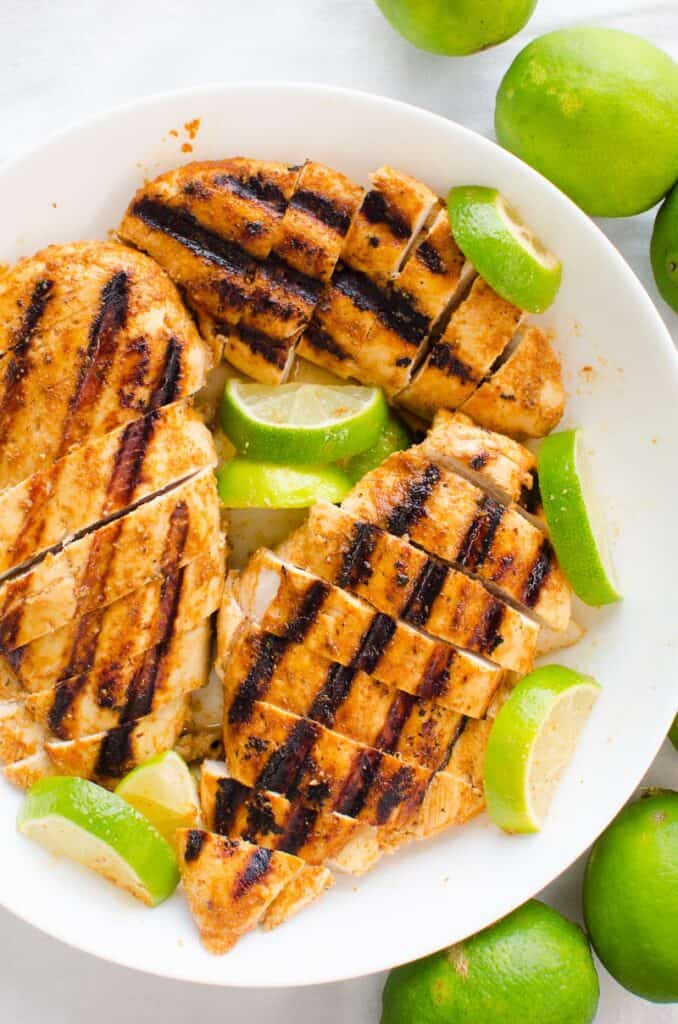 This cilantro lime chicken is tangy, garlicky, and packed with cilantro flavor and a touch of heat! Marinate it from 30 minutes to 48 hours for a delicious prep-ahead option for BBQs, potlucks, and gatherings!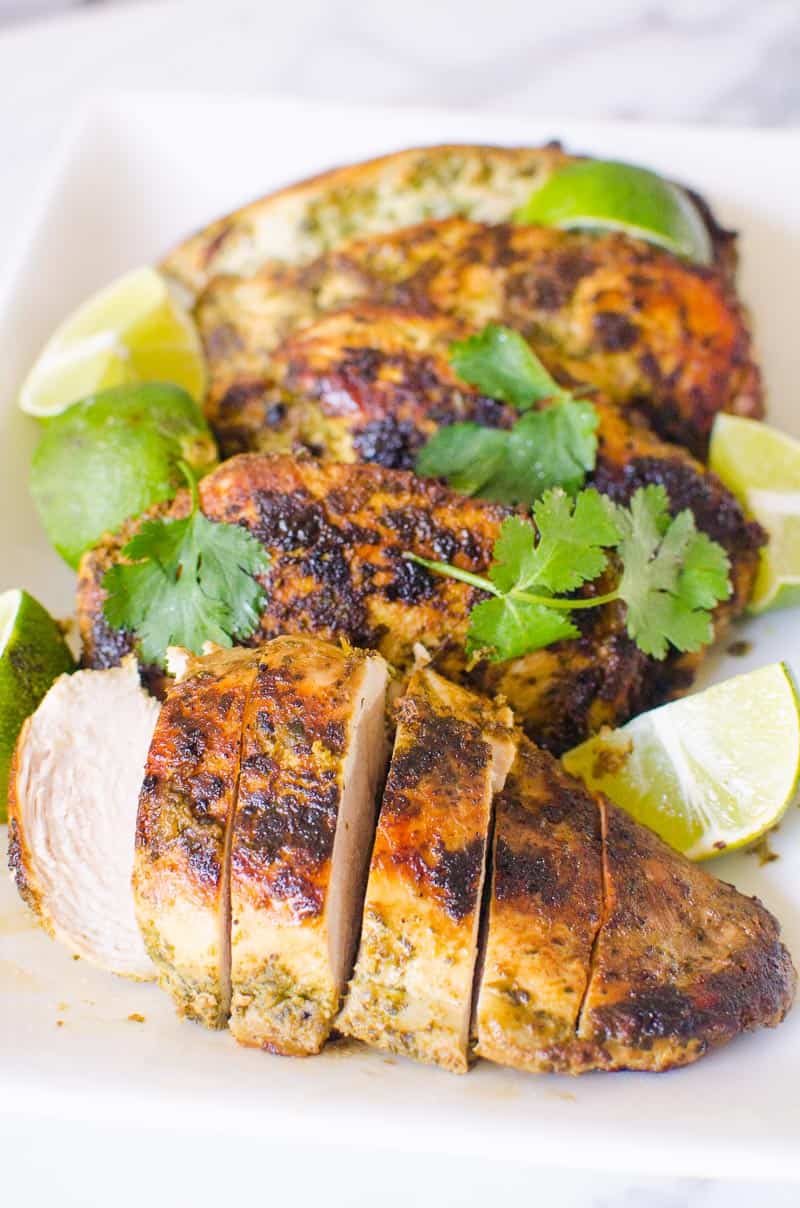 This cajun chicken recipe combines spices like oregano, thyme, paprika, garlic, cayenne, and chili flakes for a flavor packed, heat adaptable grilled chicken with a crispy crusted outside and tender, juicy middle! Pair with creamy healthy macaroni salad.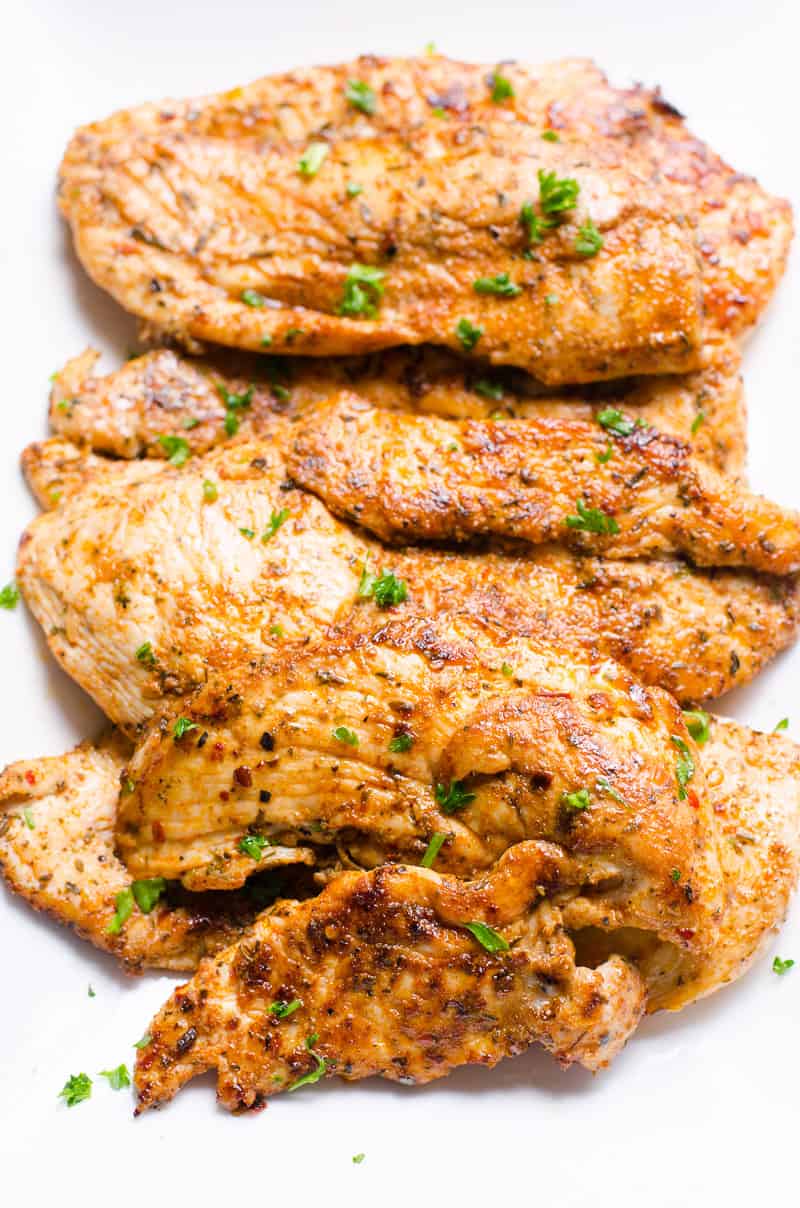 Greek chicken marinade infuses the chicken with the flavors of the Mediterranean in as little as 30 minutes! The resulting chicken can be enjoyed hot, cold, turned into Greek chicken kabobs, over salad, in souvlaki, etc!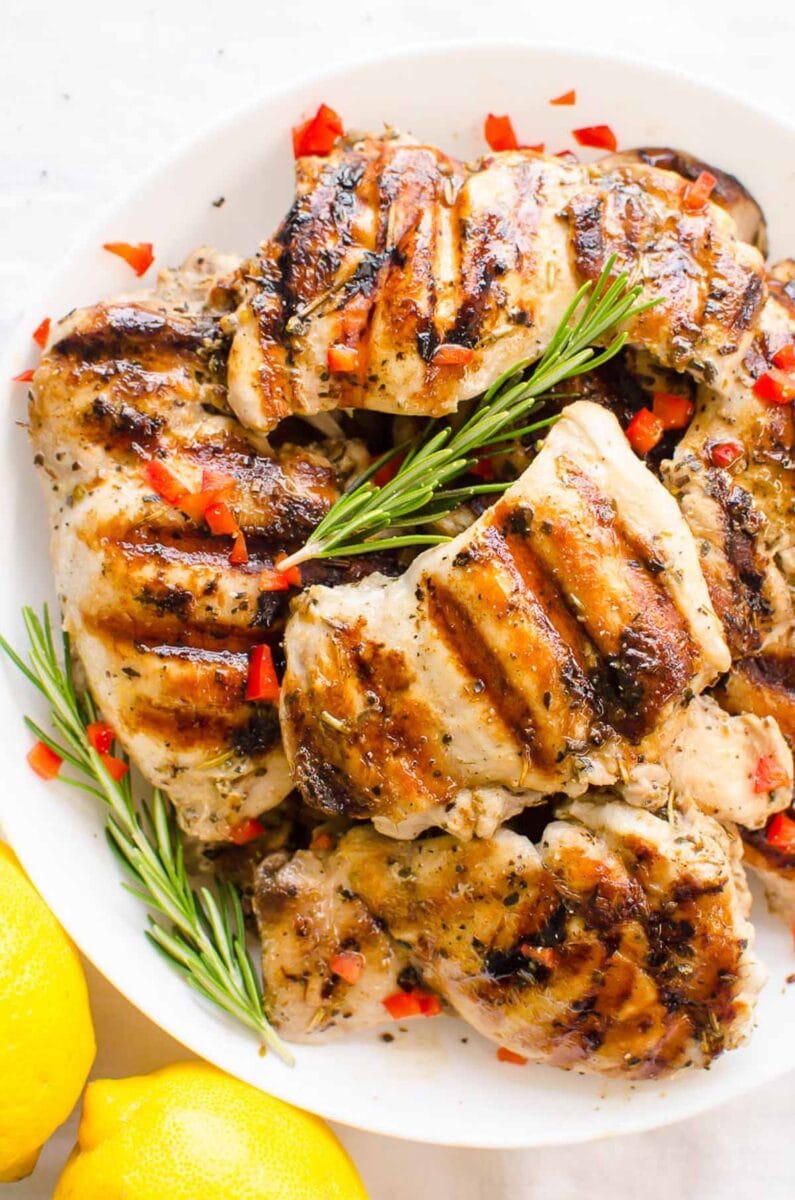 Simplicity at its' finest – this lemon and rosemary chicken is marinated in a simple rosemary and lemon marinade then topped off with grilled and lightly caramelized lemon slices for chicken that is truly juicy and packed with flavor!
These Greek chicken kabobs are slathered with a super-herby Greek marinade, combined with bell peppers and zucchini, and then grilled to perfection with a dash of garlic-infused oil – ready to be served as souvlaki, with rice, salad, and more!
Can't decide what marinade to use next? You don't have to! This list contains 5 easy-to-make chicken marinades to have you grilling your chicken to juicy and flavorful perfection every single time. Best of all, they're so simple you can use more than one at a time and impress the entire family!
This list just wouldn't be true to the iFoodreal 'brand' without at least one taco recipe up here. These chicken street tacos combine all the usual greats from tacos with a spiced meat rub and the added smoky, charred flavor you can only get from grilling – chefs kiss!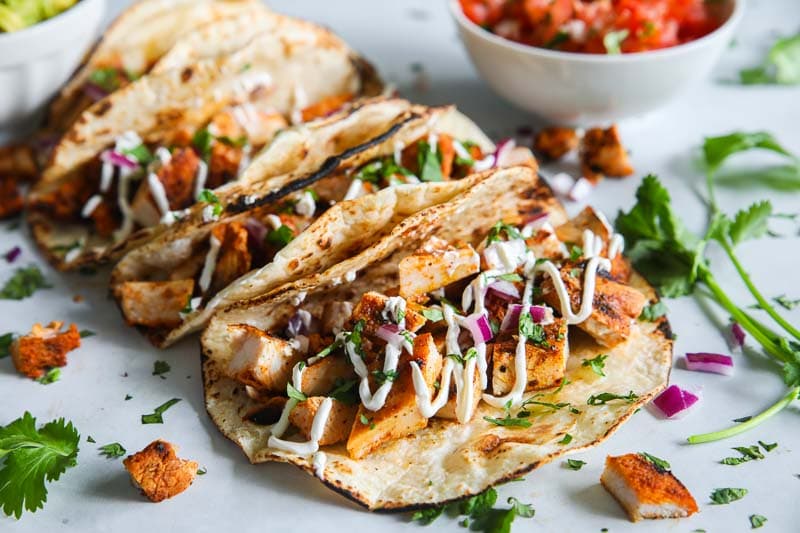 Grilled Seafood Recipes
Stepping away from poultry, let's talk about this simple grilled salmon. It's juicy, flaky, and packed with flavor – no marinating necessary! In no time at all, you'll be enjoying restaurant-quality salmon!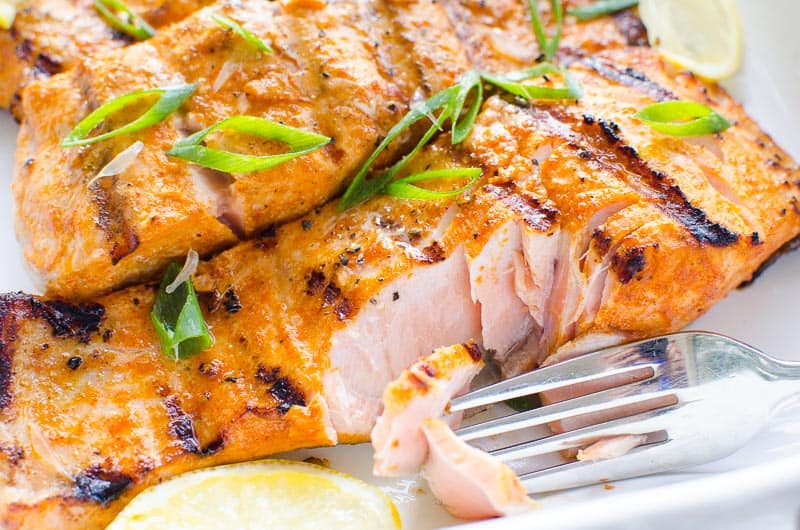 These grilled fish tacos are the perfect addition to your next taco night; combining flavorful grilled white fish (cod, halibut, mahi-mahi, etc.) with mango salsa and optional crema creates a wonderfully sweet, savory, spicy meal for all and the best grilled fish tacos recipe I've ever tried – all in under 30 minutes!
These grilled shrimp skewers are charred to perfection and basted with a delicious lemon and garlic sauce – no marinating needed! Best of all, they are ready in under 20 minutes and are plump, juicy, and flavorful! Serve with healthy berry trifle for a summertime feast.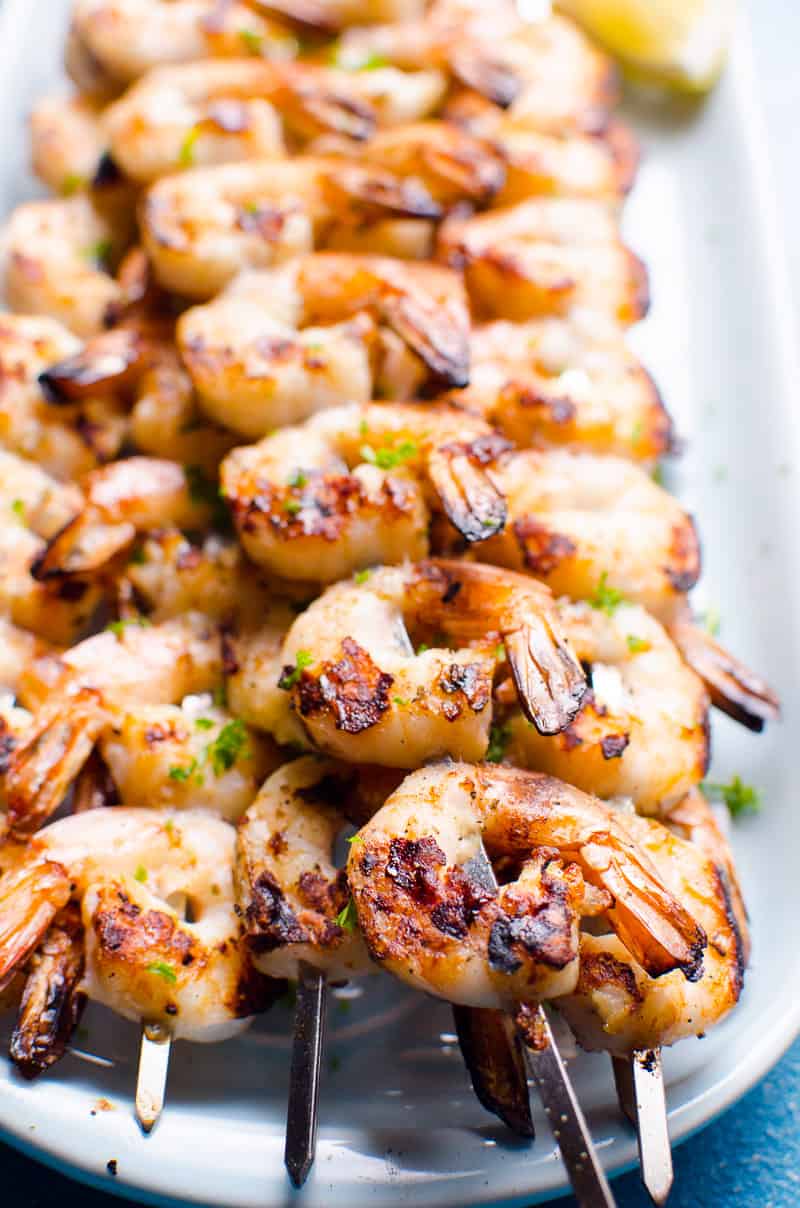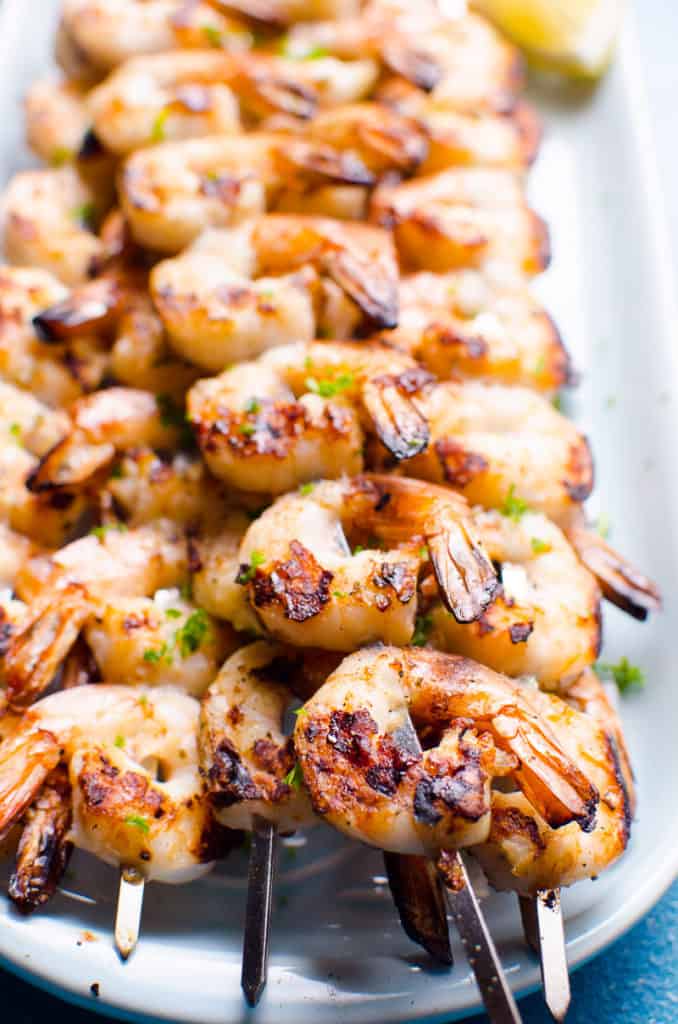 This cedar plank salmon gently steams and smokes the fish – yielding super tender, moist, flaky salmon with layers of earthy, smoky flavor that aren't to be missed! Even better, it's ready in under 30 minutes!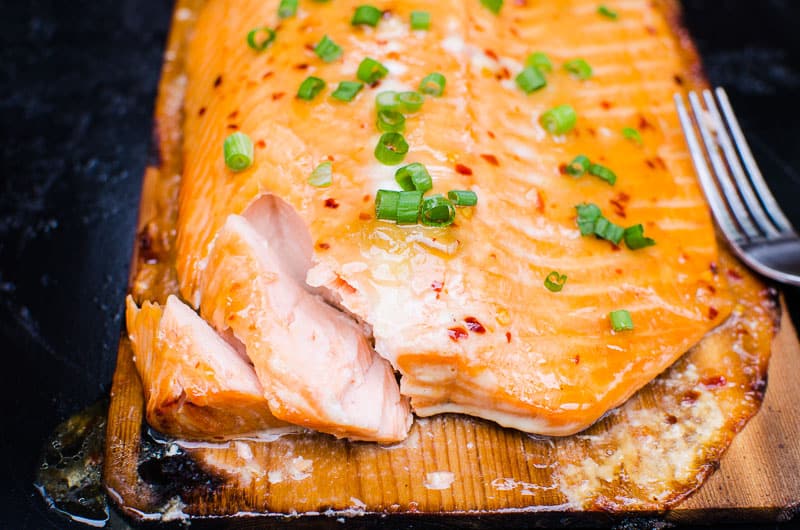 This honey garlic salmon is tender and flaky inside with a sweet and sticky sauce that caramelizes on the outside and yields a wonderfully crispy skin – all ready in under 30 minutes!
This healthy, homemade teriyaki sauce is packed with flavor and only a fraction of the salt and sugar in store-bought options, to yield wonderfully flavorful teriyaki salmon every single time – no long marinating needed! Grill in the summer or bake in the winter.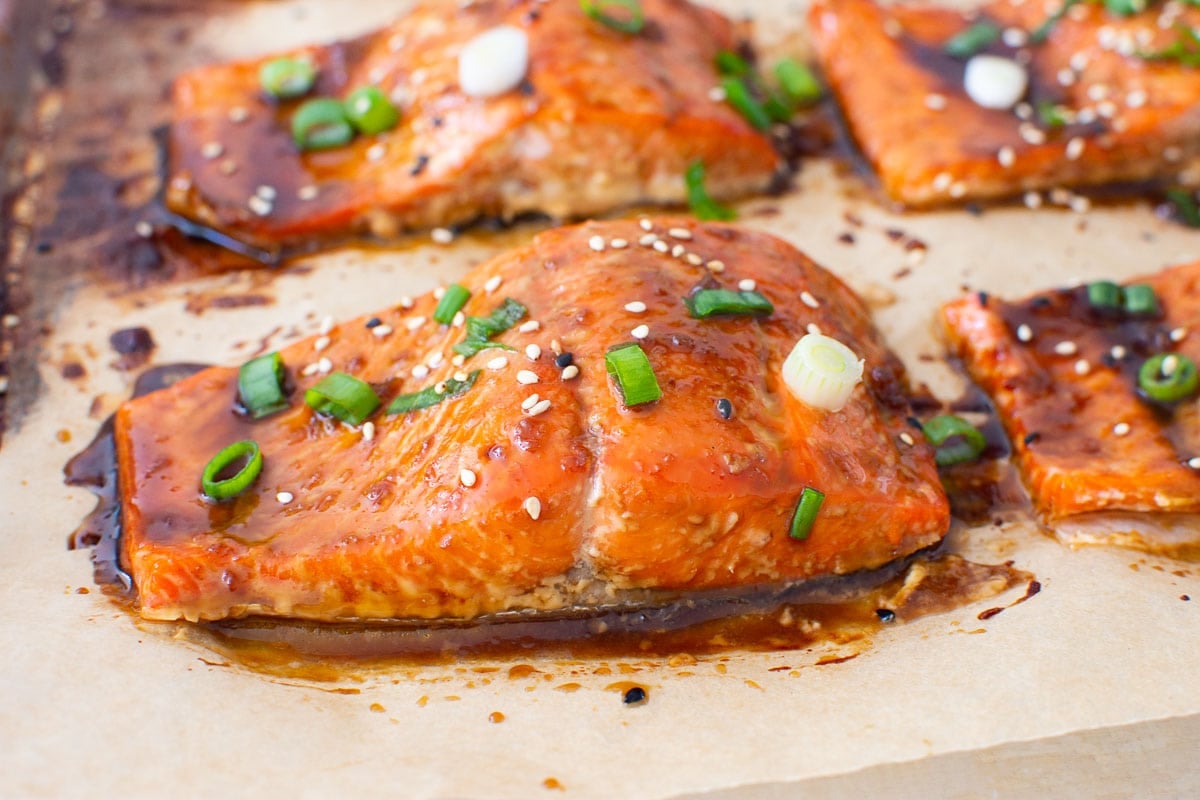 Combine salmon fillets with sweet chili sauce for this sweet and spicy, lightly caramelized Thai salmon! Simply baste it over the grill and drizzle with a little extra sauce before serving for a flavor explosion!
Grilled Burger Recipes
Easy Grilled Chicken Burger made with 7 ingredients and ready in 20 minutes. Add your favorite burger toppings and bite into the juiciest burger ever!
These Spinach Feta Turkey Burgers are made with 7 simple ingredients, juicy and super flavorful. Perfect alternative to beef burgers for weeknight dinner or backyard gatherings!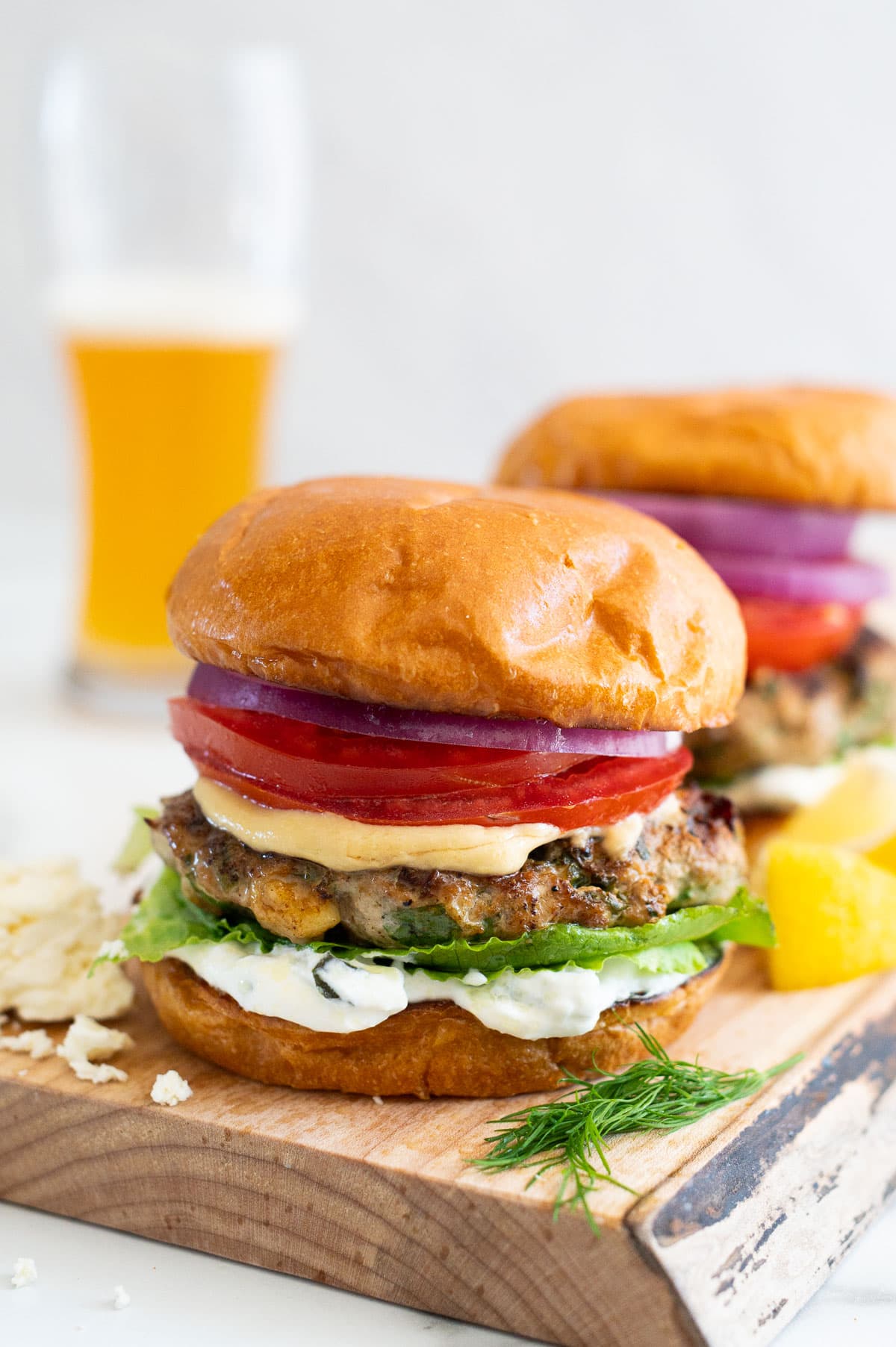 Perfect for meat-free Mondays and guests – these healthy black bean burgers combine black beans with leftover Instant Pot brown rice and several veggies including zucchini for a wholesome, hearty, healthy, veggie burger! Serve up in a bun with lettuce and favorite toppings, like easy guacamole or even 'naked' in a salad or rice bowl!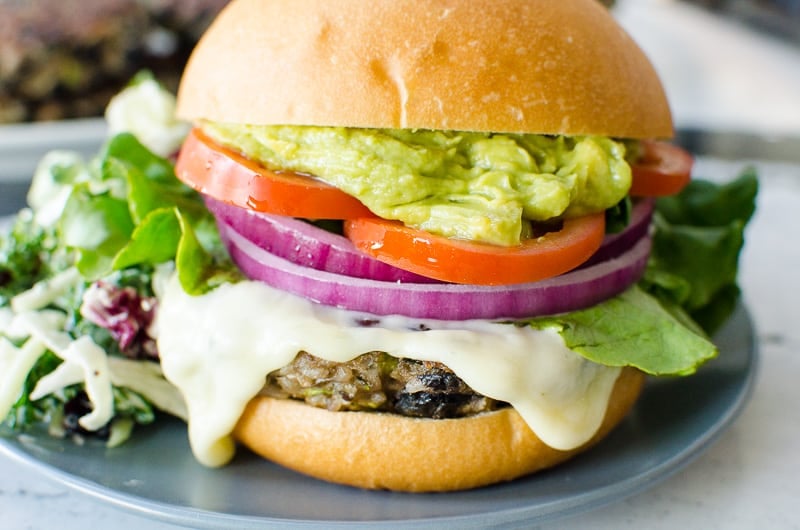 You only need 5 simple ingredients for these moist and flavorful healthy turkey burgers– no unnecessary 'fillers' (like eggs or breadcrumbs) required. Instead, rely on a secret ingredient for perfectly moist burgers every time!
These juicy healthy salmon burgers combine wild salmon with lentils and several aromatic ingredients for a hearty, healthy pescatarian treat that's packed with fiber and omega fatty acids!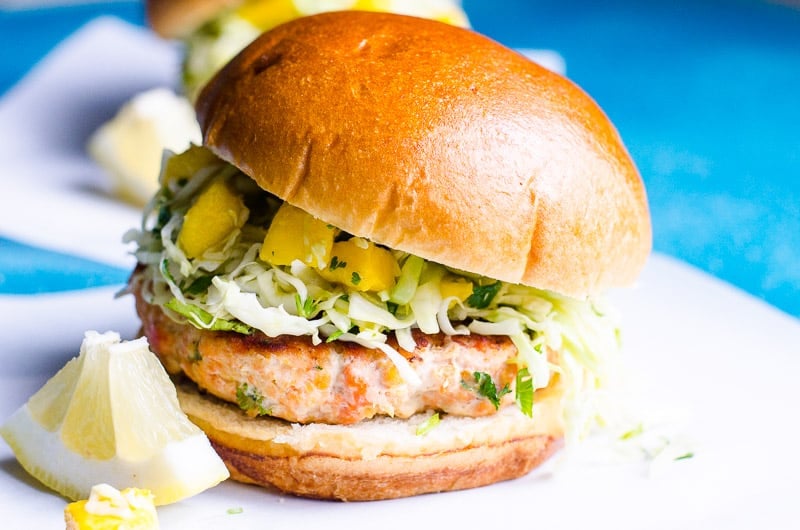 These ground chicken burgers make for flavorful and juicy patties with no breading or batter needed! Grill to perfection and serve up in a bun or 'naked' alongside grains and Russian potato salad!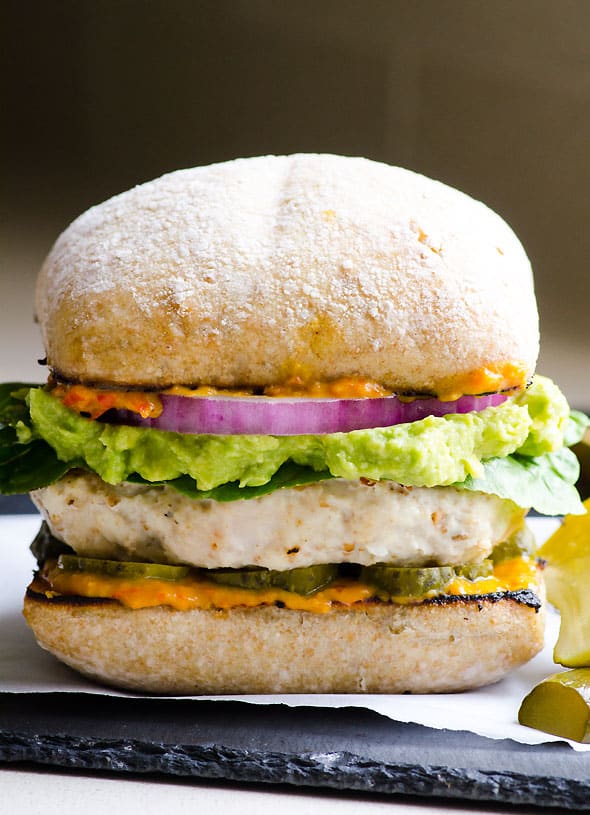 Looking for a low-carb option? These mini turkey sliders are loaded up with all the traditional fixings; bacon, cheese, veggies, and tender turkey patties wrapped up in a lettuce 'bun' for a flavorful BBQ appetizer!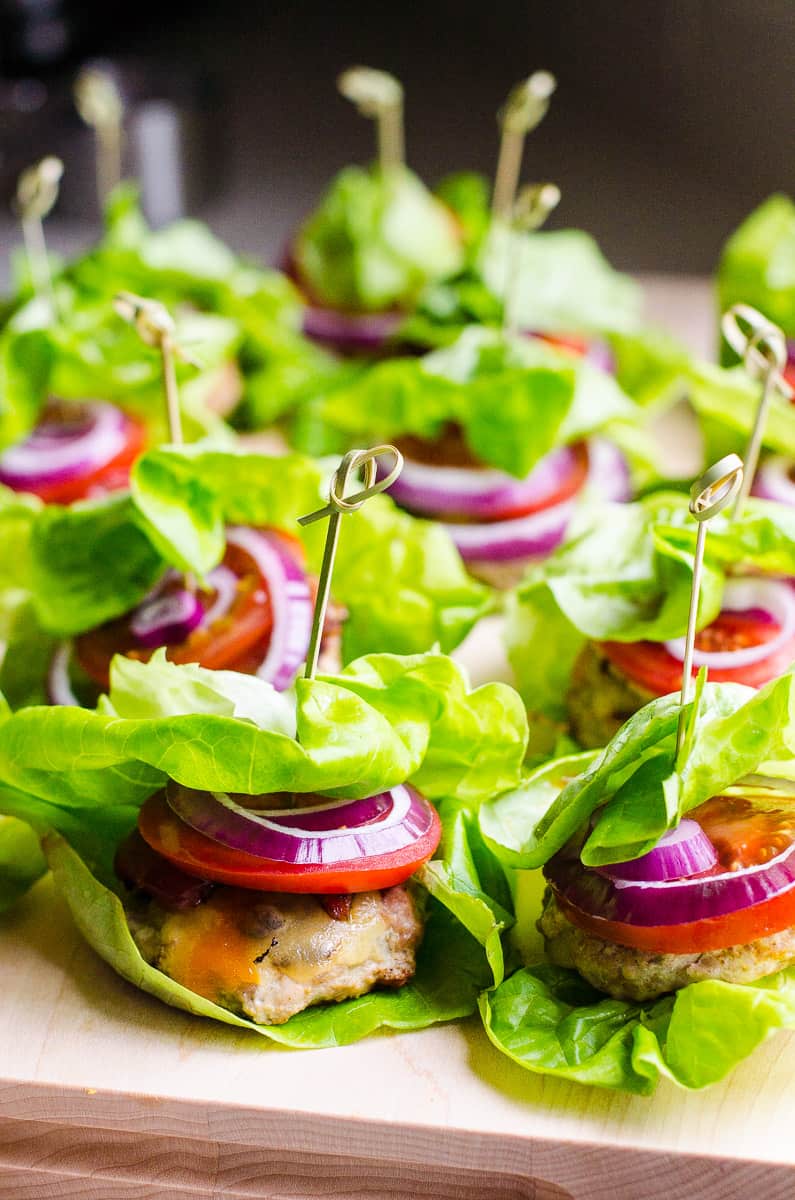 Grilled Vegetables
With your grilled protein sorted, it's the perfect time to chuck some veggies on the grill to create a full meal. This marinade for grilled vegetables is amazing with lightly charred veg and then tossed with a tangy balsamic marinade for veggies the whole family will enjoy!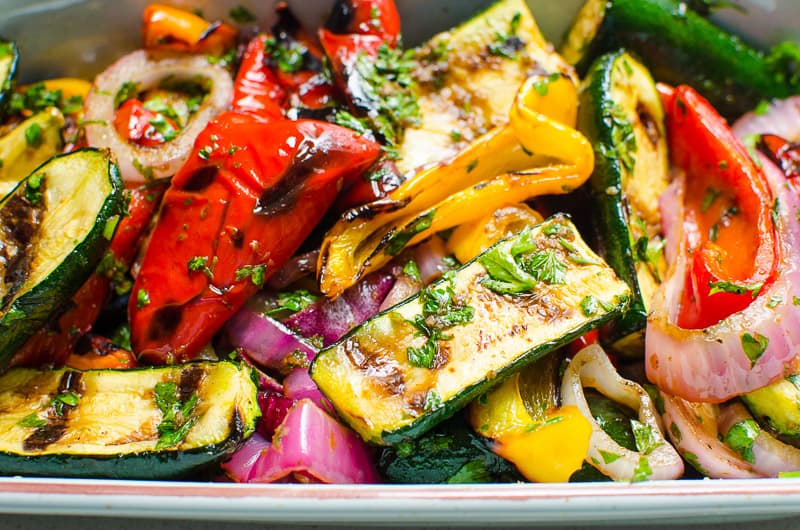 All you need is just five ingredients and under 20 minutes for this simple, flavorful grilled zucchini! With a simple garlicky flavor and lightly charred results, this zucchini can be enjoyed year-round as a side for potlucks and BBQs!
It may sound weird to some but this healthy grilled romaine lettuce recipe is absolutely delicious' basted and charred to perfection for a subtle smoky flavor. It's the perfect side dish to any of your favorite grilled proteins!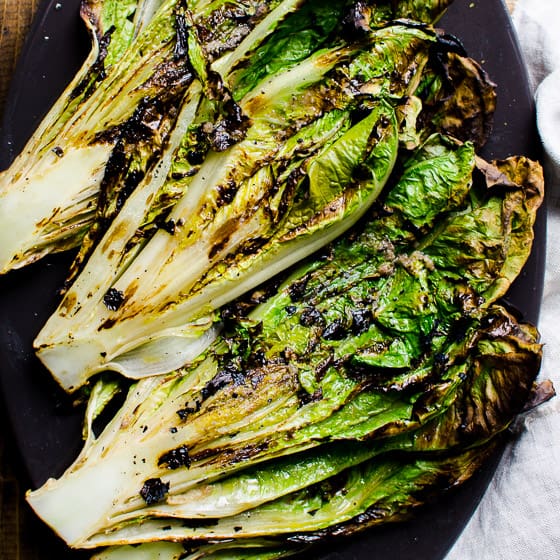 Want to find a way to use your tender, juicy grilled chicken? This grilled chicken salad combines the chicken with fresh berries, nuts, tomatoes, feta, and a creamy poppyseed dressing. It's summer in a bowl!
Grilled Beef Recipes
We couldn't have a healthy grill recipes round-up post without featuring a piece of steak (aka carne asada steak) grilled to perfection with a perfectly moist and juicy middle and a mouth-watering Mexican marinade. Enjoy this alongside all the usual sides and within dishes like tacos, nachos, burritos, and even salads!
Just one of the ways to use the juicy steak is for flavor-packed street-food style carne asada tacos. Combine the meat with guacamole, onions, and crumbled feta or cotija cheese for a dish that delights all the taste buds and is ready in under 30 minutes!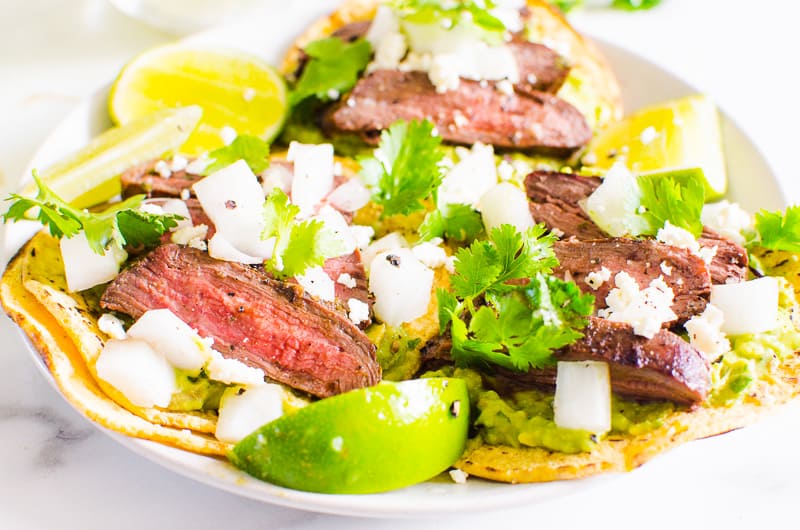 Want More Healthy Dinner Ideas?
If you enjoyed these healthy grill recipes, why not check out this list of 65 healthy dinner ideas , 65 clean eating chicken recipes, or browse through my entire collections of potluck and grilling season recipes! If you are looking for more ways to keep your kitchen cool this during warm weather (that don't include the grill) make summer Instant Pot recipes.
32 Healthy Grill Recipes: Best Ever Carne Asada
One of our most popular grilling recipes! Carne Asada is flavor loaded with bold citrus flavor that make everyone's mouths water. Mexican steak marinade results in tender steak everyone will love at your next BBQ, potluck or picnic.
Instructions
Place steak in a large flat dish with side.

In a medium bowl, combine marinade ingredients: soy sauce through pepper and mix well to combine.

Pour your marinade on top of steak in dish and coat steak gently an all sides.

Cover your marinated steak and refrigerate for 4 – 24 hours. Don't exceed 24 hours.

Preheat grill to 500 degrees F or medium-high heat.

Grill to your level of desired doneness. 5 minutes per side will result in a medium rare steak. covered for 5 minutes per side for medium rare, longer for more done. Tip: skirt steak is a thinner cut, to check if your steak is done cut with a knife right on the grill or transfer to a plate and check.

Use a well seasoned cast iron grill pan for indoor grilling.

Indoor or outdoor grilling: cover meat and let rest covered with foil for 5 minutes. This allows the steak juices to settle and become even. more flavorful!

Slice and serve along with your favorite southwest side dishes.
Notes
Store: Refrigerate leftovers for up to 5 days in an airtight container.
Freeze: For 3 months.
Which cut of steak should you use? This recipe as is calls for skirt steak. Sirloin, tenderloin or rib steak are also good cuts for making carne asada.
Gluten-free Soy sauce sub: Use tamari or coconut aminos for a gluten-free option.
Apple cider vinegar or white wine vinegar works
Optimal marinating time: Will depend on the cut of your steak. Thicker cuts marinate for 24 hours and 4 hours for a thin cut.
Don't overcook: Meat will keep cooking with residual heat during resting time. You may want to remove steak from grill before it reaches done. This will ensure your steak remains tender and not overcooked.
Nutrition
Calories:
280
kcal
|
Carbohydrates:
4
g
|
Protein:
38
g
|
Fat:
13
g
|
Saturated Fat:
5
g
|
Cholesterol:
107
mg
|
Sodium:
665
mg
|
Fiber:
1
g
|
Sugar:
1
g