Healthy Banana Oatmeal Bars are made with ripe bananas, oats, dates, and all the delicious add-ins you like in your morning bowl of oats! A portable quick and easy breakfast or healthy snacks idea.
Don't miss these other healthy snack ideas – healthy oatmeal muffins, healthy apple oatmeal bars, or sugar free oatmeal cookies!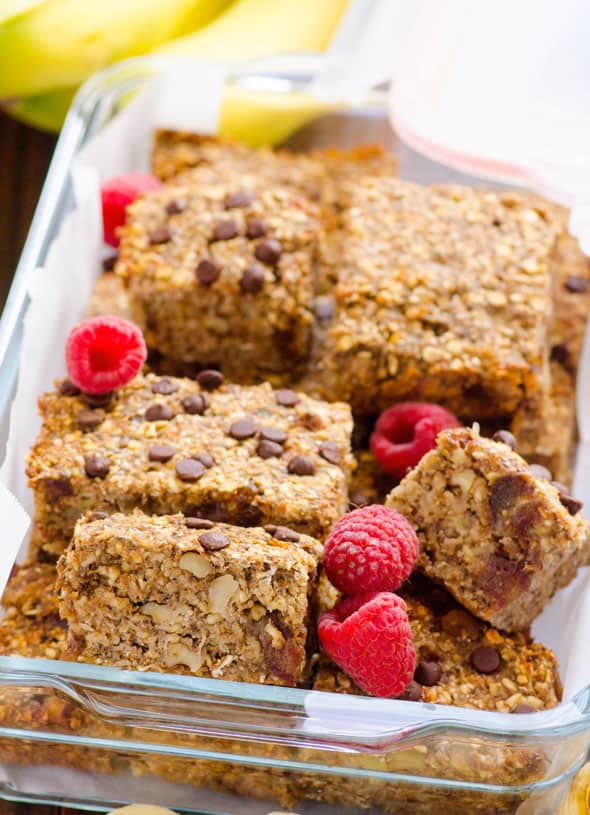 These healthy banana oatmeal bars are insane! Whether you're a banana lover, an oatmeal lover, or just love healthy breakfast options, these bars are for you!
They're similar to banana protein muffins but they don't contain any protein powder. They do however have flax seeds or hemp hearts instead.
They're a baked alternative to traditional oatmeal, much like my healthy carrot cake baked oatmeal, and naturally sweetened with ripe bananas and Medjool dates.
When I don't have any healthy banana oatmeal cookies or chocolate banana chia pudding, these banana oat bars are just as good for a treat!
Ingredients for Healthy Banana Oatmeal Bars
Super simple ingredients and most you've probably already got.
Mashed ripe bananas, measure after mashing: The riper the better for optimal sweetness. Give us all the potassium! If you have over ripen bananas, here's how to freeze bananas to use them later. If you have under ripe bananas, here is how to ripen bananas faster.
Applesauce: I use unsweetened applesauce to avoid any added sugar. It provides moisture and a subtle apple flavor which is a great pairing with oats and cinnamon.
Milk: Any milk will do. To keep it dairy free I use unsweetened almond milk. You could try oat milk, cashew milk, or even coconut milk too.
Oats: Quick or old fashioned rolled oats will both work in this recipe as well as in quinoa granola bars. The texture may be different in the end, but the taste will be the same. Use certified gluten free oats to ensure this recipe remains gluten-free.
Ground flaxseed: Flax has a ton of fiber and Omega 3s. You could also use hemp hearts for increased protein. When mixed with a liquid it also acts as a binder, since we're not using any eggs!
Baking powder and baking soda: We need these to ensure our bars don't fall flat. We want them nice and decadent! Look for aluminum free baking powder.
Cinnamon: A delicious warm spice that adds incredible flavor.
Salt: A little bit of seasoning is needed to enhance the flavor of all of the other ingredients.
Medjool dates: High in fiber, iron, and magnesium, they also are just delicious. They're sweet and when chopped they can replace all kinds of dried fruit. Feel free to swap them for raisins or another dried fruit.
Walnuts: Or any chopped nut like almond, cashews, pecans or even hazelnuts! It's almost like eating healthy banana bread studded with nuts.
Cooking spray: I use Misto to create a nonstick surface.
Chocolate chips: Optional but recommended!
Optional Additions
Coconut flakes, peanut butter, pumpkin seed butter, or almond butter can be added to the batter for a little something extra.
You could also sprinkle one half with chocolate chips for children and leave the other half plain for the adults. Just like with a bowl of Instant Pot steel cut oats, make it your own!
How to Make Healthy Banana Oatmeal Bars
This whole recipe is done in one bowl. First, we combine the mashed bananas, applesauce, and milk. Then we add the oats and salt. It'll become thicker at this point and then the dates and walnuts will add even more texture.
Once you've preheated the oven and prepared a baking dish, pour the batter into it and level it out with a spatula. It'll be thick so it will need a bit of help reaching the walls of the dish. If you are going to be using chocolate chips add them in just before baking.
Bake for 40 minutes and test with a toothpick inserted into the center. If it comes out clean it's done. Take the bars out and let them cool before slicing.
These bars can be enjoyed hot, warm, or cold. On their own or with a side of yogurt, drizzled with maple syrup or honey, or slathered with peanut butter. However you like your oatmeal, eat the bars the same way!
FAQs
Can I add protein powder to these bars?
Yes, you can! It's a powder, so you'll need to adjust the recipe with extra liquid. Slowly add some milk to keep it at the consistency of the original recipe. You may also love these protein pancakes.
Do I have to use baking powder and baking soda?
Technically you don't. They do help the bars rise to a chewier and heartier texture. If you skip them, which you can, they will be flatter as a result.
What can I substitute for applesauce?
Yogurt or any other fruit puree should work. Greek yogurt may work for fructose sensitivities but has not been tested.
What is the texture of these banana oatmeal bars?
They're thick, and slightly chewy without being too soft. The bananas and the oats balance each other in terms of moisture and dryness, which is nice. It is like a baked bowl of oats!

You may also like these healthy overnight oats for another way to enjoy oats!
Can I Make a Gluten Free Version?
Based on the ingredients listed, these bars are naturally gluten free. Since we do not have anyone with gluten intolerance in the family, I've never needed to be extremely careful.
In a case where you need to be, just make sure all of your ingredients are certified gluten free. This means they're free from gluten but with the added assurance that there's no cross contamination either.
FYI, these banana oat bars are also vegan. You do not need any eggs here.
Are These Bars Healthy?
Oh boy, are they ever! Tons of protein, fiber, iron, potassium, vitamins, minerals, antioxidants, and the list goes on! No refined sugars, vegan, dairy free, gluten free, and sweetened naturally with nutrient dense ingredients.
Go ahead, enjoy a bar and then have another!
How to Store
I usually make a double batch so I can refrigerate half and freeze the other half.
Baking it in a 9″ x 13″ baking dish means I can place the whole thing in the fridge. Sliced up and ready to go for the taking!
More Banana Sweetened Recipes
Check out these 10 healthy banana snacks or all of my favorite healthy snacks for more ideas.
Healthy Banana Oatmeal Bars
Healthy Banana Oatmeal Bars with ripe bananas, oats, dates, and all the delicious add-ins you like in your morning bowl of oats yet portable!
Instructions
Preheat oven to 375 degrees F, line 8 x 8 square baking dish with parchment paper and spray with cooking spray.

In a large mixing bowl, add bananas, applesauce, milk and stir to combine. Add oats through salt and mix well to combine. Add dates and walnuts, stir enough to incorporate.

Pour into prepared baking dish, level with spatula and top with chocolate chips if desired (I usually sprinkle half for the kids). Bake for 40 minutes or until toothpick inserted in the centre comes out clean.

Remove from the oven, let cool for 10 minutes and cut into 8 bars. Serve hot, warm or cold with yogurt, peanut butter or whatever you like for breakfast.
Notes
Store: Refrigerate in an airtight container for up to a week.
Freeze: In resealable container for up 3-4 months.
You could also use a non-stick muffin tin or BPA-free silicone baking cups.
I also like to double the recipe, bake in 9″ x 13″ baking dish and freeze for later.
Please note, baking time could increase by about 15 minutes, depending on your oven.
I used unsweetened homemade Instant Pot applesauce.
Nutrition
Serving:
1
bar
|
Calories:
224
kcal
|
Carbohydrates:
35
g
|
Protein:
5
g
|
Fat:
9
g
|
Saturated Fat:
1
g
|
Sodium:
236
mg
|
Fiber:
6
g
|
Sugar:
16
g