As majority of us are trying to get rid off of extra lbs after the Holidays, I thought we could all appreciate a quick lightened up classic. Chicken, cauliflower rice and beans dish is veggie, protein and flavour packed, and yet lighter in carbs.
The secret ingredient is cauliflower "rice". You can either make your own using a food processor or buy one in Trader Joe's, Costco or Walmart. Pretty much anywhere. And if you are looking for ways to cook with it, check our my 25 cauliflower rice recipes, as well as 20 Trader Joe's cauliflower rice recipes.
Cauliflower "rice" holds its shape perfectly. On the left is raw "rice" and on the right is sautéed for 3 minutes "rice".
To flavour this chicken cauliflower rice I used Mina Harissa sauce because it is so easy to use and is full of flavour. Just a few tablespoons replace a bazillion of different spices. And I like simplicity. 2 tablespoons make a kid friendly version but you can add more if you like.
You can purchase Mina at Whole foods, Dean & DeLuca, Stop & Shop, Harris Teeter, The Fresh Market, Vons, H.E.B and Fairway. You can also find it online on Amazon and Vitacost.
I used green bell peppers but you can use any coloured ones. I like green variety because they are not as sweet and have different flavour than other peppers. Plus they are cheaper. I also used 2 cans of beans but you can use 1. For my husband who eats a lot, I cooked brown rice and served it on a side for extra carbs. Good idea for kids as well.
Enjoy!
Disclosure: I was compensated for my time to develop this recipe. I recommend only products I love and tried myself.
Print
Chicken, Cauliflower Rice and Beans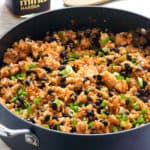 Chicken, Cauliflower Rice and Beans Recipe cooked with spicy harissa sauce in one pan on a stovetop, ready in 30 minutes.
Author:
Prep Time:

10 minutes

Cook Time:

25 minutes

Total Time:

35 minutes

Yield:

6 servings
Ingredients
2 lbs (7 – 8 inch in diameter) cauliflower head, separated into large florets*
1 tbsp olive oil, extra virgin
1 large onion, finely chopped
4 garlic cloves, minced
2 medium green bell peppers, chopped
1 lb chicken breasts, cubed
1 1/2 tsp salt, divided
Pinch ground black pepper
15 oz can tomato sauce
2 x 14 oz can black beans, drained & rinsed
2 tbsp Mina Harissa
3 tbsp green onions, chopped
Cooking spray (I use Misto)
Instructions
In a food processor, add cauliflower in batches and process until "rice" forms. Just watch closely and do not over process into mush. Transfer to a bowl.
Preheat large and deep non-stick skillet on medium – high heat and spray with cooking spray. Add cauliflower "rice" and cook for 3 – 4 minutes or until a bit golden, stirring frequently and watching closely not to burn. In the last minute of cooking add 1/2 tsp salt and a pinch of ground black pepper. Transfer to a bowl and set aside.
Return skillet on medium heat and swirl olive oil to coat (If necessary scrape off small bits of cauliflower "rice"). Add onion, garlic and green bell peppers; cook for 7 minutes or so, stirring occasionally. Increase heat to medium – high, add chicken and cook for 5 more minutes, stirring occasionally.
Add remaining salt, tomato sauce, black beans and Mina Harissa; stir and bring to a boil. Reduce heat to low, cover and simmer for 10 more minutes. Remove from heat, stir in rice and sprinkle with green onions. Serve hot on its own or with extra brown rice for those extra hungry people, if desired.:)
Store: Refrigerate covered for up to 5 days.
Notes
*Use cooked brown rice instead or half cauliflower "rice"/half cooked brown rice.
★ Did you make this recipe? Please give it a star rating in the comments.