Instant Pot Chickpeas are ready in 1 hour with no soaking required! Step by step instructions how to cook garbanzo beans at home so you can ditch canned beans, save money, and always have them on hand for meal prep, salads and anything!
This foolproof method results in tender, buttery chickpeas ready to be used in favorites like chickpea avocado salad or garlic hummus recipe!
I have been making Instant Pot chickpeas from the first day I got my Instant Pot. Knowing I can take dried beans and cooking them without soaking was what sold me!
Since then I have made black beans in Instant Pot, Instant Pot kidney beans, and turned dried pinto beans into Instant Pot baked beans and Instant Pot refried beans all with no soaking involved.
The whole idea behind a modern day electric pressure cooker is to save time and energy, but if I can save money and eat healthy along the way, you bet I'm doing exactly that!
Buying dried chickpeas in bulk and cooking them yourself is also cost effective! With the Instant Pot there is no time waiting around pre-soaking and chickpeas come out intact, yet tender and creamy.
Not to mention they taste so much better!
Why You'll Love The Instant Pot for Cooking Chickpeas
Budget friendly: Buy in bulk plus organic dried chickpeas are way more affordable than organic canned chickpeas.
Tastes better: No metal taste from a can or waxy taste from a box.
Fast and easy: No pre-soaking and recipe ready in 30 minutes vs. cooking dried beans on the stove which takes 6+ hours!
They're healthy: Low sodium plus high in protein, fiber, vitamins, and minerals like iron, folate, and zinc, to name a few.
Ingredients Needed
Instant Pot chickpeas recipe is one of those non-recipe recipes. It's more of a guide or a "how-to" because there are only 2 ingredients!
Dried chickpeas: Be mindful of the "age" of your chickpeas. Old beans may take longer to cook!
Cold water: You'll need just enough to cover the chickpeas by an inch.
That's it!
How to Cook Chickpeas in the Instant Pot
The process is so simple, Instant Pot chickpeas is one of my favorite Instant Pot recipes for beginners! All you need are chickpeas aka garbanzo beans and water.
Rinse: Rinse dry chickpeas to remove any dust or debris.
Prep: Add 1-3 cups of chickpeas with cold water keeping the ratio of 1 cup beans: 3 cups water in mind. Water needs to cover beans by 1 inch and not surpass max fill line.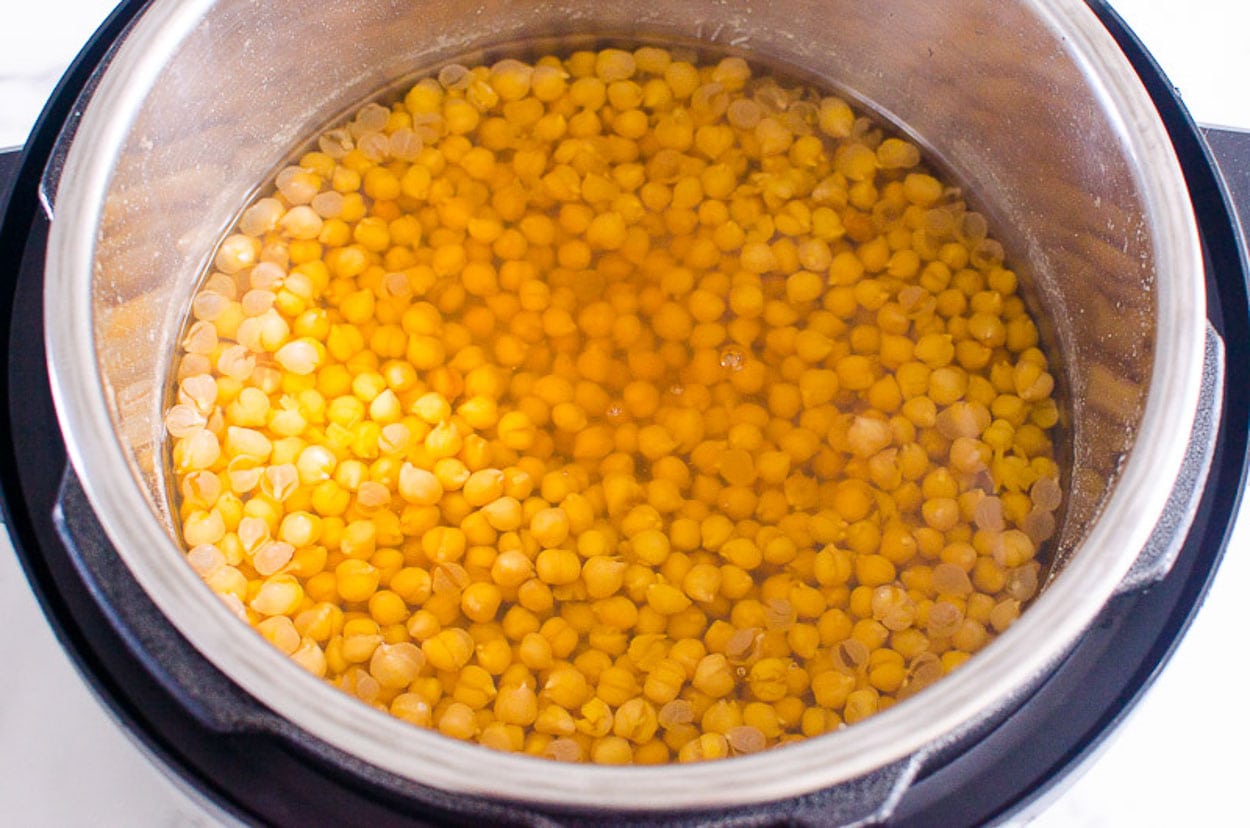 Cook: Cooking time is 25 minutes on High Pressure.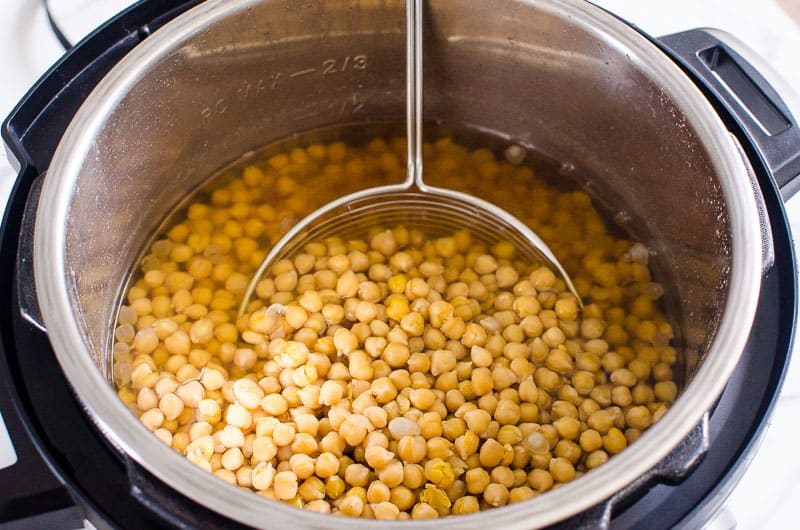 Wait 10 minutes before you do pressure release: Then quick release the remaining pressure by turning the valve to Venting. You can also just leave it to natural release completely on its own until the pin drops.
Variations
I love to cook my Instant Pot garbanzo beans in unsalted water and then season them in dishes later. However, here are some ways to jazz up your Instant Pot chickpeas for added flavor while they are pressure cooking.
Garlic: 1-2 garlic cloves, peeled. Or for max garlic flavor use a whole head of garlic, peeled and crushed.
Onion: Another way to add flavor, add a whole onion, halved. Add with garlic for even more savory flavor.
Salt: Add a teaspoon to bring out the flavor.
Replace water with stock: For additional flavor, stock may work well for soup, but maybe not so much for chickpea cookies.
Expert Tips
Fresh is best: There is such thing as "old" beans and rice. They take longer to cook. So once you find a reliable source of beans and my recipes work for you, stick to those beans.
Look in bulk: The bulk section of a grocery store is anyone's gold mine. That's where you'll find the same food that comes in a package but without paying for the cost of extra packaging, plus they tend to be more fresh.
Save the cooking water: Use it as a broth in chicken chickpea stew or in other dishes.
Don't soak your chickpeas: This recipe time has been tested for unsoaked chickpeas. If you soak your garbanzo beans, they'll turn out too soft.
FAQs
Do you need to soak chickpeas before pressure cooking?
No, the Instant Pot does that work for you. The idea behind soaking the beans is to rehydrate them so they don't take as long to cook. Some people also find that soaked chickpeas makes them easier to digest.
Why did my garbanzo beans turn out mushy in Instant Pot?
It is most likely due to the water to bean ratio being off. Remember it is 1 cup of beans to 3 cups of cold water. If you are using too much water, the beans will continue to absorb as much as they can, especially if there is more than enough in there.

You also want to make sure to use cold water so that they cook evenly and the cooking time is as accurate as possible. The warmer the water, the faster they'll cook.
My chickpeas are still hard, what happened?
So, this would be a case of the bean to water ratio is off again, only this time you may have added too little water for the number of beans you had in there.

Either that or your valve wasn't set to sealing and there was too much steam being released without realizing which means it never really came to pressure. Old beans could also be the culprit!
Should I peel the chickpeas after cooking?
Not necessary to spend time doing this extra step! That being said, some swear that it makes smoother hummus. If that's you, place drained chickpeas in a bowl of water and gently rub to remove the skins.
How to Use Chickpeas
Wondering what to do with your chickpeas now that you've perfected cooking them? I prefer to use chickpeas in savory dishes and the list below is a good place to start!
Make Ahead and Storage
Storing: Instant Pot chickpeas refrigerate well for up to 5 days.
Freezing: I like to freeze chickpeas and use them instead of grabbing a can.
Transfer the beans, using a slotted spoon, to a large colander placed in a sink and drain. Then measure 1.5 cups (the equivalent of 15 oz. can) into freezer friendly storage bags. Let the air out, seal, label, and freeze for up to 6 months.
To thaw: Place them on a counter for a few hours or in the fridge overnight. To thaw quickly, place them in a bowl with hot water for 5 minutes and then drain! Easy-peasy.
More Instant Pot Recipes
Browse all healthy Instant Pot recipes.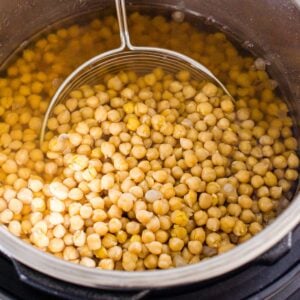 Instant Pot Chickpeas (No Soaking Required)
No soak Instant Pot Chickpeas ready in 1 hour! Step by step how to cook garbanzo beans at home for meal prep, snacks, and salads.
Ingredients
1

cup

dried chickpeas

rinsed & drained

3

cups

cold water
Instructions
In Instant Pot, add chickpeas and cold water. You can eyeball water just enough to cover chickpeas by an inch.

Close the lid, set pressure vent to Sealing and press Pressure Cook on High or Manual for 25 minutes (8 quart model) or 30 minutes (6 quart model).

After 25-30 minutes, Instant Pot will beep, display will say OFF and now let it bring pressure down for 10 minutes. I do not recommend to do Quick Release by turning pressure valve to Venting position. It will make chickpeas mushy and chickpea broth will spray all over your kitchen.
Notes
Store:

Cooked beans refrigerate well for up to 5 days.

Freeze:

Transfer chickpeas with a slotted spoon to a large colander placed in a sink to drain. Measure 1.5 cups (equal to a 15 oz can drained) into storage bags, let air out, seal and freeze for up to 6 months.

To thaw:

Place on a counter for a few hours or in the fridge overnight. Or place in a bowl with hot water for 5 minutes and then drain. Easy-peasy.

Broth:

Do not discard the liquid. It is a delicious and nutritious veggie broth. Use as a base for making any soup or stew.
Nutrition
Serving:
0.67
cup
|
Calories:
243
kcal
|
Carbohydrates:
40
g
|
Protein:
13
g
|
Fat:
4
g
|
Saturated Fat:
1
g
|
Sodium:
28
mg
|
Fiber:
12
g
|
Sugar:
7
g