This roasted red pepper lasagna contains just 7 ingredients and is cooked in a slow cooker for a hands-off, super easy, healthy, wholesome, comforting meat-free meal!
Pasta dishes are super easy to make in a slow cooker – like chicken spaghetti or even whole chicken and pasta.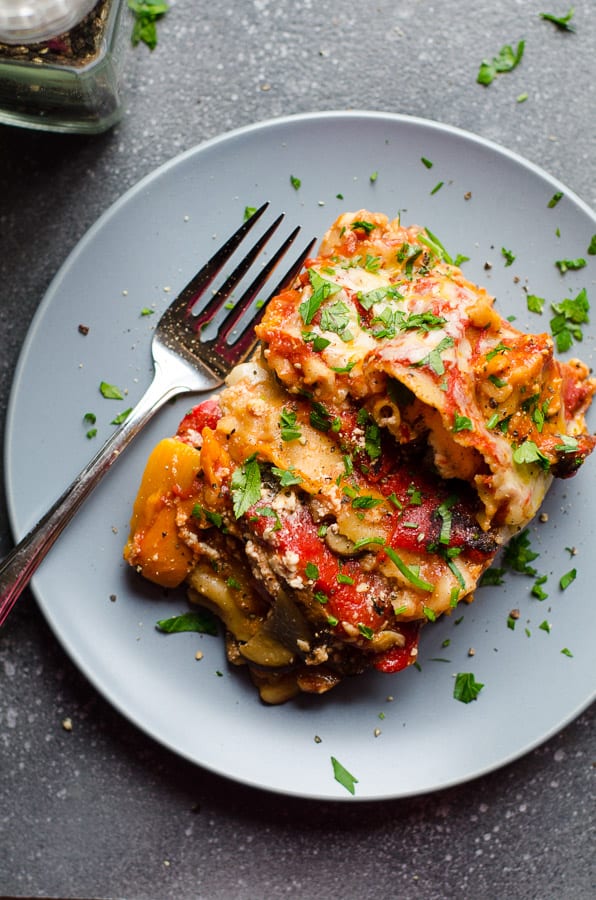 Prepare to be amazed with this 7 ingredients healthy roasted red pepper lasagna with mushrooms made in a slow cooker. And all ingredients come from a jar, a can, or a package. And still clean. If maybe, maybe, just slightly maybe, one of the ingredients is 98% clean promise you will bite the bullet. Trust me, I would love to have an Italian grandma cooking a tomato sauce for me.
And, if you like lasagna, check out my zucchini lasagna, Instant Pot lasagna, stovetop zucchini noodles with chicken, and chicken lasagna roll-ups with artichoke.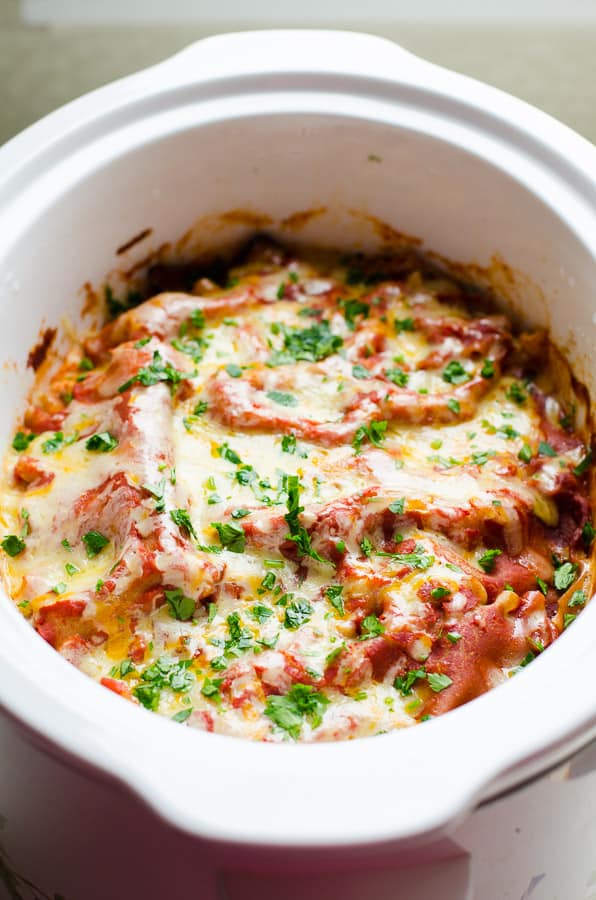 There is no more perfect time to cook with roasted bell peppers than around the holidays. Because it is when Costco sells… Well, Costco size jars of roasted peppers for like under $10. The price is ridiculous for what you get.
As much as I love fresh peppers for ground chicken stuffed peppers, and stir-fries like this cauliflower stir fry with bell peppers or healthy buckwheat stir fry with vegetables, canned peppers also taste delicious!
Roasted red and yellow peppers: I eat them straight from a jar. They remind me of my mom's canned bell peppers. I loved them! Sometime this year, I think for Easter, I made a roasted pepper dip with herbs and olives which was extremely good. And that is what I originally started stocking with peppers for.
But then I thought since I ended up with so many peppers I should try and incorporate them into a main vegetarian meal. So, slow cooker roasted red pepper lasagna here we come.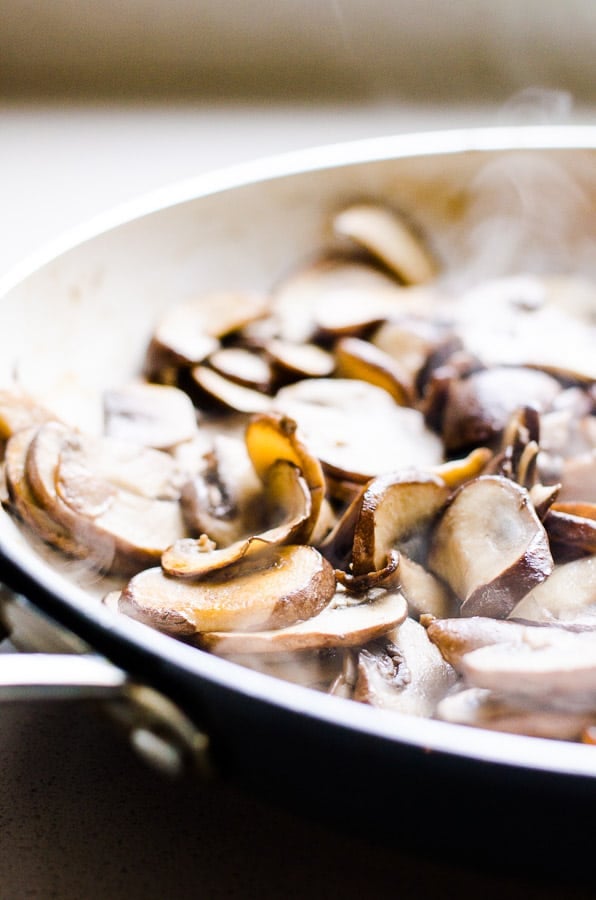 Mushrooms and Garlic: Then I started to think what would peppers go well with and to my mind came never failing me brown mushrooms. Sautéed until fragrant and browned. First recipe testing I used 1 lb but second time it had to be 2 lbs. Great decision!
And with garlic. That would add a ton of flavour.
Buy more than needed and then you can use leftovers for healthy mushrooms stroganoff, cauliflower rice mushroom risotto, or even parmesan stuffed mushrooms!
Cottage Cheese: I got an extra push to make an easy crockpot lasagna with cottage cheese by Organic Valley's cottage cheese on sale at Fred Meyer.
Next time I would try a ricotta instead. I think I prefer it to a cottage cheese in a lasagna recipe because it is sweeter.
Whole Wheat Lasagna Noodles: I used Prairie Harvest organic kamut. You can use brown rice ones for a gluten free option. I did have a bit of a stomach ache but that is because I have been eating roasted red pepper lasagna for like 2 days. See, everything in moderation.
The best thing about the slow cooker lasagna is that you don't have to pre-cook the noodles. Because crockpot's environment is so naturally moist they get cooked perfectly just with a tomato sauce.
And then you layer this baby. The most fun part. So easy.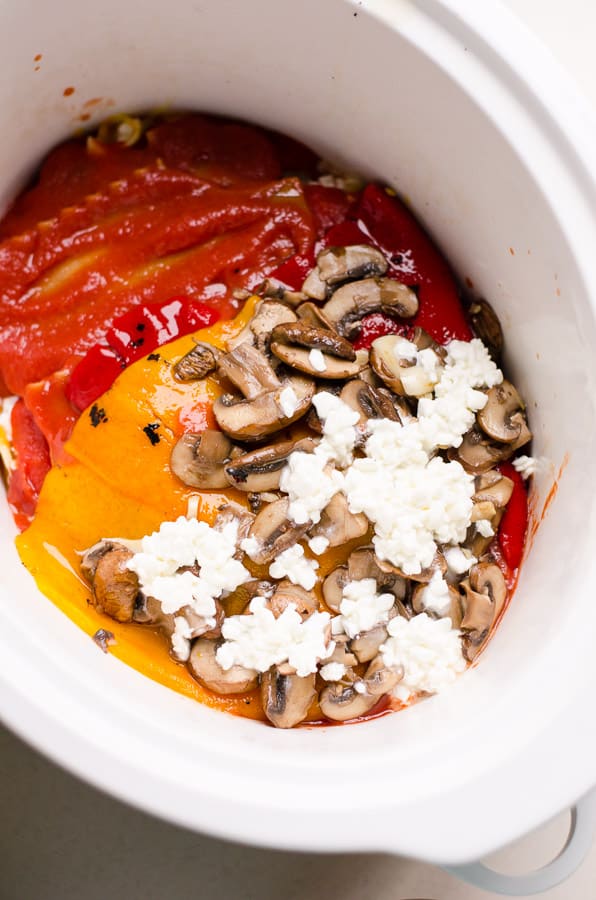 Tomato Sauce: I used Costco's low sodium organic (=> my complete Costco shopping list). It has some spices and is of quite smooth and runny consistency. Not a chunky one. Whatever sauce you use, please make sure it is low sodium because many other ingredients contain salt as well. For me, this tasty slow cooker lasagna came out with a perfect sodium content. I didn't add extra salt and neither was it too salty.
Then cover and cook for 3 hours on high or 6 hours on low. My $10 garage sale slow cooker with flowers is yet to fail me. Now that I have said it out loud, it probably will break like next week. When it does, I would buy this programmable one. The only feature I am missing about mine. You gotta own a slow cooker!
So, after cooking you open the lid and will be staring at perfectly saucy pasta. No worries about the liquid. Sprinkle with remaining cheese, cover and let this slow cooker mushroom lasagna sit for another hour. The liquid will get absorbed and cheese will melt.
I tried to cook with cheese on top the whole time and cheese came out dry, plasticky and almost gone. Yuk.
This looks way better. Sprinkle with parsley. And cut through with a knife. This crockpot vegetarian lasagna comes out so pillowy soft I was able to cut through with a spoon. Melt in your mouth.
Approved by herds of people. Approved by Italians. I gave 3 slices to my new friend Katie. Kids ate my roasted red pepper lasagna for 2 days straight. Alex ate. Everyone loved it! I made it twice in 2 days. I think I'm officially lasagna'ed out for now.
But you go make it now and dig into layers of crunchy edge crimini mushrooms, bits of garlic, sweet roasted peppers layered among pillowy soft cheesy sheets of pasta.
Before you go, you may also enjoy these healthy pasta recipes.
More Healthy Crock Pot Recipes
Roasted Red Pepper Lasagna in Slow Cooker
Slow Cooker Roasted Red Pepper Lasagna is a tasty, easy and pillowy soft whole wheat lasagna recipe with mushrooms, cottage cheese and tomato sauce.
Instructions
Preheat nonstick ceramic skillet on high heat and add mushrooms. Cook for 7-10 minutes until mushrooms have shrunk in half and stopped releasing water, stirring occasionally and draining water.

Reduce heat to medium and add half the oil. Cook for another few minutes until golden brown, stirring occasionally. Transfer to a medium bowl.

Return skillet to the stove and add remaining oil. Add garlic and saute for a minute or until fragrant and browned a bit, stirring frequently. Transfer to a bowl with mushrooms and stir to mix.

Spray the bottom and walls of

a large slow cooker

with cooking spray. Spread 1/3 of a can of tomato sauce, break noodles into pieces and lay to cover the bottom of a slow cooker. Cover with 1/4 cup marble cheese, 3 peppers (I butterflied them with hands taking out straight from a jar – no need to drain well, just a bit), 1/3 mushrooms, 1/3 cottage cheese and 1/3 can of tomato sauce. Repeat this layer 2 more times and then finishing with a layer of noodles and 1/2 can of tomato sauce on top.

Cover and cook on Low for 6 hours or on High for 3 hours.

Turn off the slow cooker, open and sprinkle with remaining 1/2 cup marble cheese. Cover and let lasagna sit and set for an hour.

Cut with a knife or a metal spoon into 8 portions and serve hot.
Store: Refrigerate in an airtight container for up to 5 days or freeze for up to 3 months.
Notes
*I bought a 62 oz jar of  roasted red and yellow peppers at Costco. I used about 1/2-3/4 of it for the lasagna.
**Ricotta would work great too.
***I had half of can of tomato sauce left which was perfect. Do not use entire 2 cans. Try to find low sodium sauce because many other ingredients contain salt as well. I buy mine at Costco (where else?!LOL) in cans (nothing I can do about that).
Nutrition
Serving:
1
slice
|
Calories:
318
kcal
|
Carbohydrates:
41
g
|
Protein:
19
g
|
Fat:
9
g
|
Saturated Fat:
6
g
|
Cholesterol:
24
mg
|
Sodium:
567
mg
|
Fiber:
3
g
|
Sugar:
6
g