These hearty low carb Ground Turkey Zucchini Boats are stuffed with a simple Bolognese style filling, topped with cheese, then baked until tender with a bubbling cheesy topping.
You might also enjoy these easy parmesan zucchini sticks and Mediterranean zucchini boats.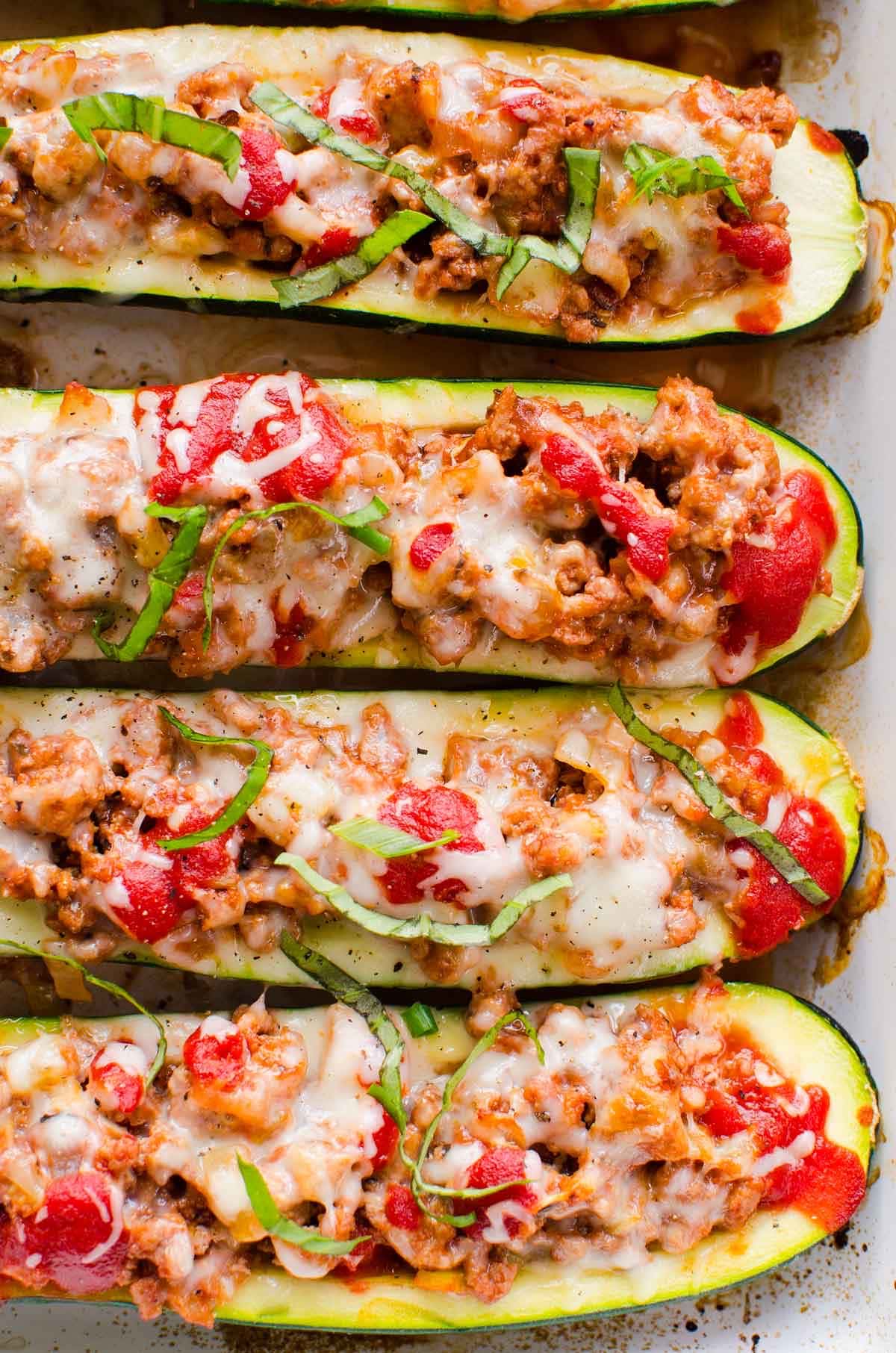 As summer and zucchini season are here, I think it's time for a zucchini recipe where squash is a star and we use up a lot of it! These low carb ground turkey zucchini boats turned out amazing and my kids loved them a lot!
Why You Will Love This Recipe
Lighter: These stuffed zucchini boats use ground turkey for a lean and healthy stuffing. However, you can easily substitute ground chicken, ground beef, or ground sausage.
Quick and easy: They require just 10 minutes of prep time.
Kid friendly: Just a little cheese makes these zucchini boats hearty and child-friendly, while encouraging them to eat more veggies.
Customizable: You can easily swap out the seasonings and just a couple of ingredients for several variations of the stuffing.
Diet-friendly: Also gluten-free, low-carb, and can be made vegetarian or even vegan!
Ingredients for Ground Turkey Zucchini Boats
While the ingredients list looks a little long at first glance, these ground turkey zucchini boats are primarily filled with pantry and kitchen staples.
Zucchini: You can use zucchini or summer squash. I recommend 3 medium zucchinis that are straight.
Ground turkey: I use extra lean ground turkey but you can use any kind.
Vegetables: A combination of onion, garlic and celery to add flavor to the turkey stuffing.
Wine: A little red wine or white wine to add extra flavor. However, for an alcohol-free version, you can simply add a little additional broth.
Tomato sauce: I recommend low sodium tomato sauce or marinara sauce.
Broth: Chicken broth, vegetable broth or beef broth will add flavor.
Cheese: Mozzarella cheese works well with bolognese style stuffing.
Seasonings: I used a combination of dried oregano, basil, and thyme or substitute with Italian seasoning. Then salt and pepper.
Oil: Any neutral-flavored cooking oil like avocado oil, olive oil, or coconut oil will work.
How to Make Ground Turkey Zucchini Boats
Here is a quick overview how to make ground turkey zucchini boats. You can find full recipe card below.
Prep the zucchini: Slice zucchini in half lengthwise and scoop out the seeds and core with a tablespoon or a melon baller. Lay zucchini boats in 9×13-inch baking dish and set aside.
Make turkey stuffing: Saute the onion, celery, and garlic in a large skillet. Then add the dried herbs and salt and pepper, sauté for a further 3 minutes. Add the ground turkey and cook for around 7 minutes, constantly stirring to break it up into tiny pieces. Then add the wine and half a can of tomato sauce, bring to a boil and simmer for a few minutes.
Stuff the zucchini: Stuff zucchini boats with ground turkey mixture evenly. Spoon the remaining tomato sauce over the top and then sprinkle with cheese.
Bake them: Bake zucchini boats at 400 F for 25 minutes while uncovered.
Recipe Tip
If you'd prefer very tender zucchini, you can bake it for up to 35 minutes. But add the cheese halfway through to prevent it from drying out. The baking time may also vary based on the size and freshness of the zucchini, so keep an eye on them in the last 5-10 minutes.
Tips for Best Results
Here are my top tips for the best ground turkey zucchini boats!
Picking zucchini and what kind: When purchasing zucchini at the store, look for straight zucchini. Yellow summer squash will work too.
If you only have large zucchini: Cut them in halves to make shorter or bake for longer time.
When baking time is longer: Make sure to add cheese halfway through bake time, so it doesn't dry out.
Adjusting the amount: The size of your zucchini will impact the number of individual zucchini boats you can make.
Use leftover bolognese: For a super quick dinner, use leftover Instant Pot bolognese or homemade meat sauce to stuff the zucchini boats, then bake and enjoy!
Save the zucchini pulp: There's no need to throw it out. Make sauteed zucchini with it or add it to other dishes like Mediterranean chicken skillet, zucchini ricotta pasta and pasta sauces.
Variations
Here are a few ways to make these turkey zucchini boats your own based on your personal taste and ingredients you have on hand.
Other meat: Feel free to use ground chicken, ground beef or ground sausage. I recommend to drain the fat after cooking the red meat
Other cheese: I prefer mozzarella cheese in this zucchini recipe. However, cheddar cheese, Havarti cheese, provolone cheese, or even half the amount of Parmesan cheese will work just as well.
Other vegetables: In addition or instead of garlic, onion and celery, use bell peppers or mushrooms to add flavor to the filling.
Breadcrumbs: A light sprinkling of Panko breadcrumbs adds a wonderful crunch to the zucchini boats.
Other herbs and spices: You can use any combination of Italian dried herbs that you have. I often add a pinch of cinnamon or nutmeg for a cozy comforting filling, just like I do with my meat sauce recipe. For a bit of spice, you can add red pepper flakes or cayenne.
For taco zucchini boats: You can adjust this zucchini recipe into taco zucchini boats by swapping out the Italian seasonings for taco seasoning and topping with Mexican cheese and cilantro. You could also add black beans or chickpeas into the filling. Serve with a dollop of sour cream or yogurt and guacamole.
Lasagna zucchini boats: For zucchini lasagna boats, spread a thin layer of ricotta below the meat filling, then top with mozzarella cheese.
Vegan stuffing: Use a meat-alternative ground meat and dairy-free cheese.
What to Serve with Turkey Zucchini Boats?
Enjoy these ground turkey stuffed zucchini boats hot, warm, at room temperature, or even chilled. Eat on their own for light healthy lunch, pair with a hearty salad like Jennifer Aniston salad, or with a slice of crusty bread for a heartier healthy dinner.
You could also serve it alongside simple spaghetti recipe, cooked brown rice or even Instant Pot jambalaya (pictured in photos).
How to Store and Reheat
Store: Store any leftovers in the fridge for 3 days, either tightly covered or in an airtight container. I don't recommend freezing zucchini as the texture will change.
I don't recommend to make this recipe ahead because the meat filling is only par-cooked before the zucchini boats are baked. However, if you cook the turkey filling thoroughly, you can refrigerate it for 2 days or freeze for up to 2 months. Then, thaw in the fridge overnight before using.
Reheat: Zucchini boats taste great hot or warm. If it is a hot summer day, they taste great cold. To reheat, add zucchini boats to a baking dish with a splash of water, cover, and bake in preheated 350 F oven for about 15 minutes. This way they warm through and do not dry out.
FAQs
Can I freeze zucchini boats?
No, you can't free zucchini boats because zucchini consists of 95% water. The texture will be impacted upon freezing and thawing, so I don't recommend it.
How large do my zucchini need to be to stuff?
You can stuff smaller and larger zucchini, so there isn't a perfect size zucchini for stuffing. Although I think the best zucchini for stuffing are around 8-inches in length.
How do I get my zucchini boats to be crispy?
If you want crispy turkey stuffed zucchini boats, you can sprinkle them with Panko breadcrumbs, which are light but crunchy, before baking. You can also broil the boats at the end of the baking process to slightly crisp up the tops.
More Turkey Recipes to Try
More Zucchini Recipes to Try
You might also want to browse this list of 45 more healthy zucchini recipes!
Ground Turkey Zucchini Boats
These hearty low carb Ground Turkey Zucchini Boats are stuffed with a simple Bolognese style filling, topped with cheese, then baked until tender with a bubbling cheesy topping.
Instructions
Prep zucchini by slicing in half and scooping out the seeds and core in the middle with a tablespoon or ice cream scoop. Set aside.

Preheat oven to 400 degrees F, add 1/4 cup broth or water to 9 x 13 baking dish and lay zucchini in it. Set aside.

Preheat large skillet on medium heat and swirl oil to coat. Add onion, celery and garlic, saute for 2 minutes, stirring occasionally. Then add dried oregano, basil, thyme, salt and pepper and saute for 3 more minutes, stirring occasionally.

Add ground turkey and cook for 7 minutes, constantly stirring and breaking into small pieces. Add wine and half can of tomato sauce. Stir, bring to a boil and simmer for a few minutes. Turn off heat.

Divide meat mixture between zucchini boats evenly, spoon remaining tomato sauce on top and sprinkle with cheese. Bake zucchini boats for 25 minutes uncovered.

Remove from the oven, garnish with basil or parsley and serve hot, warm or cold. So good either way!
Notes
Store: Refrigerate leftovers covered tightly for up to 3 days.
Freeze: I do not recommend to freeze zucchini boats before or after cooking. Zucchini doesn't freeze well due to its high water content.
Ground meat: You can use ground chicken or ground beef (I recommend to drain it).
Wine substitute: Instead of wine, use more broth or skip.
Dried herbs can be any of Italian flavor, even Italian seasoning.
Nutrition
Serving:
1
boat
|
Calories:
239
kcal
|
Carbohydrates:
14
g
|
Protein:
26
g
|
Fat:
9
g
|
Saturated Fat:
3
g
|
Cholesterol:
56
mg
|
Sodium:
486
mg
|
Fiber:
4
g
|
Sugar:
9
g