Santa Fe chicken and lentil casserole recipe with corn, green lentils, chicken, cayenne, cilantro and cheese baked into healthy kid-approved bake. It will win the hearts of all lentil haters.
If you love lentils, though, you might also like this Instant Pot dal, green lentil curry, lentil mushroom casserole, or spinach and lentil soup!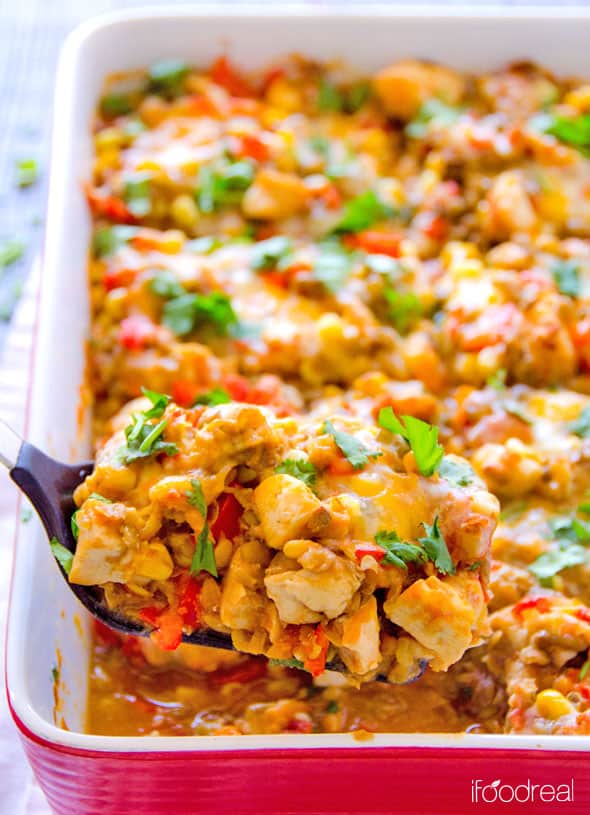 My rule of thumb for a healthy casserole: complex carbs in moderation, more lean protein and veggies, and keep cheese to reasonable amounts.The list of ingredients might seem long but really they are mostly spices that repeat themselves. I just broke down the recipe nicely for you. Some chicken, of course green lentils, veggies, cheese, spices and cilantro. And of course cheese on top. That's it.
I follow the same with lots of my favorite casseroles; chicken zucchini casserole and healthy Mexican casserole.
How to Make Santa Fe Chicken and Lentil Casserole
First cook your lentils. I added extra liquid for a reason, do not drain it. Make some flavourful golden brown chicken pieces. You could use chicken thighs too or even leftover air fryer chicken tenders!
Then saute onion, garlic and bell peppers until golden brown. Mix everything together with cheese and spices. Do not thaw the corn. Extra liquid is perfect for keeping the casserole moist during baking.
Then bake uncovered for 50 minutes. The casserole will be bubbly, moist and cheesy. Take it out of the oven, cover with foil and let rest for 30 minutes. Make easy creamy cucumber tomato salad while you wait for a simple side!
Really you could eat it right away but it's not ideal. You want your casserole to sit, the ingredients to marry each other and soak up the juices. Then it's the best!
Looking for more ideas with lentils? Why not try a lentil soup like this red lentil soup, Instant Pot lentil soup, or slow cooker veggie lentil soup or chicken lentil soup!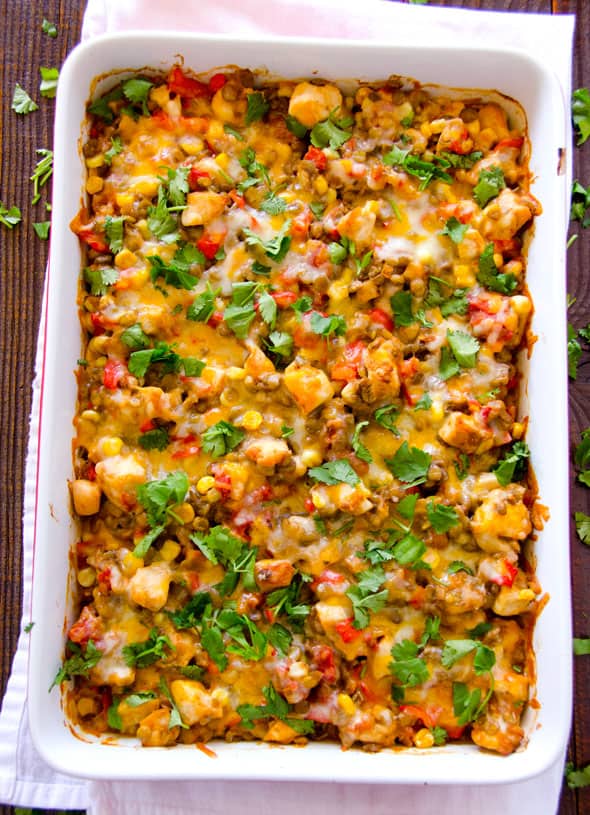 More Healthy Chicken Recipes
You can also browse through my entire collection of one-pot meals!
Santa Fe Chicken and Lentil Casserole
Santa Fe Chicken and Lentil Casserole Recipe with green lentils, chicken, corn, cumin, cilantro and cheese baked into a healthy kid approved casserole.
Ingredients
Instructions
In a medium pot, combine lentils, chicken broth and salt. Bring to a boil on high, reduce heat to low, cover and cook for 35 minutes. Do not drain excess liquid. Set aside.

Meanwhile, preheat large skillet on high and spray with

cooking spray

. Add chicken and cook for 5 minutes, stirring occasionally and draining any liquid if necessary. Add cumin, salt, black pepper and cayenne pepper and cook for another 5 minutes or until golden brown, stirring occasionally. Transfer to a large bowl and set aside.

Preheat oven to 350 degrees F. Return skillet to medium-high heat and spray with cooking spray. Add onion, garlic, bell peppers, cumin, salt and cayenne pepper and cook for 7 minutes or until golden brown, stirring occasionally.

Transfer to the bowl with chicken along with cooked lentils, diced tomatoes, corn, 1 cup cheese, jalapeño peppers, garlic powder, cumin and 1/2 cup cilantro. Mix gently with spatula enough to combine. You may want to taste and adjust the spiciness/salt of the dish with extra cayenne/jalapeño peppers/salt.

Transfer the mixture to a 9 x 13 oven proof baking dish and level/press gently with spatula. Sprinkle with remaining cheese and bake uncovered for 50 mins. Remove casserole from the oven, cover with foil and let stand for half an hour before serving. Garnish with remaining cilantro, cut into 8 slices and serve hot.
Notes
Store: Refrigerate in an airtight container for up to 3 days.
Freeze: In an airtight container up to 3 months.
Meal prep: Assemble, tightly wrap with plastic and then foil, and freeze for up to 3 months. Thaw in the fridge overnight and bake as per instructions + 15 minutes.
Nutrition
Serving:
1
slice
|
Calories:
443
kcal
|
Carbohydrates:
37
g
|
Protein:
43
g
|
Fat:
14
g
|
Saturated Fat:
7
g
|
Cholesterol:
102
mg
|
Sodium:
506
mg
|
Fiber:
13
g
|
Sugar:
6
g