Greek Chicken infused with 30 minute marinade of oregano, lemon and garlic. Then bake, grill or fry for the best Greek chicken recipe ever! Opa!
"Quick marinade" is my middle name. Try my chili lime chicken and basic baked chicken breast.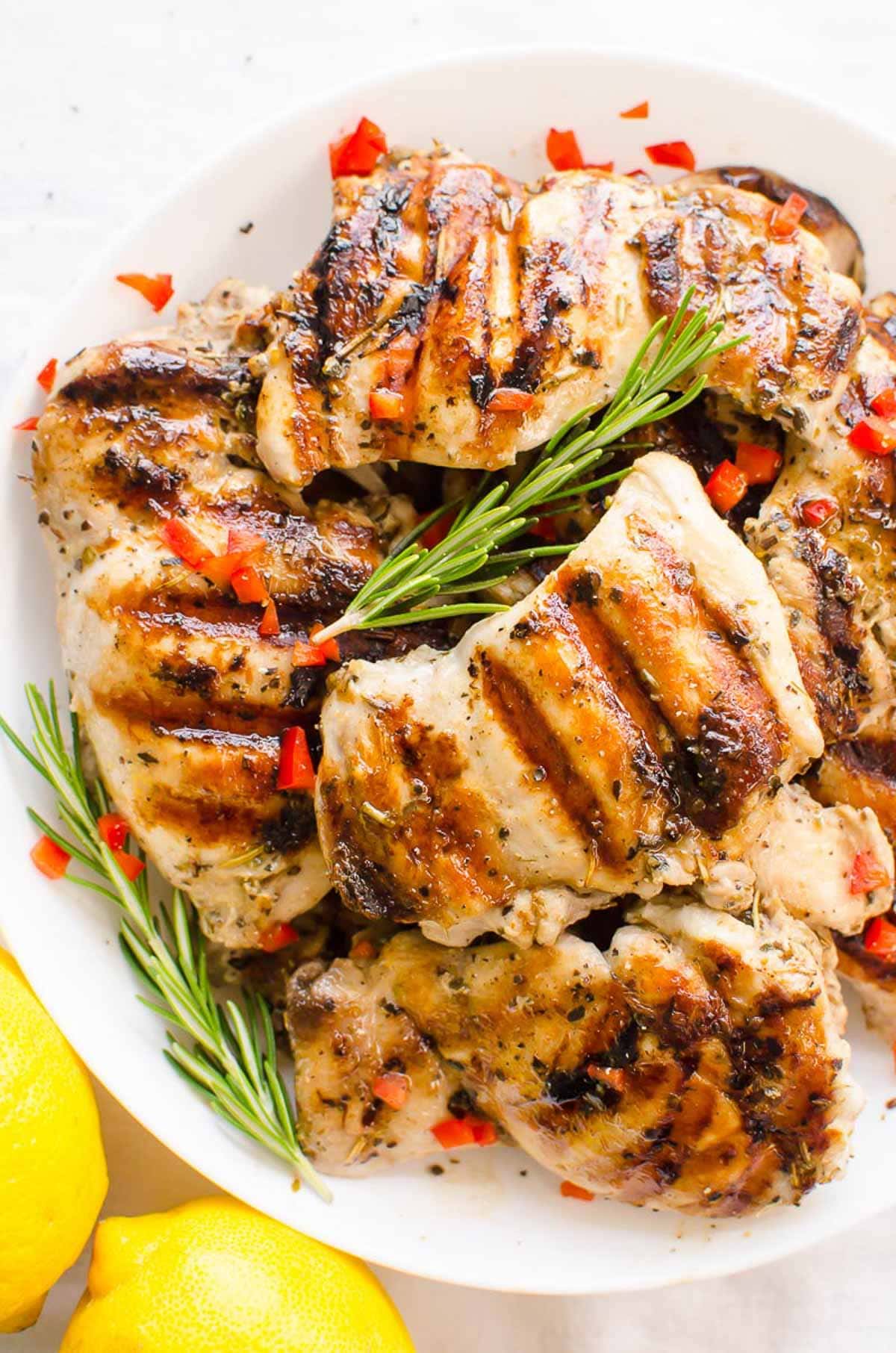 Greek Chicken Recipe
Opa! The only place we eat Greek chicken at. Because it's cheap. All other times, we make Greek style chicken at home.
Once you bake, grill or fry this Greek chicken, opportunities are endless. Quick marinade of oil, lemon juice, oregano, rosemary and garlic penetrates chicken in minutes.
My goal for all of us is to be able to prepare this recipe on a weeknight. I absolutely don't have time to marinate anything for hours but you can if you are more lucky than me.
Make sure to check out my healthy 30 minute meals and let's kill it in the kitchen. In a healthy way.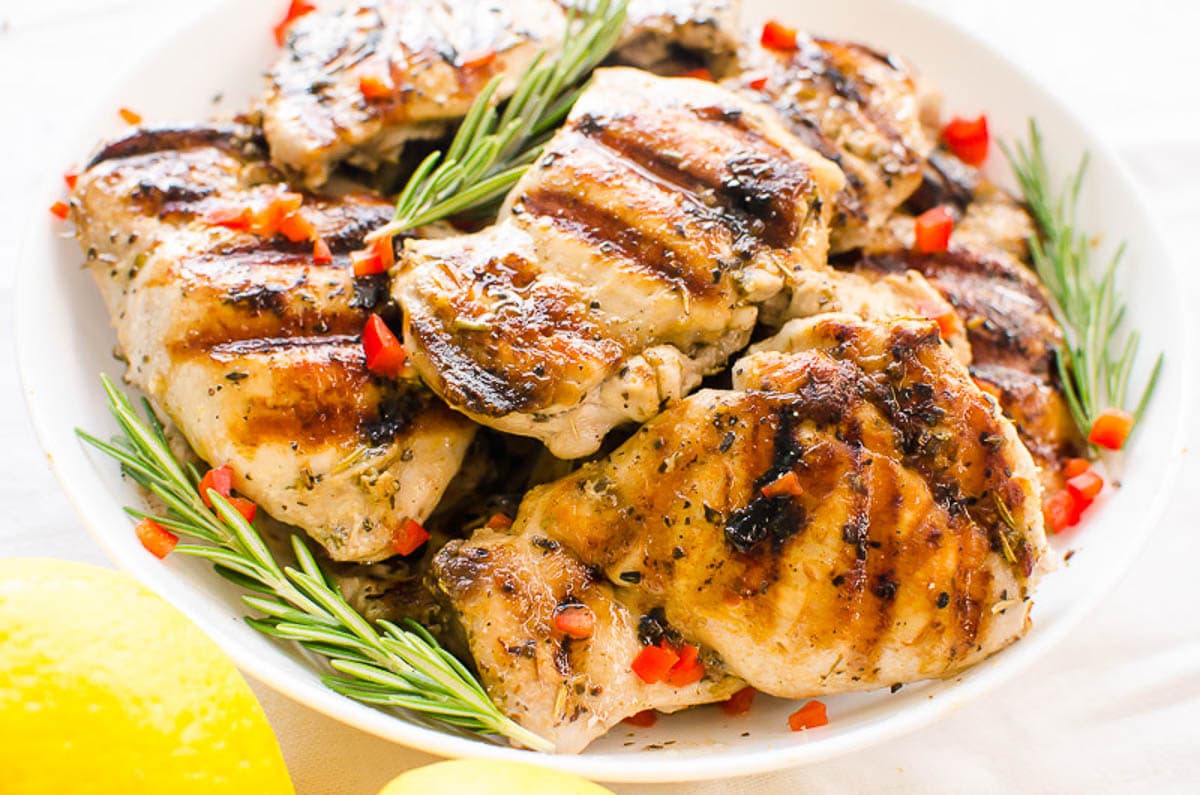 Best Meat to Use
I recommend to use chicken breasts or thighs. Bone in or boneless, skin on or skinless – you decide.
These parts of chicken have good amount of meat on them to absorb the Greek chicken marinade. Without skin chicken is more healthy as less saturated fat. But I won't judge.
You do not have to pound or tenderize meat.
When it comes to meat, I am willing to pay extra $ for local farmer's or organic from the store chicken. Often I also cut up a whole chicken for pieces.
Easy Greek Chicken Marinade
My easy 30 minute Greek chicken marinade consists of pantry ingredients 99% you have on hand as you are reading this post.
Olive oil
Fresh lemon juice
Dried rosemary and oregano
Fresh garlic
Salt and pepper.
The acid in lemon juice tenderizes meat instantly. That is why no need to pound chicken but rather just stab randomly with a fork (great anger management control). Marinade will "crawl" into the openings.
Of course, the longer you marinate, deeper the flavor. Up to 48 hours is good. After that lemon juice really cooks the meat making it taste like lemons. Literally.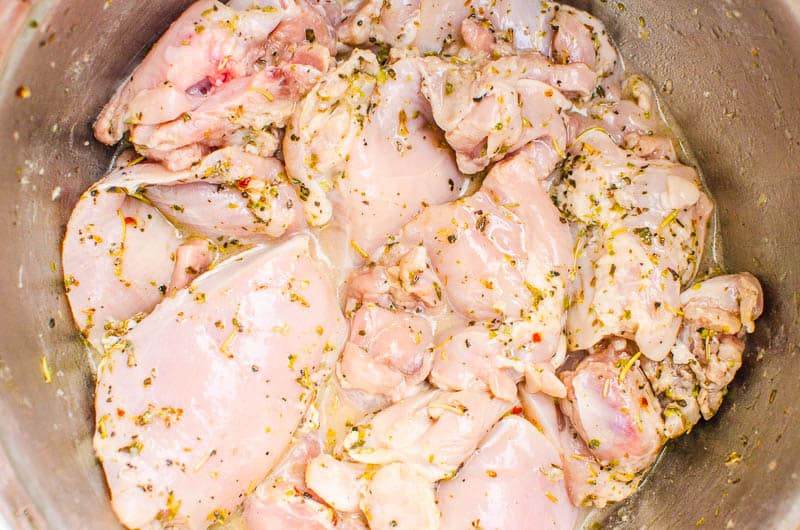 How to Make Greek Chicken
When I develop chicken breast or chicken thighs recipes, I make sure you can cook them any time of the year.
Bake – Baking chicken on high heat uncovered yields juicy inside and kind of crispy outside. At 400 degrees F for 25-35 minutes.
Grill – I am using indoor grill on just highest setting. Because it is kind of a press grill, it cooks Greek chicken on both sides at same time. You know your outdoor grill best, just cook 4-5 minutes per side and then check with meat thermometer for 165 degrees F. If close enough, letting meat rest will finish the meat.
Fry – I like to use ceramic non-stick skillet for less greasy and yet crispy chicken.
Easy Variations
Entertain or make weeknight tasty and easy with this Greek chicken. It is absolutely delicious while so easy.
Greek chicken tastes so good cold. It's perfect for a meal prep for the week.
Side Dishes to Serve with Chicken
To make dinner healthy, here is a perfect formula: lean protein + whole grain + veggies. I always-always use it when creating any healthy dinner recipe.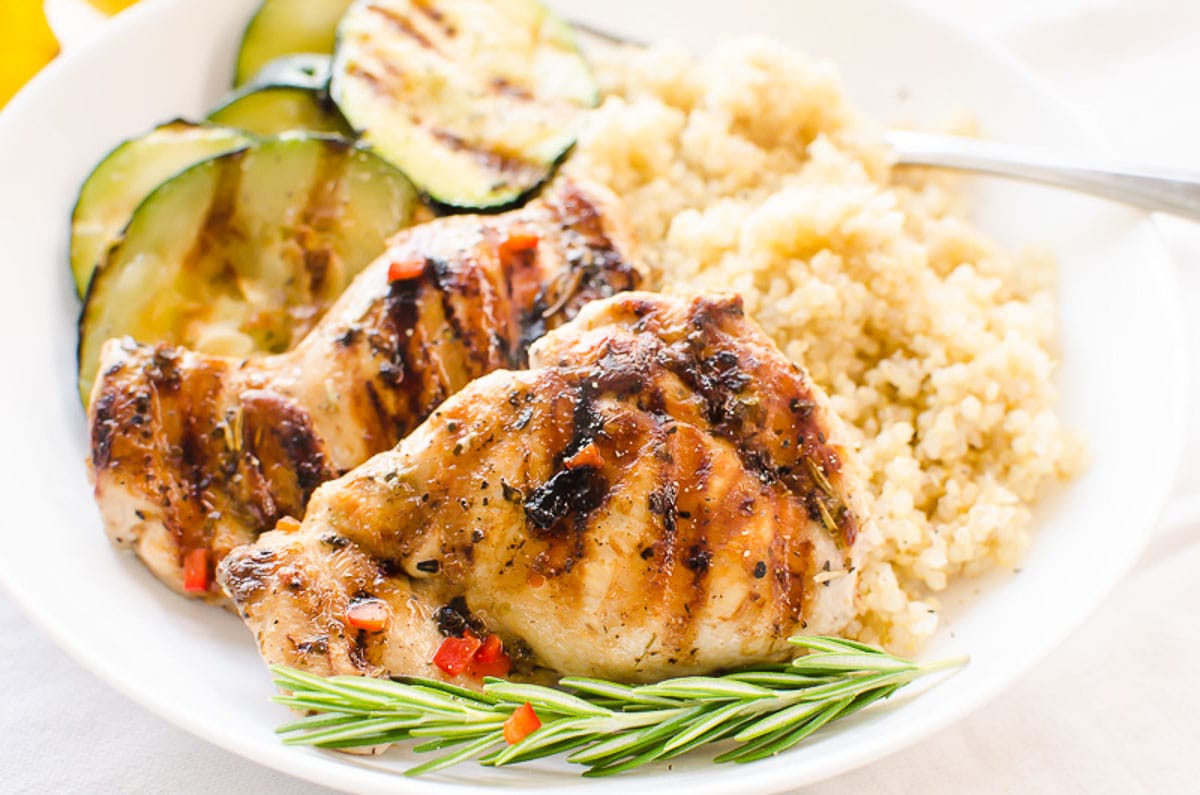 More Easy Healthy Chicken Recipes
I hope you enjoy this Greek chicken recipe. All 3 of my boys, big and small, were humming at the dinner table.
Please let me know in comments below was your dinner table quiet or loud?:)
Greek Chicken
Greek Chicken infused with 30 minute marinade of oregano, lemon and garlic. Then bake, grill or fry for the best Greek chicken recipe ever! Opa!
Print
Save
Rate
Ingredients
3

lbs

chicken thighs or breasts

boneless & skinless

2

tbsp

extra virgin olive oil

1

large lemon

juice of

1

tbsp

oregano

dried

1

tbsp

rosemary

dried or fresh

2

garlic cloves

grated

1

tsp

salt

Ground black pepper

to taste

Pinch

of red pepper flakes
Instructions
In a medium bowl, add olive oil, lemon juice, oregano, rosemary, garlic, salt and pepper. Whisk with a fork.

Add chicken to the bowl, poking and tossing with a fork. This will allow marinade to penetrate the meat. Cover and refrigerate for 30 mins - 48 hours. The longer you marinate, the deeper the flavor.

To pan fry: Preheat large ceramic non-stick skillet on medium heat and swirl a bit of oil to coat. Add chicken, cover and cook for 5-6 minutes. Flip and cook for another 5-6 minutes or until the thickest part juices run clear when poked with a knife or fork. Discard marinade.

To grill: Preheat grill on medium-high (450-500 degrees F) and rub with oiled paper towel. Place chicken on the grill, close the lid and grill for 8-10 minutes turning once. Do not overcook. Discard marinade.

To bake: Preheat oven to 450 degrees F. Rub bottom of large baking dish with oil and lay chicken breasts in a single layer. Bake uncovered for 25 minutes (thinner) to 35 minutes (2″+) or until 150 degrees F internal temperature. Discard marinade.

For all methods: Make sure you let chicken rest. Place cooked chicken into a baking dish and cover with tin foil, silicone lid or paper towel. Let rest for 5 minutes. This step helps juices settle back into the meat.
Store: Refrigerate covered for up to 1 week or freeze for up to 3 months.
Nutrition
Calories:
311
kcal
|
Carbohydrates:
3
g
|
Protein:
49
g
|
Fat:
11
g
|
Saturated Fat:
2
g
|
Cholesterol:
145
mg
|
Sodium:
652
mg
|
Potassium:
874
mg
|
Fiber:
1
g
|
Sugar:
1
g
|
Vitamin A:
99
IU
|
Vitamin C:
13
mg
|
Calcium:
38
mg
|
Iron:
1
mg
Join today and start saving your favorite recipes
Recipes and images are a copyright of ifoodreal.com. It is against the law to republish recipes anywhere including social media, print and all world wide web. Nutritional info is provided for informational purposes only and to the best knowledge.