Soft and fluffy Whole Wheat Buttermilk Pancakes are a staple in our home! Serve with a pat of butter, fruit or berries, and a drizzle of maple syrup for a healthy breakfast. Yields 9 large pancakes.
And if you love healthy fluffy pancakes, try this low carb almond flour pancake recipe, whole wheat pumpkin pancakes or these healthy banana pancakes!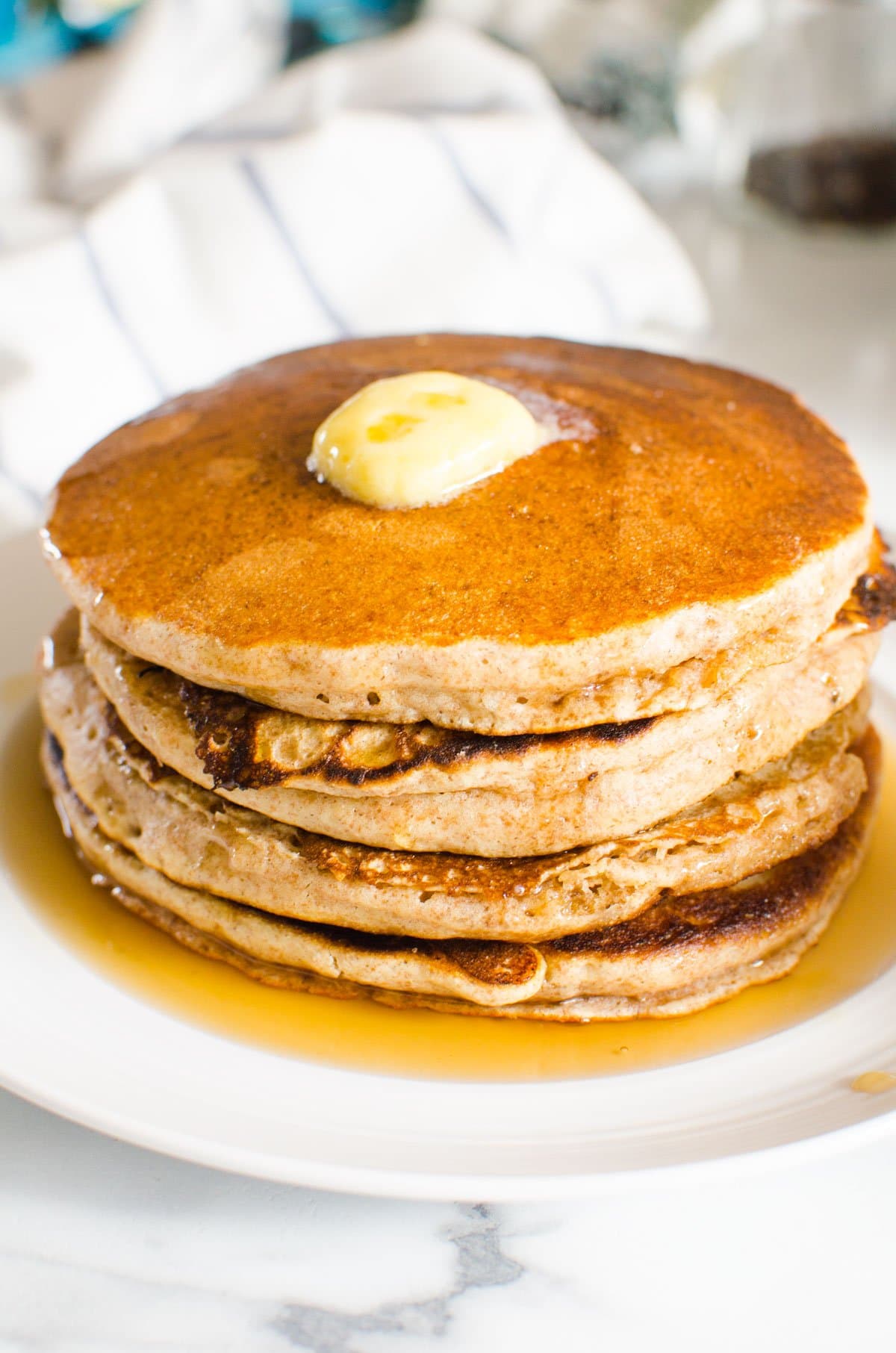 Let me present you with the world's fluffiest, easiest, healthiest and most delicious whole wheat buttermilk pancakes! They are so easy and simple to make, even your kids can make them!
My Ukrainian family's pancake recipe with all-purpose flour and buttermilk was the reason to wake up on Sundays. Mom also made syrniki recipe (cheese pancakes) and lazy pierogi a lot, too!
And let me let you in on a big secret – if you do not have buttermilk on hand, I've got you. If you do not have any store-bought buttermilk in your fridge, you can use any milk and vinegar. See my notes in the recipe card.
Now I have kicked my 'no buttermilk' excuse to the curb completely. This healthy stack can be made with milk, buttermilk or leftover whey from Instant Pot yogurt production with same amazing results.
Let me show you how! What a healthy breakfast idea and a great way to start your weekday or a weekend!
Why Make a Batch of Whole Wheat Pancakes?
Kid friendly: Every kid loves pancakes and this stack is so easy to make that they can even put the batter together on their own!
Wholesome ingredients: Homemade healthy pancakes swap processed white flour and sugar for nutritious whole wheat flour and unrefined sugar.
Keeps you full longer: Normally pancakes will have 0 grams of fiber, but by making pancakes with whole wheat flour, you get 4 grams of fiber per pancake!
Freezer friendly: Make a big batch to always have some on hand for busy mornings! 
Ingredients You Will Need
Ingredients for homemade whole wheat buttermilk pancakes could not be easier! You can whip up these pancakes from scratch any day!
Buttermilk: Store-bought buttermilk or use a replacement mentioned below and in the recipe notes.
Eggs: Eggs help provide structure to pancakes and helps hold the air (bubbles) inside them to provide additional rise.
Oil: A little fat helps adds moisture and results in a more flavorful pancake.
Maple syrup: A sweet flavor enhancer.
Whole wheat flour: I use whole wheat flour and spelt flour interchangeably. The protein in flour provides structure while using whole wheat provides fiber and whole grain goodness!
Baking staples: Baking powder and baking soda both are necessary leaveners in this whole wheat pancake recipe. As with all baked goods, they are the reason for light and fluffy results.
What Can You Substitute for Buttermilk?
For this whole wheat buttermilk pancakes recipe, you can use 1 1/2 cups of any milk combined with 1/4 cup white vinegar. Just stir in a medium bowl and let it sit for 10 minutes, while you are getting other ingredients ready. It will curdle somewhat and kids love watching it happen!
This substitute is called 'sour milk'. I used whole milk and almond milk with great success. White vinegar or lemon juice are my favorite types of acid. Apple cider vinegar doesn't curdle milk as well but still works.
Why does vinegar added to milk make 'sour milk'? By adding an acidic ingredient to milk you will be essentially lowering the pH balance of milk and when this happens it causes the milk protein to unwind and unfold. As the proteins unfold they begin to bind together, which then leads to the lumpy appearance!
How to Make Whole Wheat Buttermilk Pancakes
Whisk buttermilk, oil, eggs, maple syrup, baking powder, baking soda and salt. Now add flour and stir gently with whisk or spatula, kind of folding while turning the bowl. These are easy healthy pancakes, no need for two separate bowls with dry and wet ingredients.
Batter consistency should be thin enough to spread but not like crepes. And not too thick so the spoon almost stands in it. That is the golden rule for pancake batter.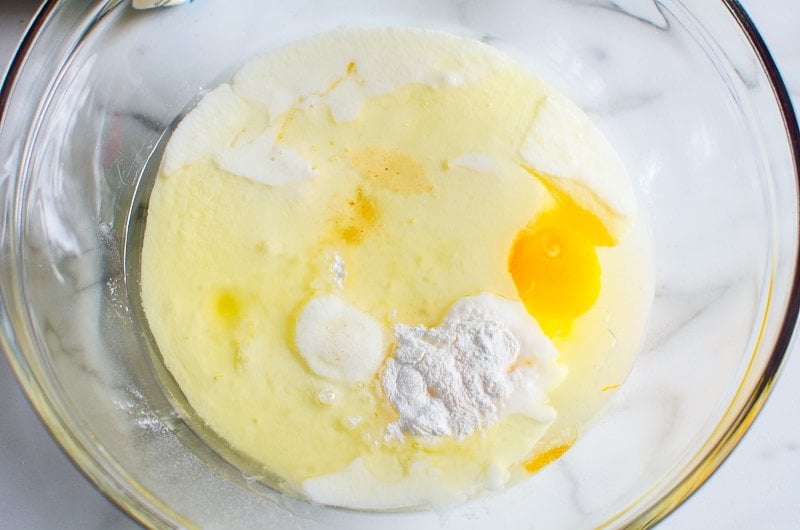 Time to cook our pancakes. It is super important to preheat the skillet well first. Only then add oil and let it heat up a few seconds as well. Pan fry pancakes only when both the skillet and oil are hot.
To shape each pancake, use 1/3 cup of the batter per pancake and pour in a circle shape onto the skillet or griddle. My skillet can cook 4 pancakes per batch.
Once batter hits hot surface, it will set the shape, sizzle on edges and start cooking right away. After a few batches, skillet will become hotter and pancakes will cook faster. This is when you turn the heat down.
Wait until bubbles appear on top, takes about 3-4 minutes. Your pancakes are ready to flip when bubbles appear but not pop and batter is still wet but edges browned and set. Flip quickly with a flat spatula and cook another minute or so.
Keep cooking pancakes until you run out of batter. You will have to add oil in between as pancakes soak it up.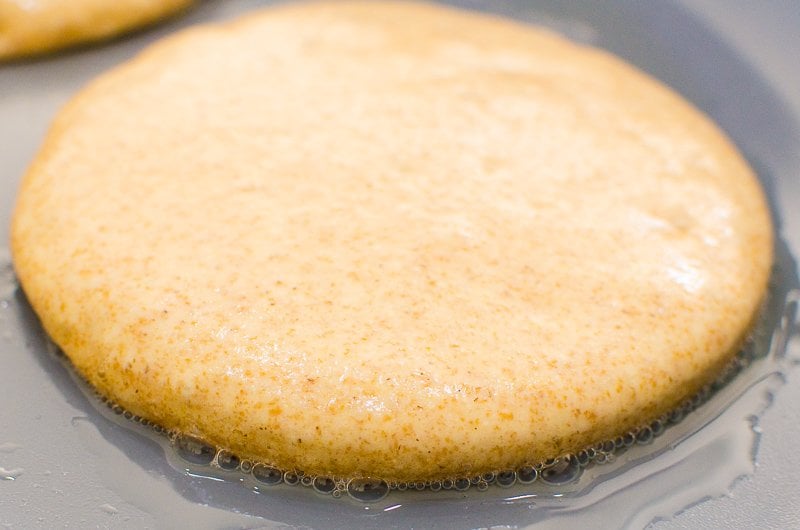 From today, this will become your only healthy pancake recipe forever!
Variations
I am all in for making any recipe your own as long as it works. Here are a few ways to change up this whole wheat buttermilk pancakes recipe:
Substitute 1/4 cup e

gg whites for eggs

. I have not tried how to make a flax egg or chia seed egg but if you do please comment below!
Add in a mashed banana
Add in a shredded apple and cinnamon
Add in some fresh or frozen blueberries or fresh chopped strawberries. Or just make my healthy blueberry pancakes recipe!
Add in 1/2 cup of mini or dark chocolate chips.
Pancake Toppings
These soft and fluffy pancakes are so good, they deserve only the best toppings!
Usually, we serve pancakes with just pure maple syrup. My children are "boring" and just want their pancakes drowned in syrup. Cutting into a stack of fluffy pancakes with the side of a fork and letting the syrup soak into the pancake is their idea of a heavenly breakfast.
Here are my fave toppings influenced by the upbringing in Ukraine.
Maple syrup or honey
Plain yogurt or sour cream
Flavored Skyr or Greek yogurt
Butter
Frozen fruit
Can You Freeze Pancakes?
Yes! I generally double the recipe and we either eat them all day or freeze for busy mornings. Cook and cool pancakes first. Then freeze in large resealable Ziploc or silicone bags, or airtight container. Make sure to let air is out as much as possible.
Reheat frozen pancakes in a microwave or pop them in a toaster.
FAQs
Are whole wheat pancakes healthy?
Yes, whole wheat pancakes are healthier than their counterparts. Most pancake recipes are made with white flour and sugar, which does not keep you full. Eating pancakes that are nutrient dense will keep you full longer!

Whole wheat flour contains germ and bran of the seed, adding fiber and complex carbs to the pancakes. Soluble fiber slows down sugar absorption into your blood, and insoluble fiber helps prevent constipation. Also whole wheat flour is an excellent source of B vitamins.

So, overall whole wheat pancakes are a healthy breakfast option.
Can you substitute white flour for whole wheat flour in pancakes?
Unfortunately not. I do not recommend to use all-purpose flour in this recipe because pancakes will be dense.

However, I do think you can make them with white whole wheat flour or whole wheat pastry flour. I have not tried though. Please leave a comment below if you do.
What does buttermilk do to pancakes?
Buttermilk has acid which gives a kickstart to fluffy and talk pancakes when combined with baking soda. It also helps to break down strands of gluten, leading to a tender crumb. Also it adds a slight tang that we all love about a classic stack.
So, here we have tall, soft and fluffy whole wheat buttermilk pancakes. Better than Martha's? I think so! Two kids and a few decades of marriage later, it was embarrassing my husband, Alex, used to make pancakes using Martha Stewart's recipe. Meh, not the same and now not any longer!
I will take these healthy homemade buttermilk pancakes any day, and my family agrees!
More Healthy Pancake and Waffle Recipes
Check out all of our healthy breakfast recipes!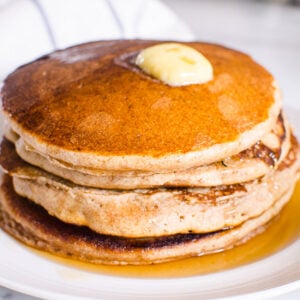 Fluffy Whole Wheat Buttermilk Pancakes
Soft and fluffy Whole Wheat Buttermilk Pancakes are a staple in our home! Serve with a pat of butter, fruit or berries, and a drizzle of maple syrup for a healthy breakfast. Yields 9 large pancakes.
Instructions
In a large bowl, add buttermilk, eggs, oil, maple syrup, baking soda, baking powder and salt. Whisk very well until combined.

Add flour and mix gently with spatula until combined and no lumps.

Preheat ceramic non-stick griddle or large skillet on medium-high heat. Important for it to be hot, so oil sizzles when added. Swirl and spread a bit of oil to coat the surface. Using 1/3 cup measuring cup, spread batter in a circle shape. Cook for 3-4 minutes or until bubbles appear on top.

Flip and cook another minute or so. You will have to reduce heat as skillet heats up during cooking. Watch carefully. Repeat until run out of batter.

Serve hot with berries, maple syrup, yogurt, sour cream etc.
Notes
Store: We never have pancakes past day 1 when we keep them in a dish covered with towel on a counter.
Freeze: Place in an airtight container for up to 3 months. Thaw on the counter overnight or pop in toaster from frozen.
Buttermilk substitute:

In a medium bowl, add 1 1/2 cups of any milk and 1/4 cup of white vinegar or lemon juice. Stir and let stand for 10 minutes. It should curdle somewhat and be come "buttermilk" or also known as 'sour milk'.

You can also substitute buttermilk for leftover whey from Instant Pot yogurt production.
Nutrition
Serving:
1
pancake
|
Calories:
233
kcal
|
Carbohydrates:
32
g
|
Protein:
7
g
|
Fat:
9
g
|
Saturated Fat:
2
g
|
Cholesterol:
40
mg
|
Sodium:
292
mg
|
Fiber:
4
g
|
Sugar:
8
g