Healthy Taco Recipes are an easy way to combine a variety of ingredients and flavors into one simple meal. With healthier ingredient swaps you can avoid empty calories without sacrificing great taste!
Taco night is never complete without delicious sides like easy guacamole recipe, Mexican kale salad or Mexican bean salad.
Beef, chicken, turkey, or even fish, there is no shortage of healthy taco recipes on this list! These rival any food truck with wholesome ingredients, easy preparation, and substantial flavors.
There is nothing better than a delicious taco with it's different flavor and texture combinations, from tender proteins, to crunchy shells and vibrant vegetables. Try easy chicken tostadas next!
Healthy doesn't have to mean low flavor. In fact, these healthy tacos are so good you'll forget they're good for you, kind of like healthy chocolate cake!
So dig in, this collection of healthy tacos will become a new favorite in your rotation of healthy dinner ideas.
Tips for Making Best Ever Healthy Taco Recipes
Fresh is best. Top your tacos with fresh cilantro, crunchy lettuce, or freshly grated or crumbled cheese.
Keep corn tortillas on hand for making tacos whenever the mood strikes!
Meal prep ingredients for busy nights! Pre chop veggies or plan to use leftover Instant Pot chicken breast.
Variety of toppings! Whether your favorite is pico de gallo or salsa guacamole, what you top your taco with can be almost as important as what's in it!
FAQs
The Best Healthy Taco Recipes
Whether it's Cinco de Mayo or not, these healthy tacos are deliciously addictive! Make sure to make extra for leftovers and transform them into healthy taco pasta.
Made in one skillet with over 1 lb. of vegetables and lean ground chicken, these Ground Chicken Tacos are a saucy favorite! They are ready in 30 minutes for a balanced dinner that will be a new family favorite.
Marinated Chicken Street Tacos are cooked indoors on a cast iron skillet so you can enjoy healthy taco recipes year round! Serve with Instant Pot black bean soup during the winter or refreshing avocado corn salad in the summer.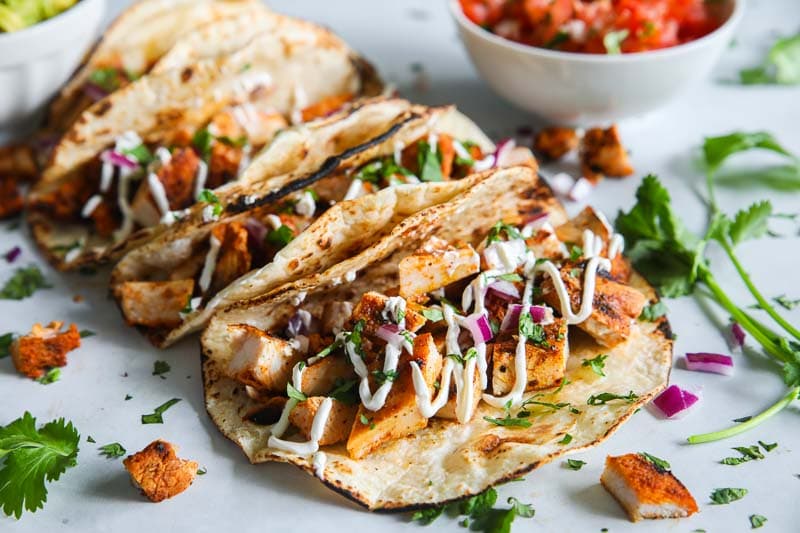 When I am not making my easy buffalo chicken chili recipe or healthy buffalo chicken dip, I am making Buffalo Chicken Tacos to satisfy that craving! Drizzled with a healthy blue cheese Greek yogurt sauce these are to die for at dinnertime.
Flavorful and one of the most requested dinners at my house, Ground Turkey Tacos are ready in only 30 minutes! Simple seasoning, tomato paste, and low sodium broth keep the ground turkey moist and tasty. Love ground turkey? Try these other best ground turkey recipes!
Homemade Ground Beef Tacos seasoned with an easy mixture of southwest spices and cooked to perfection! The hardest things about these tacos is just choosing what toppings will go on top. Check out taco skillet next.
These street tacos couldn't be any easier to make at home as part of your healthy taco recipes! Carne Asada Tacos are made with tender carne asada steak, guacamole, savory onions, and creamy cheese. They are perfect with any Mexican-inspired dinner.
Crispy white fish topped with a delicious lime crema makes these Healthy Fish Tacos the best! To serve, I like to set up a DIY taco bar so each family can customize their taco their way. In the summer, I like to serve mango salsa recipe, too.
Flavorful grilled white fish with crema and a mango salsa makes these Grilled Fish Tacos taste like you are right on the beach at your favorite surf and turf joint! Serve with shrimp ceviche for even more ooo's and ahh's!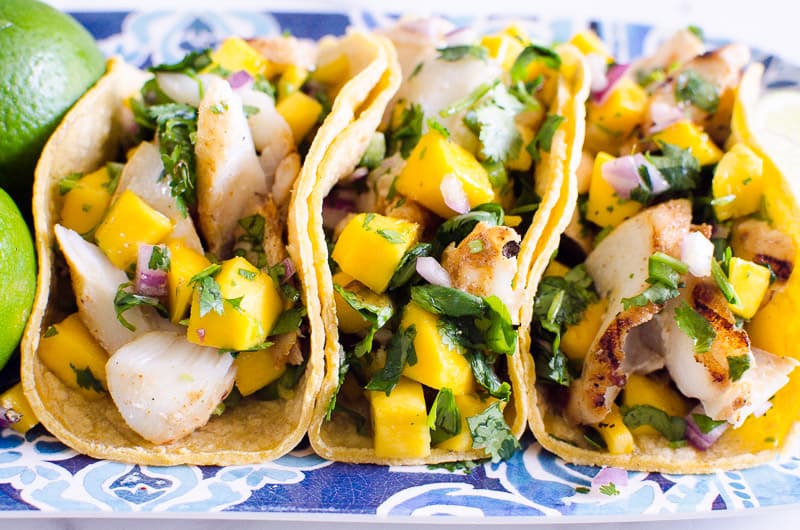 Whether you serve guests or just your family, this Shrimp Taco Recipe with Slaw is ready in only 15 minutes! Only easier might be air fryer shrimp.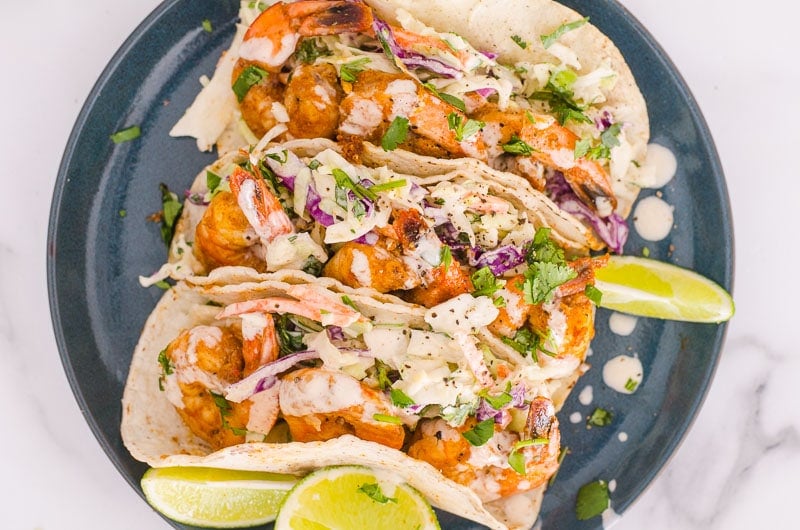 Juicy pulled pork with crispy ends and ready in under 1 hour and 30 minutes! Instant Pot pork carnitas make Mexican street food tacos easy to make in your own kitchen. Top with pickled onions and serve with crunchy tortillas.
Three ingredients and 30 minutes is all you need to make the best Instant Pot Tacos. Serve how you like, with a side of Instant Pot refried beans or even on a healthy taco salad!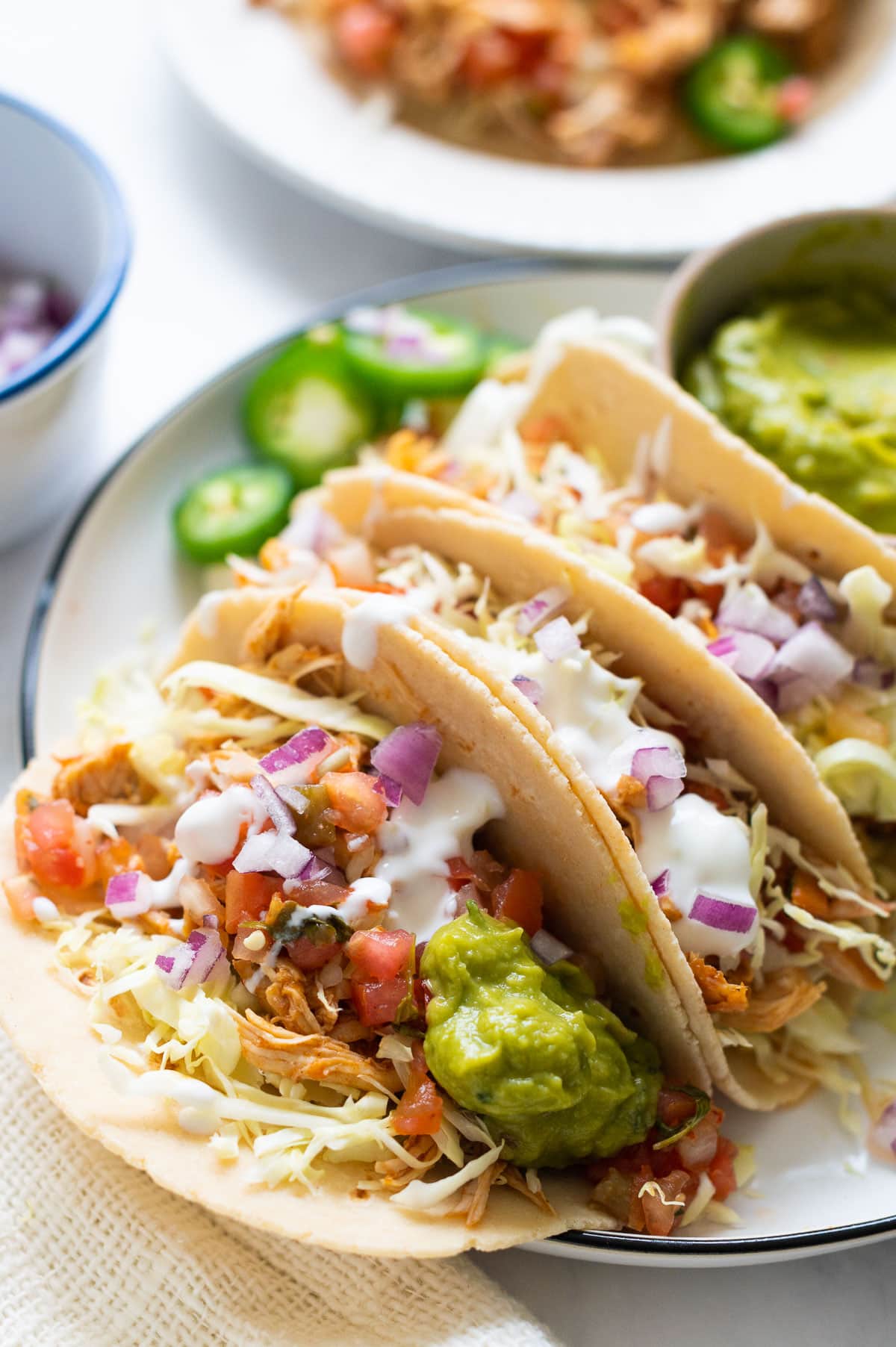 Easy Bang Bang Shrimp Tacos are creamy, sweet, spicy, and healthier than the Bonefish grill classic. You will have this 30 minute meal on repeat!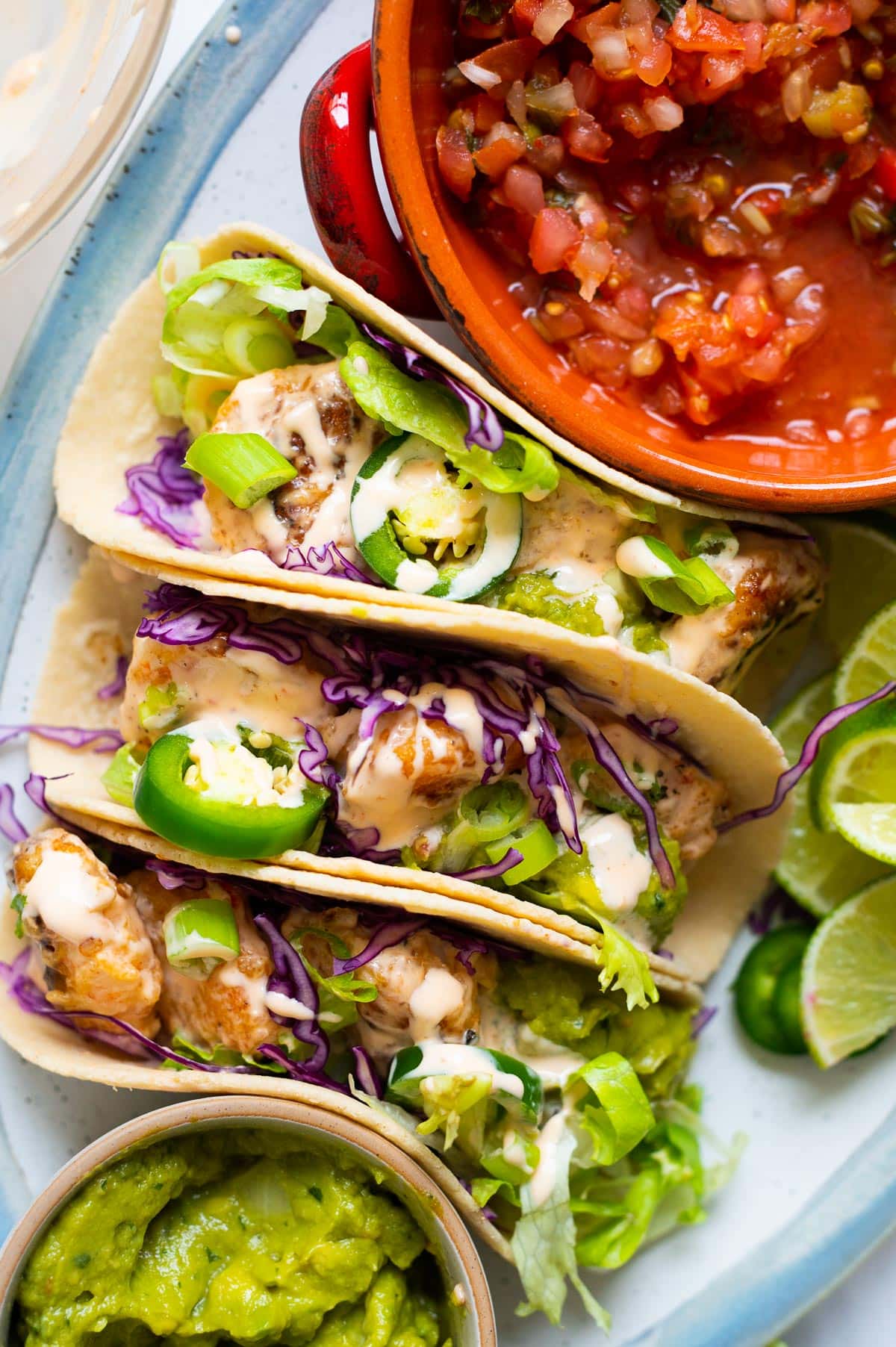 More Healthy Tex Mex Recipes to Try
10 Best Healthy Taco Recipes: Fish Tacos
One of our favorite Healthy Taco Recipes! Fish Tacos are made with crispy battered fish, fresh avocado, crunchy cabbage, and an easy crema sauce. Ready in under 30 minutes, these rival any food truck.
Instructions
Dredging for fish: In a medium bowl stir together flour, taco seasoning, garlic powder, cornstarch, salt and pepper. Set aside.

Fish taco sauce: In a small bowl stir together yogurt, mayo, lime juice, taco seasoning, cayenne and black pepper. Set lime crema sauce aside.

Toppings: Chop and prepare the toppings.

To cook fish: Preheat large ceramic non-stick skillet on medium-high heat and swirl 1 tbsp of oil. In batches, dredge pieces of fish in flour mixture and fry for 2-3 minutes per side or until crispy and brown. Fish cooks fast, so don't over cook. Do not overcrowd the skillet – helps to keep fish crispy. Remove onto a plate.

To assemble tacos: Warm tortillas in a cast iron skillet on high heat for 10 seconds per side and pressing on with spatula. Fill each tortilla with 3-4 pieces of fish, add toppings and drizzle with sauce. Serve immediately with your favorite toppings (please see suggestions in notes).
Notes
Store: Refrigerate leftover cooked fish, sauce and toppings covered or in a container for up to 24 hours. Fish is most crispy right after cooking.
Nutrition
Serving:
1
taco
|
Calories:
221
kcal
|
Carbohydrates:
15
g
|
Protein:
14
g
|
Fat:
13
g
|
Saturated Fat:
4
g
|
Cholesterol:
30
mg
|
Sodium:
215
mg
|
Fiber:
3
g
|
Sugar:
1
g