This Mango Salsa Recipe is a fresh, juicy, and outrageously delicious accompaniment for grilled salmon, healthy fish tacos, grilled chicken breast, or a basket of scoopable chips. This sweet, spicy, and zesty mango salsa comes together in minutes with just 5 simple ingredients!
Give me all the mangos! I adore them. And what's not to love about this sweet tropical treat? Mango slaw, and strawberry mango salsa are just two of the ways I like to use them to enjoy this fresh, lively fruit. Adding in an abundance of other fresh flavours and textures, these mango recipes are a must-try!
Mango Salsa
This mango salsa is absolutely one of my favorite kinds of salsa recipes to make! Mangoes are juicy, sweet, affordable, and available year-round, which means I can pretty much make it any time. They're also super healthy providing us with lots of vitamins, minerals, fibre, and antioxidants. Oh, and they're crazy delicious. This mango salsa recipe consists only of 5 simple ingredients and comes together in minutes. It works alongside any protein like this chili lime chicken or best grilled chicken thighs in the whole entire world. It's also amazing with cilantro lime cauliflower rice, and even good all on its own!
It's a great topping for things like grilled fish tacos and when you're serving a crowd, it makes a great appetizer alongside an array of tortilla chips, crackers, and crusty bread.
Mangos, if you haven't had the pleasure, are ridiculously tasty. They're sweet, juicy and you can never get enough. This mouthwatering mango salsa is a combination of sweet, spicy, salty, and zesty thanks to the addition of red onions, jalapenos, and fresh cilantro. Finished off with a squeeze of citrus, and you won't believe what hit you!
What is Salsa?
Salsa is the Spanish word for sauce, which is traditionally made with a little heat, chopped tomatoes, and a blend of herbs and spices. Mango salsa isn't at all saucy in the traditional sense, but the chunky texture and combination of incredible fresh flavors give us permission to call it what it is. Salsa!
Ingredients and Substitutions for Mango Salsa Recipe
Mango: Choose mangos that are medium-soft. These ones need to be used within 1-2 days. Harder ones can be kept longer. Ataulfo (champagne) or "regular" Tommy Atkins mango works. (See below for tips on how to pick the best mangos).
Red onion: Red onion is a mild and sweet onion. If you don't have any, use green onion or chives instead. White onions would be too harsh.
Cilantro: Traditionally used in Mexican cooking, cilantro goes so well with sweet fruit and berries. Can also use fresh parsley.
Jalapeno: It is the seeds that add the heat. You can control how hot your mango salsa will turn out by how many seeds you add. I often buy a few at a time and freeze minced for later.
Lime juice: I recommend squeezing fresh limes or lemons, not from a bottle. So good! Out? A splash of white/red wine vinegar will do.
How to Make Mango Salsa
Chop mango and veggies: I like to peel the fruit first, cut around the pit and then dice. For more tips, check out this how to cut a mango tutorial. Add all the ingredients to a medium bowl.
Squeeze lime juice: Roll lime on a cutting board to help its juices flow. Then cut and squeeze, using a citrus squeezer. Lemons are much softer than limes, normally, so they can be squeezed with your hands.
Combine and stir: Stir mango salsa ingredients very gently. I find a metal spoon works better than a wooden one because it doesn't make the fruit mushy.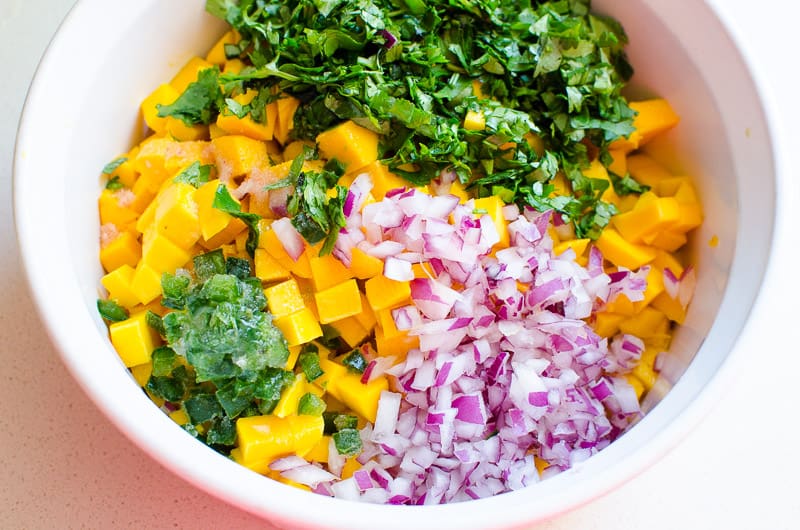 Tips for Selecting the Best Mangoes
Since mangos come in a variety of shapes, colours, and sizes, depending on the type and where they originate from, it's not a good idea to base your choice on colour alone.
When you squeeze it, it should give just a little. Too much is too ripe, and not enough is not ripe enough. Ripe and ready to use mangos will have a pleasant aroma when you put your nose to it (wait until you get home for this!).
How to Store Ripe, Unripe, and Leftover Mangoes
Unripe mangoes: If you happen to have picked up mangos that are not quite ripe enough yet, place them on the counter at room temperature in a darker area of your kitchen. Over time they will become nice and sweet and a bit softer. To speed this up a little, you could place them in a brown paper bag.
Ripe mangoes: Mangoes that are ripe enough or a little overripe, but you're not ready to use them yet, keep them in the fridge. Not for too long, however, use them as soon as you can. They also make the best healthy mango ice cream!
Chopped mango: Any cut mango pieces can be kept in the fridge in an airtight container for up to 5 days. Keep them as a convenient snack or toss them in your smoothie the next day!
More Tips for the Best Mango Salsa Recipe
Not a fan of cilantro? You can completely omit it or use fresh parsley instead. Don't skimp on the red onion if that's the case!
Control the heat: If you're not a fan of spice at all, you can leave out the jalapeno. It does give it amazing flavor and adds a nice balance to the sweet. For very mild heat, scrape out all of the seeds. For medium, leave some. For hot, leave a lot. You get the idea!
Red pepper flakes: If you don't have any jalapeno peppers on hand, sprinkle in some red pepper flakes instead.
Diced red pepper: To give this salad some added crunch and a pop of red, throw in some diced red peppers.
Corn: Speaking of color-popping, a few canned corn niblets would be worth adding in!
Grilled mango: If you have the time, or your grill is already on for the amazing BBQ you're about to have, take a few minutes to grill your mango before dicing it. Grilled mango with a beautiful char brings out even more juices.
Chili powder: Sprinkle in some chili powder for an added kick. The flavor combination of mango and chili works so well.
How to Serve Mango Salsa
There are so many ways to serve mango salsa with fish, chicken, chips and you name it:
FAQs
Is this mango salsa recipe healthy?
You bet it is! Mangos themselves are highly nutritious, but when you add in the nutrients of raw red onion, the vitamins in lemons and limes, and the antioxidants in jalapenos, you've got a bowl of delicious healthy salsa! This pure and simple salsa uses fresh ingredients and no added sugars!
Can mango salsa be served hot?
If you prefer a warm sauce version, or a cooked down version of mango salsa, you can absolutely heat it up on the stove top. Typically people who plan on canning their salsa to extend its shelf life, will cook it with sugars to preserve it. If you're just heating it up to serve it warm, you don't need to add anything to it.
Can mango salsa be frozen?
It can. If you are making a big batch, or you have tons of leftovers, go ahead and freeze it for up to 2 months in an airtight container. If you only have a bit, it might not be worth freezing, because I'm sure you'll find a way to use it up over a few extra days.
Make-Ahead and Storage Suggestions
Make-Ahead: Add all ingredients to a bowl except the salt. Cover tightly and refrigerate for up to 48 hours. Add salt and stir mango salsa right before serving. As soon as you stir salt with other ingredients, they start "leaking." The salt brings out the juices and marries everything together, which is great when you're eating it. Just not before!
Leftovers: Refrigerate mango salsa leftovers for up to 24 hours.
More Fresh Salsa Recipes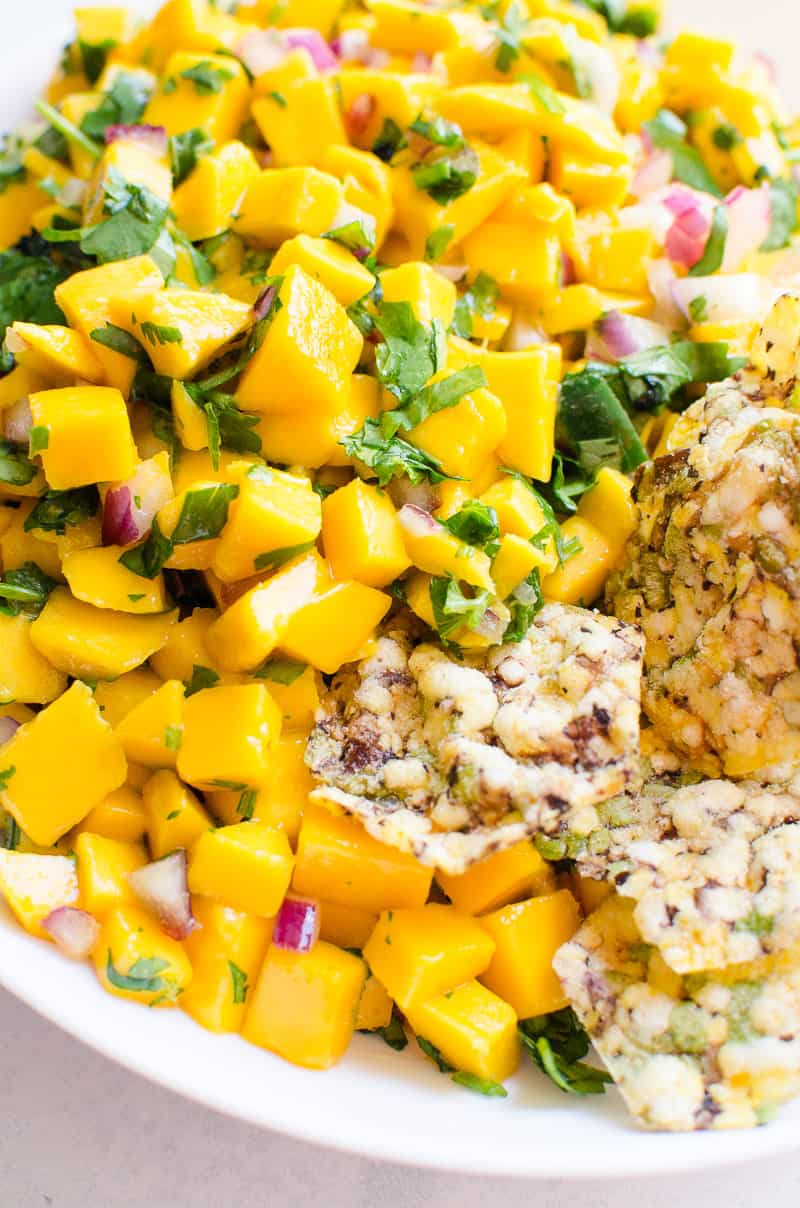 Fresh Mango Salsa Recipe
This Mango Salsa Recipe is a fresh, juicy, and outrageously delicious accompaniment for grilled salmon, fish tacos, grilled chicken, or a basket of scoopable chips. This sweet, spicy, and zesty mango salsa comes together in minutes with just 5 simple ingredients!
Ingredients
4

large mangoes

peeled & diced

1/3

cup

red onion

finely chopped

1

small bunch cilantro

finely chopped

1

lime or lemon

juice of

1/2

tsp

salt

1

tbsp

jalapeños

minced
Notes
Store: Refrigerate in an airtight container for up to 24 hours.
Make ahead: Add all ingredients to a bowl except salt. Cover tightly and refrigerate for up to 48 hours. Add salt and stir mango salsa right before serving. As soon as you stir salt with other ingredients, they start "leaking".
To chop mango, I peel it, cut of the sides and then dice.Check out this tutorial how to cut a mango more traditional way.
Pick ripe mangoes that are a bit soft to the touch, not too hard and not too soft. I used ataulfo mangoes.
I freeze chopped jalapeños to avoid food waste and always have some on hand.
What makes jalapenos spicy are the seeds – add or omit as many as you like.
Frozen mango would not be good in this recipe.
Nutrition
Serving:
0.5
cup
|
Calories:
69
kcal
|
Carbohydrates:
18
g
|
Protein:
1
g
|
Fat:
1
g
|
Saturated Fat:
1
g
|
Sodium:
147
mg
|
Fiber:
2
g
|
Sugar:
15
g