These Grilled Fish Tacos are the perfect addition to your next taco night; combining flavorful grilled white fish (cod, halibut, mahi-mahi, etc.) with mango salsa and optional crema creates wonderfully sweet, savory, spicy healthy grill recipes and under 30 minutes!
Plus, if you love seafood, Mexican cuisine plus healthy taco recipes, the recipes don't end there – I also have a recipe for healthy fish tacos, shrimp tacos with slaw, shrimp tostadas and shrimp ceviche!
The Best Grilled Fish Tacos and Mango Salsa
What I love about taco night (or in this house, Mexican food is happily requested any night of the week!) is how versatile I can be with the taco fillings, salsas, and sides – and my family loves it every single time. Alongside this easy grilled fish taco recipe (aka tacos de Pescado), I've already shared several others, including ground chicken tacos, ground turkey tacos, and carne asada tacos. For now, let's focus on making the best grilled fish tacos you'll ever try, though (I hope, anyway!)
Although I love healthy fish tacos with breading, I find that grilled fish just tastes so fresh and wonderful (plus it's healthier without any batter but tastes fantastic!) that I keep coming back to this recipe time and time again.
Traditionally, fish tacos consist of grilled or crispy fried fish with lettuce or cabbage, Pico de Gallo, and a cream sauce over a corn or flour tortilla. What you need for this authentic grilled fish taco recipe is three elements (and an optional fourth): White fish, mango salsa, tortillas, and optionally a crema (white sauce).
For this recipe, I've experimented with all kinds of fish with wonderful results (like grilled cod fish tacos – more options below). Combine your fish of choice with delicious sweet and spicy mango salsa that pairs perfectly, and I usually skip the crema but keep a small bowl of it on the table for my kids.
The result is these wonderfully seasoned grill fish pieces in a light and summery taco- perfect for any fish lovers! Best of all, you get to enjoy your dinner and know that you're consuming healthy Omega-3s and lean protein with additional nutrients from the mango!
You don't even have to wait for summer grill season to come about to enjoy these tacos; you can grill your fish on an inside grill pan on the stovetop any time of the year!
Ingredients and Substitutions
White fish: One of the best things about these grilled fish tacos is that the fish you use is versatile. I recommend any firm white fish like cod, halibut, tilapia, mahi-mahi, snapper, catfish, or sea bass. These are usually mild in flavor but are inexpensive and will cook quickly – that's a win-win! I recommend buying the fish already filleted and the skin removed for less work and time in the kitchen.
Mango Salsa: The combination of sweet and savory between the grilled fish and mango salsa is delicious. I use homemade mango salsa, which is a simple combination of mangoes (I used 4 small Ataulfo mangoes, though 1-2 larger mangoes like Tommy Atkins would also work), cilantro, red onion (or white onion), jalapeños (deseeded for less heat), lime (or lemon), and salt! If you'd prefer to keep things savory, you could use Pico de Gallo instead. Other fruity salsas would also work, though – like this pineapple jalapeno salsa.
Tortillas: Soft corn tortillas will give you the most authentic flavor and can be purchased in several sizes. If all you have are extra small ones, use two to hold the grilled fish taco together. However, if flour tortillas are all you can find, then they will work.
Seasonings: I use a very simple seasoning blend made up of taco seasoning (I make homemade taco seasoning) with garlic powder, salt, and pepper. If you buy taco seasoning, then it's best to buy a low-sodium option.
Optional crema: I find that this grilled fish taco recipe has all the flavor and texture I need without added sauce. However, for those who want the additional creamy sauce element then the recipe is included in the recipe card notes- using a creamy combination of yogurt, mayo, taco seasoning, lime, cayenne, and salt and pepper!
Optional Add-ins:
Personally, the mango salsa and white fish is more than enough for a truly satisfying gourmet grilled fish taco recipe. However, if you're serving up to a large group, extra topping options are never bad. Potential options for the best grilled fish tacos for all include:
Cabbage (or lettuce): These are a classic inclusion with fish tacos, so feel free to include some shredded cabbage (green or red) or lettuce (iceberg) on the table for those who want it.
Avocado: You could include sliced avocado, easy healthy guacamole, or creamy Greek yogurt guacamole.
Grilled corn: If you're already grilling the fish, then grill up some charred corn simultaneously, and it tastes wonderful when combined with the fish and mango salsa. You could alternatively use pan-fried corn.
Cheese: Cheese will make sense more with certain toppings than others. However, adding a small bowl of shredded/crumbled cheese on the table like cojita or feta gives guests the option, at least.
How to Make Grilled Fish Tacos
Marinate the fish: First, combine the taco seasoning, garlic powder, and salt and pepper in a small bowl. Place your white fish on a large, rimmed baking sheet and drizzle with the oil and lime juice (rub it in to make sure it's fully coated), then sprinkle liberally with the seasoning on both sides. Set aside to marinate for 10 minutes.
Prepare the mango salsa: While the fish marinates, prepare the salsa by cubing the mango and finely chopping the red onion, jalapeno (remove the seeds for less heat or have just a few, etc.), and cilantro. Combine all the ingredients with the lime juice and salt and mix well, then set aside.
Grill the white fish: Preheat the grill or a grill pan over the stovetop grill pan over medium-high heat (and add a little oil to the pan, if using). Once the oil is hot enough that it shimmers, transfer as many fish fillets as you can to the pan and leave them to cook, untouched, until the bottom of the fish is an opaque white. This usually takes between 3-4 minutes, depending on what fish you use. Then, carefully flip the fish and cook for a further 4 minutes – or so.
If you use a grill pan, you may need a little additional time. I like to cover the pan with a lid to allow it to cook through. If the fish starts to fall apart a little, that's fine as we'll be flaking it up for the tacos. The cooking time will vary based on the thickness of the fish.
Prepare the tacos: Warm up the corn tacos on the grill for just 1-2 minutes or within the microwave wrapped in barely damp (squeeze out excess liquid) paper towels for 30-40 seconds. Then store them under a clean tea towel to keep them warm until assembling the grilled fish tacos.
Assemble the grilled fish tacos: Flake the fish with a fork and add a little to the warm tortilla topped with the mango salsa. If you decided to make the white sauce (Crema), then drizzle a little of that in the taco, too, and enjoy!
What to Serve Grilled Fish Tacos with?
Just like any tacos, there are tons of ways to enjoy these simple grilled fish tacos. Who doesn't love a table full of appetizers and sides?! Here are a few suggestions for what to have with fish tacos to add to your table spread: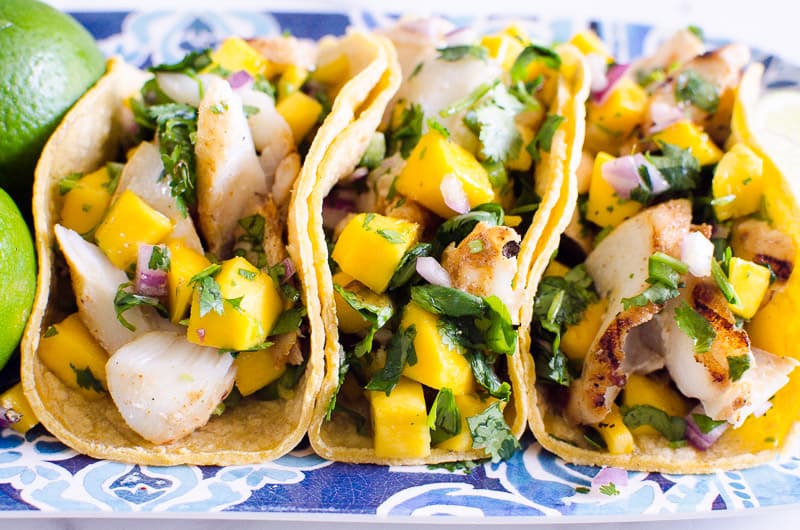 Making in Advance and Reheating
Make ahead: To prepare the grilled fish taco recipe elements in advance, you can cook the fish up to 3 days in advance. You can also prepare the mango salsa 2-3 days in advance if you omit the salt until before serving. The salt will bring out the juices from the ingredients, so if added from the get-go, you'll end up with a soggy mango salsa after a day. The crema can also be prepared a few days in advance and stored in an airtight container in the refrigerator.
Store: Once cooked, the leftover grilled fish can be kept in an airtight container in the refrigerator for up to three days. The mango salsa can also be stored for up to 24hrs.
Reheat: To reheat the grilled fish, you can add it to a skillet with a splash of water or oil and cover until heated through. That way it won't dry out too much.
FAQs
What can I use the leftovers for?

One of the best things about the various elements that make up these grilled fish tacos is that they are fairly versatile. If the family doesn't feel like tacos two days in a row – no problem. Instead, why not use them as part of a buddha bowl with a grain and extra greens or veggies – like broiled asparagus.
What is the best fish to use for fish tacos?

Honestly, this perfect grilled fish taco recipe comes down to personal taste and is one reason why grilled fish tacos are so versatile. I recommend a flaky, firm white fish because they tend to be mild in flavor but cook quickly. For example, cod, halibut, sea bass, tilapia, mahi-mahi, snapper, catfish, etc. Most recently, I had grilled cod fish tacos which were delicious!

You could also use salmon as a potential option though it isn't the most traditional choice.
Can I cook the white fish in the oven?

Yes. Place the fish on a baking paper-lined tray and bake in a pre-heated oven at 400F/200C for between 10-15 minutes, or until the fish is white through and easily flakes with a fork.
More Recipe Tips for Best Tacos
Adjust the fish amount: I specify 3lb fish for this recipe as different family members add different amounts to their tacos, so it's always good to have leftovers! However, feel free to reduce it to 2lb if preferred.
Don't overcook the fish: As soon as it's white on the bottom, flip it over and cook for a few more minutes. It will finish cooking off the heat with the residual heat that's leftover. If you're using a grill pan indoors, then cover the fish with a lid after flipping it to help it cook through (this may take a few extra minutes).
Warm the tortillas: Make sure to warm the tortillas ready for the grilled fish tacos. This not only tastes better, but it helps to make them more pliable, so they don't crack/break while eating.
Use corn tortillas: Yes, you can use flour tortillas if that's all you have, but I find this grilled fish taco recipe 1000% better with authentic corn tortillas and the extra flavor they add.
More Favorite Taco Recipes
You may also enjoy browsing through my entire collection of Mexican inspired recipes plus these healthy grill recipes and healthy taco recipes!
Grilled Fish Tacos with Mango Salsa
Grilled fish tacos are the perfect addition to your next taco night; combining flavorful grilled white fish like cod with sweet mango salsa and savory crema for the best fish tacos – all in under 30 minutes!
Ingredients
For Fish Tacos:
3

lbs

white firm fish

cod, mahi mahi, halibut, haddock

2

tbsp

oil

2

limes

juice of

4

tsp

low sodium taco seasoning

I use homemade taco seasoning

2

tsp

garlic powder

1

tsp

salt

1/2

tsp

ground black pepper

18

small corn tortillas
For Mango Salsa:
2

large mangoes

peeled & diced

1/2

cup

red onion

finely chopped

1

small bunch cilantro

finely chopped

1

lime or lemon

juice of

1

jalapeño

seeded & minced

1/2

tsp

salt
Instructions
In a small bowl, whisk taco seasoning, garlic powder, salt and pepper.

In a large rimmed baking dish, add fish, drizzle with oil and rub it around. Sprinkle with mixed seasoning on both sides and set aside.

In the meanwhile, chop and add mango, red onion, cilantro, lime juice, jalapeno and salt to a medium bowl. Stir and set aside.

Preheat grill or grill pan on medium high heat and add a bit of oil to coat. Cook fish untouched until white and opaque on the bottom, about 4 minutes.

Carefully flip on the other side and cook another 4 minutes. You might have to cover fish on a grill pan for a few mins to allow to cook through. Probably it will fall apart which is fine. Transfer to a platter.

Warm up tortillas on the grill or microwave and keep under a towel.

To assemble a taco, flake fish with a fork, place desired amount in a warm tortilla and top with mango salsa. If you would like to make white sauce (crema), I included recipe below in notes.
Notes
Store:

Store in an airtight container in the refrigerator for up to three days. The mango salsa can also be stored for up to 24hrs. Reheat in a

skillet with a splash of water or oil and cover until heated through.
Optional white sauce (crema):
I think mango salsa makes grilled fish tacos super juicy and flavorful. But if you would like to drizzle white sauce as well, here is the one I use for my regular fish tacos.
1/2 cup plain yogurt, 2%+ fat

1/4 cup mayo (I use avocado oil)

1 lime, juice of

1/2 tsp taco seasoning

1/4 tsp salt

Pinch of cayenne

Ground black pepper, to taste
Nutrition
Serving:
3
tacos
|
Calories:
492
kcal
|
Carbohydrates:
51
g
|
Protein:
51
g
|
Fat:
11
g
|
Saturated Fat:
2
g
|
Cholesterol:
113
mg
|
Sodium:
743
mg
|
Fiber:
8
g
|
Sugar:
12
g