Grilled Fish Tacos extremely juicy and flavorful with quick mango salsa and any firm white fish like cod, halibut or mahi mahi. 30 minute dinner the whole family will love!
Grilled Fish Taco Recipe
Grilled fish tacos… Show me a person who doesn't love tacos and we will check if he is a human. 🙂
Unlike our family favorite fish taco recipe with crispy fried fish and delicious crema, here I opted for grilled fish with super juicy mango salsa. Light, summer-y and super easy.
Fish is a source of lean protein and healthy Omega-3 fats. When cooked properly (quickly), fish retains its moisture. And when seasoned lightly, it is delicious!
It took only 3 – 4 minutes per side to cook my fish to perfection. It came out juicy and flaked with a touch of a fork. Meaning it was soft and not overcooked.
Ingredients You Will Need
White fish: Any firm white fish like cod, halibut, tilapia, mahi mahi, snapper or sea bass works.
Mango salsa: Mangoes, cilantro, red onion and jalapenos.
Seasonings: Just taco seasoning, garlic powder and salt. Simple but with a punch. I am using my homemade taco seasoning – make sure you buy low sodium.
Tortillas: I highly recommend to use corn tortillas for the most authentic taste. If extra small, use two to hold it all together.
Optional crema: I included the recipe in recipe's notes. It would be nice, I just didn't see a need for it.
How to Make Grilled Fish Tacos
Marinate fish for 10 mins: Flavorful taco seasoning, garlic powder and acidic lime juice allow for quick marinating while you make mango salsa.
Meanwhile make mango salsa: Chop and stir this super juicy salsa. So perfect when mango is in season. Your fish is ready to grill.
Grill fish: Grill fish on medium-high heat on outdoor grill or a grill pan. I currently don't have outdoor grill and Lodge cast iron pan worked like a charm.
Warm up tortillas: Directly on a grill or in a pan until pliable or charred on each side. Takes seconds.
Assemble tacos: Flake fish with a fork, place lots of it in each tortilla and top with lots of mango salsa. So fresh and juicy!
Tips for Best Fish Tacos
I used 4 smaller Ataulfo mangoes. Large green red mango (Tommy Atkins) works too.
White onion is a great substitute for red onion.
Warming up tortillas is not only for taste. Heat makes corn tortillas more pliable and prevents them from breaking.
Flour tortillas will work but more authentic taste is with corn.
Recipe calls for 3 lbs of fish for a reason. To make tacos more "meaty" and/or use leftovers to make buddha bowls next day – anything goes.
If cooking on a grill pan indoors, you will have to cover fish with a lid for a few minutes to help it cook through.
Don't overcook the fish! See it is white on the bottom? Flip and cook a few more mins. It will finish cooking off the heat with residual heat.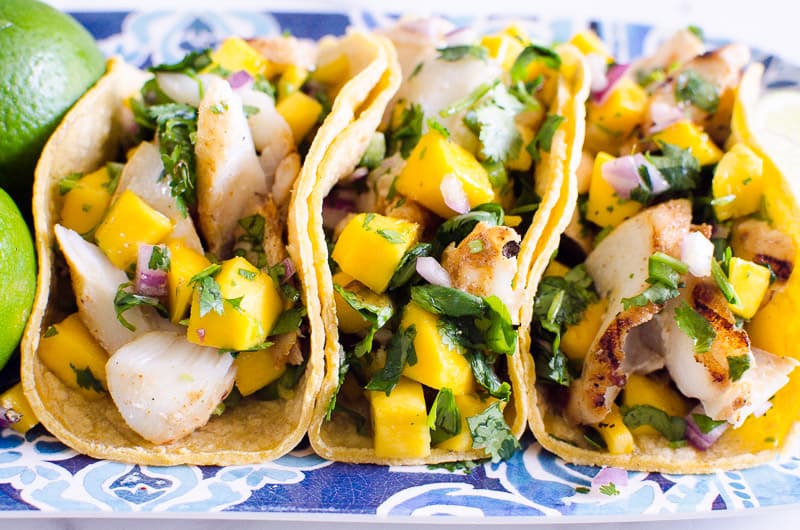 How to Serve, Store and Re-Use Leftovers
Tacos are a meal on their own. But if you are serving a spread, here are good additions:
Store: Refrigerate fish leftovers in an airtight container for up to 3 days. I specifically included 3 lbs of fish in the recipe but you can use 2 lbs. Leftovers taste great cold or reheat on a skillet with a splash of water or oil covered.
Leftovers use: Leftovers would be good to make a buddha bowl. What is it? It is a bowl with protein, whole grain and veggies/fruit. Anything from your fridge basically. It could look like this: grilled fish, mango salsa, quinoa or brown rice, mixed greens or arugula and more veggies.
I will be honest and say we rarely make tacos with leftovers next day – they become a buddha bowl.
Enjoy!:)
More Taco Recipes