This Healthy Lemon Chicken is coated in almond flour, fried until crispy, then drizzled with the best lemon butter sauce. It is one of the most flavorful 30 minute healthy dinner ideas!
Just like lemon pepper chicken and lemon garlic chicken, all these chicken recipes look impressive but are so easy to make!
Whenever I see crispy coated thin chicken breast cutlets, smothered in sauce and dotted with garlic bits, caper or lemon wedges, I think of a luxurious Italian Restaurant. Are you the same?
Well, friends, you can make this easy healthy lemon chicken recipe at home. All there is to this delicious lemon chicken breast is coated in flour and quickly pan seared chicken with lemon butter sauce.
You will love it! As much as I think you may also love this lemon chicken orzo soup and lemon chicken pasta recipe.
Why This Recipe Works?
30 minutes: The best easy lemon chicken recipe that meets all requirements of a busy home cook.
Flavorful: The star of the dish is obviously fresh lemon butter sauce with garlic morsels.
Healthy: Healthy lemon chicken breading consists of wholesome almond flour full of healthy fats. Amount of butter is only 3 tablespoons per entire recipe. And then 2 pounds of lean chicken breasts. Saturated fat is only 4 grams per serving.
Gluten free: If you use all-purpose gluten free flour blend or almond flour.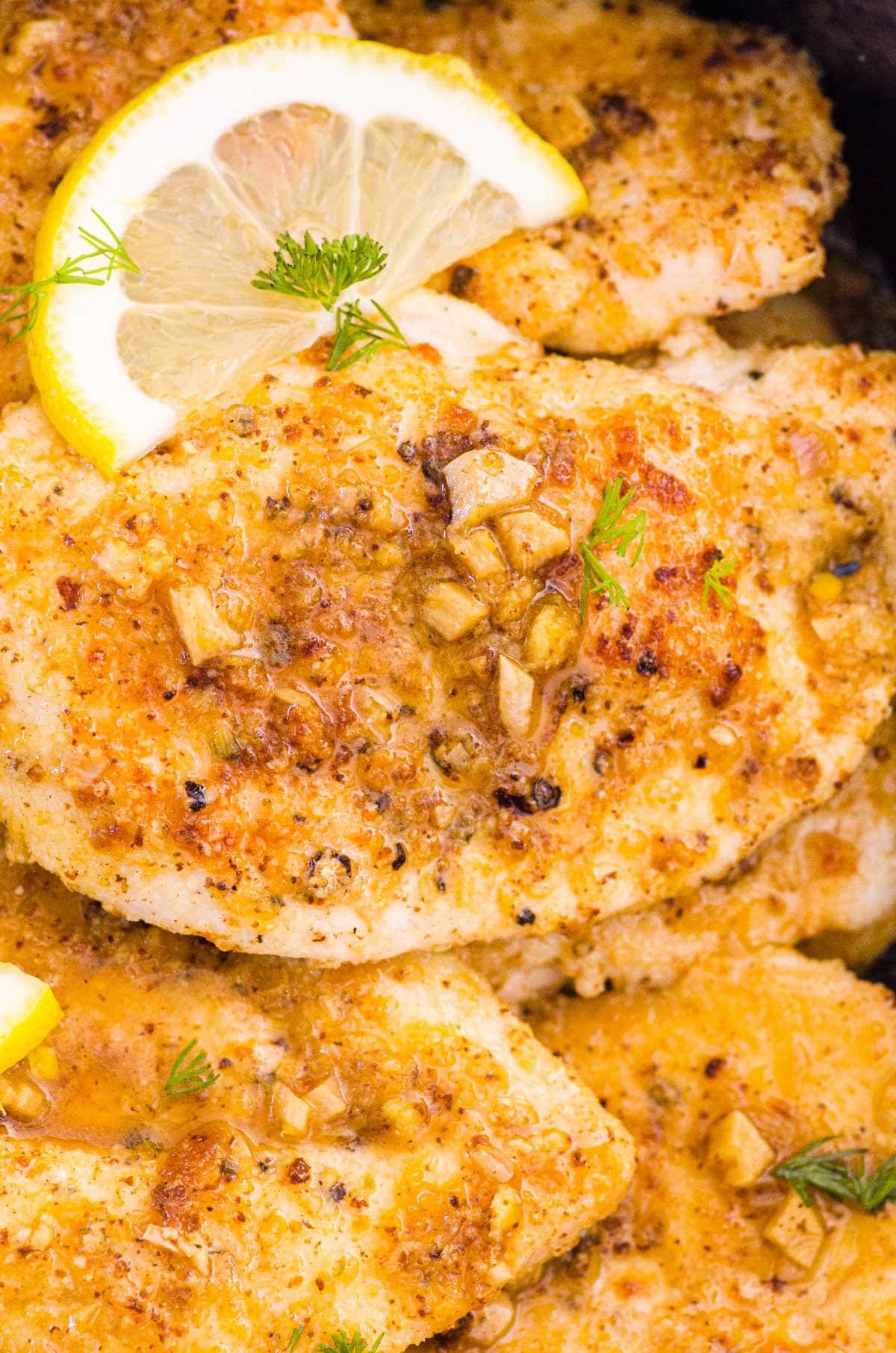 Ingredients for Healthy lemon Chicken Recipe
Literally just 6 simple ingredients, besides oil, salt and pepper, and 30 minutes separate you and the best healthy lemon chicken recipe! Please see more variations in tips section below.
Chicken: We use boneless and skinless chicken breasts. Chicken tenders are great too!
Almond flour: Pan frying chicken in almond flour in oil on the non-stick skillet ensures it doesn't soak up too much oil. Any flour like all-purpose, gluten free etc. works though.
Lemon: Amount of lemon depends on how tart you like your lemon chicken. Not sure? Start with less.
Butter and oil: I use olive oil for searing chicken and butter is to "sweeten" the sauce and offset lemon tartness.
Chicken broth: Low sodium chicken broth or Instant Pot chicken broth creates volume for the healthy sauce. Worst case scenario, you can use water.
Garlic, salt and pepper: Garlic sauteed in a bit of butter is always a good idea for any sauce.
How to Make Healthy Lemon Chicken
Our easy healthy lemon chicken recipe is quick and uber delicious.
The key is having chicken breasts sliced, dredging station prepped and garlic minced before you begin to fry the chicken cutlets. After that it is literally 15 minutes until buttered lemon chicken dinner is ready!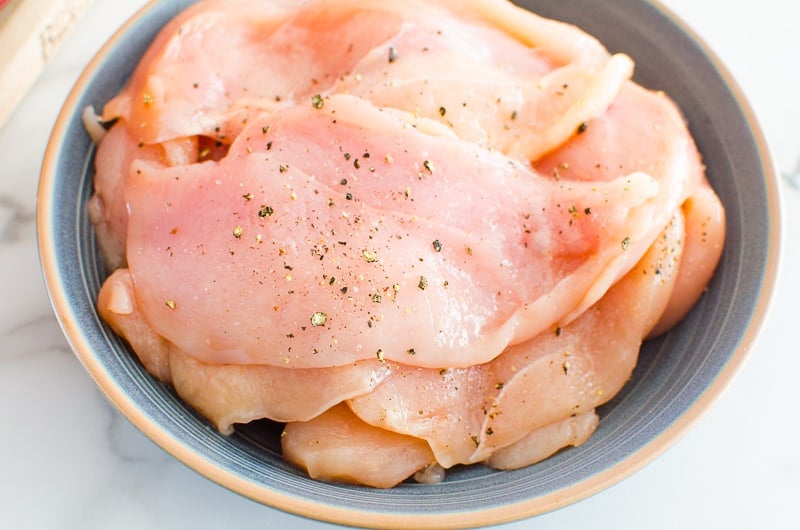 Prep and season chicken: Slice chicken breasts into thin cutlets lengthwise. This step eliminates messy pounding, however you can do that as well if you like really thin cutlets. Sprinkle with salt and pepper generously on both sides.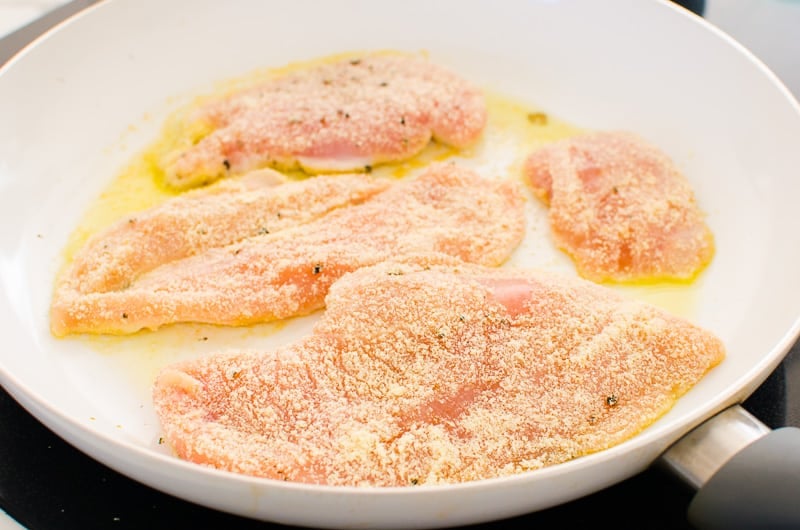 Pan sear the chicken: Pre-heat ceramic non-stick skillet until hot and oil sizzles. Dredge each cutlet in flour, then pan sear for about 4-5 minutes per side. You can pack them tightly and add a bit more oil as chicken soaks it up. Add a bit of butter and garlic and saute until fragrant.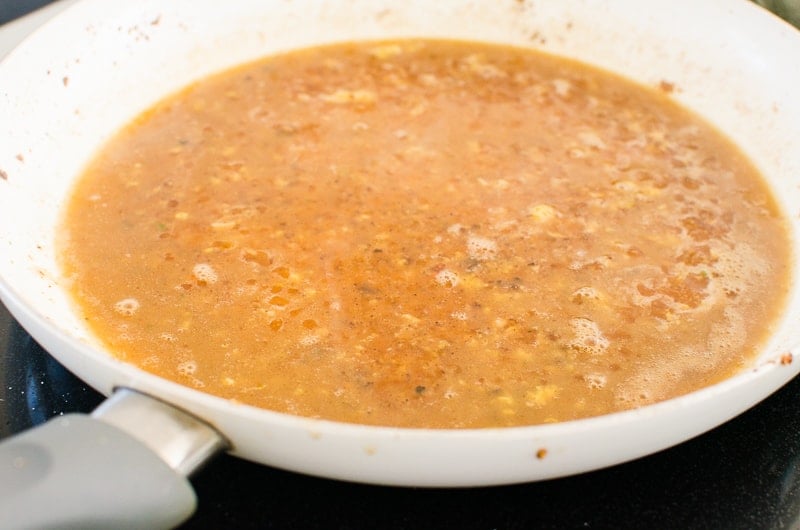 Deglaze the skillet: Add stock, lemon juice and zest, and more butter. Let mixture boil for 2 minutes to make luscious lemon butter sauce.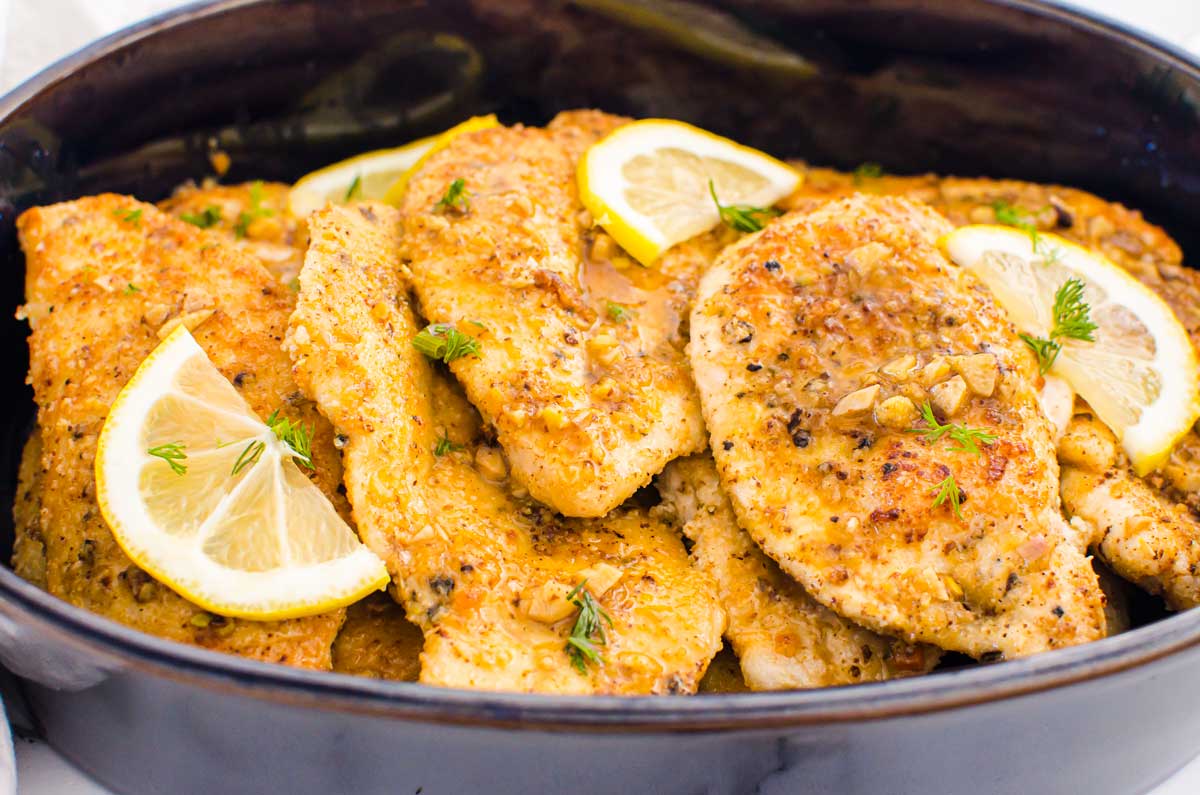 Pour lemon butter sauce over chicken and that is all to scrumptious best healthy lemon chicken recipe in the world!
What to Serve with Lemon Chicken Breast?
This lemon chicken with butter sauce tastes great with one of these sides: Instant Pot mashed potatoes, cucumber and tomato salad or garlic green beans.
Also try it cold. As a kid growing up in Ukraine, deli meat was expensive and no microwaves.
We often ate leftover ground chicken burgers and cutlets cold on a slice of bread as a sandwich. I still enjoy chicken dishes this way besides freshly cooked, of course.
Can I Use Chicken Thighs Instead?
Yes, if you prefer to use chicken thighs in this healthy lemon chicken recipe, you will need about 9-10 pieces of boneless and skinless chicken thighs. Do not cut them into thin cutlets. I recommend to pound them a little bit with a mallet into uniform size pieces.
Also please note that cook time might be a tad bit longer. It depends on the thickness of chicken thighs you purchase at the grocery store. They all differ.
To see if your lemon chicken chicken thighs are ready, just make a small incision in the middle. If juices run clear, chicken is cooked. Or until internal temperature reaches 165 degrees F on an instant-read thermometer.
More Tips and Variations
This healthy lemon chicken recipe ticks all the boxes for a busy home cook. Use what you have on hand and to suit your family's taste buds.
Lemon size: My lemon was from Costco, so giant. You can use less lemon juice if you don't like very tart lemon chicken.
For lemon garlic chicken: Add more garlic. Especially, if you grate garlic, dish will be more garlicky. If you mince it – more lemony.
Add white wine: You can replace some of chicken broth with a bit white wine. I wouldn't use only wine because dish is already acidic from lemon. I would not use a lot of white wine, if any, because we have acidic lemon here.
Make less: Feel free to cut this lemon chicken recipe in half to feed 2-3 people. Leftovers taste cold very good though and last for days.
Can I Make This Ahead?
If you like to make dinner in advance, you can refrigerate uncooked and seasoned chicken in a container covered for up to 2 days. Also store lemon zest and juice in another container. Get ingredients ready while skillet is preheating and cook as per recipe.
If you like to meal prep for easy grab-and-go lunches, keep a container of cooked healthy lemon chicken breasts in the fridge. It should last about 3-5 days. Then slice and serve on top of any healthy salad recipe, it tastes amazing cold!!!
This lemon chicken breast recipe tastes very-very good cold! But if you would like to enjoy it warm, reheat by simmering on the stove with a splash of water or chicken broth while covered.
If you have an air fryer, cook it for 4 minutes at 400 degrees F. It will come out crispy and like fresh!
Can I Freeze It?
Yes, you can freeze this healthy lemon chicken recipe! Cook and cool it, then place in an airtight container and freeze for up to 3 months. Thaw completely on a counter for a few hours or in the fridge overnight before reheating. Reheat as per instructions above.
FAQs
Why there is no egg wash in this recipe?
Egg wash is not necessary in this butter lemon chicken recipe to help the breading stick to the meat. We like to save calories and an extra step whenever we can.
How can I make healthy lemon chicken recipe even healthier?
For a healthier option, omit the almond flour. Slice the chicken breasts and season with salt and pepper. Pan fry and then continue with the preparation of the lemon butter sauce.

You can also omit butter and use extra virgin olive oil instead. However, I believe the dish will be less tasty but still good.
Can I make it in Instant Pot?
Technically you can prepare this healthy lemon chicken in Instant Pot but the coating will be on a soggy side. Pan sear it first, then pressure cook for 5 minutes and release pressure after 5 minutes.
Enjoy this healthy lemon chicken recipe, friends! Please let me know in comments below how you liked it!
More Favorite Chicken Recipes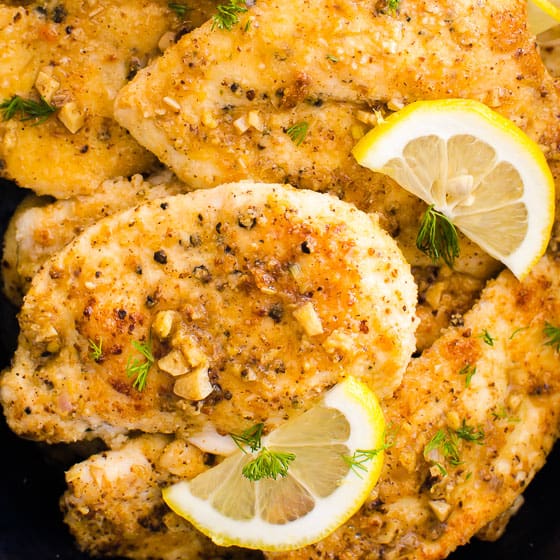 Healthy Lemon Chicken Recipe
This Healthy Lemon Chicken Recipe is coated in almond flour, fried until crispy, then drizzled with the best lemon butter sauce.
Instructions
Slice each chicken breast in half lengthwise. Thicker parts can be sliced one more time. This step eliminates the need to pound the meat. Sprinkle chicken on both sides with salt and pepper and transfer to a plate.

In a shallow plate add flour. Prep other ingredients. Everything has to be ready before you start cooking. Preheat large ceramic non-stick skillet on medium heat and swirl 2 tsp oil to coat.

Dredge chicken in flour on both sides and add to the skillet as many as you can fit.

Cook chicken for 4-5 minutes on each side and transfer onto a plate. Repeat with remaining chicken, adding more oil as necessary and reducing heat as skillet gets hotter.

Add 1 tbsp butter and garlic, saute for 20 seconds, stirring often. Add chicken broth, lemon zest and juice, 2 more tbsp of butter and bring to a boil while scraping the bottom. Cook for 2 minutes.

Add chicken back to the skillet and spoon lemon butter sauce over it. Alternatively, if you placed chicken in a serving dish after pan searing, you can pour sauce over it right there.
Notes
Store: Refrigerate leftovers in an airtight container for up to 5 days. It tastes very-very good cold but you can reheat it by simmering on the stove with a splash of water or chicken broth covered.
Freeze: In an airtight container for up to 3 months. Thaw completely on a counter for a few hours or in the fridge overnight before reheating.
Other meat: Chicken tenders would work. Also boneless chicken thighs can be used, however cook time might be a tad bit longer.
Lemon size: My lemon was from Costco, so giant. You can use less lemon juice if you don't like very tart lemon chicken.
For lemon garlic chicken: Add more garlic. Especially, if you grate garlic, dish will be more garlicky. If you mince it – more lemony.
Add white wine: You can replace some of chicken broth with a bit white wine. I wouldn't use only wine because dish is already acidic from lemon.
Make less: Feel free to cut recipe in half to feed 2-3 people. Leftovers taste cold very good though and last for days. Just sayin'. 🙂
Nutrition
Serving:
2
cutlets
|
Calories:
259
kcal
|
Carbohydrates:
10
g
|
Protein:
26
g
|
Fat:
13
g
|
Saturated Fat:
4
g
|
Cholesterol:
84
mg
|
Sodium:
461
mg
|
Fiber:
2
g
|
Sugar:
1
g