The best Mediterranean Quinoa Salad with feta, tomato, bell pepper, cucumber, and olives. Packed with protein, fiber and flavor, it's perfect for make ahead lunches, healthy sides, or potlucks!
If you love quinoa recipes like we do, check out these other favorites quinoa tabbouleh salad and kale and quinoa salad!
Mediterranean quinoa salad with fresh vegetables, creamy crumbled feta cheese, and salty Kalamata olives. Hearty and packed with flavor it's not only great for 30 minute meals but will steal the show at any cookout you bring it to!
Hooray for summertime healthy salad recipes where we can eat a salad without feeling cold! Especially quinoa salad recipes like this one or Southwest quinoa salad, although 10 minute healthy cucumber salad makes a frequent appearance, too!
Quinoa is one of my favorite meal prep ingredients. From spinach artichoke quinoa casserole to quinoa granola bars this wholesome seed can be enjoyed in a variety of recipes!
Ingredients You Will Need
This easy vegetarian quinoa salad is a spin off of a traditional Greek salad. You can wing it depending on the contents in your fridge.
It's light yet filling but you could always add grilled chicken breast for a heartier portion.
Quinoa: Naturally gluten free white or tri-colour quinoa. Red quinoa is too hearty and chewy for a veggie salad and can be used in quinoa and black bean salad.
Tomato: Fresh tomato for its sweet and juicy taste.
Cucumber: I like English cucumbers for their fresh taste and crunch.
Bell pepper: I love red bell pepper for its sweeter taste and color, but you could use any color. Green bell pepper will be slightly more bitter, but could be used.
Red onion: Adds depth of flavor from its sharp taste.
Avocado: Adds creaminess and healthy fats.
Olives: You can use pitted Kalamata olives (I did) or green olives.
Feta cheese: I recommend to buy a block of feta and crumble yourself to avoid anti-caking agents. Crumbled goat cheese would work too.
Extra virgin olive oil: Least processed olive oil with most health benefits that is best to be consumed raw.
Citrus: Fresh lemon juice or lime juice are my preferences but red wine vinegar, white wine vinegar or a splash of balsamic vinegar may work but would add a slightly different taste.
Fresh herbs: They add another layer of flavor. Parsley, fresh basil, green onion or cilantro work beautifully in this fresh salad.
How to Make Mediterranean Quinoa Salad
Any healthy quinoa salad recipe is the best way to use up leftover quinoa. If you don't happen to have any, you can cook quinoa in two easy ways.
Cook quinoa: How to cook quinoa on the stovetop for best results is to use a ratio of 1 cup dry quinoa to 1.5 cups water. Unlike most packages that state 1:2 ratio.
Bring to a boil, cook on low for 12 minutes, then let stand for 5 minutes while you prep other salad ingredients. You could also make Instant Pot quinoa.
Prep and combine other ingredients: Get large salad bowl where you can stir all ingredients freely.
Chop tomato, cucumber, bell pepper, red onion, avocado and parsley. Add them to the bowl along with olives.
Crumble cheese and drizzle oil and vinegar, sprinkle cumin, salt and pepper over all ingredients.
Add cooked quinoa and mix: If quinoa is freshly cooked, it is hot. Add it more to the side of a bowl and let cool down for 5 minutes, not forgetting to fluff with a fork previously.
Then stir salad with a large slotted spoon until combined.
Mixing the salad while quinoa is still warm ensures the quinoa absorbs more flavor. The tiny seeds not only soak up the dressing but also melt the feta cheese!
How to Store?
The beauty of this Mediterranean salad is that it tastes better with each day. As grains soak up the olive oil, cumin and lemon juices, salad gains more and more flavor.
I would say it is good for up to 3 days refrigerated if dressed, or up to 4 days if it's not dressed.
If you would like to enjoy the salad over a few days, I recommend only to dress part of the quinoa salad. Whisk oil, acid, and seasonings in a jar, refrigerate and dress portions of salad right before enjoying.
Can I Make This Salad Ahead?
Add all ingredients, except oil, lemon juice, salt, pepper and cumin, to a large salad bowl and do not mix. Cover tightly with plastic wrap and refrigerate for up to 24 hours.
When ready to serve, add seasonings skipped previously, then stir and serve. To save time, you can also prepare the dressing with olive oil, lemon juice and seasonings and store in a jar.
This is instead of seasoning all ingredients at once in the bowl. In this salad recipe we do not make the dressing separately.
Can I Freeze Quinoa Salad?
While some quinoa recipes hold up well to freezing, like my black bean quinoa casserole, this salad will become mushy if frozen then thawed.
That being said, I always love freezing plain quinoa to use in quinoa salad!
What Dishes Go Well With This Salad?
This quinoa salad is so versatile! It can be served as an appetizer or use it for healthy sides. Here are additional pairing ideas:
You may also love to browse these healthy grill recipes any of which would make a great pairing!
FAQs
What is the best quinoa to use?
For this recipe, skip the red quinoa and use white or tri-color.
Do I need to rinse my quinoa before cooking?
Really it is a personal preference. I don't usually rinse mine, but you can.

Quinoa seeds are naturally coated with saponin. Some say it is bitter tasting, rinsing it in a colander with cold water for up to a minute helps remove that taste.
Can I add raw quinoa to this salad?
No, you need to use cooked quinoa for this quinoa salad recipe.
Is quinoa salad healthy?
Yes! Pronounced "keenwah", it is one of few plant based foods that is a source of complete protein. It contains 9 essential amino acids, is high in fiber, manganese and has low glycemic index. You may also love air fryer tofu (another complete protein!).

This superfood is so versatile! Swap it for rice in most recipes, or even use it to make gluten free quinoa bread.
Tips and Variations
This quinoa salad is delicious as is, but feel free to customize it to your liking! Here are some ideas:
Skip the cheese. For a vegan version, omit the feta cheese. The avocado adds a lot of creaminess, or you could add a scoop of garlic hummus recipe.
Add some greens: Chopped fresh spinach or zesty arugula give an extra dose of veggies and vitamins.
Swap the grain: No longer a quinoa salad, but leftover Instant Pot brown rice works equally as well.
Mix up the veggies: Use sun-dried tomatoes vs. fresh, or even cherry tomatoes or add roasted red peppers vs. fresh bell peppers. Zucchini cut into rounds and then in half, would also be great!
Add additional protein: Instant Pot chickpeas (garbanzo beans) or air fryer chicken breast would be delicious!
Serve warm, room temp or chilled: Either way it's delicious.
Bring to potlucks, BBQs or summer cookouts: It's a crowd pleaser!
More Quinoa Recipes You Might Enjoy
Also make sure to check out this collection of popular quinoa recipes.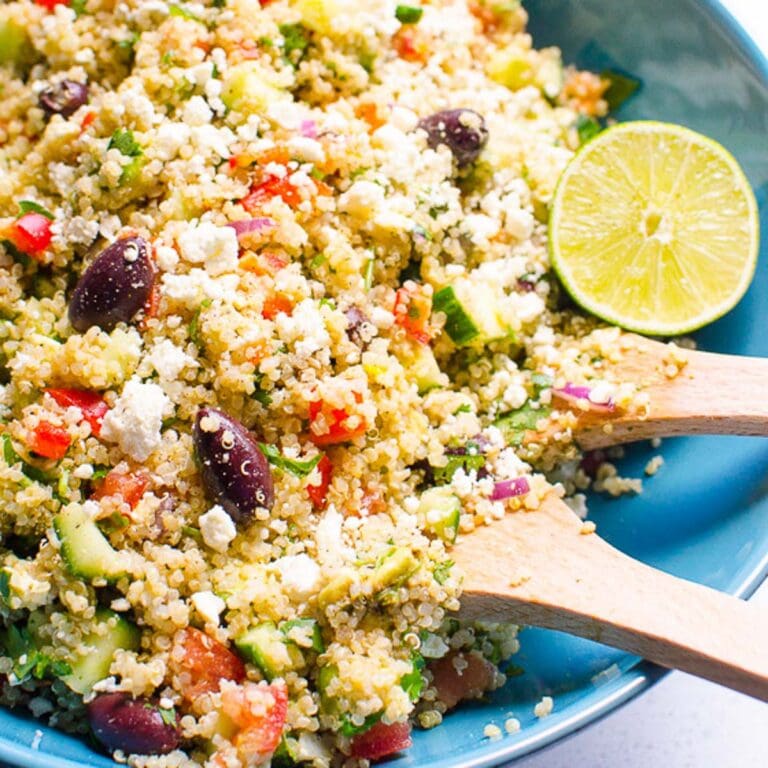 Mediterranean Quinoa Salad with Feta
The best Mediterranean Quinoa Salad packed with protein, fiber and flavor. It's perfect for make ahead lunches, healthy sides, or potlucks.
Ingredients
1

cup

quinoa

dry

1

medium tomato

chopped

1/2

long English cucumber

chopped

1

large bell pepper

chopped

2

large avocado

chopped

1/4

cup

red onion

minced

1/2

cup

parsley or cilantro

finely chopped

1/2

cup

feta cheese

crumbled

20

Kalamata olives

pitted

3

tbsp

olive oil

extra virgin

1

lemon or lime

juice of

1

tbsp

cumin

ground

1/2

tsp

salt
Ground black pepper

to taste
Instructions
In a medium pot, add 1 cup quinoa, 1 1/2 cups cold water and a pinch of salt. Cover, bring to a boil, reduce heat to low and cook for 12 minutes. Let it stand for 5-10 minutes covered.

In the meantime, in a large salad bowl, add tomato, cucumber, bell pepper, avocado, onion, cilantro, feta cheese, olives, lime juice, oil, cumin, salt and pepper.

Fluff quinoa with a fork and add to the bowl. Stir gently to combine and serve cold or warm.
Notes
Store: Refrigerate covered for up to 3 days.
Make ahead: Add all ingredients, except oil, lemon juice, salt, pepper and cumin, to a large salad bowl and do not mix. Cover and refrigerate for up to 24 hours. When ready to serve, add seasonings.
Quinoa: White or tri-colour quinoa. Red quinoa is too hearty and chewy for a salad. 
Leftover cooked quinoa: Quinoa lasts in the fridge for up to 5 days. I often use dinner leftovers to make salads.
Feta cheese: I recommend to buy a block of feta and crumble yourself to avoid anti-caking agents. Crumbled goat cheese would work too.
Nutrition
Serving:
1
cup
|
Calories:
348
kcal
|
Carbohydrates:
29
g
|
Protein:
8
g
|
Fat:
24
g
|
Saturated Fat:
5
g
|
Cholesterol:
11
mg
|
Sodium:
554
mg
|
Fiber:
8
g
|
Sugar:
3
g