This Chicken Quinoa Skillet combines tender chicken, fresh garden vegetables and nutrient-dense quinoa for a quick 30 minute meal.
Love high-protein quinoa meals? You might also love this one pot chicken quinoa and chicken quinoa bowl.
I am thrilled my boys aren't tired of quinoa recipes, because I love cooking with it! This incredibly versatile grain adds plant-based protein, flavor, and texture to any dish you add it to.
Make this chicken quinoa skillet recipe for your weekly meal prep or a healthy dinner any day of the week. It's perfect for back-to-school season!
Why You'll Love This Recipe
Healthy: This chicken quinoa skillet is loaded with sautéed zucchini, broccoli and tomatoes. It's also low carb and gluten-free.
Delicious: Inspired by my Ukrainian roots, we start with an onion and garlic base that fills the dish with flavor.
Easy: A one skillet recipe made with 9 ingredients, very little prep time, fuss-free cooking, and easy clean up.
Quick: This quinoa skillet takes less than 30 minutes to make.
Great for meal prep: Got a hectic week ahead? The leftovers will keep for 5 days so you can enjoy a nutritious lunch stress free.
Crowd pleaser: The whole family will love this quinoa recipe. It's far from boring, and you will have plenty of leftovers!
Ingredients for Chicken Quinoa Skillet
Here's what you need to make veggie-filled chicken quinoa skillet. All ingredients are fridge and pantry staples you probably have on hand already.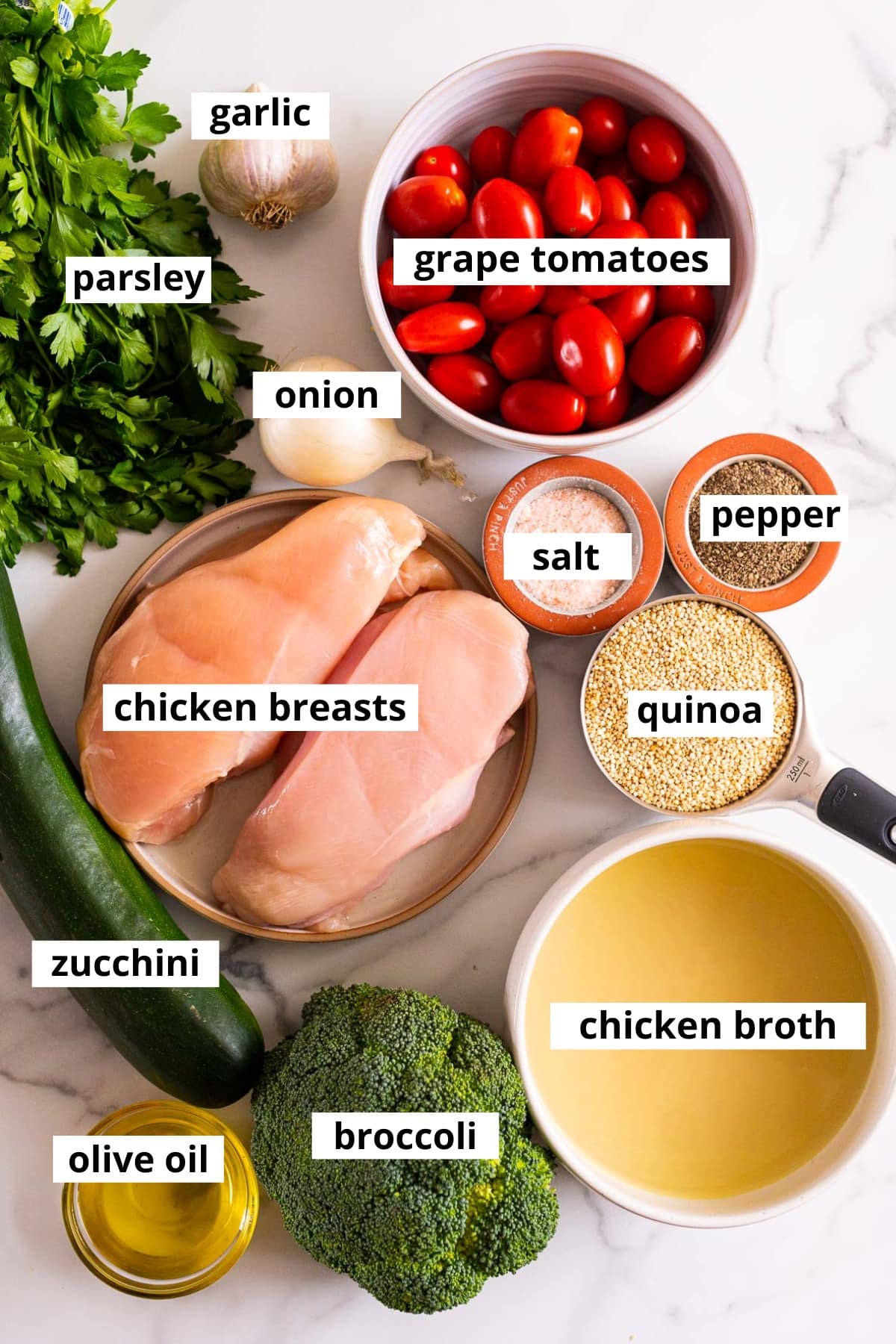 Chicken: I cut 2 boneless skinless chicken breasts into 1-inch cubes.
Vegetables: Chopped zucchini, chopped broccoli, and halved grape tomatoes.
Aromatics: Finely chopped onion – I recommend yellow onion or white onion. And freshly grated garlic – fresh garlic cloves will add the best flavor.
Quinoa: Uncooked quinoa of any color. White quinoa is most common with a delicate taste and fluffy texture. Red quinoa and black quinoa can be used too, but they have a more chewy texture and might require different cook time.
Chicken broth: I always go for low sodium chicken broth or chicken stock. Vegetable broth would work as well, if that's what you have on hand.
Oil: Any oil for frying, I enjoy the taste of olive oil in this dish.
Spices: Salt and pepper.
Fresh herbs: Fresh parsley, dill or basil will enhance the other flavors in this dish, pick your favorite and enjoy!
How to Make Chicken Quinoa Skillet
Here's how to make this skillet. One pot meals are a proof that a delicious dinner doesn't have to take a lot of time.
Full recipe card is located below.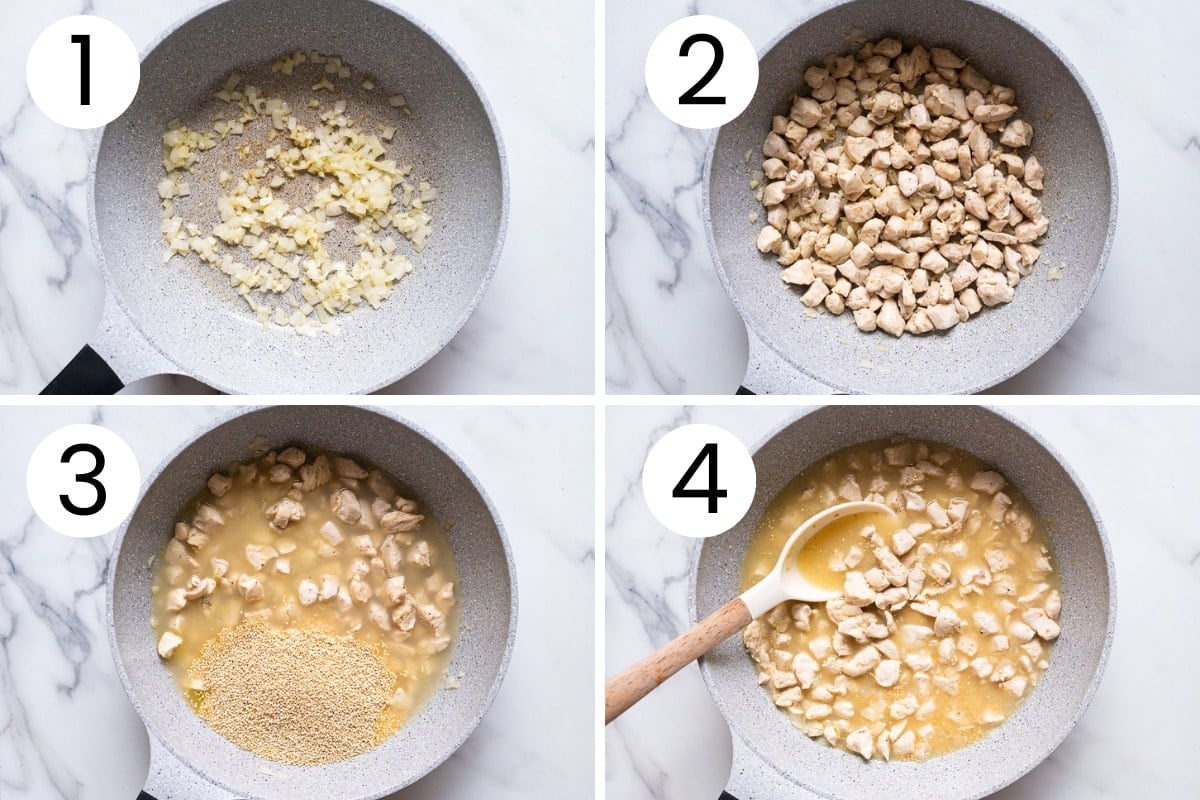 Sauté aromatics: Heat a large deep skillet on medium-high heat. Add oil, onion, garlic, and cook for 3 minutes to soften, while frequently stirring.
Cook chicken: Add cubed chicken in with the onion and garlic. Sprinkle with salt and pepper and pan fry for 5 minutes. Stir occasionally.
Cook quinoa: Add quinoa, chicken broth, salt and pepper to the skillet, stir to combine. Cover and bring to a boil. Reduce heat to low, let chicken and quinoa simmer for 12 minutes.
Add veggies: After simmering for 12 minutes, quinoa should be al dente. Remove lid and stir in the zucchini and broccoli. Replace the lid and cook on low-medium heat for 5 more minutes.
Finish and serve: Lastly, add grape tomatoes and parsley, stir, and serve hot.
Tips for Best Results
Here are some helpful tips that make this skillet meal easier and flavor packed.
Use what ingredients have on hand: Play around with veggies and use what your family likes. Fresh herb ideas are dill, parsley, basil or green onion. Anything you got in your garden, if you have one, bell peppers, cauliflower, snap peas.
No need to rinse quinoa: It comes pre-washed. But you can if you wish, be sure to use very fine mesh sieve.
Use large skillet with tight fitting lid: Be sure the steam doesn't escape from under the lid while quinoa is cooking, otherwise it will come out undercooked. I love this universal lid that can fit any size skillet.
Watch it closely and adjust: Quinoa cooks fast and all skillets cook food a little bit differently. Don't open too often to check, but be sure to check there is still liquid and quinoa is not burning close to time listed in the recipe.
Variations
Use chicken thighs: Chicken breasts and chicken thighs are interchangeable in many of my healthy chicken recipes. Use boneless skinless chicken thighs, and make no other changes to the rest of the recipe.
Using frozen broccoli: Add as per recipe but cook for 3-4 minutes instead of 5 minutes.
To omit tomatoes: Chop one large red bell pepper and saute it first, then set aside. Add at the end to cooked skillet. It will add a lot of delicious roasted flavor. Or you can use chopped roasted red peppers from a jar.
To make it without garlic: Garlic adds flavor but is not a deal breaker in this recipe. Just omit it or replace with extra 1/2 cup onion or 1/2 teaspoon ground cumin.
How to Store and Reheat
Store: Keep leftovers in a tightly sealed container and refrigerate for up to 5 days.
I do not recommend freezing this dish because the delicate veggies will turn to mush once thawed.
Reheat: You can microwave chicken and quinoa until warm, about 1.5-2 minutes. It is my preferred method because it's quick and convenient! Or reheat in a pan or pot on low heat with a splash of broth or water, and stir a few times to prevent burning.
FAQs
Can I use rice instead of quinoa?
Yes. White rice will work instead of quinoa in this recipe, but not brown rice. You might need to add a bit more cooking liquid and adjust cook time. Just play it by ear.
Can I add cheese on top?
Yes, any cheese will make a fantastic topping for this easy chicken quinoa skillet! Try cheddar cheese, Monterey Jack, mozzarella cheese, or Parmesan cheese.

If you want it melted, sprinkle with cheese after you've stirred in tomatoes and herbs, turn off heat and cover with a lid for a couple minutes, until melted.
Can I make it ahead of time?
First of all, the leftovers will last in the fridge for 5 days. Yes, you can also truly make it ahead of time. Store chopped vegetables and chicken in separate bowls while covered in the fridge for up to 48 hours. Then just cook when you are ready.
Can I use other protein besides chicken?
Yes! Use ground chicken, ground beef, ground pork, ground turkey, shrimp, or flank steak. You won't need to adjust cook time by much, maybe only for shrimp. For a vegetarian option, add black beans, chickpeas, or tofu instead of meat and cook a bit, until heated through.
Can I freeze it?
I don't recommend freezing this meal because of the fragile vegetables, but you can try to freeze it for up to 3 months. Afterwards, thaw in the fridge overnight and then reheat. But again, I think veggies will be too mushy.
More Skillet Recipes
More Quinoa Recipes to Try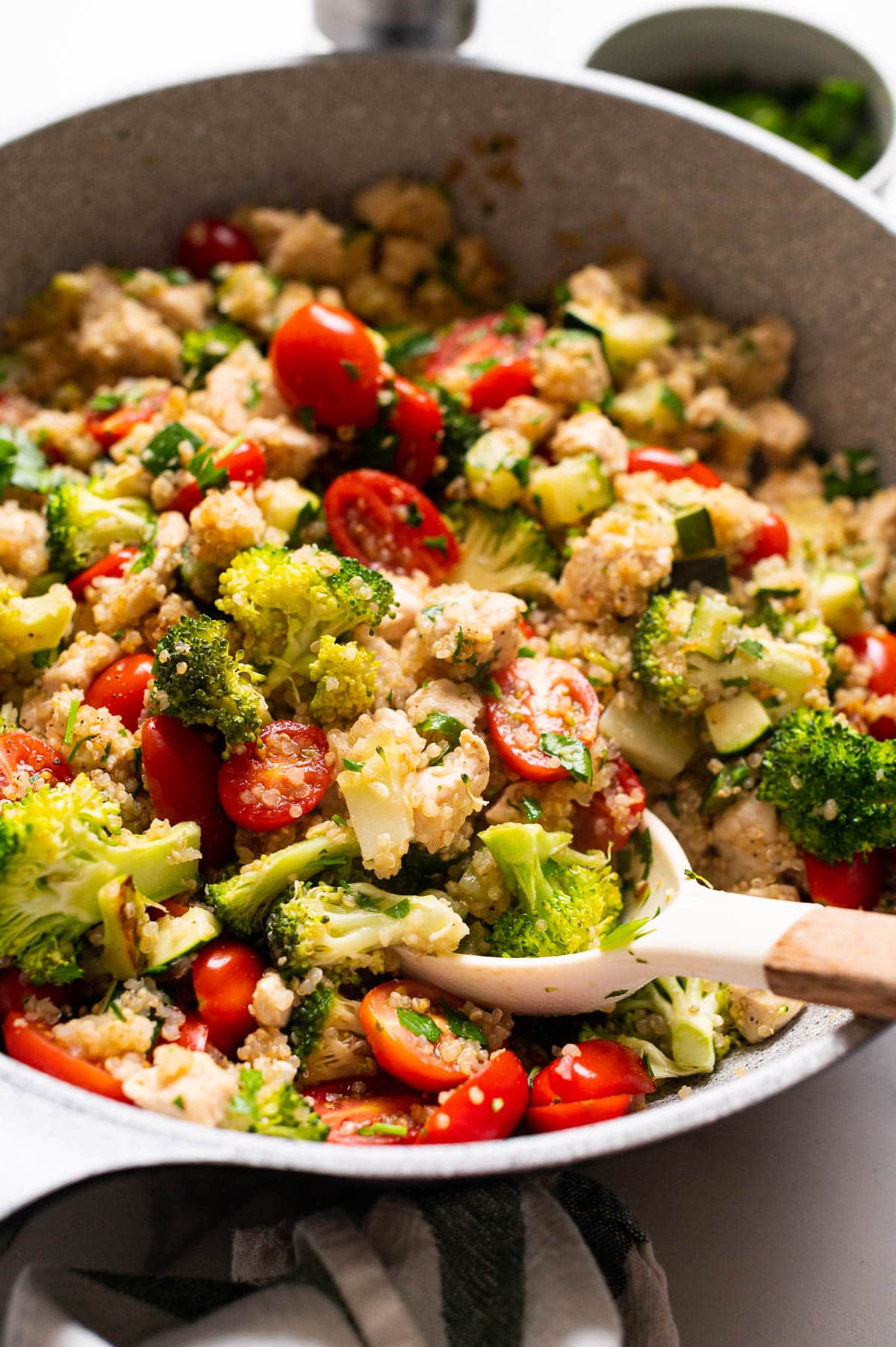 Chicken Quinoa Skillet
This Chicken Quinoa Skillet combines tender chicken, fresh garden vegetables and nutrient-dense quinoa for a healthy dinner.
Instructions
Preheat large deep skillet on medium-high heat. Add oil, onion and garlic; cook for 3 minutes, stirring frequently.

Add chicken, 1/4 teaspoon salt, 1/4 teaspoon black pepper and saute for 5 more minutes, stirring occasionally.

Add quinoa, chicken broth, remaining salt and pepper, then stir. Cover with a tight-fitting lid, bring to a boil, reduce heat to low and simmer for 12 minutes.

Now it's time to add vegetables. At this point quinoa should be cooked al dente. Add zucchini and broccoli. Stir, cover with a lid and cook on low-medium heat for 5 more minutes. Add grape tomatoes and parsley, stir and remove from heat. Serve hot.
Notes
Store: Refrigerate in an airtight container for up to 5 days. I don't recommend to freeze leftovers because this dish contains fragile vegetables that will be mushy upon thawing.
Nutrition
Serving:
2
cups
|
Calories:
281
kcal
|
Carbohydrates:
31
g
|
Protein:
25
g
|
Fat:
7
g
|
Saturated Fat:
1
g
|
Trans Fat:
0.01
g
|
Cholesterol:
48
mg
|
Sodium:
437
mg
|
Fiber:
6
g
|
Sugar:
5
g