This Slow Cooked Whole Chicken and Pasta is the ultimate hands-off effortless meal for the entire family! Just slow cook the chicken and add pasta right at the end for a hearty, wholesome, delicious meal!
Right now I'm also loving to use my Crock Pot for slow cooker chicken breasts, pulled BBQ chicken in crockpot and slow cooker rump roast!
I always buy whole chicken, organic at Costco or from my local farmer, because it is much cheaper than buying chicken parts, and cutting a whole chicken isn't complicated once you know how.
All my boys love my grandma's crockpot chicken noodle soup recipe and last time Alex went to Costco, he got a 2 pack of organic whole chickens. I had one left in a freezer and decided to try making slow cooker whole chicken with rosemary, lemon, garlic, and pasta.
All the magic happens right in a slow cooker. First you cook the chicken and then add pasta right at the end, just like in my crockpot chicken spaghetti.
Where Instant Pot whole chicken and Instant Pot frozen whole chicken is for times when you want that chicken on your table quickly or are running late, this slow cooker version is perfect for setting in the morning and forgetting about it until dinner time!
Ingredients for Slow Cooker Chicken and Pasta
Whole chicken
Pasta
Garlic
Lemon
Salt
Chicken broth or water
Dried rosemary
How to Make Whole Chicken in Slow Cooker with Pasta
Here's a quick overview how to make whole chicken in Crock-Pot.
I first rubbed chicken with lemon juice. I placed whole chicken on a plate while dressing it because plate is easier to wash than a cutting board.
Then I rubbed chicken with crushed garlic, dried rosemary and salt. Then place on top of squeezed lemon halves to prevent chicken sitting in a liquid for hours and to flavour the broth.
I tied chicken legs, which I consider an extra step, it's optional. If you don't, your chicken will come out wide leg spread because it will be that tender and fall off the bone. It is absolutely fine, just looks a bit different.
You don't need to add any water because this delicious broth will appear during cooking.
Discard the lemons because they are bitter.
Now, I knew from previous experience with slow cooker chicken thighs, I will have a lot of broth. So, I decided to stretch my 2 pounds bird further and cook pasta in it. But first, let me tell you a secret to a slow cooker whole chicken with a crispy skin, that looks kinda rotisserie style.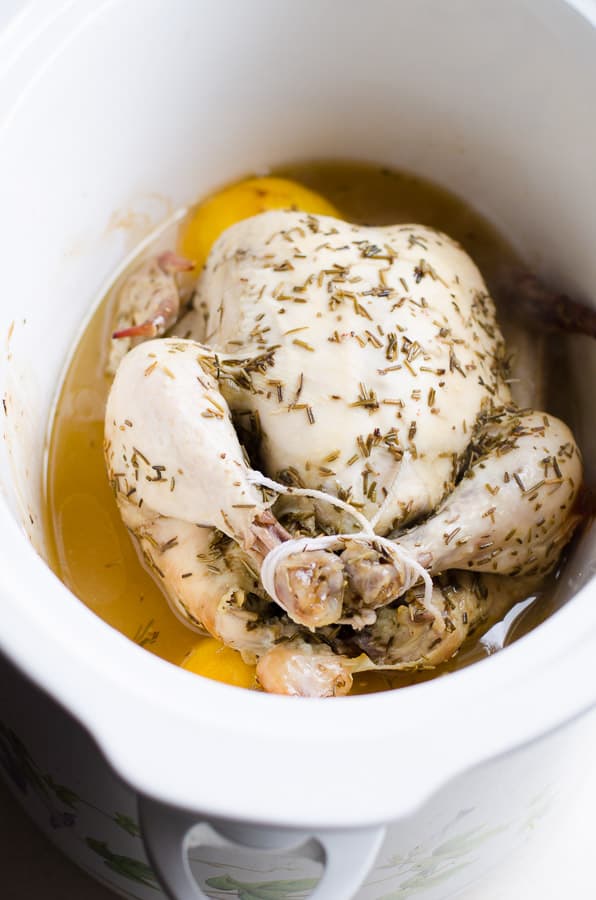 Whole chicken cooked in a slow cooker is a chicken somewhere in between roasted and boiled. To make that skin crispy, you place chicken under the broiler for 5 minutes. Voila.
Then you add pasta to the broth and top with boiling water just enough to cover pasta.
You had a slow cooker cooking chicken all day while at work (that is when programmable slow cooker comes in handy). Then you get home and remove chicken from the slow cooker. Add pasta, cover and wait 25 minutes. Quickly broil chicken and tadah. Dinner is served.
2 cups of dry pasta was enough for 3 boys. You can add more, no problem. I didn't because my chicken was tiny. You can use fresh rosemary. Boil water in a kettle. I always add boiling water to any recipe calling for water because it cuts back on cooking time.
That is it. Enjoy!
More Chicken Recipes to Try
You can also browse through my entire collection of healthy chicken recipes, for more ideas!
Slow Cooker Whole Chicken and Pasta
Slow Cooker Whole Chicken Recipe with garlic, lemon, rosemary and pasta cooked right in the crockpot, then quickly broiled.
Ingredients
2

lbs

whole chicken*

1

small garlic clove

grated

2

tsp

dried rosemary

1 1/2

tsp

salt

1/2

medium lemon

2

cups

whole wheat pasta

Boiling water
Instructions
Rinse chicken with cold water and drain well. Place on a large plate (cutting board) and squeeze lemon juice all around outside and inside. Rub with garlic, then a mixture of rosemary and salt. Tie the legs with twine (optionally for good looks).

In a bottom of

a large slow cooker

, place lemon half cut side down. Place chicken on top, cover and cook on Low for 6-8 hours or on High for 3-4 hours.

Using two large spoons, carefully transfer chicken into baking dish and discard lemon. To the liquid in the slow cooker, add a pinch of salt, pasta and enough boiling water to cover pasta. Cover and cook on High for 30 minutes.

Place chicken under broiler for about 5 minutes or until nice and golden. Stir pasta, cut chicken and serve hot.
Notes
*I happened to have extremely small chicken on hand. Double ingredients for 4-5 lbs average whole chicken.
Nutrition
Calories:
345
kcal
|
Carbohydrates:
24
g
|
Protein:
25
g
|
Fat:
17
g
|
Saturated Fat:
5
g
|
Cholesterol:
82
mg
|
Sodium:
951
mg
|
Fiber:
1
g
|
Sugar:
1
g