Slow Cooker Whole Chicken is coated with seasoning and slow cooked until juicy and fall apart tender. An easy way to make healthy, rotisserie style chicken at home.
Right now I'm also loving to use my slow cooker for crockpot chicken spaghetti!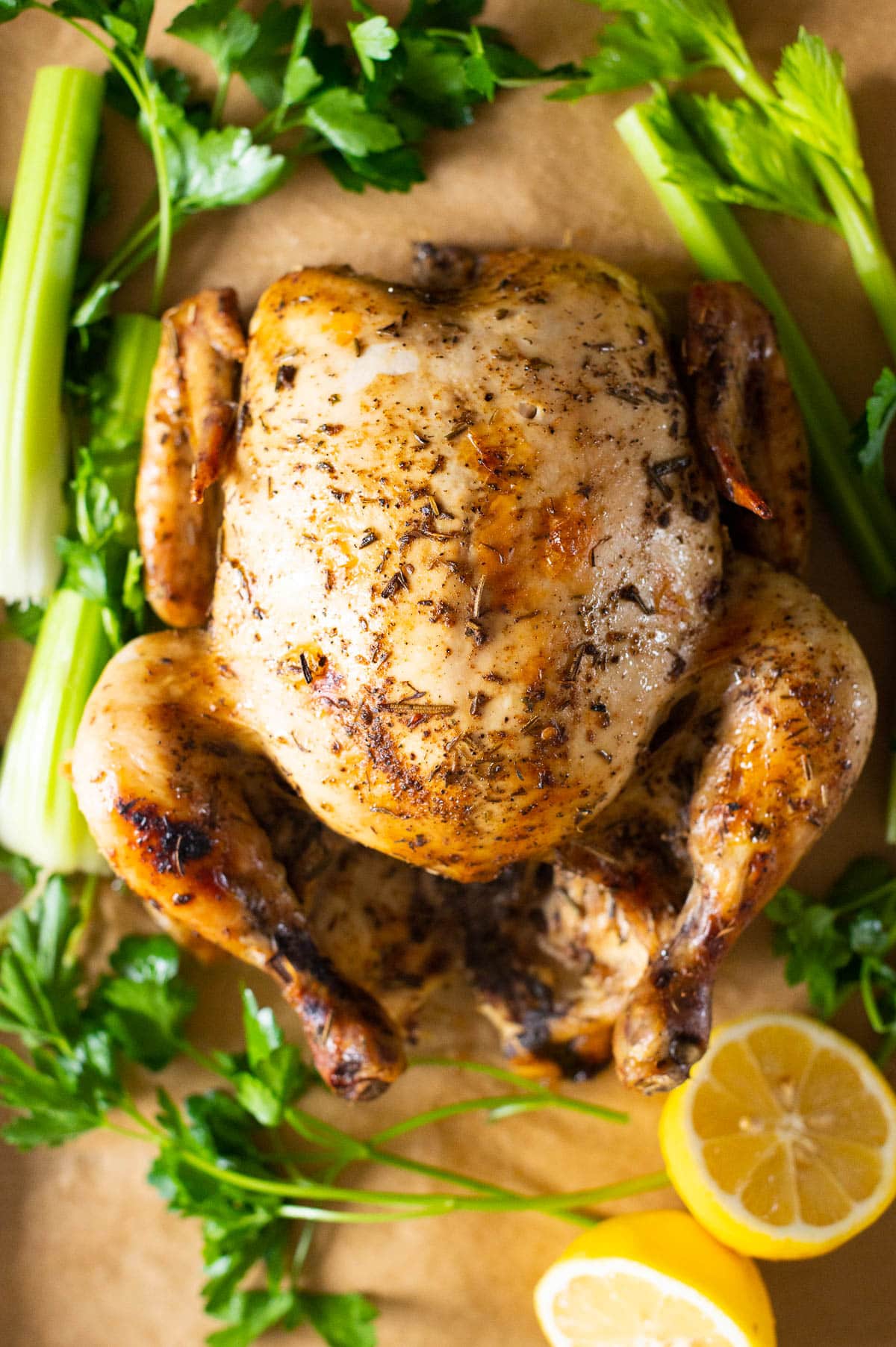 I always buy a whole chicken because it is much cheaper than buying chicken parts. And once you learn how to cut a whole chicken, you will be doing it all the time.
All my boys love my grandma's crockpot chicken noodle soup recipe, so I decided to try making the most simple slow cooker whole chicken recipe in the world!
Why You'll Love This Recipe
Easy: All the magic happens right in a slow cooker, all you have to do is season the chicken and the crock pot does the rest. Easy slow cooker recipes like this one require little effort and perfect for busy families.
Set and forget: Where Instant Pot whole chicken and Instant Pot frozen whole chicken are for times when you want chicken on your table quickly or are running late, this slow cooker version is perfect for setting in the morning and forgetting about it until dinner time.
Juicy and flavorful: The crock pot captures all the moisture and locks in flavor, every bite is tender and delicious!
Versatile: This crock pot whole chicken is delicious by itself or with veggies. And shredded leftovers can be added to your favorite healthy chicken recipes.
Ingredients for Slow Cooker Whole Chicken
All you need is chicken and simple seasonings to make slow cooker whole chicken.
Seasoning: I used my pot roast seasoning, but you can also use this all purpose seasoning or any of your favorite seasonings like lemon pepper, cajun seasoning, Montreal steak, thyme, garlic powder, onion powder, cayenne pepper, oregano, and parsley.
Chicken: I used a 4 pound whole chicken. You can choose a chicken that's 2-6 pounds as long as it fits in your slow cooker. Pat dry well and be sure to remove giblets and innards.
Cooking spray: I use Misto to spray the sides of my slow cooker.
How to Make Whole Chicken in Slow Cooker
Here's an overview of how to cook a whole chicken in slow cooker. Once you see how easy it is, you'll say goodbye to store-bought rotisserie chicken.
There is a full recipe card below.
Season the chicken: Use your hands to rub the spice mixture over the whole chicken and all the crevices. I hold the chicken by one leg and rotate while rubbing the seasoning with my other hand.
Add chicken to slow cooker: Spray the sides of your slow cooker with cooking spray. Place a trivet at the bottom then set seasoned chicken breast-side up on top. See below for trivet options.
Cook: Place lid on top and cook on Low for 7-8 hours or High for 3-4 hours. Use a meat thermometer to ensure it registers 165 F.
Broil the chicken: For crispy skin, carefully transfer chicken onto a baking tray and brown the chicken under the broiler for 4-5 minutes. Serve right away with your favorite side dish.
Recipe Tip
Be careful when transferring chicken from slow cooker onto baking sheet for broiling, it's super tender so do it quickly. I use 2 large utensils like tongs and a large sturdy spatula to hold it.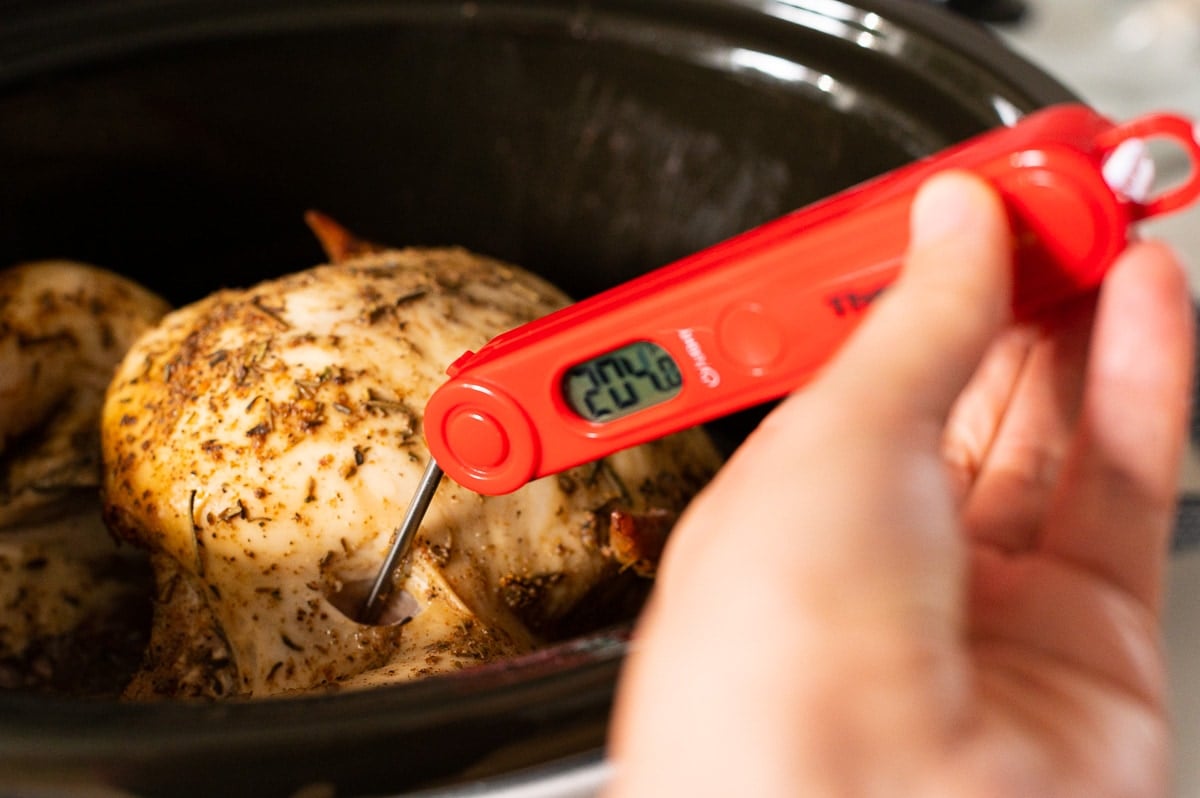 How Long to Cook Whole Chicken in Crock Pot?
As per USDA guidelines, your chicken is ready when a meat thermometer registers 165 F when not touching a bone. My 4 pound chicken was registering 204 F after 3 hours of cooking on High setting.
For an average 3-4 pound bird, plan for:
The time it takes to cook a whole chicken in crock pot will vary on the size of your chicken as well as the size and type of your slow cooker.
Recipe Tip
If you cook chicken on low, it is recommended to cook it for 1 hour on high heat at any point for food safety. It's typically easiest to cook on high for the first hour or at the end once you get home. Also be sure not to open the lid on your slow cooker at any time during cooking. It's OK to check for doneness towards the end of cook time though.
What Can I Use as a Trivet under Chicken?
A trivet will hold your chicken up and out of the juices that collect at the bottom as it cooks, here's what you can use:
2-3 foil rings.
5 tinfoil balls.
Large chunks of vegetables like onions, carrots and potatoes.
Trivet from Instant Pot.
5 canning jar lid rings as pictured above.
Tips for Best Results
Here are some tips and tricks to guarantee your whole chicken in slow cooker comes out moist, tender, and full of flavor.
Prep the chicken: There's no need to rinse the chicken, simply pat dry with paper towels and trim fat. The chicken legs do not have to be tied but can be.
No need for liquid: You don't need to add any water or chicken broth because delicious broth will appear during slow cooking.
Cook breasts side up: This helps to hold the shape of chicken, cooks evenly, and looks better.
Secret to crispy skin: Whole chicken cooked in a slow cooker is a chicken somewhere in between roasted and boiled. To make that skin crispy, place cooked chicken under the broiler for 3-5 minutes. Also use a rub with paprika or brown sugar in it.
Let it rest: Allow your chicken to rest for 10-15 minutes before carving so you don't loose all its juices.
What to Serve Whole Chicken with?
I love serving whole chicken on the weekends with all the fix-ins like Instant Pot mashed potatoes, roasted asparagus, and dinner rolls, hello comfort!
During warmer months I like adding a burst of lemon with a lemon kale salad or broccoli quinoa salad.
Recipes for Leftovers
How to Store
Store: Keep your carved leftovers in an airtight container and stored in the refrigerator for up to 5 days.
Freeze: Transfer cooled chicken to a freezer safe bag and freeze for up to 3 months.
FAQs
Is it better to cook chicken on high or low in crockpot?
With slow cooker chicken breasts and roasts it's recommended to cook it on low heat, with whole chicken it doesn't matter because there is a lot of dark meat, more fat and moisture. I cooked on high heat.
How long can you leave whole chicken on low in slow cooker?
You can leave a whole chicken on low in your slow cooker for a maximum 8 hours. Any longer and chicken will be overcooked.
How long can you leave chicken on high in slow cooker?
Chicken can be left on high in your slow cooker for a maximum of 4.5 hours.
Why is my chicken soft and mushy?
Typically soft and mushy slow cooker chicken is a result of being cooked for too long. This is because the longer chicken is cooked, the more the collagen breaks down into a liquid gelatin. When cooked for the right amount of time you get tender meat, but too long and your chicken will be mushy.
More Slow Cooker Chicken Recipes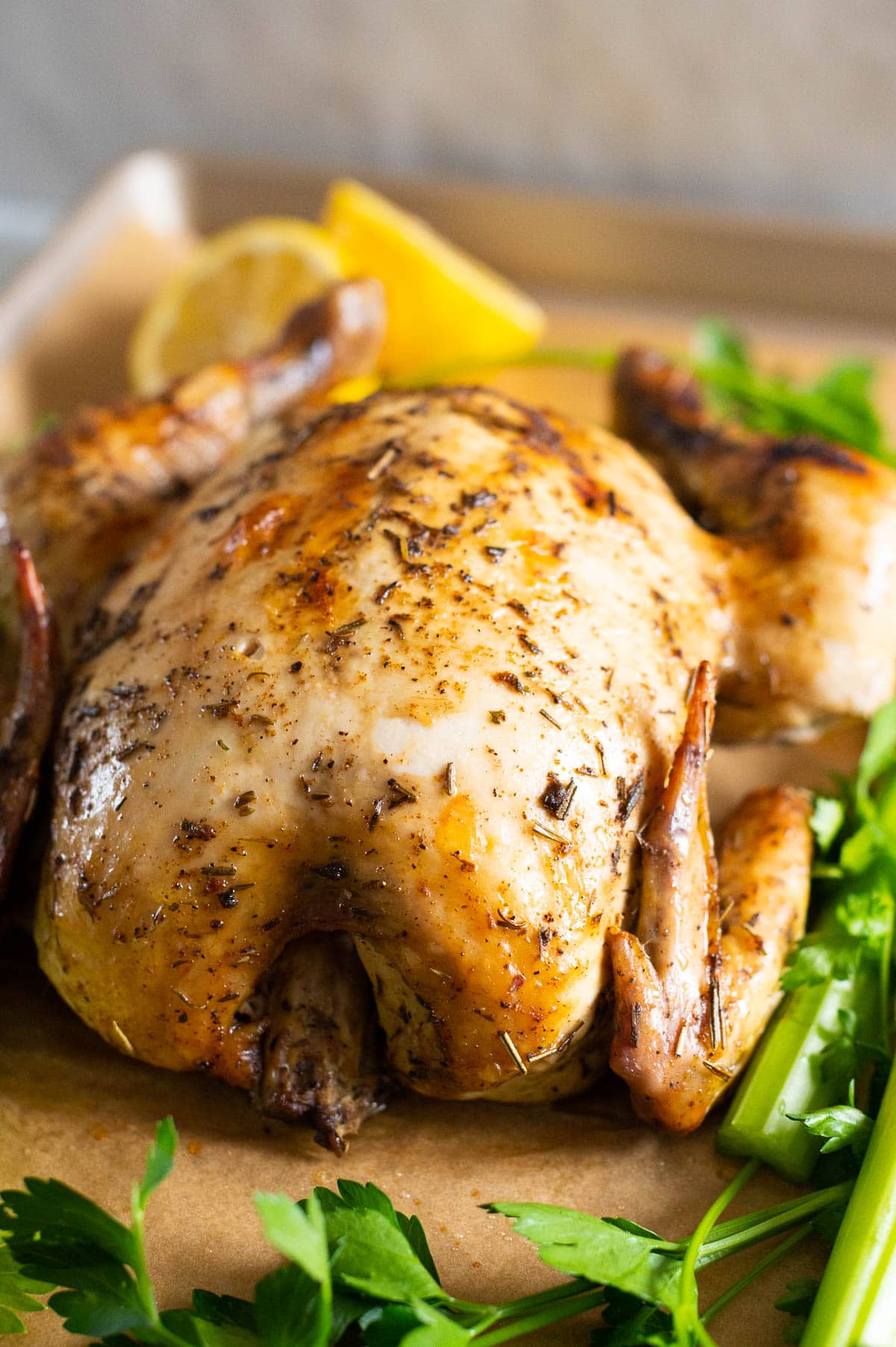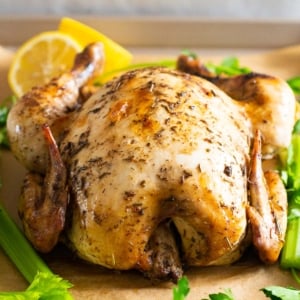 Slow Cooker Whole Chicken
Slow Cooker Whole Chicken is coated with seasoning and slow cooked until juicy and tender. Easy way to make rotisserie style chicken at home.
Instructions
Using your hands, rub seasoning all over whole chicken, going into all crevices.

Spray sides of large slow cooker well with cooking spray. Place trivet, 5 canning jar lids or foil balls at the bottom. Place seasoned chicken breasts side up on top.

Close the lid and cook chicken on low heat for 7-8 hours or on high heat for 3-4 hours, or until meat thermometer inserted in the thickest part, not touching the bone, registers at least 165 F.

Using two large spoons or sturdy spatulas, carefully transfer chicken onto baking tray and broil for 4-5 minutes or until skin is golden brown.

Serve hot with your favorite sides.
Notes
Store: In an airtight container in the fridge for up to 5 days.
Freeze: In a freezer safe bag up to 3 months, thaw before using.
Low heat: For food safety, if cooking chicken on low heat, be sure to cook it for at least 1 hour on high heat at any point.
Nutrition
Calories:
240
kcal
|
Carbohydrates:
1
g
|
Protein:
20
g
|
Fat:
17
g
|
Saturated Fat:
5
g
|
Trans Fat:
0.1
g
|
Cholesterol:
82
mg
|
Sodium:
77
mg
|
Fiber:
0.2
g
|
Sugar:
0.1
g