10 minute Chocolate Chia Pudding tastes like dessert with nutrition of a healthy breakfast. Refrigerate this naturally gluten free and vegan treat for up to 5 days for easy grab and go snacks.
I love to meal prep breakfasts like overnight chia pudding, matcha chia pudding and pumpkin chia pudding. It's smooth, delicious and so creamy!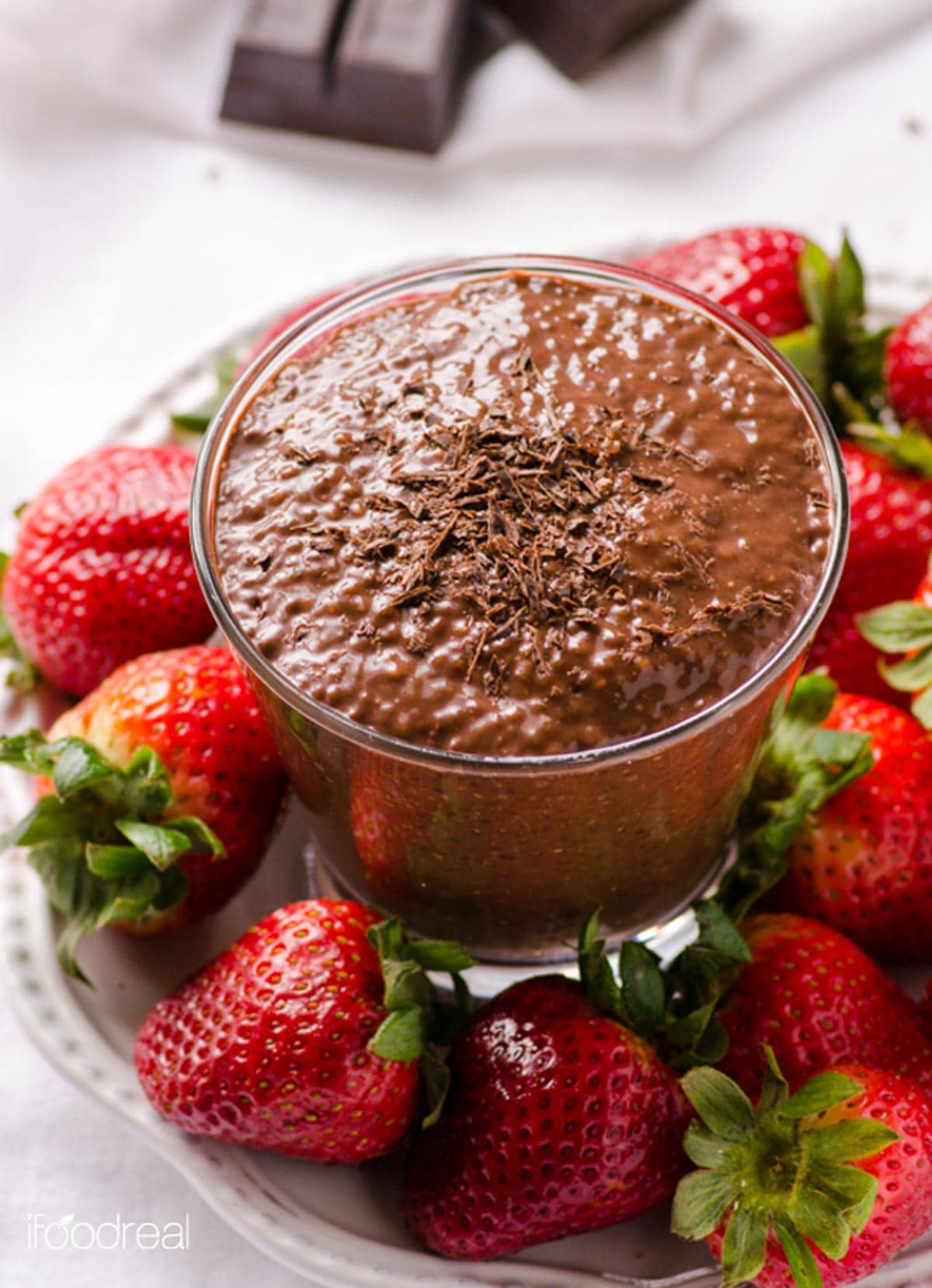 Dessert for breakfast anyone? I mean delicious chocolate mousse with healthy fats, complex carbs, fiber and protein. This chocolate chia pudding is creamy, rich and full of dark chocolate flavor.
It is possible to combine delicious and nutritious, and proof is in these healthy chocolate muffins, black bean brownies and healthier chocolate cake. And in the pudding, of course.
Chia pudding tastes like something in between tapioca pudding, mousse and Greek yogurt. It melts in your mouth, and is both creamy and rich.
I swear it is an equivalent to eating your favorite chocolate bar, but so much healthier!
This whole jar is only 275 calories. And it's just as perfect for healthy breakfast as it is as part of your healthy snacks rotation!
Are Chia Seeds Healthy?
Chia seeds are considered a superfood because of their nutritional benefits!
Plant based protein: Chia seeds are a complete source of protein, perfect for those following vegan or plant based diets.
Antioxidants: An essential part of any healthy diet!
Fiber: Helps you stay full longer and aids in digestion.
Omega 3 fatty acids: The good kind of fat that is proven to be heart healthy.
Most importantly, this chia seed pudding will pass for a chocolate dessert to anyone with closed eyes. I'm saying that not because it's my healthy recipe. But because it's delicious.
Ingredients You'll Need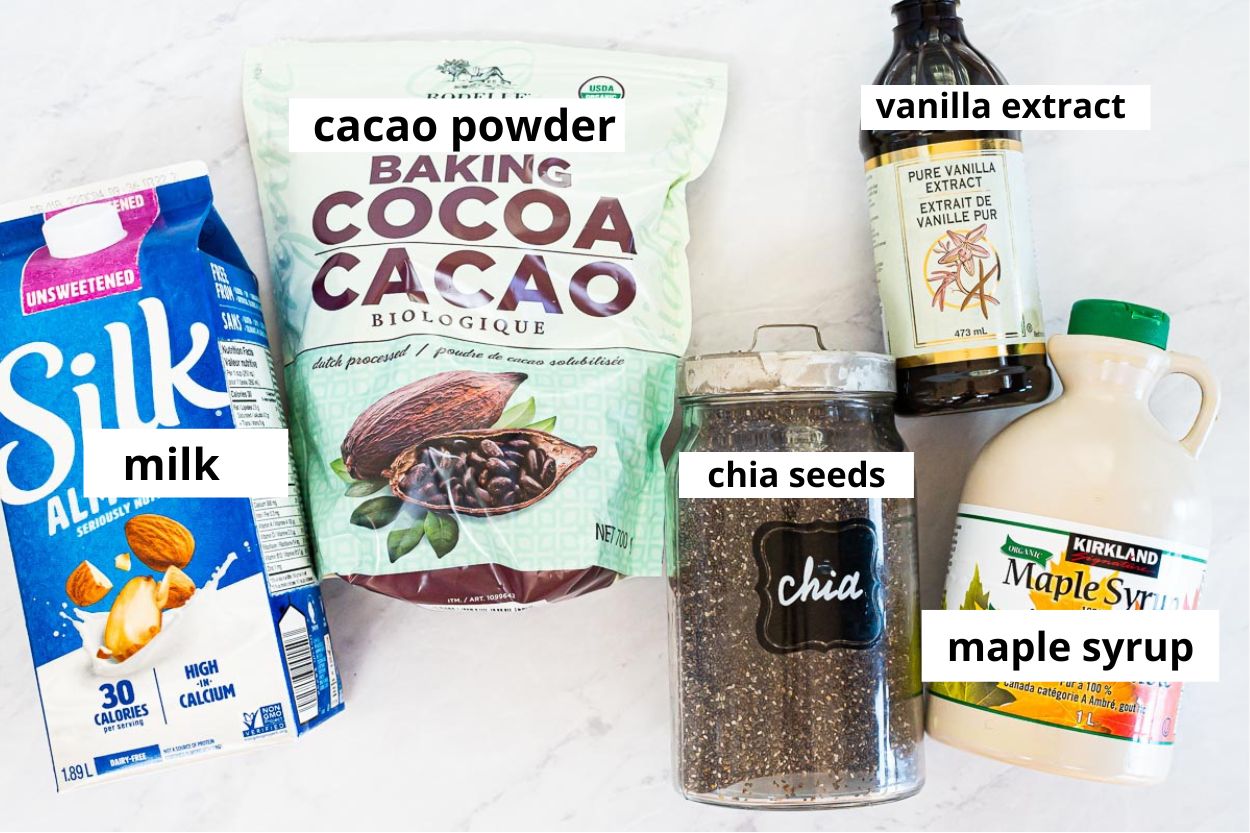 Chia seeds: Please use whole chia seeds sold in any supermarket. I do not recommend to use ground chia seeds. The taste will have very prominent Omega fishy taste. And texture is not pleasant.
Milk: Any plant based milk works from a carton. I like dairy free almond milk. You can use any other milk like oat milk, rice, coconut, hemp or soy milk. Canned coconut milk doesn't work but it makes wonders for healthy chocolate bread.
Maple syrup: As for a sweetener, I prefer maple syrup vs. honey because it mixes better with cold milk. You can use honey if it is of a runny consistency and your milk is room temperature. Otherwise, my experience shows honey doesn't dilute well. It results in bitter chocolate chia pudding with lumps of sweetness.
Cacao powder: You can use cocoa powder. It is what most people know and have on hand. The only difference between cacao powder and cocoa is that last one is more processed. Cacao powder has more antioxidants and is better for you.
How to Make Chocolate Chia Pudding
Chia pudding recipes are so easy to make, if it wasn't so good, it would be almost embarrassing.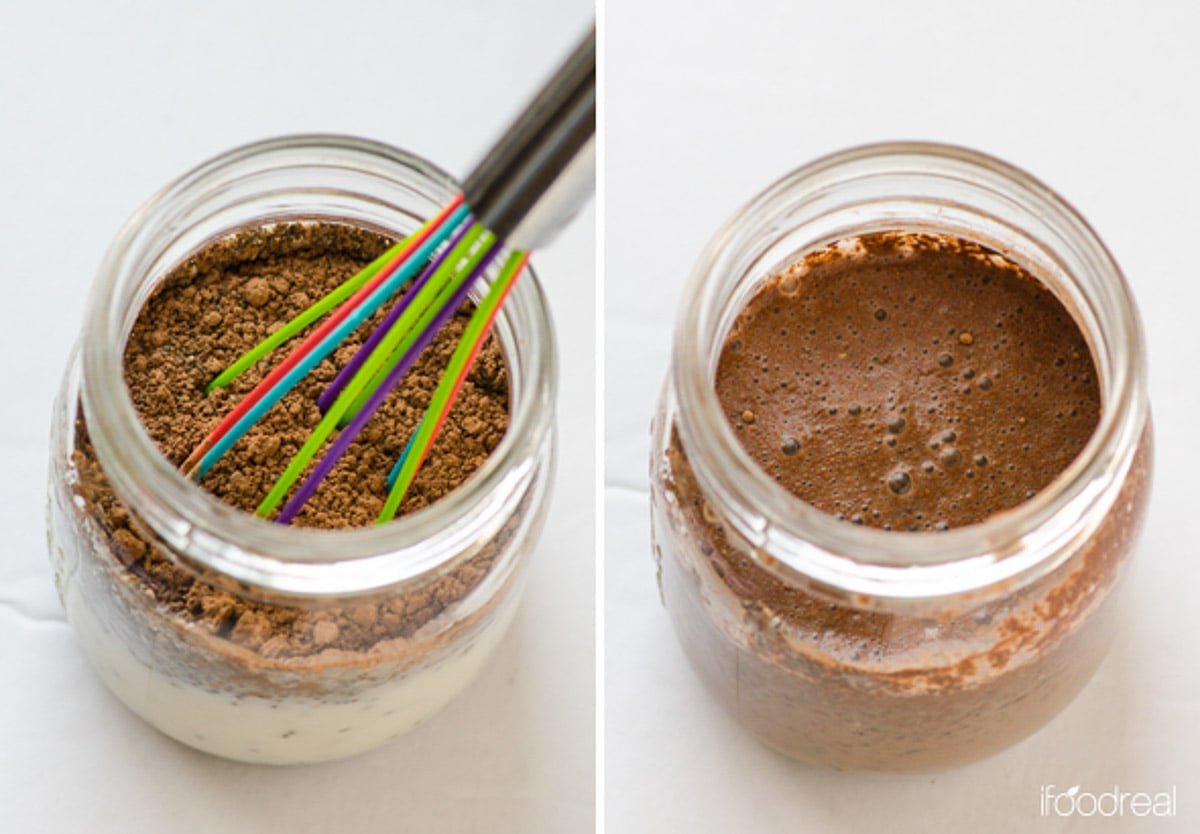 Combine all ingredients: To any small jar, add milk, maple syrup, vanilla extract, chia seeds and cacao powder in this exact order.
Whisk with small whisk or a fork really well or until cacao powder is dissolved. Some tiny cacao powder lumps are OK.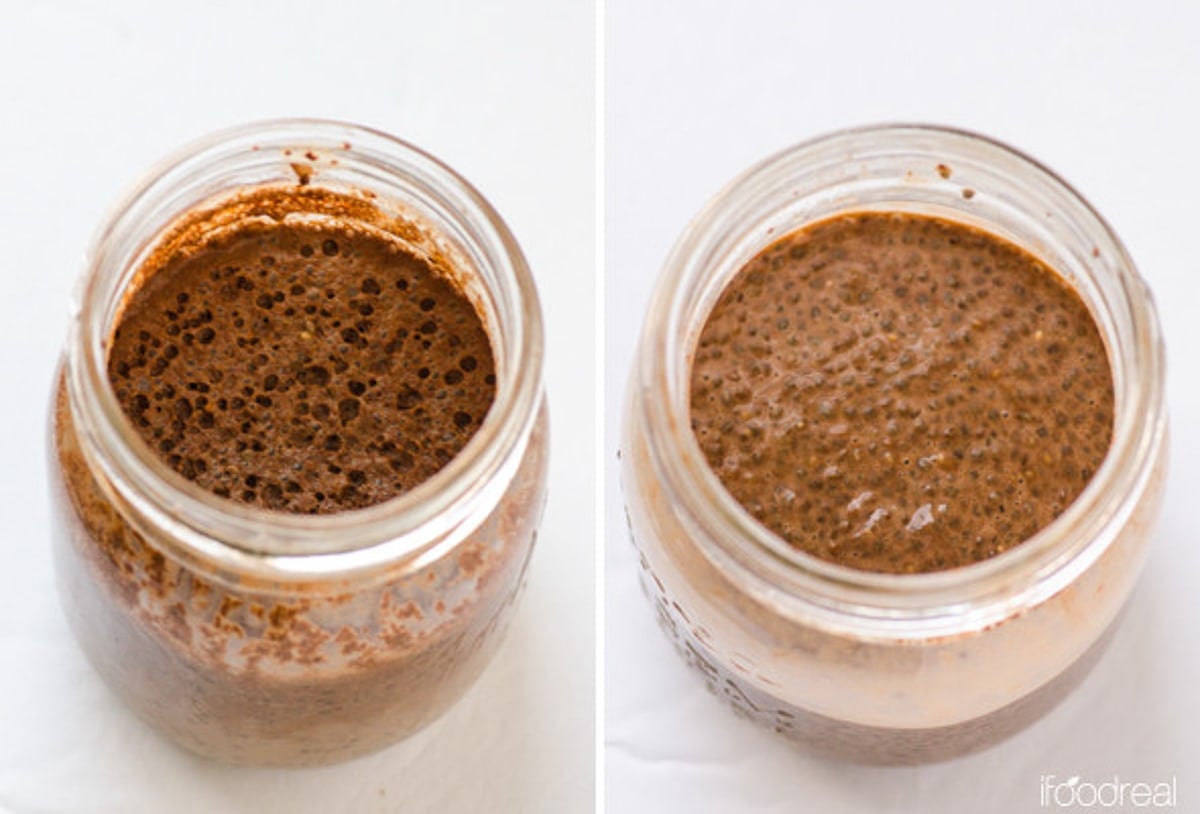 Stir again: Let chia pudding sit for 10 minutes and stir again to break down any lumps. Close jars with lids.
Refrigerate overnight: Refrigerate for at least 6 hours or overnight is the best.
Chocolate Chia Pudding Recipe Tips
To avoid lumps it is better to stir chia pudding 2 times before refrigerating overnight. 1st time when mixing, 2nd time 10 minutes later.
Liquids first: It is important to add ingredients in the order listed in the recipe.
If you have lumps just stir again with a fork before enjoying.
If your chocolate chia seed pudding is too thick, add a splash of milk and stir. I like my chocolate pudding to fall off the spoon and that is what this recipe makes.
You can also make chia pudding in a mixing bowl and then distribute between jars.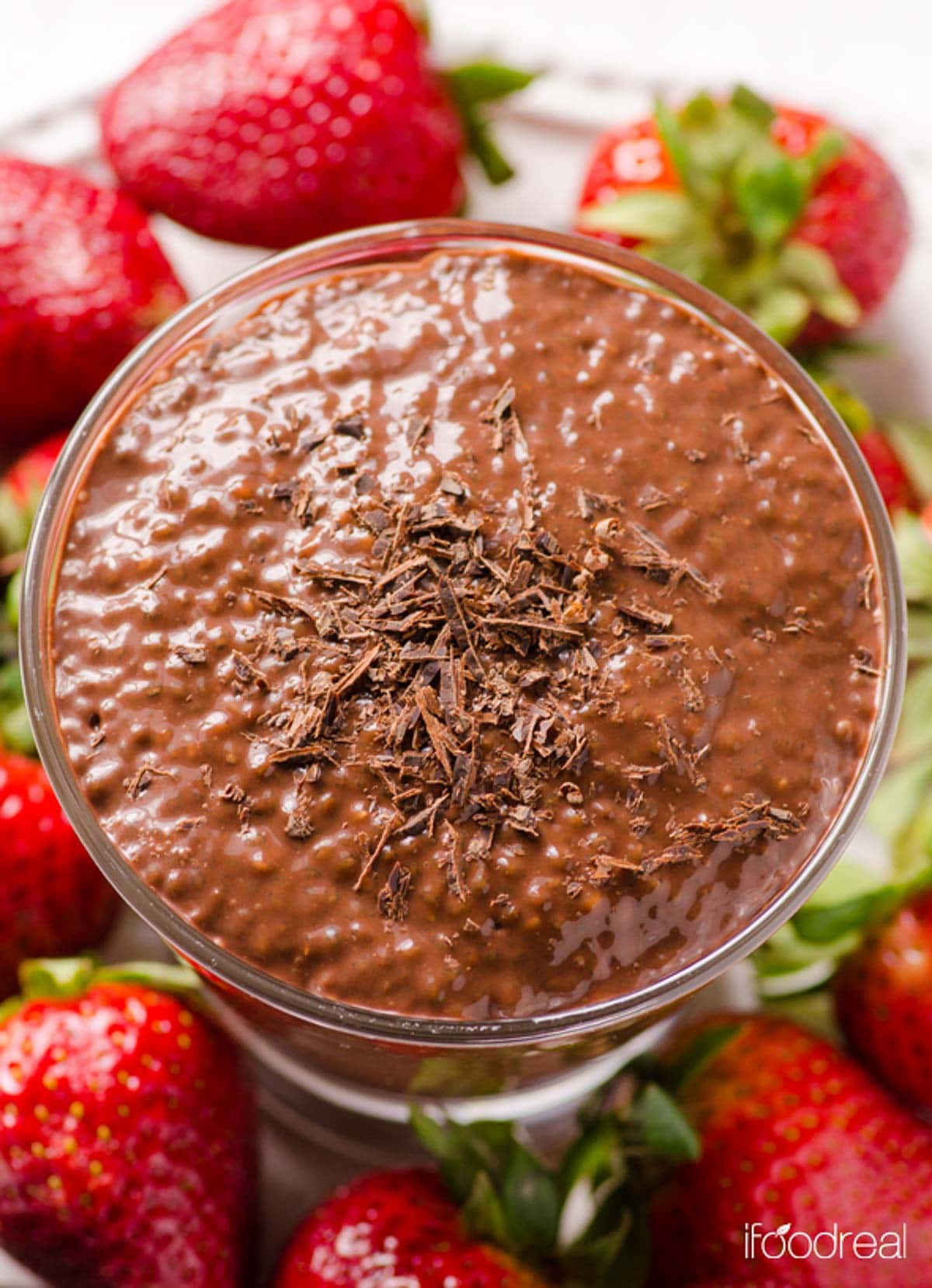 FAQs
What type of milk can I use in chia pudding?
Any milk works for this recipe! Dairy milk or plant based milk. Just do not use canned coconut milk, it is too thick.
How do I thicken it?
I find that I love my chocolate chia pudding with a 1:3 ratio. That is 3 tbsp of chia seeds per 3/4 cup of milk. You may find that this is too runny for your preference! It's easy to thicken with an additional 1 tbsp of chia seeds. Add them, stir and wait to thicken.

Alternately, see below how to make blended chia pudding and that will also thicken it further.
Can I make blended chia pudding?
Yes, gently pulse one time until combined. Let sit for 10 minutes. Pulse again. Just don't process too long because chia seeds will start grinding.
What are some topping ideas?
Chocolate chips, raspberries, blueberries, coconut flakes or a drizzle of peanut butter. You may also love it served with healthy fruit salad!
How Long Will It Last?
You can prepare and refrigerate cacao chia pudding for up to 5 days. I love to meal prep it in individual mason jars!
When ready to eat, give your pudding another good stir. Sometimes you might have lumps due to gulps of air in-between the chia seeds and that's OK.
You can freeze chia pudding for a make ahead option as well! Just thaw as needed for a feel good treat anytime.
More Chia Seed Recipes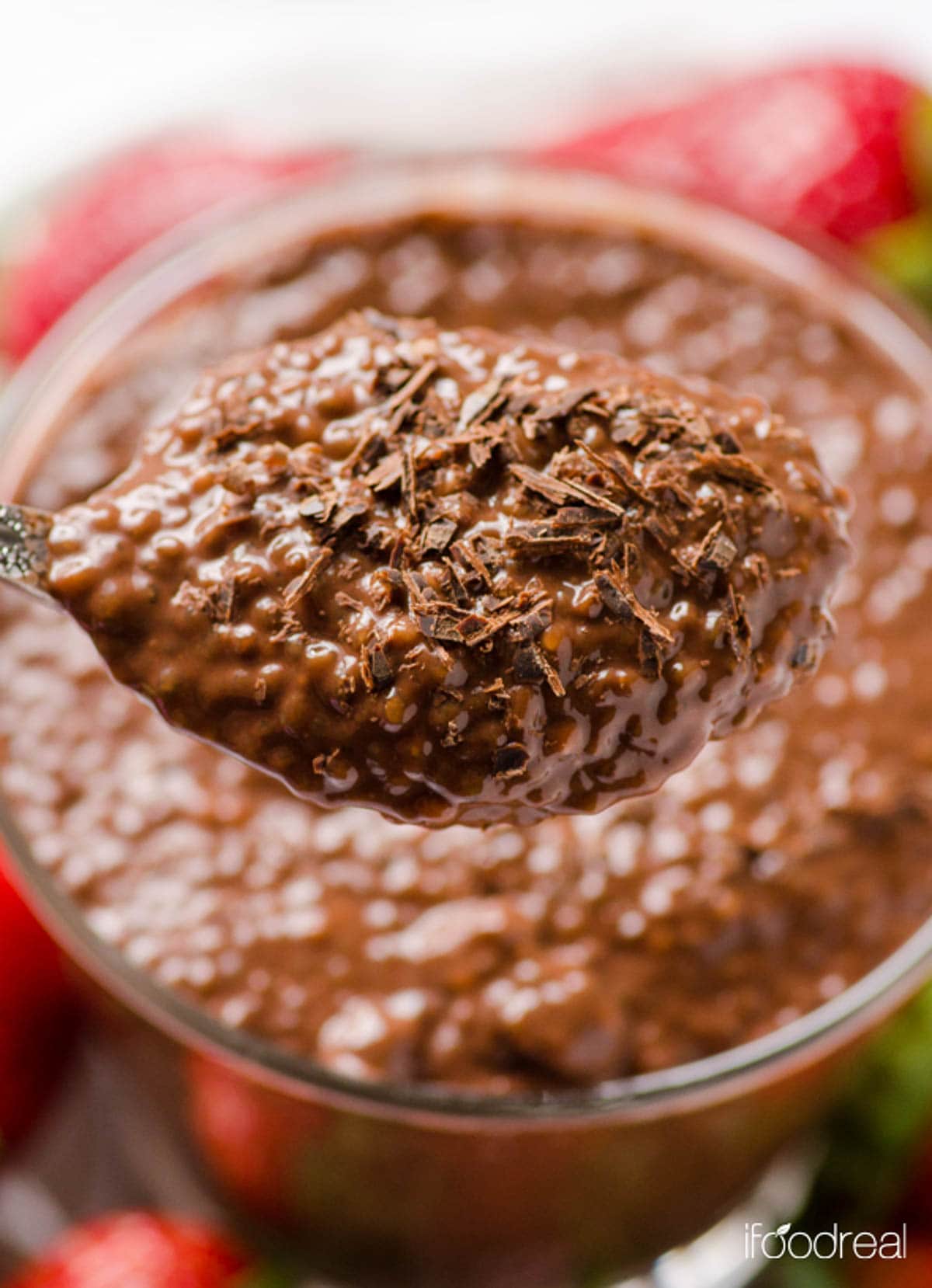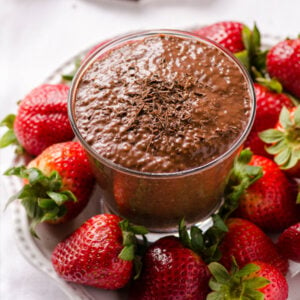 Chocolate Chia Pudding
10 minute Chocolate Chia Pudding tastes like dessert with nutrition of a healthy breakfast. A naturally vegan and gluten free treat!
Instructions
To a Mason jar or any container with a tight lid (I prefer glass), add milk, maple syrup and vanilla extract. Then add chia seeds and cacao powder. It's important to add ingredients in the order listed in the recipe, liquids first.

Whisk well or stir vigorously with a fork until cacao powder is well combined with the rest of ingredients. Let sit for 10 minutes and stir again.

Refrigerate for at least 6 hours or overnight.

When ready to eat, stir well again. Some lumps are OK, just stir well. The thickness and sweetness can be adjusted to your taste.
Notes
Store: Refrigerate for up to 5 days.
Coconut milk: If using coconut milk, make sure it's from the carton and not a thick coconut milk from a can.
Consistency: For a thick consistency pudding use 4 tbsp chia seeds, for soup like consistency (pictured) use only 3 tbsp (my favorite).
Nutrition
Calories:
501
kcal
|
Carbohydrates:
51
g
|
Protein:
16
g
|
Fat:
29
g
|
Saturated Fat:
3
g
|
Sodium:
259
mg
|
Fiber:
31
g
|
Sugar:
12
g