Healthy Oatmeal Cookies are soft, moist, chewy, and loaded with dark chocolate chips. Whip these healthy cookies in 30 minutes and enjoy warm right out of the oven for healthy snacks!
We love cookies around here! Healthy oatmeal cranberry cookies, oat flour chocolate chip cookies or classic healthy chocolate chip cookies, give them all!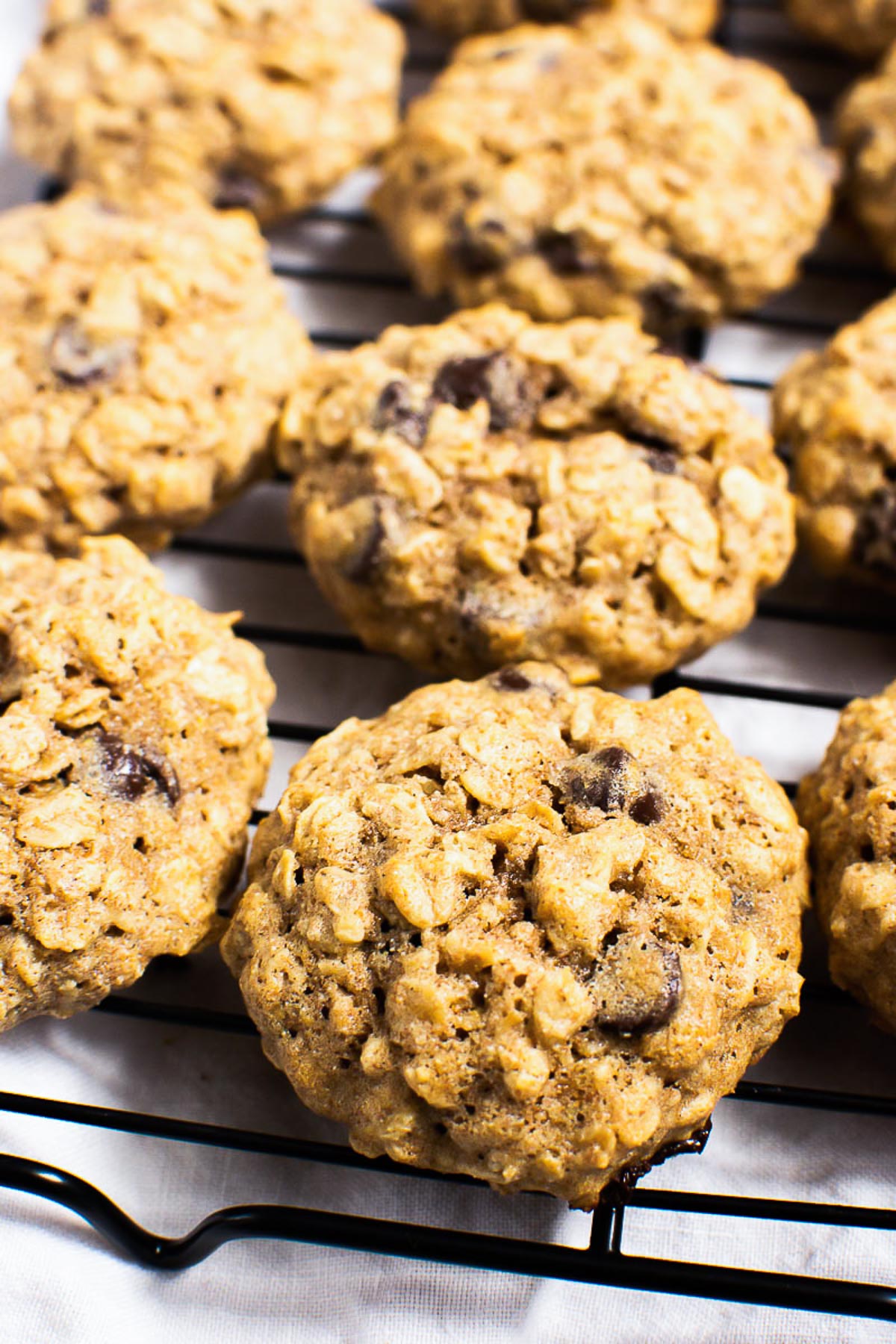 Healthy oatmeal cookies are delicious and uncomplicated. This healthy oatmeal cookie recipe uses pantry staples you already have in your kitchen!
I am a strong believer in healthy eating and swapping out ingredients for healthy alternatives without sacrificing taste and texture. However, I also do not shy away from real butter and cane sugar. Healthy living is all about balance rather than deprivation.
What Makes This Recipe Better?
Full control: Be ahead of the game by making homemade cookies right from scratch with no additives, preservatives or ingredients you can't pronounce.
Real food ingredients: When it comes to making classic healthy oatmeal chocolate chip cookies that have a moist, buttery, melt in your mouth texture, I know that there really is no way around using things like butter and sugar. We also add whole grain spelt or whole wheat flour for more health benefits. Source organic, natural and possibly local ingredients, whenever possible.
And remember health is about moderation: We use only 1/2 cup butter and sugar, and dark chocolate chips. Where as traditional oatmeal cookie recipe will call for more.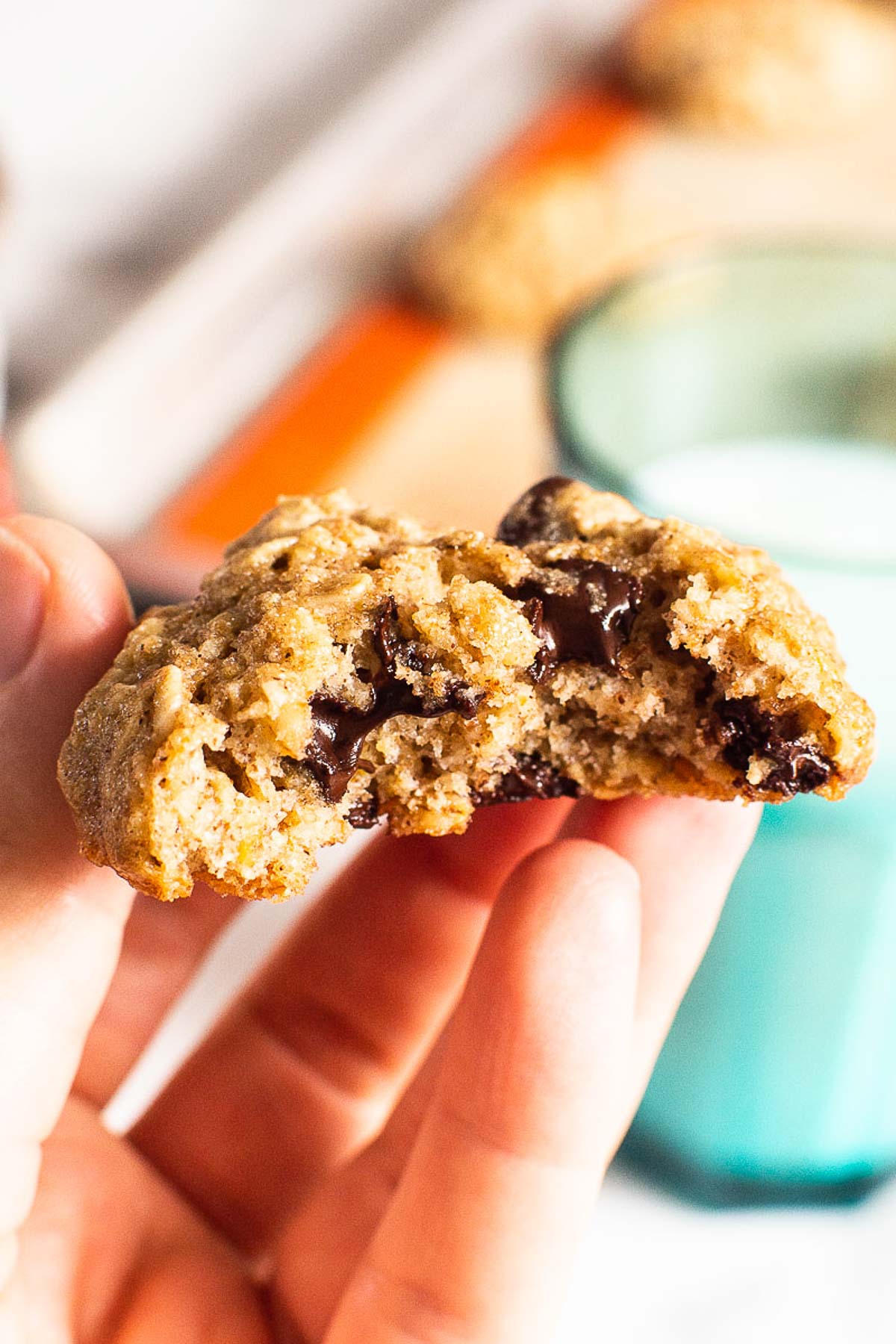 Healthy Oatmeal Cookie Ingredients
Sugar: Either cane sugar or coconut sugar will do. No liquid sweetener like maple syrup please.
Flour: I use whole wheat flour but you can use spelt flour. For a gluten free version, the only one I can vouch for is 1:1 all-purpose gluten free flour. If you are into oat flour baking, make these healthy banana oatmeal cookies.
Rolled oats: If you prefer steel cut oats, I don't recommend regular but if you can get your hands on quick cooking steel cut oats, go ahead and use those. Even so, they may not blend as well because of their coarse texture, resulting in a heavier tasting cookie.
Other dry ingredients: Baking soda, cinnamon, and salt. No need for baking powder. Dark chocolate chips, or you could use mini chocolate chips for more chocolate in each bite.
Wet ingredients: Eggs. Butter that's been melted and cooled. Pure vanilla extract.
Coconut Oil vs. Butter in Cookies
Butter yields more traditional chewy healthy oatmeal chocolate chip cookies. Coconut oil results in more crunchy cookies. Butter contains water, whereas coconut oil is just fat, which makes it less moist. Need a cookie with minimal oil? Try healthy banana oatmeal cookies, they contain only one teaspoon of oil.
How to Make Healthy Oatmeal Cookies
Prep: Even before you start, you'll want to have your butter already melted to give it a bit of time to cool down before you use it. To begin, you'll mix the eggs and sugar in a large bowl until foamy. Once eggs and sugar are blended and foamy, add the melted butter.
For convenience and time, you can use an electric mixer. If you happened to skip arm day at the gym, feel free to whisk by hand.
Add: Add the vanilla, cinnamon, baking soda and salt to the egg and sugar mixture and beat until combined. To this you'll then get the flour and add it in, combining with a spatula until it is all incorporated. Do this with the oats as well.
Mix and fold: Mix and combine everything in the bowl and then fold in the chocolate chips. Folding in just means gently combining and not over mixing that way not too much of the air escapes in the process. This helps with getting that light and fluffy cookie we're all aiming for.
Chill the dough: Place the bowl of dough in the fridge to chill.
This is super important! Ironically, even though you melted your butter ahead of time, now that it's incorporated into the dough, you want it to solidify again. This way, when you put your cookies in the oven, it'll take a longer time for the butter to melt and the cookies won't spread as quickly or as far out. Neat isn't it?! Baking really is a science!
Preheat: While the dough is chilling, preheat the oven and line a large baking sheet with a silicone baking mat or unbleached parchment paper. This makes enough dough for 2 sheets of cookies so you can either prep 2 sheets at a time, or bake back to back batches. You can also freeze the second batch of dough if you're not ready to use it yet!
Scoop and roll: Using a small cookie scoop, roll the dough balls and place on prepared baking sheet. If you're up to getting your hands a little sticky (and delicious) roll each ball with the palm of your hand. Place on baking sheet about a few inches apart to allow for room for a little spreading.
Bake: Bake until your house smells amazing and cookies are a lovely golden brown colour and the chocolate chips have melted into creamy bits of heaven. Transfer to a cooling rack before serving. Enjoy with a hot cup of tea, a cold glass of almond milk or totally on its own!
Indulge a bit and save the rest for later. Freeze some or package them up as gifts. Make sandwich cookies with healthy buttercream or healthy chocolate frosting. They are the perfect addition to your holiday baking tray. Just don't forget to leave some out for Santa!
Tips for Best Results
Chill and Bake: It's super important to bake right after the dough has chilled. Because there is a purpose behind putting it in the fridge if you allow it to warm back up again, that defeats the purpose. The butter needs to solidify to be able to work its magic in creating a lovely chewy cookie that isn't flat.
Make Ahead: This dough will keep in the fridge for up to 2 days ahead of baking. Once you take it out just make sure to bake immediately. You can also freeze the dough for up to 3 months, which will come in handy if you're thinking ahead to Christmas. Roll the dough into balls and freeze them on a sheet for an hour. Then transfer to a Ziploc bag. This way you can take out individual balls and bake as many as you need at a time. Thaw the dough in the fridge for a few hours before baking.
Other add-ins: Add up to 1 cup total (including chocolate chips mentioned in the recipe) of raisins, chopped nuts or dried cranberries.
Get creative: You can substitute all you want but just know you may not end up with that ooey-gooey, comforting cookie that will satisfy your sweet tooth. You may just find yourself late-night binge snacking on something sweet. Like an entire cake!If you do try any alternative ingredients not listed, let me know how it goes!
FAQs
Will applesauce or mashed banana work as substitutes?
As someone who understands the temptation to substitute for healthier versions, sometimes it just doesn't work. Adding applesauce will result in a cakey cookie. Check out my sugar free oatmeal cookies for a mashed banana version.
Can I use coconut oil?
Coconut oil can be used, however, you will have a crunchier cookie, not a soft one.
Can I use brown sugar?
Yes. Any dry sweetener including brown sugar can be used to make these healthy oatmeal cookies.
What can I use instead of chocolate chips to make cookies healthier?
Raw cacao nibs will also work, but again, this is one of those substitutions that may not get you the classic taste of healthy oatmeal chocolate chip cookies you're looking for.
How do I make gluten free oatmeal cookies?
You could try making these gluten-free cookies using your favorite gluten free flour. I think you will have the most success with 1:1 gluten free all-purpose flour. Almond flour or oat flour will need more adjustments to the amount. If you try, let me know how it turns out.
Can I make these oatmeal cookies vegan?
To make vegan oatmeal cookies you will have to use vegan butter like Earth Balance, which I think will work great. I think if you learn how to make a flax egg or chia egg instead of eggs, the recipe will work but cookies will turn on a softer side like these treats.
Storing Leftovers
Store: Keep them in a cool dry area, uncovered. Have a couple first because if you don't you may miss your chance! They will be gone in minutes.
Shipping: These healthy oatmeal cookies and my other healthy Christmas cookies are perfect for shipping to a loved one. Receiving homemade cookies is one of the most thoughtful gifts and always puts a smile on those who receive them.
To ship, I would let cookies sit for a day to dry out a bit and to hold their shape a little better. Then wrap 2 cookies back to back with plastic wrap. Place in an airtight container where they won't tumble around much and throw in a slice of bread to absorb moisture. Ship to anywhere that has a maximum 5-day travel distance. Any longer and you run the risk of losing freshness.
Sally's Baking Addiction has some awesome tips on how to package and ship cookies.
Freeze: If you have happened to make a double batch and want to freeze one of them, or you happen to have leftovers (what's that like?), you can definitely store cookies in the freezer for up to 3 months.
Reheat: Thaw them on the counter for a few hours. They will be fine to eat like that but if you want to reheat them, you can soften them up a bit in the microwave or place in the oven to warm through.
More Healthy Cookies Recipes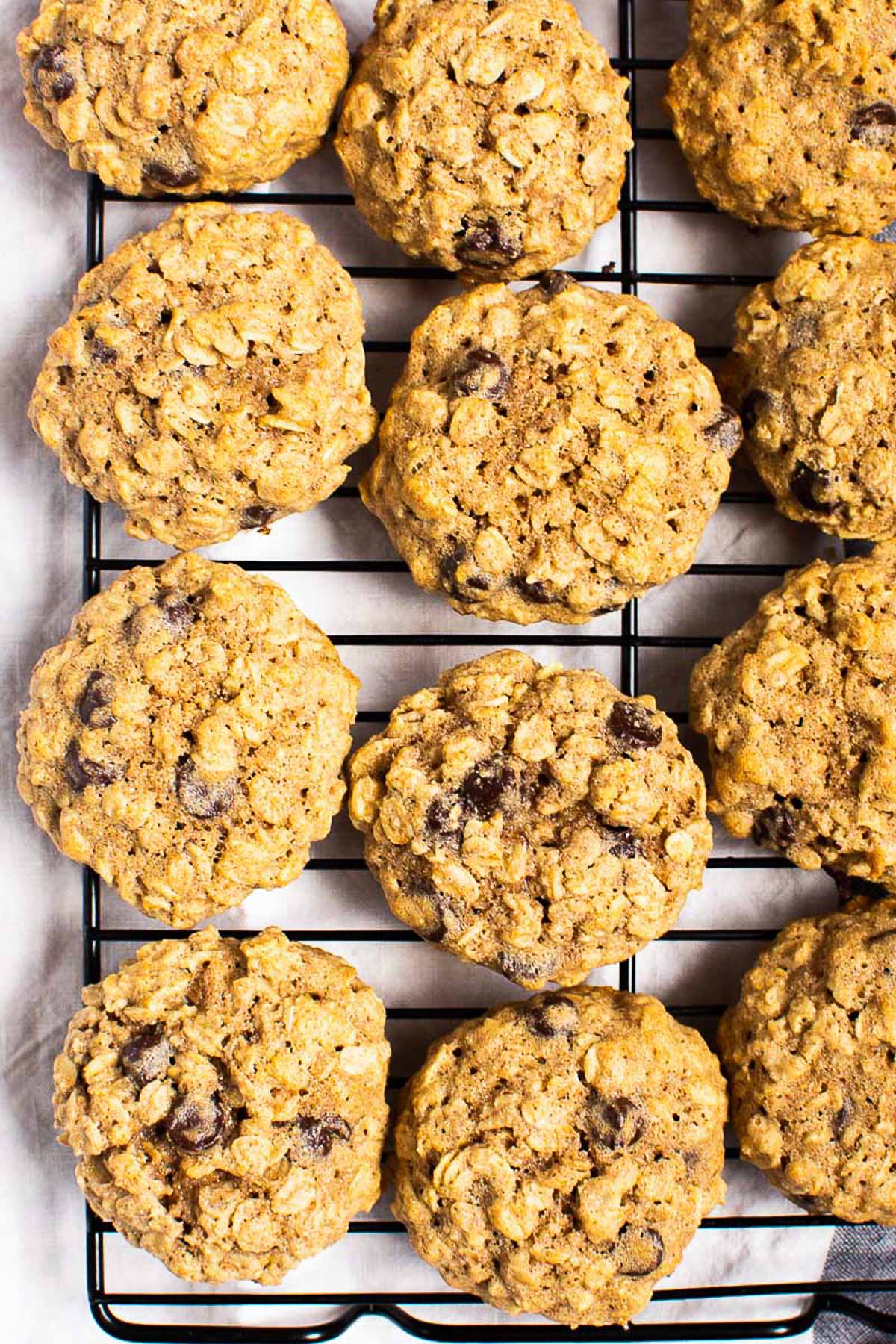 Healthy Oatmeal Cookie Recipe
Healthy Oatmeal Cookies are soft, moist, chewy, and loaded with dark chocolate chips. Whip these healthy cookies in 30 minutes and enjoy warm right out of the oven!
Instructions
In a large mixing bowl, add eggs and sugar. Beat with a mixer until foamy. You can also use a whisk for entire cookie making process, just beat well. Add butter and beat with a mixer again. Add vanilla, cinnamon, baking soda, salt and beat until combined.

Add flour and mix with spatula until incorporated. Do same thing with oats. And at the end fold in chocolate chips. Chill dough for 30 minutes (important!).

In the meanwhile, preheat oven to 350 degrees F and line large baking sheet with silicone baking mat or unbleached parchment paper. You can prep 2 sheets and bake cookies at once or do so in 2 batches with 1 sheet.

Using small cookie scoop, roll dough balls and place on a baking sheet leaving a few inches for cookies to spread, about 12 per sheet (they don't spread a lot). Bake for 13 minutes.

Remove from the oven, transfer onto cooling rack to cool off a bit and enjoy.
Notes
Store: Keep cookies in a dry place uncovered otherwise they get too soft. If they last this long in your house.
Freeze: In storage container for up to 3 months. Thaw on a counter for a few hours.
Make ahead: Refrigerate cookie dough for up to 2 days and bake when ready. You can also freeze shaped dough balls on a sheet for an hour, transfer to a zip top bag, freeze for up to 3 months. Then place frozen balls on a cookie sheet, defrost in the fridge for a few hours and bake.
Butter vs. coconut oil: Butter yields more traditional chewy cookies. Coconut oil results in more crunchy cookies.
Type of oats: I would not recommend using regular steel cut oats. Quick cooking steel cut oats will work though.
Flour: Instead of whole wheat flour you can use spelt flour or 1:1 all purposes gluten free flour mix. No other flours, almond, coconut etc. will not work.
Bake from chilled asap: Roll chilled dough immediately upon removing from the fridge. Butter will start melting immediately and will result in thin spread cookies.
No applesauce: It might be tempting to use applesauce in healthy cookies but they will turn out super cakey.
No mixer? I made cookies with a mixer and a whisk. If using a whisk, you will just have to whisk it vigorously.
Nutrition
Serving:
1
cookie
|
Calories:
131
kcal
|
Carbohydrates:
15
g
|
Protein:
3
g
|
Fat:
7
g
|
Saturated Fat:
4
g
|
Cholesterol:
29
mg
|
Sodium:
121
mg
|
Fiber:
2
g
|
Sugar:
4
g