Whip up this mouthwatering Asian Salad Dressing in under 5 minutes and keep it stored for up to 2 weeks! It's a sweet, tangy, zesty dressing combining Asian-inspired flavours such as ginger, sesame, rice vinegar, among a few other pantry staples! It's a very flexible dressing catered to whatever you have on hand.
Healthy homemade salad dressings are perfect for jazzing up salads, to use as a marinade for grilled chicken, meat, and seafood, or to drizzle on noodles. And of course, it really brings this Asian chopped salad to life!
Simple Asian Salad Dressing
This Asian-inspired salad dressing is light, flavourful and so much healthier than any store-bought dressing. It's not overloaded with sugars, high sodium, or any other additive or preservative, but instead uses a handful of fresh ingredients that create a delicious and healthy combination of flavours. This means you can load up your plate with more fresh and crunchy Asian chopped salad and not worry about how much dressing you're using.
It's very flexible, which means this asian salad dressing recipe is just a base for you to decide which ingredients work for you and what you'd like to omit, substitute, or add. If you're missing an ingredient or two, no biggie, it'll still taste amazing.
Sometimes when we do our best to eat healthy by eating more salads and leafy greens, like this baby kale salad, we forget that pouring an unhealthy dressing overtop defeats the purpose but we do it because it tastes good. Well, this Asian salad dressing recipe is the answer to that because it is so darn tasty!
Making a homemade Asian salad dressing this easy means you never have to use a store-bought version again. It's a budget-friendly way to elevate your salads, vegetable dishes like cauliflower stir fry with bell peppers, and even meat marinades because even if you're tempted to buy healthier dressings at the store, they're so expensive!
Why This Asian Ginger Salad Dressing Works?
Light and fresh and not bogged down with heavy oils, fats, or sugars.
It lasts for up 2 weeks which makes it a great make-ahead dressing.
An incredibly flavourful dressing combining sweet, salty, and zesty ingredients.
Simple pantry staples make whipping this dressing up super convenient.
Flexible ingredients mean you can make all kinds of substitutions and gear them towards your tastes.
A healthy salad dressing means salad never tasted so good!
It's a cost-effective healthy dressing to enjoy because bottled versions are pricey.
Easy to make with just 8 ingredients already found in most kitchens.
Versatile dressings work on all kinds of salads, such as coleslaw, Asian salads, green salads, Thai chicken salad or use it as a dip.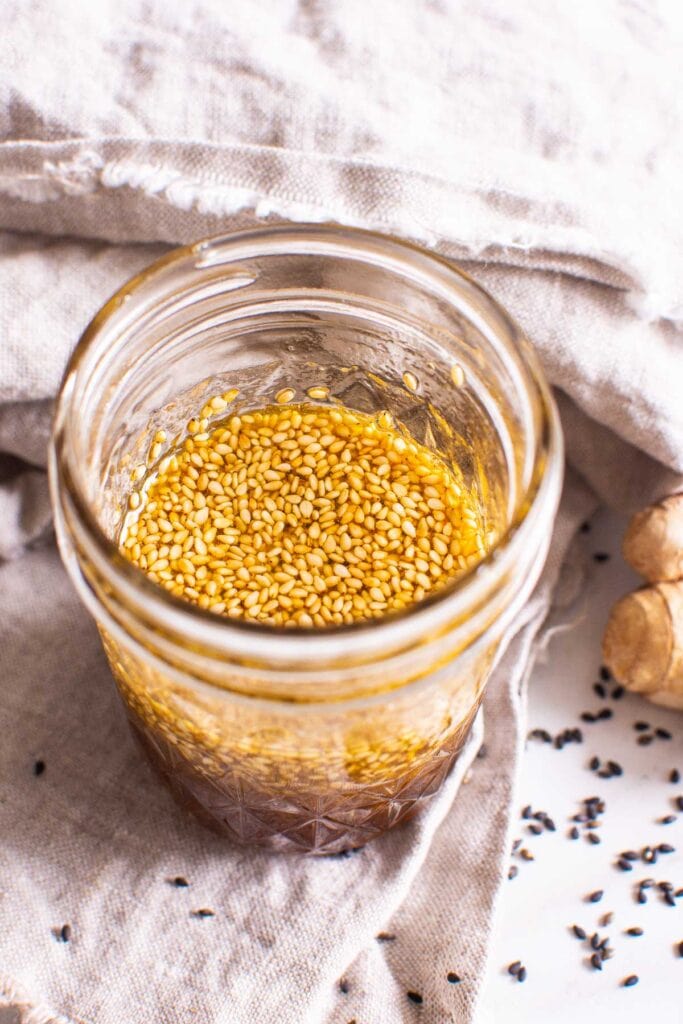 Ingredients for Homemade Asian Salad Dressing
This recipe is so simple to make and uses ingredients you probably already have on hand, just like my Thai sweet chili sauce!
Soy sauce – I use liquid aminos because they are non-GMO. Their sodium content is on par with regular soy sauce. So if you use light soy sauce, you will have to double the amount or use it to taste.
Maple syrup is my preference because it dissolves quickly. You can also use honey, agave, brown rice syrup, or any liquid sweetener of your choice.
Vinegar – Rice vinegar is traditional in Asian cooking. If you do not have it on hand, use any light color vinegar like apple cider, white wine, or white vinegar. Just not balsamic – it has a very strong taste.
Sesame oil – Toasted sesame oil gives this Asian salad dressing its Asian-inspired notes. It's OK to not use toasted sesame oil. Just use extra olive oil instead and toast the sesame seeds in a skillet (unless you buy them toasted).
Olive oil – I use extra virgin. It is recommended to buy the oil that comes in a dark glass bottle and store it away from direct sunlight.
Fresh ginger and garlic are traditionally used in Asian cooking. But you can use either or omit both.
Sesame seeds – If you do not have any, it is fine. If you have some, toast them – it's next level good!
How to Make Asian Salad Dressing Recipe
Making healthy salad dressings at home shouldn't be complicated and this is a good example of a simple recipe that adds major flavour!
Add all ingredients to a bowl and whisk. You can also use a jar with a lid and shake. Make sure the lid screws on tightly and doesn't leak. Otherwise, "good luck!" Also, storage glass containers with snap-on plastic lids work well.
Tips for Best Results
Use high-quality ingredients, organic, non-GMO, wherever possible.
Mixing ingredients in a jar that you can use to pour the dressing out makes for easy clean-up.
Tip: The longer the dressing sits, the more the flavours meld. Feel free not to use it right away!
Easy Add-ins and Variations
Ramp up the flavour or dial it down a bit, it's up to you and your taste buds.
Add a tablespoon of peanut butter to make it creamy.
Make it spicy with red pepper flakes, dijon mustard, or a bit of sriracha.
Adjust the tangy zest by exploring the ratio of oil to vinegar. Use less vinegar for less of a tang, and more for a sharper flavour.
FAQs
What can I use instead of rice vinegar?

Rice vinegar is typical in Asian cuisine, but by no means is there a rule. You can definitely use any light flavoured vinegar, such as apple cider, white wine, or white vinegar. Each will give it a unique taste, but they're all mild enough to not drastically change anything. If you're all out of vinegar, substitute for lemon or lime juice instead.
Is Asian salad dressing healthy?

Sure is! Ok, so olive oil isn't Asian, but it's a mild flavoured oil that gives this dressing what it needs alongside the sesame oil. Olive oil as we know is healthy! Garlic and ginger are both powerhouse aromatics that have major health benefits to your digestion and inflammation. Using sweeteners such as maple syrup or honey (especially raw, unpasteurized honey) gives the dressing its sweetness without the refined sugars. As with anything, homemade, this homemade Asian salad dressing is healthy because you control what goes in and what stays out.
What are Bragg's liquid aminos for salad dressing?

It's a sauce made from fermented soy beans and it's used in place of soy sauce, especially when looking for a gluten-free, vegan option. It's slightly sweeter than soy sauce but the taste is similar enough to definitely use in in its place in any recipe. It's certified non-GMO and doesn't come with a lot of the coloring, or other additives that your generic soy sauce can. For this reason, you might find it a little pricier, but there are some circumstances, where the extra cost is definitely worth it.
Serving Recommendations
Noodles: Whole wheat or soba noodles with peanuts, cilantro, green onion, and shredded carrots. Try zoodle pad Thai to stay low carb!
Protein: Grilled chicken breast, salmon, beef, or pork when simply grilled with salt and pepper. Also great when paired with pan fried or air fried tofu.
Marinade: Marinate any meat in it for as little as 1 hour. You can either discard the marinade or boil it on low heat for 5 minutes to make it into a sauce.
Cucumbers: Thinly slice a lot of cucumbers, pour Asian dressing on top and there is your Asian cucumber salad.
Dip: Use it as a dip for a raw veggie platter.
Pasta salad: Toss any cold pasta salad in this dressing for a light and tangy pasta salad.
Grains: Make a rice bowl or grain bowl with air fryer broccoli or stir fried veggies and shredded chicken, use this asian ginger salad dressing to accompany it.
Cabbage Salads: It goes without saying (or maybe not) that this is the perfect dressing for our Asian chopped salad with red cabbage, lettuce, edamame beans, cilantro! You could also sub out the peanut dressing for this Asian dressing in our Peanut Slaw.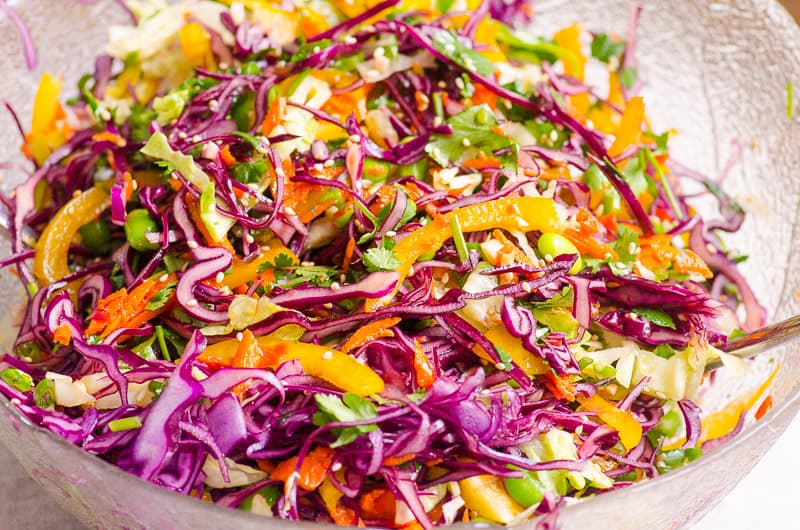 Making Homemade Salad Dressing in Advance
Make ahead: Like with many healthy homemade salad dressings, I like to refrigerate it for up to 2 weeks. Anything longer than that, the dressing does not taste as fresh. Shake or stir before each use.
If Asian dressing solidified in the fridge (because of oils), place the jar in a bowl with warm water for a few minutes or leave it on a counter for 30 minutes.
More Healthy Salad Dressings
Browse through all my favorite healthy salad dressings!
Asian Salad Dressing
Whip up this mouthwatering Asian Salad Dressing in under 5 minutes and keep it stored for up to 2 weeks! It's a sweet, tangy, zesty dressing combining Asian-inspired flavours such as ginger, sesame, rice vinegar, among a few other pantry staples! It's a very flexible dressing catered to whatever you have on hand.
Print
Rate
Instructions
In small bowl, add soy sauce, maple syrup, vinegar, olive oil, sesame oil, sesame seeds, garlic and ginger.

Whisk with a fork or shake in a jar with tight lid.
Store: Refrigerate in a glass airtight container for up to 14 days. Shake or stir before serving.
Notes
Ginger and garlic substitutes: If you don't have fresh ginger or garlic, it's OK to use garlic powder and dried ginger to taste. Start with 1 tsp each.
Light soy sauce: Use double the amount of light soy sauce if you don't have regular soy sauce.
No sesame oil? Use all olive oil. If your sesame oil is not toasted, toast the sesame seeds. If you don't have anything toasted, it is fine as well.
Acid options: Use any light coloured vinegar like rice, white, white wine or apple cider.
See post for more recipe notes and FAQs. 
Nutrition
Serving:
2
tbsp
|
Calories:
99
kcal
|
Carbohydrates:
6
g
|
Protein:
1
g
|
Fat:
8
g
|
Saturated Fat:
1
g
|
Sodium:
169
mg
|
Fiber:
1
g
|
Sugar:
4
g
Recipes and images are a copyright of ifoodreal.com. It is against the law to republish recipes without permission. Nutritional info is approximate.