Summer Instant Pot Recipes is your season-long guide to quick and easy, cost-effective meals that won't keep you from enjoying the sunshine! Enjoy fresh, healthy, homemade dishes without heating up your kitchen and that you know your kids will love. I'm sharing the best recipes for BBQs, picnics, potlucks, and weeknight dinners at home, including mains, sides and more.
We can't forget breakfast though! Having light, easy and healthy meals like Instant Pot yogurt, egg bites in Instant Pot, or Instant Pot steel cut oats, to start the day is a great reason to keep the stove off and your pressure cooker on all day!
Stress Free Summer Instant Pot Recipes
Summer is a time when we all want to eat healthy, fresh, and of course, delicious. It's also a time when we want to spend all day basking in the sun, gardening, or hanging by the pool! So, how do we get ourselves healthy homemade nutritious meals for the whole family with as little time and effort as possible? These amazing summer Instant Pot meals have got you covered!
No more heating up the kitchen or cooking for hours indoors. These recipes are great for quick and easy family dinners during the week, but they're also perfect to bring to potlucks, picnics, and serve along healthy grill recipes. They can be made right in the Instant Pot and then kept on the warm setting function until everyone is ready to eat. In some cases, guests can serve themselves!
From main meat dishes to vegetable sides, this will be your new guide to the best recipes that can be made in one pot, are great for meal prep, and freezer-friendly for even more convenience. They'll have you back to enjoying the sunshine in no time!
Making a big batch of your favorite dish easily serves a crowd. Cooking larger meals is budget-friendly as well as a time (and energy!) saver because feeding your family healthy kid-approved meals should never be stressful. This Instant Pot summer recipes guide has something for everyone!
Why We Love Instant Pot Summer Recipes?
No need to turn the oven on. The Instant Pot contains the heat so it doesn't heat up the kitchen.
Hands-off recipes mean the Instant Pot does most of the work.
Feeding your family healthy meals is made even easier.
Recipes use fresh, wholesome ingredients that are accessible to everyone.
Includes recipe variations, tips for success, storage suggestions, and info for new Instant Pot users.
Delicious recipes for all meals, whether they are sides, mains, or desserts.
Budget-friendly recipes that won't break the bank.
Kid-approved healthy dishes that they'll be asking you to make again and again.
FAQs
Does the Instant Pot make easy dinners to eat during the summer?

Does it ever! The Instant Pot really makes easy dinners to eat all year long. It's one of my all-time favorite kitchen appliances that makes me wonder how I survived so long without it. Many of the recipes are set-it-and-forget-it types, which means you can walk away for a bit and come back, keep it warm until you're ready to eat, and make delicious meals that are low fuss, budget-friendly and simple! Everything we look for all summer long.
Why is it easy to cook food in the pressure cooker?

The pressure cooker is made in a way that it weighs the volume of what is inside and adjusts itself accordingly. It's very smart! So it basically takes the guesswork out of the recipe and does the work for you. Many of the recipes are a one-pot meal, which means you dump all the ingredients in, set it, and let it work its magic. So easy!
Can I keep food warm in the Instant Pot during a summer potluck?

Absolutely, using the warm function is key to keeping food warm right in the pot itself. Again, no need to turn on the oven to warm anything up. Once the timer goes off, pressing the "warm" button will keep your food warm for a long while.
Can these recipes be made in all different sized Instant Pots?

For the most part, yes. My recipes are very thorough in explaining what works for each size and in the rare occasion a certain size won't work, I am sure to let you know. Something else you'll note, is that when a recipe works in various sizes, the cook time doesn't change, which makes things so much easier!
Serving Recommendations for Summer Meals in Instant Pot
Feeding a hungry crew (or hosting BBQ guests?!) and need additional sides to round out your Instant Pot meal? Serve these healthy summer side dishes guaranteed to fuel your family for their next adventure!
Alternately, browse all my healthy side dish recipes to find a few that your family or friends are sure to enjoy!
Healthy Instant Pot Recipes for Summer
A classic summer side dish made easy. Potato Salad in the Instant Pot is creamy, tangy, zesty, and loaded with the signature ingredients of a traditional potato salad made in half the time but with all the flavour!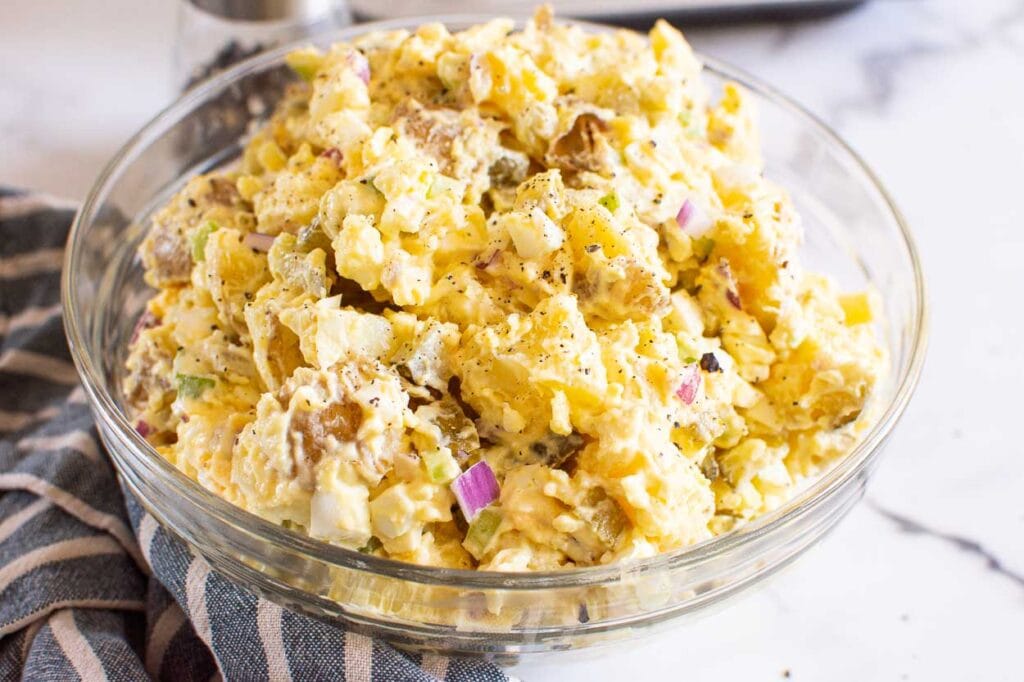 A foolproof way of cooking as much corn as your pot can fit with perfect results every time. Corn on the Cob in the Instant Pot is a great way to serve a crowd. Enjoy this summer staple whole slathered in butter and a sprinkling of salt, or use the kernels in avocado corn salad, tacos, casseroles and more!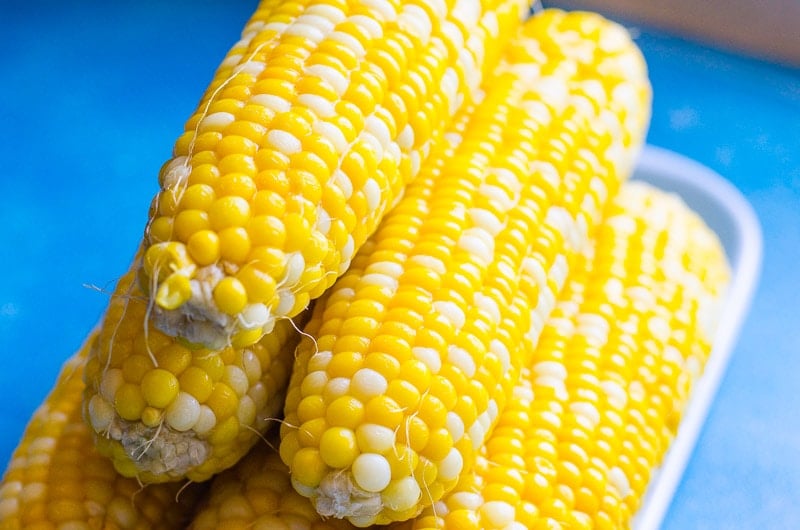 So much flavour in this one-pot meal. Tender potatoes, juicy shrimp, sweet corn simmering in a beer broth brimming with herbs and spices. This complete Instant Pot Shrimp Boil can be ready in under 1 hour and is the perfect way to end your day.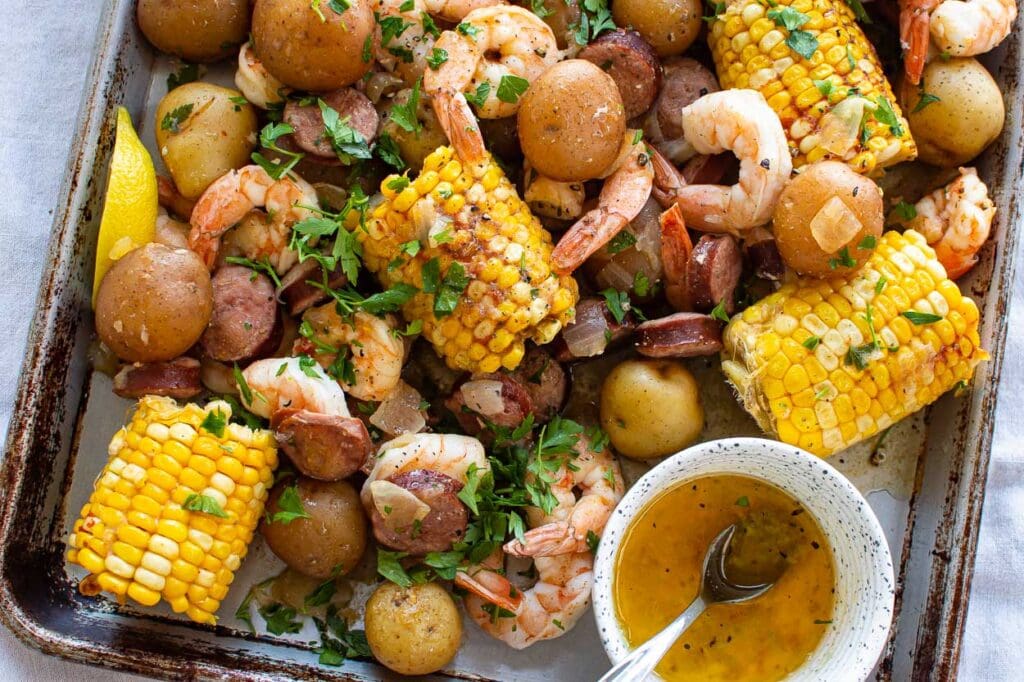 Can it really be a BBQ without a side of baked beans? Let's not find out! Make a big batch of Instant Pot Baked Beans as a scrumptious, sweet, tangy, and saucy side perfect for Instant Pot ribs, crockpot BBQ chicken, crockpot pulled pork, turkey burger, and more!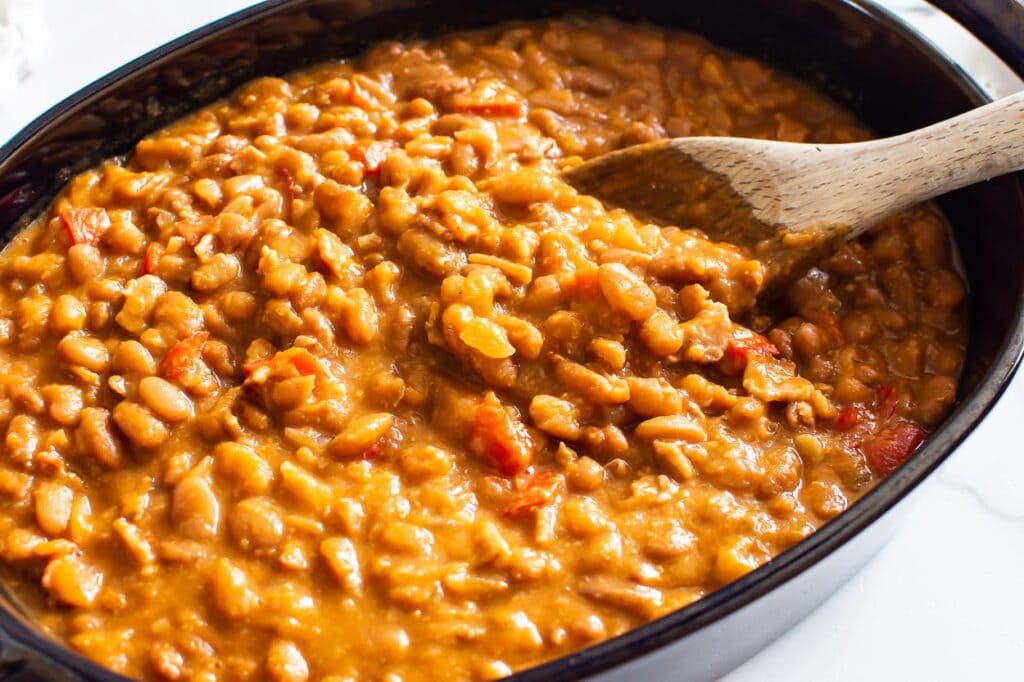 This creamy, cheesy, flavourful homemade Macaroni and cheese is ready in just 15 minutes. Serve Mac and Cheese in the Instant Pot as side or grab a bowl and spoon and dig in!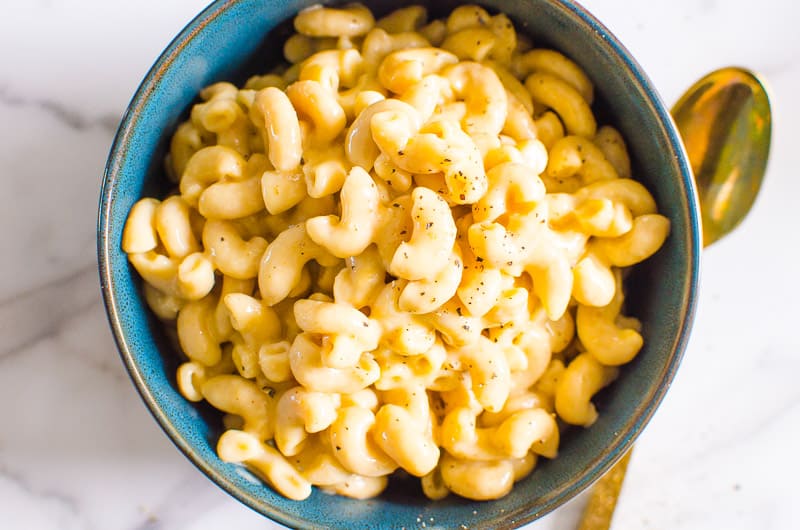 Tender, meaty, fall off the bone Instant Pot Ribs slathered in a homemade sauce can be done in under 1 hour. Forget the low and slow method, this shortcut version to even better results will become your new favorite way to enjoy your ribs. Serve with crispy healthy cucumber salad, yum!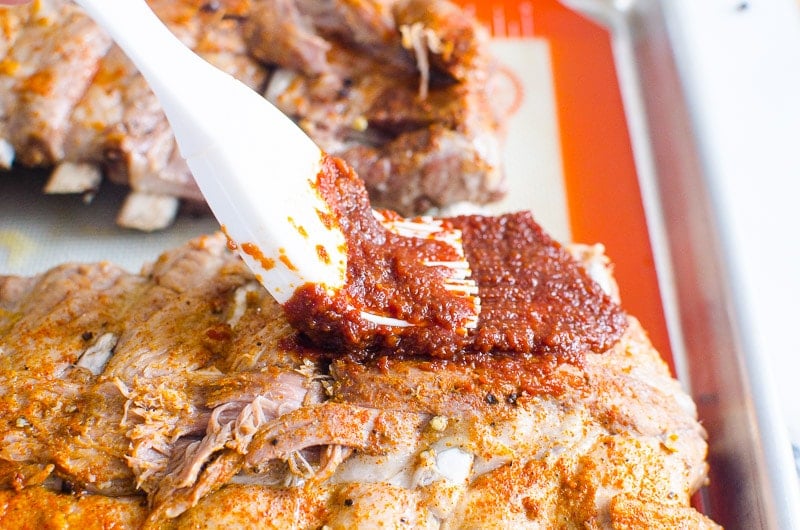 Using a pressure cooker to cook healthy BBQ Chicken is the best way to get your pulled chicken tender enough to basically fall apart on its own. Jazz it up with healthy BBQ sauce and use it as a side dish, a filling or freeze it for later.
If you can't make it to Mexico this summer, bring a little of it to you with this classic Mexican street food made super easy! Shredded pork, crispy ends, pickled onions, and all the tasty flavour of Pork Carnitas ready to be used in tacos, burritos, and on top of your summer salads.
A juicy, saucy, pulled pork sandwich just screams summertime! Balance it out with crunchy creamy healthy coleslaw, or enjoy on the side with corn on the cob or healthy potato salad. Instant Pot Pulled Pork is a versatile recipe that you can enjoy in different ways all summer long!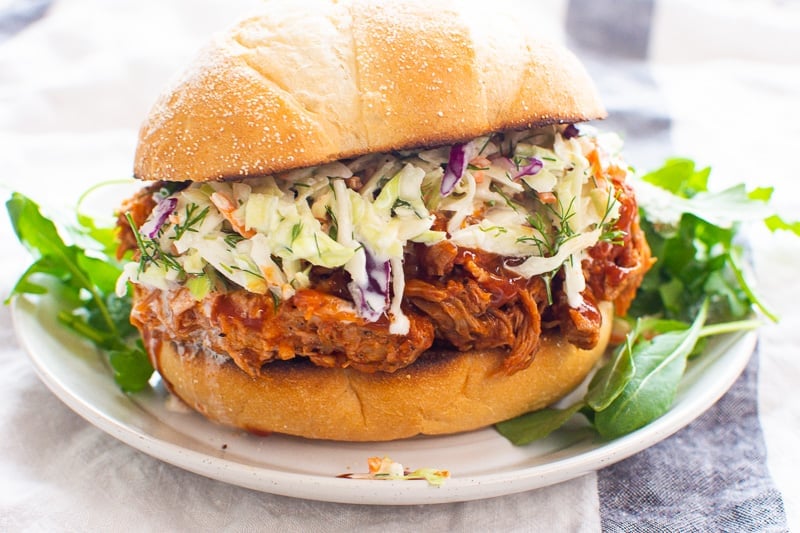 Get a perfectly tender and fluffy potato in the Instant Pot every single time. No waiting for water to boil and no poking and checking for doneness with a fork and ready in under 30 minutes. Dress up these Instant Pot Baked Potatoes and enjoy them loaded or keep it simple. Better than eating at a steakhouse when paired with perfectly marinated carne asada steak.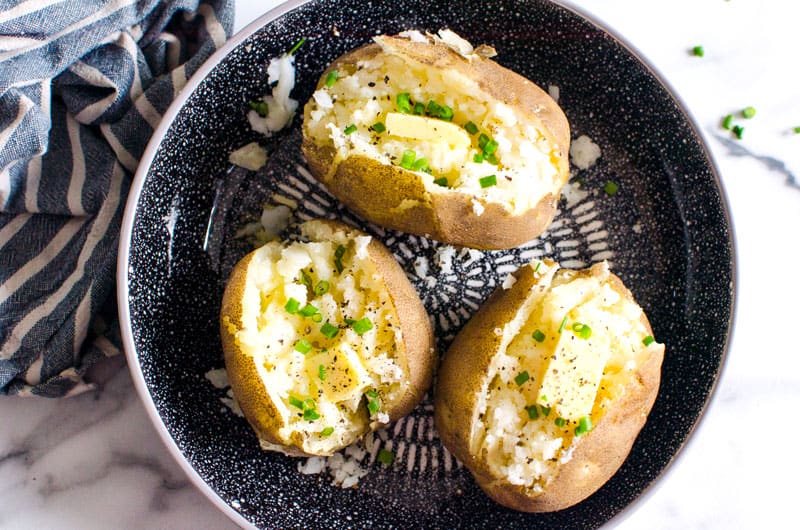 Stuffed Peppers made in the Instant Pot is a quick and easy way to serve a no-fuss complete dinner any day of the week. Stuffed with rice, ground meat, and simple seasoning, it'll quickly become a family favorite. Serve with easy creamy cucumber tomato salad.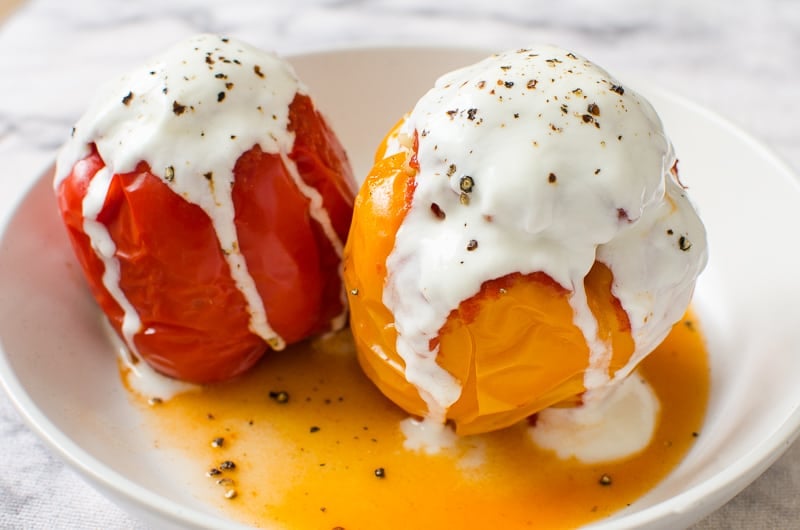 Tacos are a staple no matter the season! Perfectly seasoned Instant Pot Chicken Tacos are ready in 30 minutes – an excellent dinner idea after spending the day at the beach or park. Serve with all your favorite taco toppings like guac and pico or make a taco bar for any potluck or summertime gathering.
More Instant Pot Recipes to Make
Also, browse 45 healthy recipes to make in your Instant Pot and if you are new to Instant Pot cooking, start with these easy beginner recipes!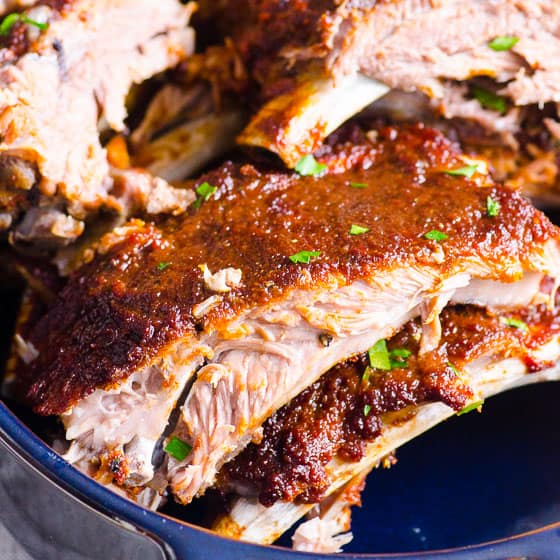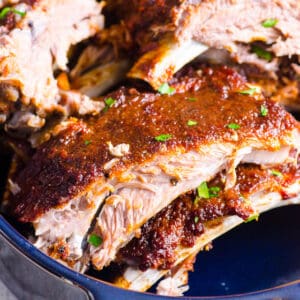 12 Summer Instant Pot Recipes: Instant Pot Ribs
One of our favorite summer Instant Pot Recipes! Instant Pot Ribs are tender, easy and made healthier with a homemade dry rub and BBQ sauce. Ready in under an hour, these succulent, fall off the bone, ribs are flavorful, saucy and perfect for your next picnic, BBQ or potluck.
Instructions
In a small bowl add the seasonings: chili powder, smoked paprika, onion powder, pepper, salt and stir gently to combine.

In

Instant Pot

, add 1 cup water and place trivet inside.

Slide butter knife or spoon handle under membrane to remove. If slippery, use paper towel to pull off membrane. Depending on your cut of ribs you might not have to do this.

Sprinkle each side of ribs with seasoning mixture. Gently rub it onto ribs.

In Instant Pot place ribs on their side and curling in a circle. Close the lid, set pressure valve to Sealing and press Pressure Cook on High or Manual for 25 minutes.

Make BBQ sauce. Combine water, tomato paste, applesauce, molasses, apple cider vinegar, honey, onion and garlic powders, mustard, liquid smoke and cayenne pepper in a small pot and stir. Bring to a boil and cook half covered on low heat for 10 minutes. Set aside.

After 25 minute cook time is over, let pressure in wait for 15 minutes and then turn valve to Venting to release remaining pressure.

Preheat broiler to 500 degrees F and position oven rack in the middle. Also prep baking sheet by lining with parchment paper or silicone baking mat for broiling.

Ribs will be very tender. Open the lid, remove ribs carefully using silicone end tongs and place on baking sheet. They probably will fall apart in half, no worries.

Brush top and sides with desired BBQ sauce and broil for 4-5 minutes. Cut with serrated knife between bones.
Notes
Store:

Refrigerate leftovers in an airtight container for up to 5 days.

Reheat:

Microwave or sauté function on Instant Pot, see notes for full instructions.

Rib types: I use baby back ribs. Spare ribs need 35 minutes cook time and full Natural Release because meat is tougher. You can cook frozen ribs for 30 minutes. 
Instant Pot size: You can fit up to 2 racks of ribs into 6 quart or 8 quart Instant Pot and 1 rack into 3 quart. Ribs can stick out higher than 2/3 max line. As long as you can close the lid.
Trivet tip: If you do not have a trivet, cut up onion into large chunks and lay ribs on top of the onion.
BBQ sauce leftovers: I used half of BBQ sauce on 2 racks of ribs. 
Nutrition
Calories:
519
kcal
|
Carbohydrates:
21
g
|
Protein:
23
g
|
Fat:
38
g
|
Saturated Fat:
17
g
|
Cholesterol:
100
mg
|
Sodium:
692
mg
|
Fiber:
3
g
|
Sugar:
15
g