5 ingredient Sautéed Broccoli Recipe with blistered grape tomatoes, coconut oil, fresh garlic, salt and freshly cracked pepper. This easy 10-minute side dish goes with anything!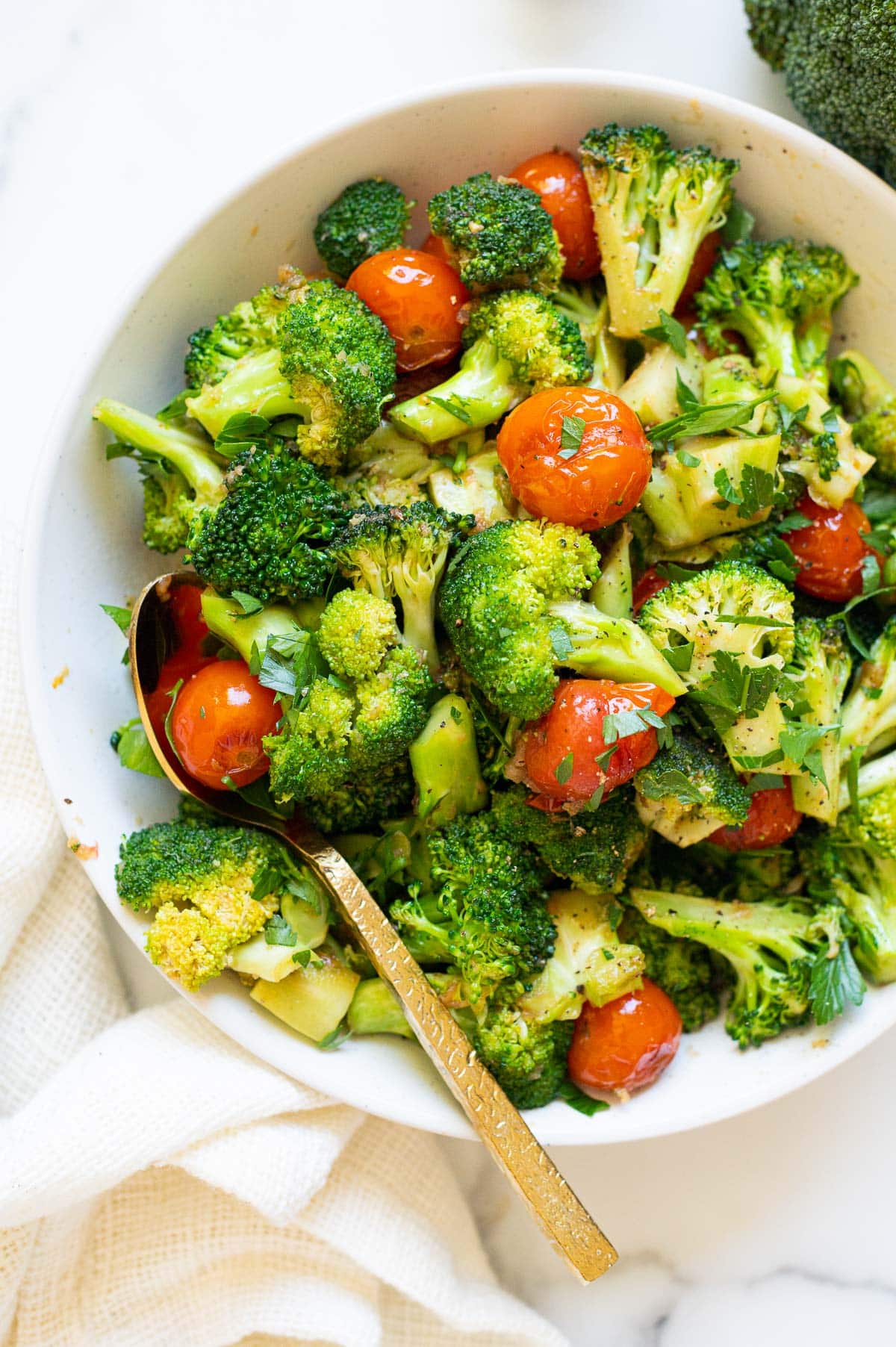 Fresh, delicious and healthy side dish of sautéed broccoli. Simply seasoned and ready in a flash, pan fried broccoli creates perfectly tender and crisp veggies every time!
And if you have extra broccoli, I highly recommend chicken and broccoli stir fry or healthy beef and broccoli. They're two of our weeknight favorites.
Why You Will Love This Recipe
Quick: Ready in just 10 minutes with no boiling or steaming.
Delicious: The flavors of melted coconut oil, freshly squeezed garlic, sea salt and cracked pepper will transform even the pickiest eaters into garlic broccoli lovers.
Easy: Very little prep time, one pan, and low supervision. Sautéing is one of the easiest ways to cook veggies.
Simple ingredients: All 5 ingredients are fresh, every day staples.
Ingredients for Sautéed Broccoli
Here's everything you need to make this sautéed broccoli recipe. As I mentioned above, all ingredients are basic kitchen staples.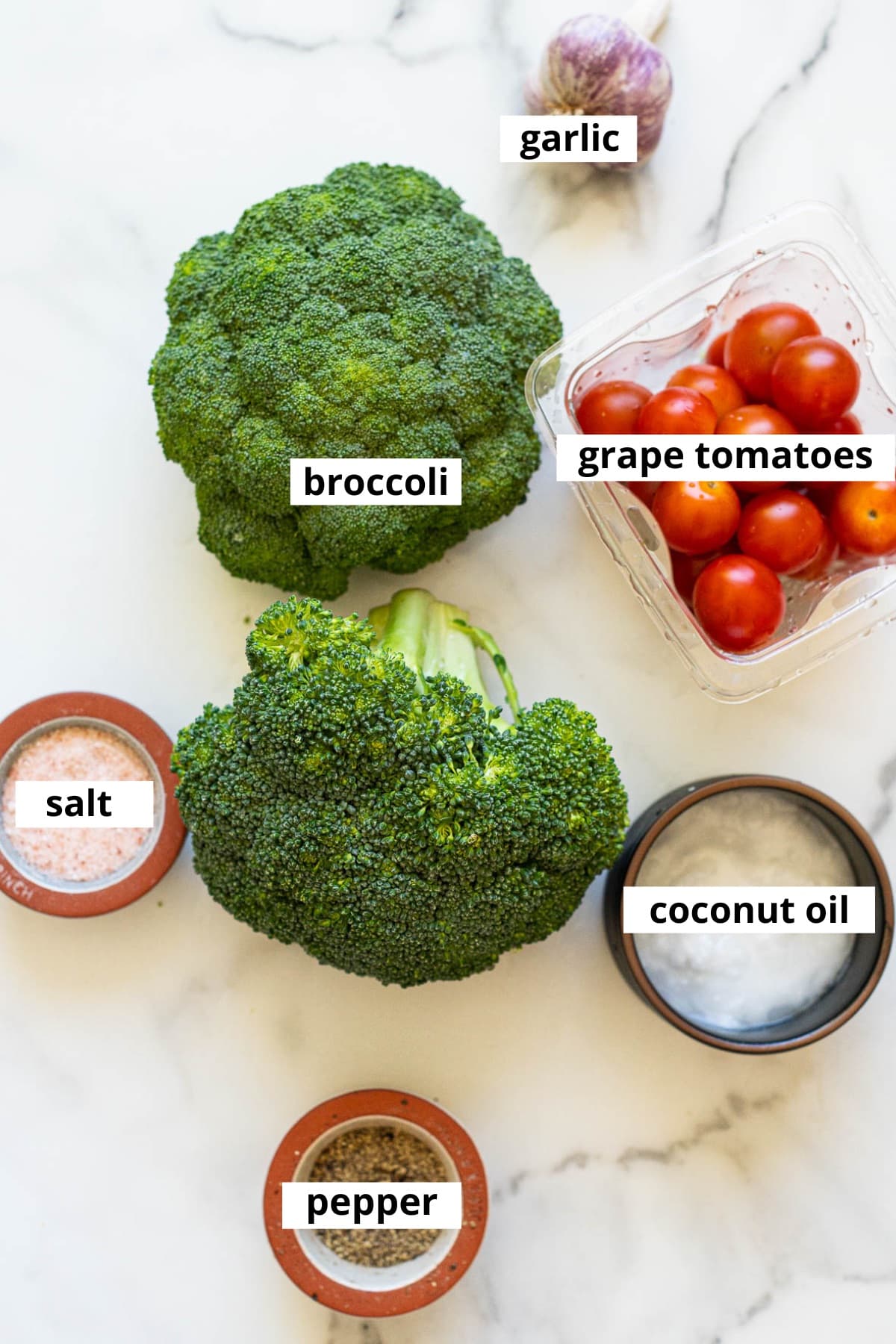 Broccoli: When cooking broccoli I like to use it all – crowns and stems. First of all, you already paid for them. Secondly, there are so many vitamins and nutrients in the stems, I almost think they are the best part of broccoli. So, do not throw them away, especially organic ones.
Tomatoes: Feel free to use any shape or size tomatoes, fresh from the garden, beefsteak tomatoes or Roma tomatoes would be wonderful. Today I used grape tomatoes.
Coconut oil: I love stir-frying with coconut oil because it adds flavor and has a high smoke point. You can also use extra-virgin olive oil.
Garlic: Fresh garlic cloves will add the best flavor.
Salt and pepper: Keeping this recipe simple with salt and black pepper to taste.
How to Sauté Broccoli with Tomatoes
Here's a quick overview how to sauté broccoli and tomatoes in garlic. Full recipe card is located below.
Sauté tomatoes: Add 1 tablespoon of coconut oil to a hot skillet. As it melts on medium heat, swirl to coat. Next add your tomatoes and sprinkle them with salt. Gently stir, cover, and cook for 3-4 minutes, occasionally shaking the pan to turn the tomatoes.
Season tomatoes: Add 1 garlic clove to the pan, stir, then transfer blistered tomatoes to a bowl.
Sauté broccoli: In the same pan, melt the remaining 2 tablespoons of coconut oil. Add broccoli and 1/2 teaspoon salt; stir, cover and cook for 5 minutes, stirring once.
Add tomatoes: Stir in the remaining 2 garlic cloves then add blistered tomatoes to the skillet and gently stir. Serve sautéed broccoli warm and enjoy!
Tips for Best Results
Make sure not to overcook broccoli: The key to perfectly crisp tender broccoli is cooking it al dente and just tender. Remove from heat sooner than you think it's ready. It should still be bright green and crisp.
Remove extra moisture: Dry after washing for the crispiest broccoli. If there's too much moisture, broccoli will steam instead of crisping up.
Cut florets into same size pieces: Cut your large head of broccoli into same size pieces to ensure even cooking. I prefer medium sized pieces that are bite-size, but not too small they crumble.
Peel and cut stems into smaller pieces: The stems are more tough and need a bit longer cooking.
Variations and Additions
Butter instead of coconut oil: Butter is great for sautéing vegetables and adds a rich flavor. Follow the same instructions and swap coconut oil for butter.
Spices: The sky's the limit when it comes to adding spice to sautéed broccoli. Add a sprinkle of ground cumin, dill, oregano, thyme, Italian seasoning, or red pepper flakes for a punch of heat. Some everything but the bagel seasoning is delicious too!
Add lemon: Lemon juice paired with garlic adds a nice zest. You can also add lemon zest for more taste.
Garnish: Add a dash of Parmesan cheese, panko breadcrumbs, green onion, or toasted almonds at the end for a pop of color, flavor, and texture.
What to Serve Sauteed Broccoli with?
I have been sautéing broccoli for years as an easy side dish that's light and flavorful. We love pairing it with Instant Pot pork chops, baked salmon, slow cooker rump roast, or chicken lasagna roll ups.
Instead of serving it alongside your favorite main dish, you could add it to the entrée itself for breakfast, lunch or dinner! Toss it into a vegetable frittata, serve over a bed of rice with soy sauce, with buttered pasta, or healthy mac and cheese.
Lastly, you could create a nutritious bowl starting with rice, quinoa, or noodles, add protein, then the broccoli, and finish it off with sauce like Thai sweet chili sauce.
How to Store and Reheat
Store: You can store leftovers in an airtight container in the refrigerator for up to 3 days.
Freeze: Broccoli and tomatoes are best served fresh but you can freeze leftovers for up to 3 months. The broccoli will lose a bit of crunch but will still be good. Set it in the fridge overnight to thaw.
Reheat: I find reheating previously sauteed broccoli in the microwave has the best results. You can sauté it in a skillet on medium-high heat for about 1 minute but not longer to avoid mushy broccoli.
Can I Make It Ahead?
Yes, you can make this recipe ahead of time. You can chop broccoli and store in the fridge covered for 2-3 days or buy already chopped broccoli in a bag. Then cook as per recipe.
Another option is to cook vegetables as per recipe but for 2-3 minutes less, so when you reheat the next day your broccoli won't be mushy.
FAQs
What is the best way to cut broccoli for sauteing?
Chop broccoli florets into even medium-sized pieces so they will cook evenly, quickly, and stay bright green. For the stems, trim off the tough ends, peel, and cut them into smaller pieces so they cook evenly with the florets.
Do you need to boil broccoli before sauteing?
No, you don't have to boil broccoli before sauteing. There is just enough steam created during cooking to make them tender with crisp edges.
What is the best method for cooking broccoli?
Broccoli can be cooked perfectly steamed, sautéed, or roasted. For me the best method is sautéed broccoli or pan fried broccoli but it's personal preference, just be sure not to overcook it. I like sautéed broccoli because it's fast and the broccoli turns out perfectly crisp and flavorful every time!
Is sauteed broccoli good for you?
Yes. There are many health benefits of broccoli including high vitamin C, fiber and antioxidants levels. Broccoli is a cruciferous vegetable with anti-inflammatory properties. Cooking it this way keeps its nutritional value, color, and crunch.
More Broccoli Recipes to Try
Browse through 65 healthy sides!
Sauteed Broccoli with Tomatoes Recipe
5 ingredient Sautéed Broccoli Recipe with blistered tomatoes, coconut oil and fresh garlic. This easy 10-minute side dish goes with anything!
Instructions
Preheat large skillet on medium heat and swirl 1 tablespoon of coconut oil to coat. Add tomatoes with a pinch of salt; stir, cover and cook for 3-4 minutes. Shake the skillet to turn and make tomatoes blister, occasionally. Add 1 garlic clove, stir and transfer to a bowl.

Return skillet to the stove and melt remaining 2 tablespoons of coconut oil. Add broccoli and remaining 1/2 teaspoon salt; stir, cover and cook for 5 minutes, stirring once.

Add remaining 2 garlic cloves and stir. Return blistered tomatoes to the skillet and give sauteed broccoli a gentle final stir. Serve warm.
Notes
Store: Refrigerate in an airtight container for up to 2-3 days. Freeze: Freeze leftovers for up to 3 months. Thaw in the fridge overnight. Broccoli will lose a bit of their crunch but not bad.
Nutrition
Calories:
164
kcal
|
Carbohydrates:
15
g
|
Protein:
6
g
|
Fat:
11
g
|
Saturated Fat:
9
g
|
Sodium:
351
mg
|
Fiber:
5
g
|
Sugar:
5
g