Easy, moist and fluffy Protein Muffins Recipe with 12 grams of protein and without the protein taste or bananas. Makes for a healthy grab-and-go breakfast or snack.
If you have ripened bananas on hand don't toss them, make banana protein muffins.
I did it! I made a fluffy muffin packed with protein using simple ingredients that I don't feel bad eating. These protein muffins taste delicious and keep everyone full till lunch. Very filling! And no banana!
The problem with many protein baked goods is they turn out dry but this protein muffin recipe makes delicious muffins that are moist and fluffy, problem solved. They also contain no refined sugar and are gluten-free.
I think you will also enjoy these lower in carbs and naturally higher in protein almond flour banana muffins and almond flour yogurt muffins.
Ingredients and Notes
This recipe for protein muffins uses only wholesome ingredients.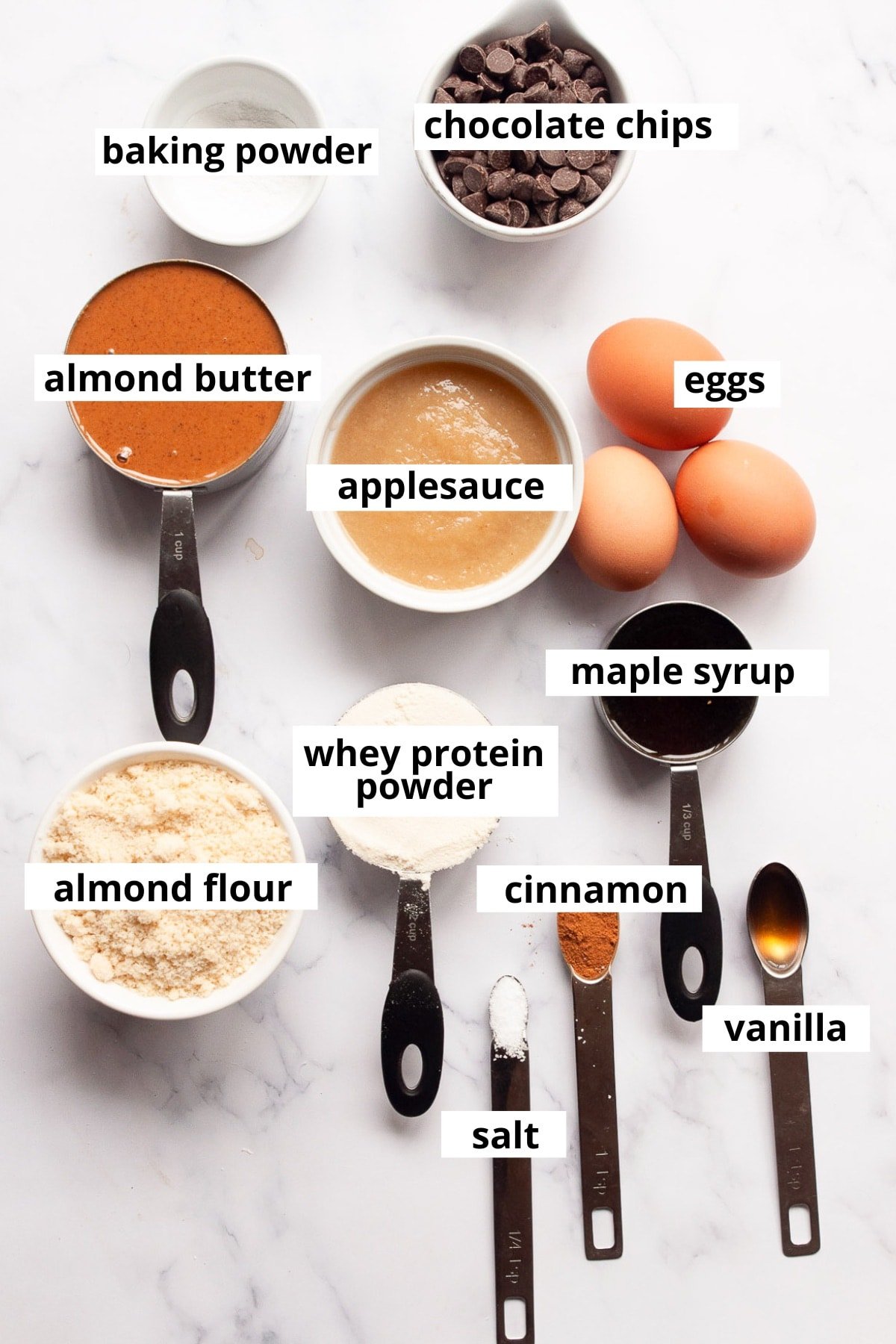 Almond butter: You can also use peanut butter or any seed butter, they all add healthy fats.
Applesauce: Unsweetened applesauce keeps the muffins moist and sweet without adding oil or sugar.
Maple syrup: My favorite natural sweetener! Honey will also work.
Eggs: Use 3 large eggs to bind the ingredients and fluff up these protein muffins.
Vanilla extract: Enhances all the flavors in the protein muffin recipe. Use pure vanilla extract for the best flavor.
Cinnamon: Just a dash adds a warm flavor.
Baking powder: Needed to help the protein muffins rise.
Salt: Brings all the flavors together.
Vanilla protein powder: I like to use this whey protein powder but you can use any vanilla flavored protein powder.
Almond flour: You can use store-bought almond flour or make your own blanched almond flour. I think almond meal will work as well.
Chocolate chips: Make these healthy muffins a protein treat. I recommend mini chocolate chips to get that semi-sweet, decadent taste in every bite.
How to Make Protein Muffins Recipe
All you need for this protein muffin recipe is one large bowl and a muffin tin. These protein muffins are so easy to make!
Spray your muffin pan with cooking spray or use muffin liners, and preheat oven to 350 F.
Prepare the batter: Whisk almond butter, applesauce, maple syrup, eggs, vanilla extract, cinnamon, baking powder, and salt in a large bowl.
Add remaining ingredients: Add in the protein powder and almond flour and stir with a spatula. Then fold in the chocolate chips.
Transfer batter: Divide the batter into each muffin well. Be careful not to overflow, I fill mine till they are almost full.
Bake: Bake healthy protein muffins for 25 minutes. Insert a toothpick to the center of the muffin, once it comes out clean they are ready. Allow muffins to cool before serving.
What Is the Best Protein Powder for Baking?
The best protein powder for baking is a brand that has minimal ingredients and preferably one that's organic or grass fed. Whey 17 , Terra's Whey or Garden of Life are excellent brands.
Adding protein powder to muffins is a great way to sneak in extra protein. I used vanilla flavored protein powder, so they come out sweeter and satisfy your sweet tooth guilt-free.
Tips for Best Protein Muffins
Follow my top tips to make soft, tender and moist protein muffins each time.
Be sure to use whey protein powder: In order for these muffins to be moist and recipe to work. Plant-based protein powders are very moisture absorbent and won't work in this protein muffin recipe.
Do not overbake the muffins: Your oven may affect the total time these muffins need to bake. The first time you bake these, I recommend checking from 17 minutes onwards with your toothpick. Overbaked muffins will be dry and crumbly.
Follow the recipe: Baking is tricky and so is protein baking. Do not sub liquid sweetener with dry sugar, swap flours or use plant-based protein powder.
If protein muffin tops start to turn brown: Ovens vary, if the tops start to turn brown before the protein muffins are ready, cover with tinfoil.
Use drippy almond butter: Melting your almond butter a bit will allow for much easier mixing and incorporating into the batter. You can melt your butter in the microwave or stovetop.
Variations and Fun Additions
These high protein muffins are great for meal prep not only for breakfast, but for a healthy post workout or after school snack.
They are also easy to customize to your liking while using what you have at home. With endless mix-in options, here are some yummy ideas.
Muffins with berries: Add in your berry of choice, fresh or frozen, to the batter before baking. Raspberries, blackberries, or blueberries are our favorite.
Healthy carrot cake muffins: Make these protein powder muffins more like a dessert by adding in some shredded carrots and chopped walnuts.
Add other nut butters: Peanut butter, cashew butter, sunflower seed butter all have a slightly different taste. Have fun and try each one of your favorites.
Make them crunchy: Throw in some chopped walnuts or pecans for a bit of crunch. You can mix them in the batter or sprinkle them on top.
Muffins with warming spices: Add nutmeg for a cozy flavor. Or swap the cinnamon for pumpkin pie spice, gingerbread, or even a chai spice mix.
Chocolate protein muffins: Everyone loves chocolate! Use chocolate protein powder instead of vanilla protein powder.
How to Store and Reheat Protein Muffins
Store: Once cooled, store protein muffins at room temperature in an airtight container for 1 day. After that, refrigerate for up to 4 additional days. These muffins are moist and can spoil fast.
Freeze: Make sure they are completely cooled before placing them in a large freezer bag. Remove as much air as possible and freeze for up to 3 months.
FAQs
Can you mix protein powder with flour?
Yes. The best flour would be almond flour because it's high in fats and makes protein muffins moist. Whey protein powder is quite dry.
Can I use plant-based protein powder to make these protein muffins?
No. Vegan protein powders are made with pea, brown rice or soy protein that is very moisture absorbent unlike whey protein powder.
What flour can I use instead of almond flour?
The only suitable substitute is almond meal and the muffins will be a tiny bit less fluffy.
What can I substitute applesauce with?
Applesauce makes these protein muffins sweet and moist, I don't recommend using anything else. Yogurt is used sometimes but will make the muffins less sweet if you are OK with that.
Can I use protein powder instead of flour?
No. They are 2 different ingredients and protein powder does not have the same attributes as flour, so cannot be substituted in baking.
More Healthy Muffin Recipes to Try
More Protein Recipes to Try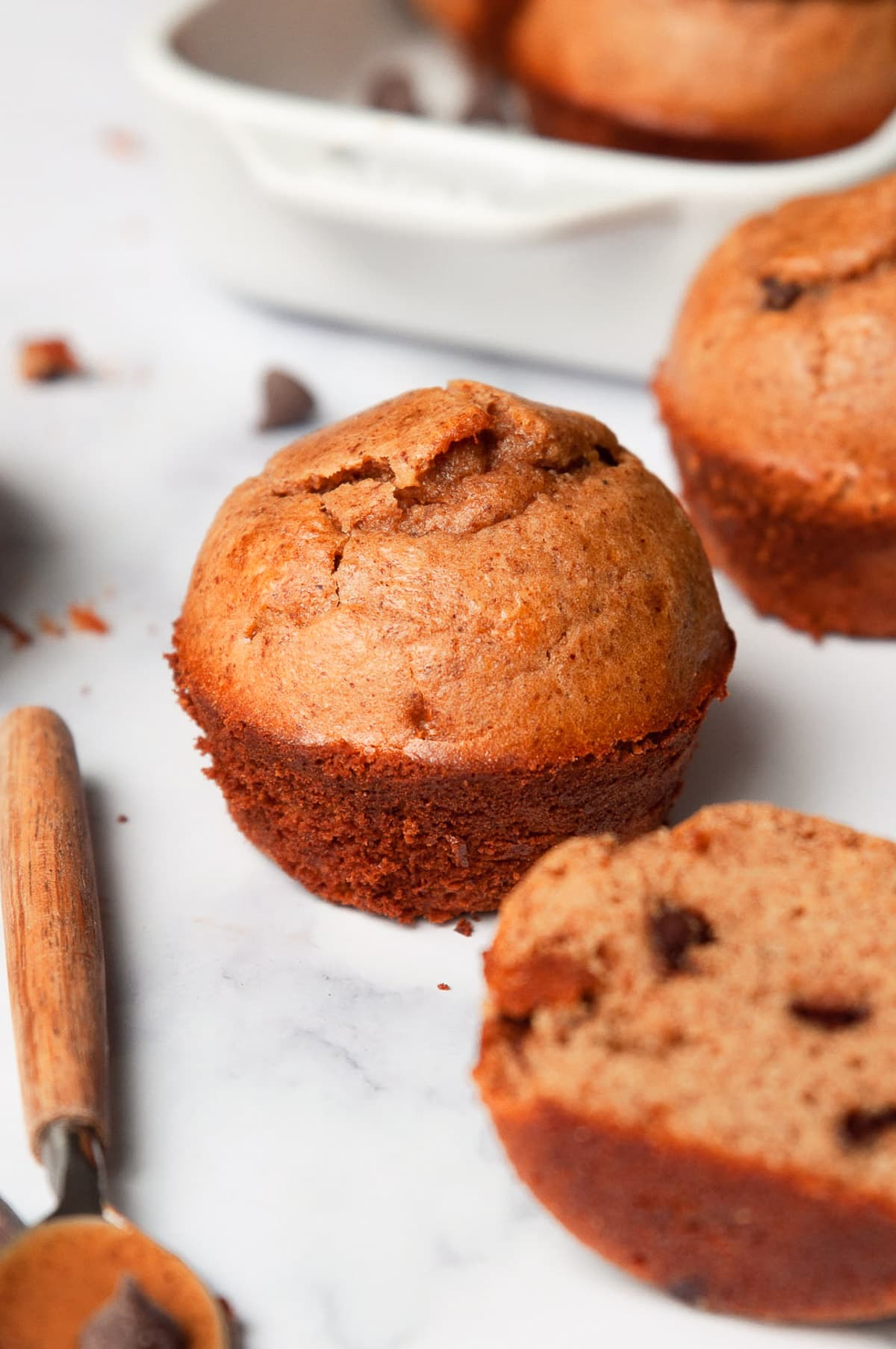 Protein Muffins Recipe
Easy, moist and fluffy Protein Muffins Recipe with 12 grams of protein and without the protein taste or bananas. Perfect snack or breakfast.
Instructions
Preheat oven to 350 degrees F and spray non-stick 12 muffin tin with cooking spray. Set aside.

In a large mixing bowl, add almond butter, applesauce, maple syrup, eggs, vanilla extract, cinnamon, baking powder, salt and whisk well until combined.

Add whey protein powder and almond flour, stir gently with spatula to combine. Batter will be runny. Fold in chocolate chips.

Distribute batter evenly between 12 openings of a tin. I used regular ice cream scoop and muffin cups were almost full. Bake for 25 minutes or until a toothpick inserted in the center comes out clean.

Remove protein muffins from the oven and let cool for 10 minutes. Enjoy!
Notes
Store: Store muffins in an airtight container in a cool dry place for up to 3 days. After refrigerate for another 3 days.
Freeze: Bake and cool completely. Place in a gallon size Ziploc container, let out as much air as possible and seal. Freeze for up to 3 months. Thaw on a counter for a few hours.
Nutrition
Serving:
1
muffin
|
Calories:
292
kcal
|
Carbohydrates:
19
g
|
Protein:
12
g
|
Fat:
20
g
|
Saturated Fat:
4
g
|
Trans Fat:
0.01
g
|
Cholesterol:
54
mg
|
Sodium:
119
mg
|
Fiber:
4
g
|
Sugar:
11
g