These Mediterranean Zucchini Boats are stuffed with peppers, tomato, olives, and feta and then baked to perfection.
You might also like these simple zucchini sticks with Parmesan and ground turkey zucchini boats.
Quite a few years ago, I was in a mood for a lighter zucchini boats, without the sauce and cheese. So I made these Mediterranean zucchini boats. The ones you can pick up with your hands, more of a side dish or even a cold appetizer. Mmmm, sounds good in July…
I oven roasted them stuffed with tomatoes, bell peppers and Kalamata olives until soft but still crunchy. Then topped with feta cheese and placed under the broiler until cheese became golden and crisp, and sprinkled with fresh parsley. So good!
I love Mediterranean inspired dishes! From Mediterranean chicken skillet, to Mediterranean orzo salad and Mediterranean chickpea salad. They are delicious and chock full of veggies.
Ingredients for Mediterranean Zucchini Boats
This Mediterranean zucchini boats recipe is made with a handful of simple ingredients and full of Mediterranean flavor.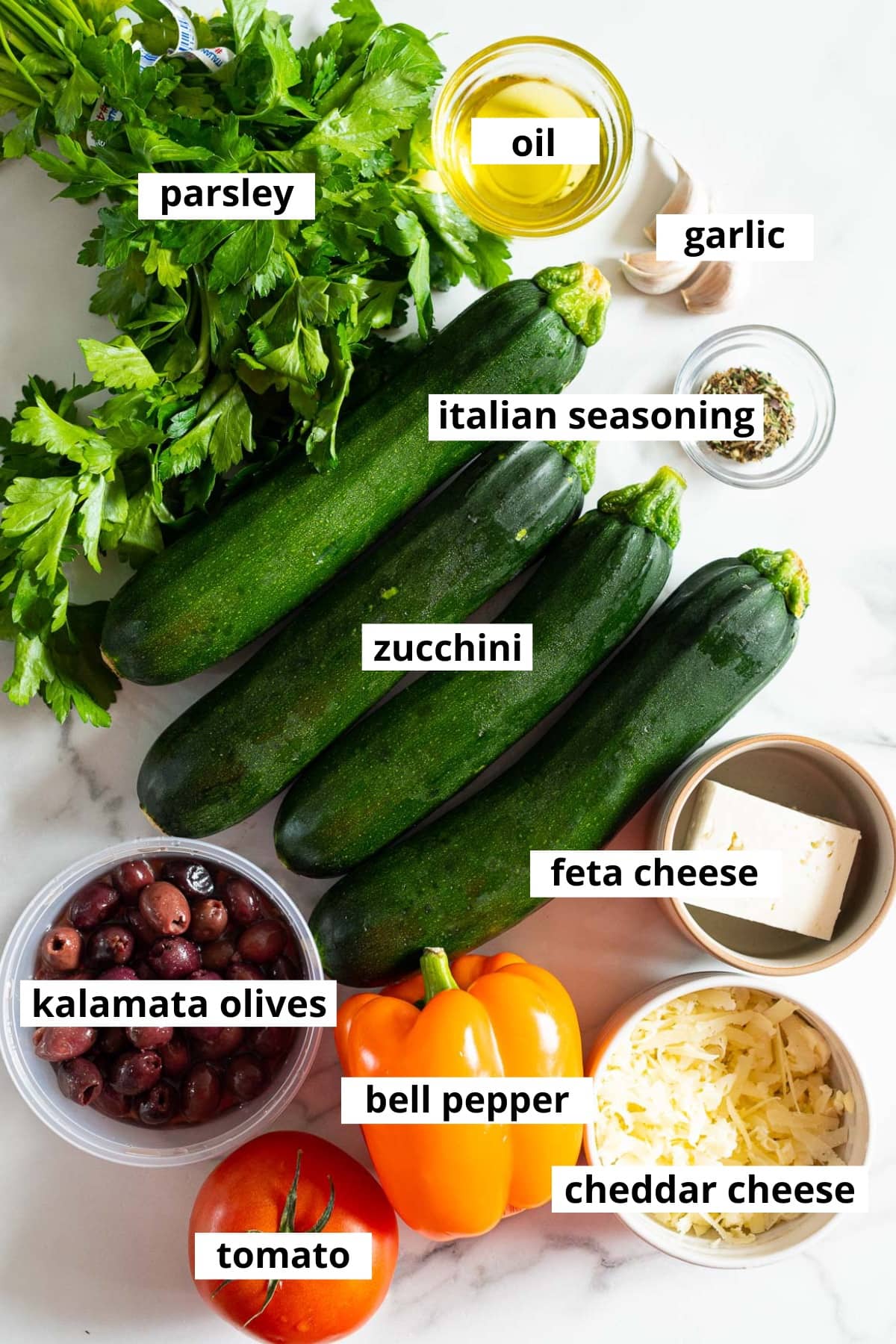 Zucchini: Use medium zucchinis that are firm and ripe. An overripe zucchini will be too soft and larger ones will have a tougher, bitter skin.
Bell pepper: Any color bell pepper you prefer or have on hand. I like orange, yellow, or red peppers because they are sweeter. Green peppers are more tart but will work in this recipe.
Tomato: Famous in Mediterranean cuisine! Use a firm tomato that's less watery such as Roma tomatoes or halved grape tomatoes and cherry tomatoes.
Kalamata olives: Finely chopped for rich taste and texture.
Garlic cloves: Fresh garlic cloves that are peeled and minced.
Seasoning: Italian seasoning and ground black pepper.
Oil: Used to coat veggies and help spices stick. I love the flavor of extra-virgin olive oil but any oil will work.
Cheese: A rich and creamy topping. Freshly crumbled feta cheese along with white cheddar or mozzarella cheese are a must for this Mediterranean zucchini recipe.
Fresh herbs: Garnish with fresh parsley.
How to Make Mediterranean Zucchini Boats
Once you see how easy Mediterranean zucchini boats come together, you'll be making them all the time! Kids love these as they are so easy to handle.
Here's a quick overview, there's a full recipe card below.
Start by preheating your oven to 400 degrees F.
Prep zucchini boats: Trim the ends off each zucchini, cut zucchinis in half lengthwise, and scoop out the middle using a spoon or melon baller. Line a large baking sheet with parchment paper, arrange zucchini halves on baking sheet, and set aside.
Make the veggie stuffing: To a medium bowl, add your chopped bell pepper, tomato, and olives. Then add in the garlic, Italian seasoning, ground black pepper and olive oil, and stir to combine.
Bake: Evenly distribute the mixture between each zucchini half and bake for 25 minutes. Top with cheeses and bake for another 10 minutes or until cheese has melted. You can also set them under the broiler to melt the cheese.
Garnish and serve: Remove pan from oven and sprinkle with fresh parsley. Serve hot or let them cool and enjoy cold.
Tips for Best Results
Here are my tops tips on how to turn a few fridge staples into a delicious Mediterranean dish.
Pick same size zucchini: Also straight. This will ensure even cooking, easy filling, and make them easier to hold.
Take your time adding the stuffing: For best presentation and taste make sure to evenly distribute the stuffing, so every bite is colorful and filled with all the flavors.
Re-use the scooped out flesh: Save the zucchini flesh and add to soups, zucchini potato bake or zucchini ricotta pasta for more flavor and vitamins.
Don't overbake: You want the zucchini to be tender with a slight crunch to it. If they are overbaked they will be soggy and hard to hold.
Variations
There are many ways you can make this Mediterranean zucchini sticks recipe your own, you can literally add anything to the stuffing!
Mix in some ground turkey, ground beef, ground pork, ground chicken, or sausage.
Add grains with cooked rice, quinoa, or breadcrumbs. Or keep it low carb with cauliflower rice.
Try roasted red peppers or swap with sundried tomatoes.
Garnish with fresh basil, cilantro, marjoram, or fresh mint.
Play with different seasonings like dried oregano, salt, or red pepper flakes. Then add a squeeze of lemon juice for extra zest.
Use freshly grated Parmesan cheese or goat cheese as the melty topping.
Sub Kalamata olives with green olives or black olives.
Add other veggies like onion or chopped spinach.
What to Serve with Stuffed Zucchini Boats?
These zucchini sticks are the case when food tastes great even cold. So, serve hot or eat straight out of the fridge.
We often serve stuffed zucchini boats on their own as an easy vegetarian lunch or dinner, a healthy snack, or crowd favorite appetizer.
Sometimes though, I like to add a side dish. We love a side salad like Mediterranean chickpea salad, Mediterranean quinoa salad, or Mediterranean pasta salad.
You can also pair these summer-y veggie boats with a grilled chicken burger, chili lime chicken, or even grilled BBQ chicken. Or make it a cozy meal with lasagna and a side of garlic bread.
How to Store
Store: These zucchini boats keep well refrigerated for a few days. Store in an airtight container for best results.
If you are serving more than 4 people, I recommend doubling the recipe, they disappear fast!
Freeze: Zucchini becomes very soggy once thawed, do not freeze.
FAQs
Do you have to peel zucchini before baking?
No, you don't have to peel the zucchini. In fact, you need the skin on for structure. Plus, it's good for you!
Why are my zucchini boats watery and soggy?
Watery and soggy zucchini boats means they were overcooked. Because of zucchini's higher water content, overcooking allows that extra water to seep out. Remember that ovens vary and don't overbake.
Can I make these in air fryer?
Yes, you can make zucchini boats in air fryer. I recommend to bake them at 400 degrees F for 10 minutes and then check. You can also refer to your air fryer manual for suggested cooking time.
More Zucchini Recipes to Try
Also browse this collection of healthy zucchini recipes.
Mediterranean Zucchini Boats
These Mediterranean Zucchini Boats are stuffed with peppers, tomato, olives, and feta and then baked to perfection.
Instructions
Preheat oven to 400 degrees F. Cut zucchini in half lengthwise and scoop out the middle with a tablespoon or melon baller. Discard or save the flesh. Arrange zucchini halves on a large baking sheet lined with parchment paper and set aside.

In a medium bowl, add bell pepper, tomato, olives, garlic, Italian seasoning, ground black pepper and olive oil. Stir to combine.

Fill each zucchini half with a mixture distributing evenly and bake for 25 minutes. Top with feta cheese and cheddar (mozzarella) cheese and bake for another 10 minutes or until cheese has melted.

Remove from the oven, sprinkle with parsley and serve hot or cold.
Notes
Store: Refrigerate in an airtight container for up to 2-3 days. Do not freeze as zucchini become very soggy upon thawing.
Nutrition
Serving:
1
zucchini boat
|
Calories:
94
kcal
|
Carbohydrates:
7
g
|
Protein:
4
g
|
Fat:
6
g
|
Saturated Fat:
2
g
|
Cholesterol:
11
mg
|
Sodium:
275
mg
|
Fiber:
2
g
|
Sugar:
4
g