Crockpot Chicken Spaghetti is a true 8-hour healthy slow cooker dinner with your choice of pasta, tomato sauce and spices. Kids will love it!
You can also use your crockpot to cook this slow cooker whole chicken and pasta, slow cooker chicken thighs and slow cooked chicken breast!
Onions, garlic, celery, and carrots with a can of tomato sauce, a few chicken pieces and good old spaghetti. This crockpot chicken spaghetti was mind-blowingly easy and delicious!
It combines my love of pasta with the convenience of slow cooker recipes, nothing beats coming home to the aroma of classic comfort food!
Why You'll Love This Recipe
Healthy: A much lighter version of many crockpot chicken spaghetti recipes on the web. We don't use cream cheese or Velveeta cheese.
Delicious: Still flavorful with simple spices, veggies, fresh herbs, and a small amount of sharp cheese.
One pot meal: No searing, sautéing, or boiling necessary, the slow cooker does all the work for you and cuts down on clean up.
Easy: With just 15 minutes of prep time, this crock pot recipe will make your most busy days a breeze!
Perfect for busy weeknights: It is one of my favorite pasta recipes for busy weeknights or lazy weekends. It's a whole meal in one, the kids love it, and it's great for meal prep.
Ingredients for Crockpot Chicken Spaghetti
Fresh ingredients and pantry staples help create the best crockpot chicken spaghetti recipe.
Chicken thighs: You'll need 3 pounds of skinless chicken thighs. We'll shred the chicken before serving so feel free to use bone-in chicken thighs or boneless chicken thighs.
Vegetables: Diced carrots, celery, and onion add a perfect medley of flavor and texture.
Garlic: Freshly minced garlic enhances the flavor of the sauce.
Tomato sauce: Plain canned tomato sauce with the addition of simple spices makes the tastiest homemade spaghetti sauce.
Chicken broth: A liquid is needed to make the sauce more "saucy" and cook the pasta. Use low sodium chicken broth or Instant Pot chicken broth if you have it.
Spices: Italian seasoning, salt, and pepper.
Spaghetti: You can use regular, whole wheat, or gluten-free spaghetti.
Fresh herbs: Sprinkling freshly chopped herbs like parsley, dill, or basil at the end really complements the pasta.
How to Make Chicken Spaghetti in Crockpot
Here's a quick step-by-step guide of how to make chicken spaghetti in slow cooker. I use my 7 quart crock pot and enjoy leftovers throughout the week.
There is a full recipe card below.
Combine veggies and wet ingredients: Add carrots, celery, onion, garlic, tomato sauce, chicken broth, Italian seasoning, salt and pepper to your slow cooker and stir.
Add chicken: Next, place chicken thighs inside spreading them out so they are covered.
Cook: Cover and cook on low heat for 6-8 hours or high heat for 3-4 hours.
Shred chicken: Remove chicken and shred, discarding any bones if necessary. Make sure the slow cooker is set to high heat and add the shredded chicken back in.
Cook the noodles: Break spaghetti noodles in half and stir them in. Place lid on top and cook for 30 minutes (less for gluten-free spaghetti). Stir again so top noodles are covered with sauce, cover, and cook for 10 minutes until spaghetti is al dente.
Garnish and serve: Sprinkle with fresh Parmesan cheese and parsley, stir and enjoy!
Tips for Best Results
Here are 4 simple tips for making the best chicken spaghetti in crock pot.
If you find spaghetti too starchy: Reduce broth by 2 cups when cooking chicken in crockpot, then cook spaghetti separately and add to the crockpot with chicken. Pasta cooked in sauce can make this dish a bit starchy but we don't mind, I like one pot convenience.
Don't overcook: Spaghetti, especially gluten free spaghetti, will become mushy if overcooked. And if chicken is cooked for too long it will be dry and tough.
Liquid at the end is fine: If your noodles and chicken are done and there's still some liquid, that's OK. The spaghetti will absorb it as it sits.
Use chicken thighs: Bone-in or boneless chicken thighs are more flavorful. Be sure to remove the skin, otherwise it will be fatty.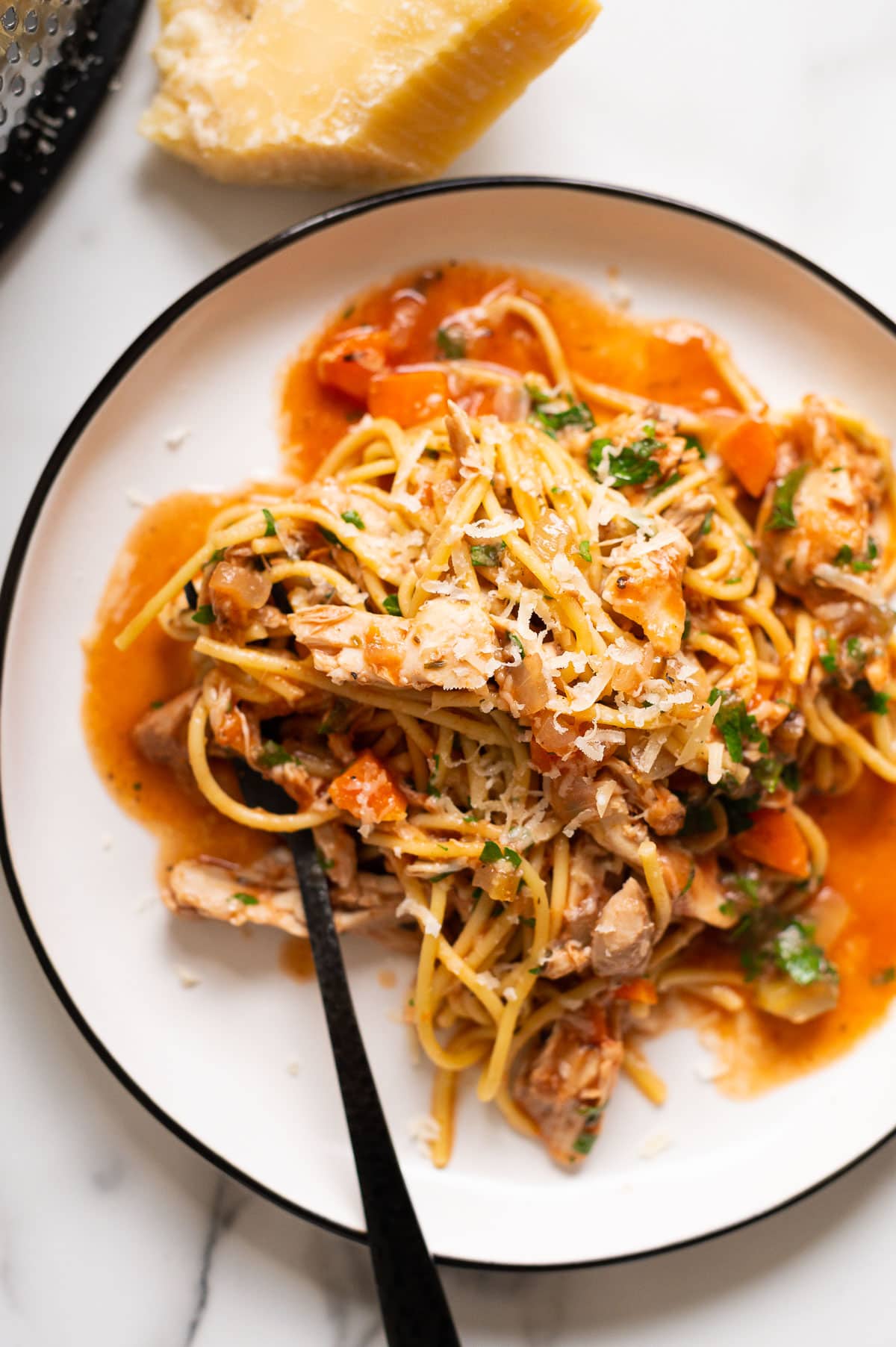 Variations
Add cheese: For an extra cheesy sauce, add 1-2 cups of shredded cheese at the end. I personally like cheddar cheese or mozzarella cheese.
Add cream cheese: If you like a creamier sauce then adding 4 ounces of cubed cream cheese at the end will do the trick.
Pasta: Use what you have in your pantry whether it be linguine or a short pasta like penne or elbow macaroni.
Chicken: Again, use what you have! Boneless skinless chicken breasts work well, or save time and add shredded leftover rotisserie chicken (cook for 2 hours).
Add bell peppers: Dice up a red, orange, or yellow bell pepper and toss it in with the other vegetables for more color and flavor.
Use Rotel: If you're a fan of spice, add a can of Rotel with green chilies instead of tomato sauce.
Marinara sauce: Tomato sauce and marinara sauce can be used mutually. Marinara sauce is thinner, and great for pasta.
What to Serve Crockpot Chicken Spaghetti with?
Healthy pasta recipes are great on their own, and for our busiest days we just dish up and enjoy.
Sometimes it's nice to have something a little extra, so I whip up a side dish while the noodles cook.
Can I Make It Ahead of Time?
Yes. If you are starting crockpot chicken spaghetti in the morning, before work, cook on low heat for 6-8 hours. In the evening all you have to do is shred chicken, add spaghetti, parmesan, and herbs, then serve.
To make a few days in advance, chop veggies and store in the fridge for up to 2 days.
How to Store
Store: Transfer leftovers to an airtight container and store in the fridge for up to 3 days.
Freeze: I don't like freezing spaghetti because pasta doesn't thaw well. If you want to avoid leftovers, I recommend cutting the recipe in half.
FAQs
Does chicken and spaghetti need to be covered in liquid in crockpot?
Chicken has to be submerged in liquid in the crockpot, which will be quite easy as there is lots of broth. Most of spaghetti but not all has to be in the liquid. We will stir one more time at the end to make sure top strands are cooked.
Is it better to cook chicken on high or on low heat in crockpot?
Chicken in the crockpot is cooks better on low heat. It doesn't matter much for chicken thighs because they are more fatty but for chicken breasts, low setting is better.
How do I keep chicken from drying out in crockpot?
For tender, juicy chicken cook on low heat, don't overcook, and make sure it's covered in liquid.
How do I fix bland crockpot chicken spaghetti?
I'll add more parmesan cheese, red pepper flakes, and other cheeses at the end. Adjust seasonings to taste by adding more salt and pepper, a pinch of onion powder, garlic powder, paprika, or oregano.
More Pasta Recipes to Try
More Slow Cooker Recipes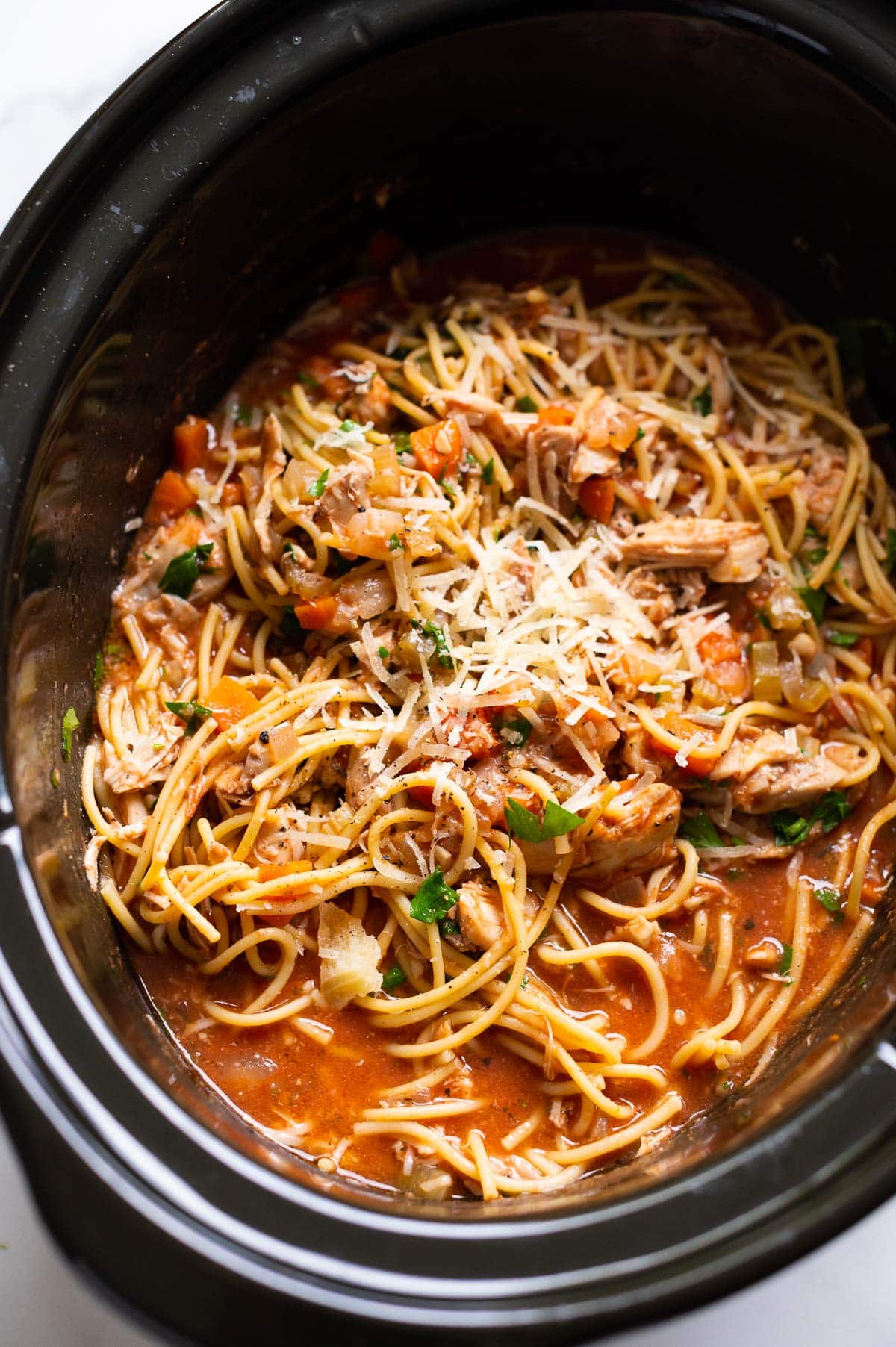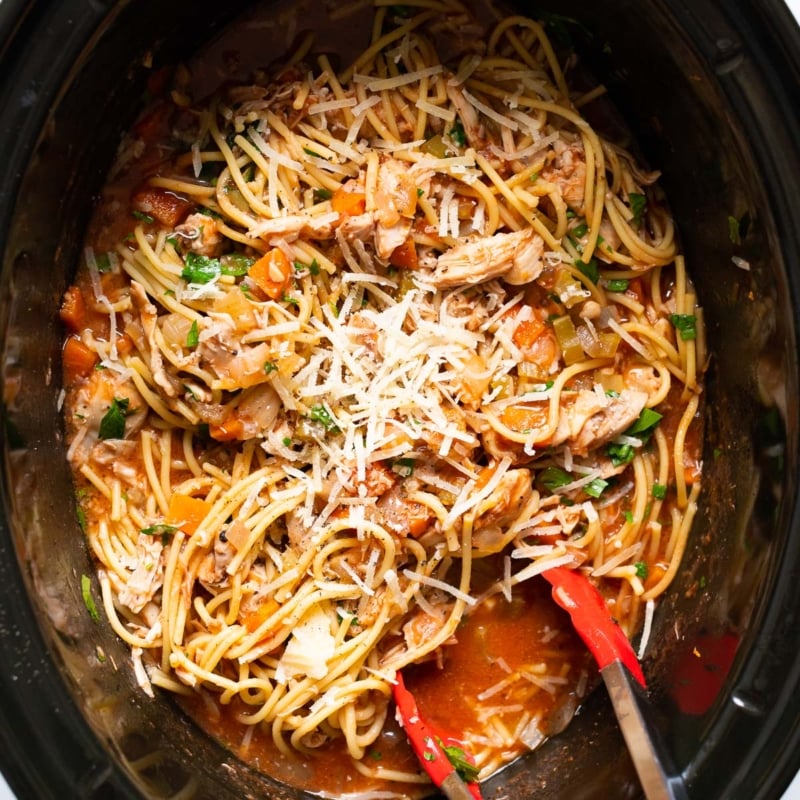 Crockpot Chicken Spaghetti
Crockpot Chicken Spaghetti is a true 8-hour healthy slow cooker dinner with your choice of pasta, tomato sauce and spices. Kids will love it!
Instructions
In large crockpot, add carrots, celery, onion, garlic, tomato sauce, chicken broth, Italian seasoning, salt and pepper. Stir.

Add chicken and make sure it's covered with the sauce.

Cover and cook on High heat for 3-4 hours or on Low heat for 6-8 hours.

Remove chicken from the crockpot and shred, using 2 forks and discarding the bones, if necessary. Switch slow cooker to High (if it was on Low heat) and add shredded chicken back.

Break spaghetti noodles in half and give a few stirs to separate the noodles and mix with the sauce and chicken. Cover and cook for about 30 minutes (less amount for gluten free spaghetti, especially brown rice). Then stir to make sure top noodles are covered with liquid, cover and cook for another 10 minutes or until spaghetti is cooked.

Sprinkle chicken spaghetti with Parmesan cheese and parsley, stir and serve hot.
Notes
Store: Refrigerate in airtight container for up to 3 days.
Freeze: I don't recommend to freeze this dish as pasta doesn't freeze and thaw well. You can always cut recipe in half to avoid leftovers.
Nutrition
Serving:
1.33
cups
|
Calories:
558
kcal
|
Carbohydrates:
33
g
|
Protein:
36
g
|
Fat:
31
g
|
Saturated Fat:
9
g
|
Trans Fat:
0.1
g
|
Cholesterol:
170
mg
|
Sodium:
531
mg
|
Fiber:
3
g
|
Sugar:
4
g