How to make Healthy Iced Coffee at home with almond milk! It's sugar free, low calorie, and much cheaper and healthier than Starbucks.
On a hot summer day pour yourself a tall glass of iced coffee and save $4. Alternate between homemade healthy frappuccino and kombucha for a month and buy yourself a pair of Lululemon pants. Genius! 🙂
Healthy iced coffee drink made with cold (leftover) coffee, almond milk and without any added sugar. On a hot summer day, it will satisfy your late afternoon craving.
Pair with sugar free oatmeal cookies, healthy zucchini brownies or any of these healthy snacks and it's pure midsummer heaven!
Homemade iced coffee is much cheaper and healthier than Starbucks iced coffee. Same goes for Instant Pot egg bites and healthy muffin recipes.
Not to mention, it's easy to make any time of the day or year. I love it for a summer breakfast with syrniki and fresh berries!
As an after dinner treat, I often make sweet lazy pierogi to go with this iced coffee or serve delicate healthy lemon cookies! It's almost like being at a bistro cafe.
Ingredients for Iced Coffee
Coffee: Quality of coffee beans matters. To achieve most flavorful coffee, buy coffee beans and grind yourself at home. Also organic is a healthy choice as coffee is heavily sprayed with pesticides. Good news is it is not much more expensive.
Milk: Use any milk like almond milk, dairy, coconut milk, rice, soy or hemp milk. My latest obsession is Califia Farms.
Vanilla extract: Turns your coffee into a iced vanilla coffee recipe! Use pure vs. imitation for best taste.
Ice: Ice cubes are a must for this recipe. Don't skip. 🙂
How to Make Healthy Iced Coffee
You won't believe how simple it is to make this iced coffee recipe with almond milk!
Save coffee: If you brew coffee at home, do not discard any leftovers. Refrigerate for up to 2 days and make iced coffee recipe.
OR brew and cool down coffee on the counter: Do not pour hot coffee over ice as it will melt it immediately.
For less watered down coffee with ice, freeze some coffee in an ice cube tray.
Combine and stir poured cold brew coffee, milk and vanilla extract over ice.
Enjoy immediately and may I suggest serving with a slice of healthy carrot cake? What a treat!
Variations
Flavors and spices: Add cinnamon, nutmeg or more (or skip) vanilla extract. Perfect for enjoying in the fall with a slice of healthy pumpkin cake!
Turn into affogato: Place a scoop of vegan vanilla ice cream or healthy chocolate ice cream in a serving glass. Warm up coffee, milk and vanilla mixture in a microwave until hot. Pour the hot coffee over the ice cream.
Liquid sweetener: Add maple syrup or agave to taste if you are craving a tad of sweetness. It has less prominent taste and dissolves better than honey.
Dry sweetener: If you would like to use a bit of sugar or any keto sweetener like monk fruit, make sure to stir it with hot coffee to help dissolve. It will not dissolve in cold liquid.
Cocoa or cacao powder: Whisk in with a fork or small whisk 1-2 tsp with hot or cold coffee for that mocha flavor.
Ratios: Change the ratio of coffee to milk. 50:50, 30:70 or whatever you want.
FAQs
Is this drink an iced latte?
No, to be an iced latte you would need to use brewed espresso vs. cold brew coffee.
How do I prevent my iced coffee from being too watery?
By patiently waiting for your brewed coffee to cool down! Either store your hot coffee in the refrigerator for two days or make leftover coffee into ice cubes.

If you try to cool down your coffee with ice cubes and then make this recipe, your coffee drink will be very watery.
What coffee is best to use?
Your favorite brand! If you want the best tasting coffee over ice, though, try a darker roasted coffee bean with a robust taste as lighter roasts tend to have a more 'sour' taste.

My favorite brands are Ethical Bean, Starbucks and many local ones. There are so many!
Can I use instant coffee or cold brew?
Sure. Instant coffee might be less delicious but if it's what you drink, then you will love it!
More Homemade Healthy Drinks
More Healthy Summer Recipes
Next hot summer day try:
You may also love to serve this at brunch with healthy french toast casserole.
Enjoy this skinny iced coffee guilt free!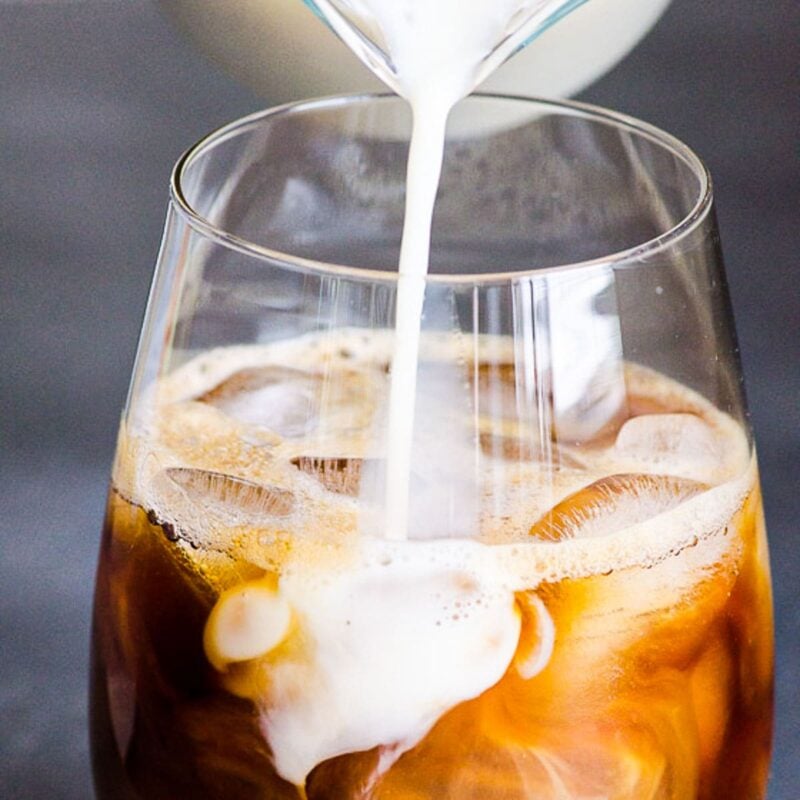 Healthy Iced Coffee
Healthy Iced Coffee is easy to make with almond milk plus sugar free, low calorie, and much cheaper and healthier than Starbucks.
Ingredients
1/2 – 1

cup

ice

1/2

cup

coffee

cold

1/2

cup

any milk

I used unsweetened almond milk

1

tsp

pure vanilla extract
Instructions
In a tall glass, add ice, coffee, milk and vanilla extract.

Stir with a long spoon, adjust to taste and enjoy immediately.
Notes
Store: Do not throw away "old" coffee. Refrigerate for up to 2 days and when ready combine all ingredients and make a healthy iced coffee.
Do not pour hot coffee over ice as it will melt it immediately.
Freeze coffee in ice cube tray and use for more concentrated iced coffee.
My favorite plant-based milk for coffee is Califia Farms unsweetened almond milk.
Nutrition
Calories:
31
kcal
|
Carbohydrates:
1
g
|
Protein:
1
g
|
Fat:
2
g
|
Sodium:
183
mg
|
Fiber:
1
g
|
Sugar:
1
g