These Baked Boneless Chicken Thighs are flavorful and tender with a juicy middle. Super easy to make with a 4 ingredient marinade, and ready in 30 minutes!
We also keep these baked bone-in chicken thighs on our regular weeknight rotation.
Whenever I'm short on time but really want a delicious, healthy dinner these beautifully seasoned oven baked boneless chicken thighs are my answer.
So no matter how tight your schedule is, this is an affordable, family-friendly dish you need in your back pocket!
Why You'll Love This Recipe
Flavorful: Chicken thighs are already rich in flavor. Once you add in my secret ingredient, they become mouth-watering delicious!
Easy: With only 5 staple ingredients, little prep work, and short cooking time.
Versatile: This recipe is high up on my go-to healthy chicken recipes list because you can use your favorite spices, marinate them for up to 24 hours or don't marinate at all, and they go with any side dish!
Old family recipe: I grew up with this recipe and still make it over and over again to this day. It means it's good!
Crowd pleaser: Everyone who tries it, loves this chicken thighs recipe.
Ingredients for Baked Boneless Chicken Thighs
You'll need chicken thighs and just 4 simple ingredients to make this baked boneless chicken thighs recipe.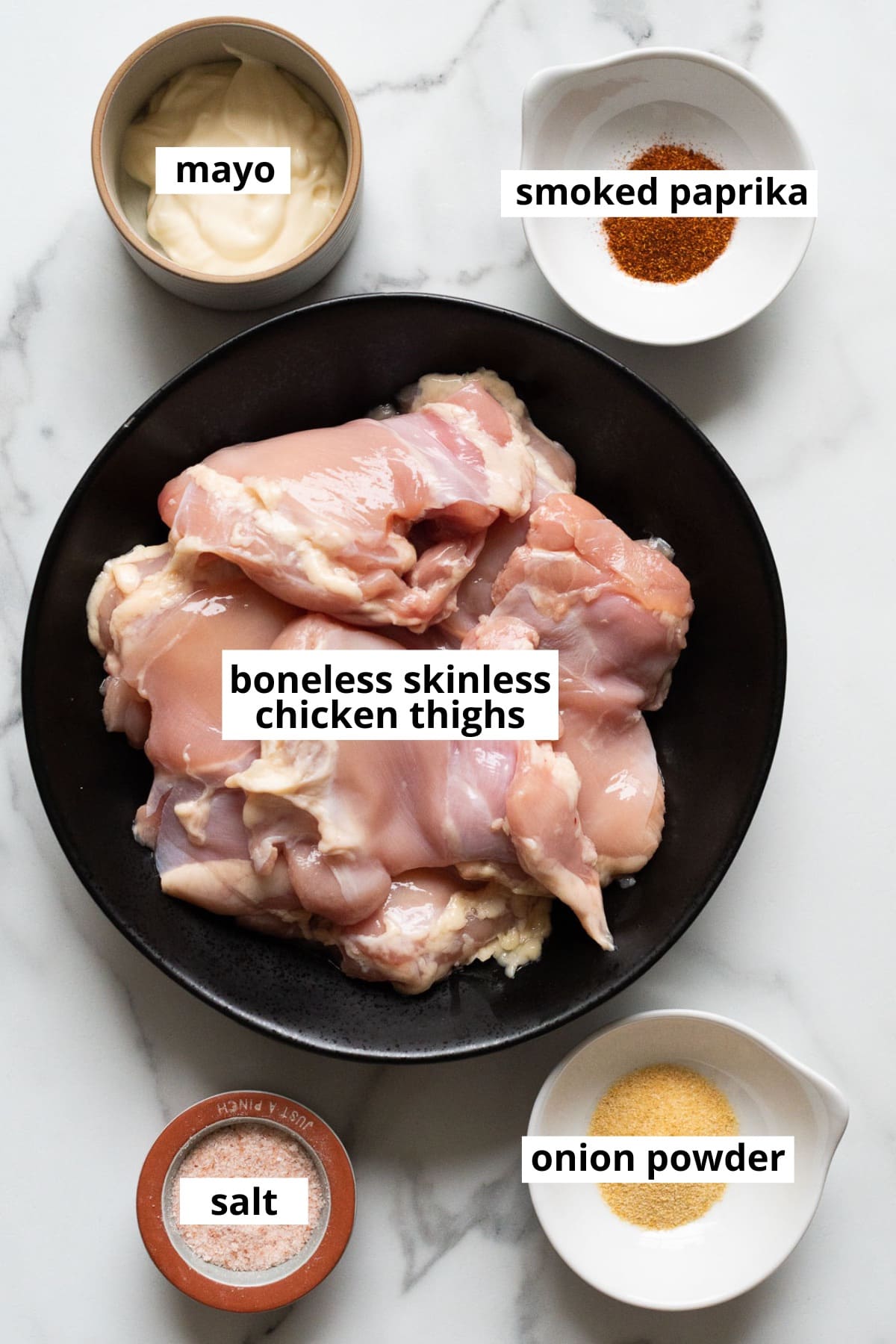 Chicken thighs: 2 pounds of boneless skinless chicken thighs. That was 8 chicken thighs for me.
Mayo: We use mayonnaise instead of olive oil for this chicken marinade, it really locks in the moisture and yields juicy chicken thighs every time.
Spices: The combination of onion powder, smoked paprika, and salt add to the rich flavor of mayo.
How to Bake Boneless Chicken Thighs
Baked boneless chicken thighs is an easy 30 minute meal that's virtually hands off. Here's a quick overview, you'll also find a complete recipe card with full instructions below.
Start by preheating your oven to 425 F.
Make the marinade: Add mayo, onion powder, smoked paprika, and salt to a large bowl and whisk.
Coat the chicken: Add chicken thighs to the bowl and toss to coat, I find using tongs is easiest for this step. Once all pieces are evenly coated, you can bake right away or marinate for up to 24 hours.
Bake: Once you're ready to bake, grab your 9×13 baking dish and place chicken thighs in a single layer, make sure they aren't overlapping. Leave uncovered and bake chicken thighs for 20 minutes or until the internal temperature registers 160 F – 165 F.
Rest and serve: Remove chicken thighs from the oven and cover the dish with tinfoil. Let them sit for 5 minutes to allow the juices to settle and flavors to deepen.
How Long to Bake Boneless Chicken Thighs?
How long to bake boneless chicken thighs all depends on the oven temperature you choose. I prefer to bake my chicken thighs at 425 F.
Here's a time chart to guide you. And remember chicken thighs vary in size, so grab your meat thermometer and make sure the center reads a minimum of 160 F. They'll continue cooking as they rest.
| Oven temperature | Baking time |
| --- | --- |
| 375 degrees F | 30-35 minutes |
| 400 degrees F | 25-30 minutes |
| 425 degrees F | 20-25 minutes |
Recipe Tip
A package of boneless skinless thighs can often have an assortment of sizes, bake extra small chicken thighs for 15-17 minutes.
Tips for Best Results
Here are the top tips that kept this old family recipe a favorite for so many years.
Don't over cook: Chicken thighs are easy to prepare and very forgiving but they will come out dry if overcooked.
Marinate if you can: Overnight is best but even marinating for a few hours will ramp up the flavor.
Bake in a single layer: You can squeeze chicken thighs in tight in a single layer because they will shrink and release juices as they bake. This way they will also brown a bit and have a nice color for presentation.
Bake uncovered: Covering the dish will steam the chicken rather than roasting it.
Let them rest: Do not skip this step! It's the secret to perfectly tender chicken, all it takes is 5 – 10 minutes of rest time under tinfoil.
Variations
Skip mayo: You can add a tad more protein and fewer calories by using yogurt like in my yogurt marinated chicken. Plain yogurt and Greek yogurt both work great.
Grill them: If it's still warm enough where you are to cook outdoors, toss them on the grill and they'll be ready in a flash. Here's how to grill chicken thighs.
Different seasoning: Smoked paprika adds color and flavor, you could also try chili powder, cayenne pepper, or taco seasoning. If you'd like to add some garlic flavor, use garlic powder instead of onion powder.
Add herbs: Dried herbs like oregano, parsley, rosemary, basil, or marjoram pair well with paprika. You can even mix them up to create your own spice blend.
What to Serve with Baked Boneless Chicken Thighs?
Anything! Keep things light and quick and serve baked boneless skinless chicken thighs with a simple butter lettuce salad, a bright tomato cucumber bell pepper salad, or a sweet and spicy Thai cucumber salad.
For something a bit heartier and comforting, we love the viral Jennifer Aniston salad, caprese pasta salad, or a traditional Ukrainian spread with healthy mashed potatoes to soak up all that savory sauce.
If you're feeding a crowd you can dress it up with an easy appetizer, a grain such as Instant Pot brown rice or Instant Pot quinoa, roasted vegetables, and dessert – it will be a hit!
How to Store and Reheat
Store: Leftovers will keep in the fridge for up to 5 days. These boneless chicken thighs are delicious cold and great for your weekly meal prep.
Freeze: Once they've completely cooled, transfer to an airtight container and they'll keep in the freezer for up to 3 months.
To reheat, thaw them in the fridge overnight, if frozen. Then preheat your oven to 350 F, cover, and bake cold chicken thighs for about 10 minutes. You will notice that their juices will solidify and gelatinize in the fridge, which is normal and will melt once reheated.
FAQs
Is it better to bake boneless chicken thighs at 350F or 400F?
It's personal preference really, chicken thighs will just cook longer at a lower temperature. That's why I choose 425 F for a 30 minute dinner.
Can I use boneless skinless chicken breasts in this recipe?
I do not recommend boneless skinless chicken breasts for this recipe, they require different cooking times at different temperatures due to their size and lower fat content. Instead, try my baked chicken breast recipe!
Can I bake frozen chicken thighs?
You can bake frozen chicken thighs but they will be dry because it takes longer for them to cook. For best results, I recommend thawing completely before baking.
How do I know when my boneless skinless chicken thighs are done?
As per USDA guidelines, your chicken is ready when a meat thermometer inserted into the thickest part registers 165 degrees F.

Dark meat may keep some pink color, so the internal thermometer is the best kitchen tool for making sure they are safely cooked!
More Chicken Thighs Recipes to Try
Baked Boneless Chicken Thighs
Baked Boneless Chicken Thighs flavorful and tender with a juicy middle. Easy to make with a 4 ingredient marinade, and ready in 30 minutes!
Instructions
Preheat oven to 425 F. In a large bowl, add mayo, onion powder, smoked paprika and salt. Whisk well with a fork.

Add chicken thighs and using tongs, toss to coat completely. Now you can bake them immediately or marinate for up to 24 hours for more flavor.

Arrange chicken thighs in a tight single layer in large 9×13 baking dish and bake uncovered for 20 minutes or until instant read thermometer inserted in the thickest part registers at least 160 F.

Remove chicken thighs from the oven, cover with foil and let rest for 5 minutes. Serve hot with your favorite side dishes!
Notes
Store: Leftovers keep well in the fridge for up to 5 days. They are perfect for meal prep and taste amazing cold.
Freeze: Freeze in an airtight container for up to 3 months. Thaw in the fridge overnight.
Reheat: Covered in preheated to 350 degrees F oven for about 10 minutes.
Nutrition
Serving:
2
chicken thighs
|
Calories:
346
kcal
|
Carbohydrates:
1
g
|
Protein:
44
g
|
Fat:
17
g
|
Saturated Fat:
4
g
|
Trans Fat:
0.1
g
|
Cholesterol:
220
mg
|
Sodium:
415
mg
|
Fiber:
0.3
g
|
Sugar:
0.2
g