These Oven Baked Chicken Thighs recipe packs in garlic flavor, crispy skin and tender, juicy middle! When chicken thighs are baked in the oven, they are ready in just 30 minutes.
This is one of my favorite weekly rotation chicken recipes along with roasted chicken thighs and potatoes and oven baked chicken breast.
I love to have some classic chicken recipes I can rely on any time that I know taste great and go with everything. These oven baked chicken thighs along with my family's recipe, baked boneless chicken thighs, is one of them!
Why You'll Love This Recipe
Simple: Besides chicken thighs you will need just a simple seasoning of garlic, salt, pepper and some fresh herbs.
Perfect for any occasion: Whether you have unexpected dinner guests, are drawing a blank on dinner ideas, or just want something that's fairly hands-off, this chicken recipe is here for you!
Delicious: Tender, juicy results every single time!
Budget-friendly: Chicken thighs are usually cheaper to buy than chicken breast.
Perfect for meal prep: Plus, they're fridge and freezer-friendly, making for a super versatile addition to your weekly meal prep!
Ingredients for Oven Baked Chicken Thighs
To bake chicken thighs in the oven, you will need just 6 simple ingredients.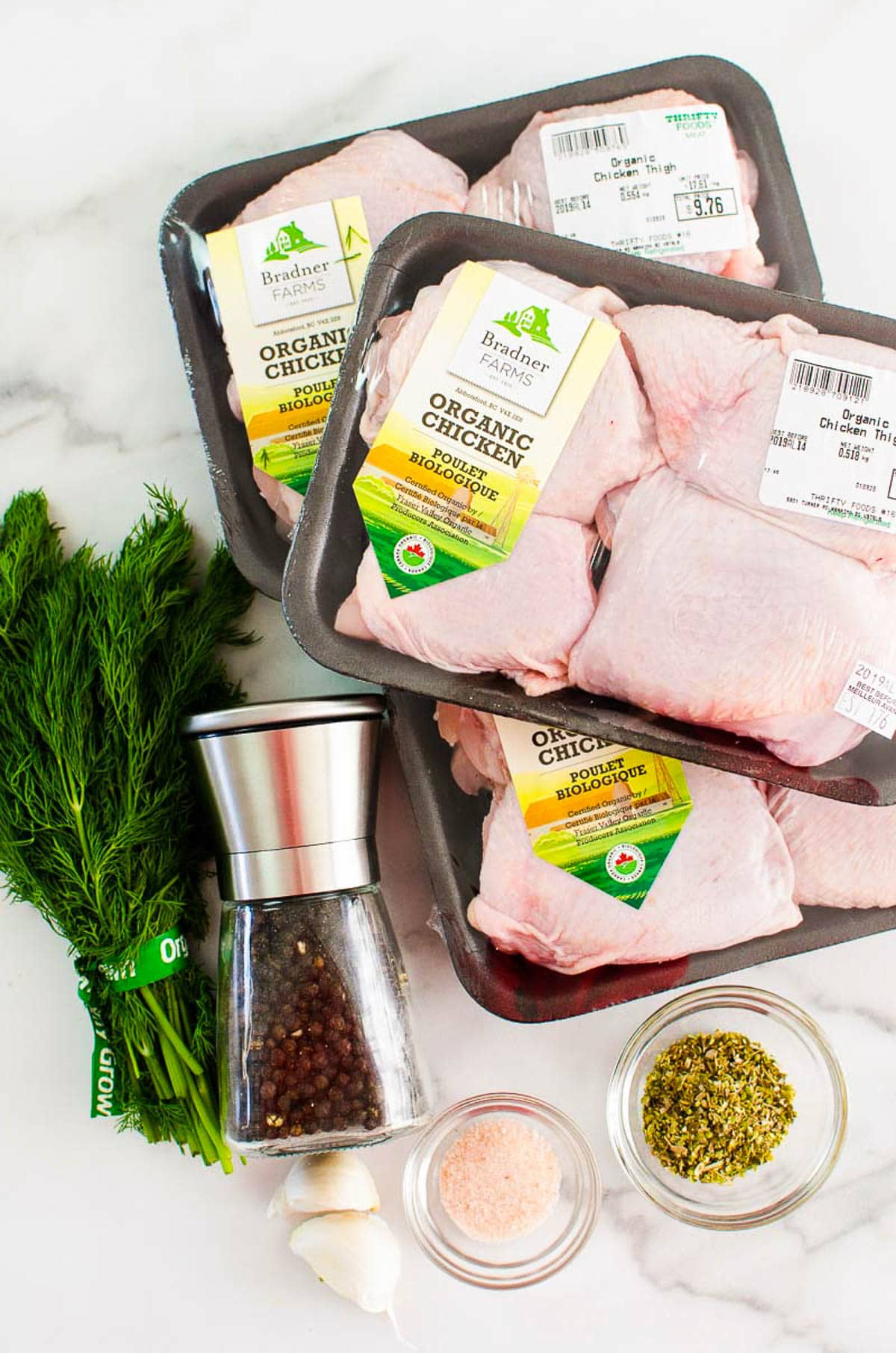 Chicken thighs: You will need 3 pounds of bone-in chicken thighs with skin on.
Fresh garlic: Make sure to grate the garlic rather than mince. Grated garlic is more flavorful! Feel free to adjust the amount of garlic based on personal preference.
Dried herbs: Any dried herbs like oregano, basil, thyme, or rosemary work. Mix them up as well.
Salt and pepper: For seasoning.
How to Bake Chicken Thighs In the Oven
Here is a quick overview how to bake chicken thighs in the oven. You can find full recipe card with complete measurements and instructions down below.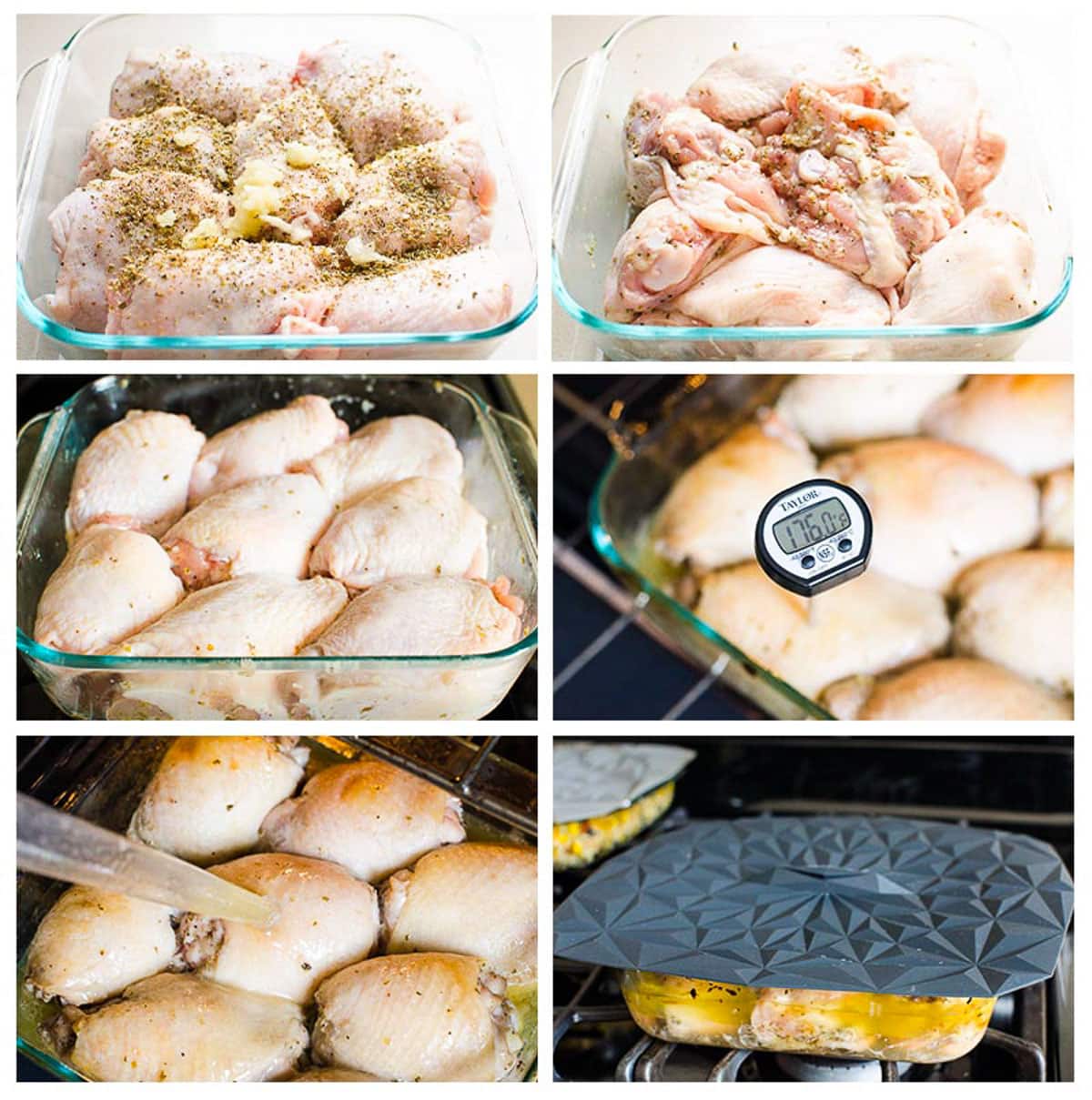 Season the chicken thighs: You can do this right in a baking dish. First, pat chicken thighs dry with paper towel, then toss to coat with seasonings, using your hands or tongs.
Marinate them: Let chicken thighs stand for 10 minutes. Meanwhile, preheat oven to 450 F. Toss chicken thighs again and then arrange them in a single layer skin side up, tucking it underneath.
Bake uncovered: Bake chicken thighs for about 30 minutes or until the internal temperature reaches at least 165 degrees F. Then using a turkey baster, pour some of the juices over the chicken. For crispier skin, broil chicken chicken thighs at the end for a few minutes.
Let baked chicken thighs rest: Remove chicken thighs from the oven, cover and let them stand for 5 minutes to allow the juices to settle. Do not skip this step!
How Long to Bake Chicken Thighs?
"How long to bake chicken thighs?" is a valid question because unlike chicken breasts, chicken thighs remain pinkish-brown even fully cooked. The most important thing to remember is that the internal temperature must reach 165F. Especially as chicken thighs can differ in size.
To check the temperature, push a meat thermometer into the thickest part of the chicken close to the bone. Use this handy time chart when baking chicken thighs in the oven.
| Oven temperature | Baking time |
| --- | --- |
| 375 F | 50-55 minutes |
| 400 F | 45-50 minutes |
| 425 F | 40-45 minutes |
| 450 F | 30-40 minutes |
What Temperature to Bake Chicken Thighs at?
There are many chicken thighs recipes online calling for different cook times. Just like when it comes to baking chicken breast in the oven, I prefer to bake chicken thighs at 450 F because this method takes less time with same juicy and tender results.
If you would like to roast chicken thighs at lower temperature, please refer to handy cook time chart above.
Tips for Best Results
Bake uncovered: If you cover the baking dish, chicken will rather steam than roast.
Keep the skin on: Skin prevents chicken thighs from drying out and you can always remove it after baking.
You don't have to use chicken thighs: This simple seasoning will work just as well with different cuts of chicken like chicken drumsticks, chicken wings and chicken breasts. Just remember that the cooking times will vary based on what cuts you're using.
Use rimmed baking sheet: These baked chicken thighs produce a lot of natural juices, so you want to use deep baking dish to gather all the juices.
Use a little oil: This recipe is oil-free as is. However, you could lightly brush raw chicken thighs with a little olive oil before seasoning for even crispier results.
Experiment with seasonings: Once you have the method for oven baked chicken thighs down, then playing around with the seasoning is super fun. Add red pepper flakes for heat, your favorite dried herbs, or use all-purpose seasoning or Italian seasoning all together.
Sear the chicken: Sear the chicken skin side down in a hot pan with a little oil for 3-5 minutes to form a crispy crust before baking.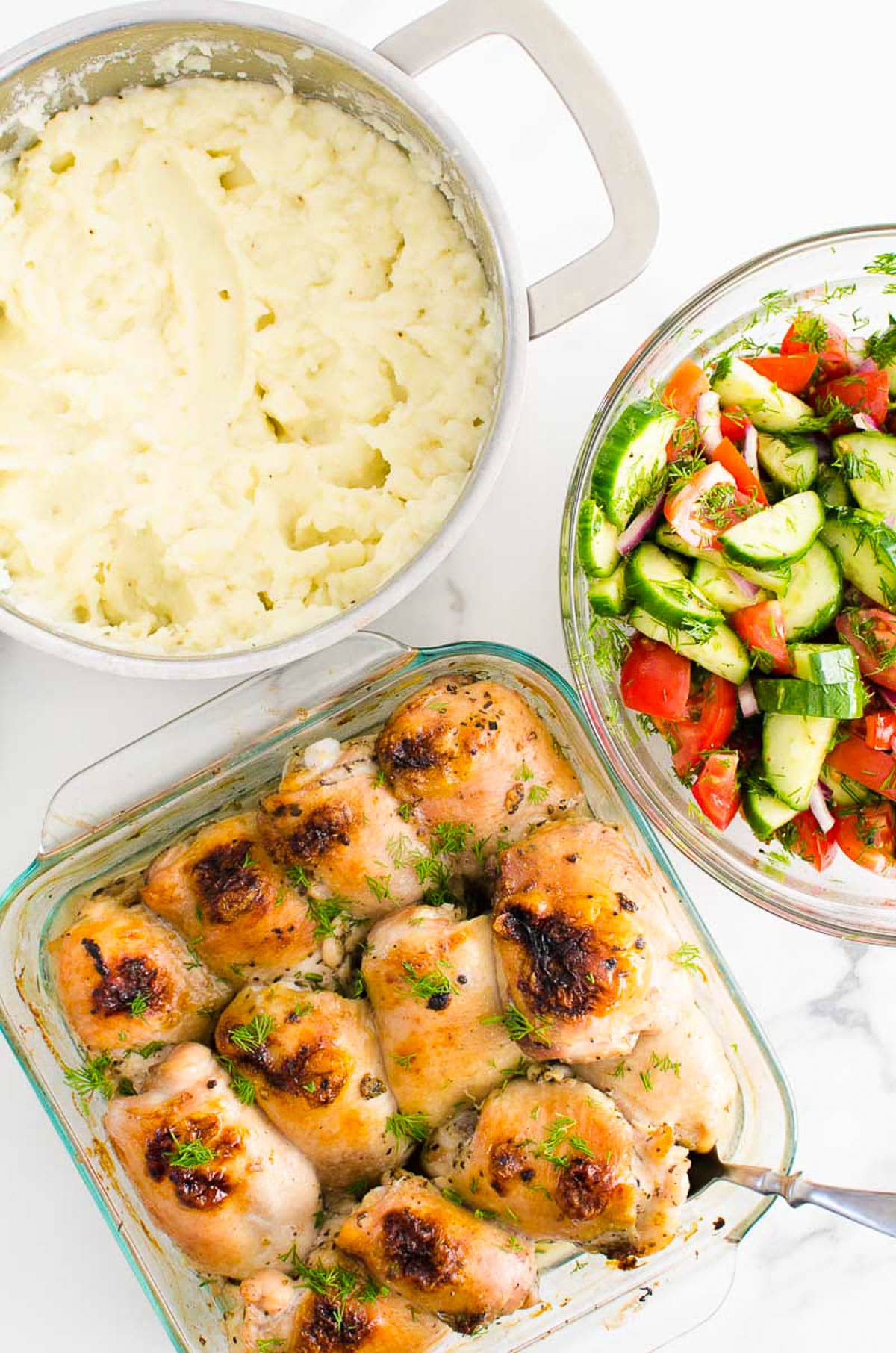 What to Serve with Baked Chicken Thighs?
Let me introduce you to our Ukrainian spread. More often than not we serve oven baked chicken thighs with mashed potatoes because those juices are begging to be poured over a creamy mash. And what is an Eastern European meal without cucumber and tomato salad?!
The best thing about this recipe is that it's so super versatile. You can pair it with anything, almost anything. Here are just a few of the ways I like to enjoy it.
How to Store and Reheat
Store: Baked chicken thighs will keep well in an airtight container in the fridge for up to 5 days.
Freeze: To extend the shelf life of baked chicken even further, store them in an airtight container in the freezer for between 3-6 months. Thaw in the refrigerator overnight before reheating.
Reheat: Reheat the chicken in a preheated 375 F oven for about 15 minutes. Bone-in chicken will take longer than boneless. You can also add some of the gelatinized chicken juices at the bottom of the pan if you saved them.
Or reheat covered in a microwave in 1-2 minutes increments on high power.
FAQs
How do you know when chicken thighs are ready?
As per USDA guidelines, your chicken is ready when an instant read thermometer inserted into the thickest part close to the bone registers 165 F. Also chicken thighs are dark meat and they may retain some pink color, so the internal temperature is definitely the best way to make sure it is safely cooked through.
Do I have to flip chicken thighs during baking?
No, you don't have to flip chicken thighs during baking in the oven with this recipe.
Can I bake frozen chicken thighs?
Yes. You can bake slightly thawed and still frozen chicken thighs. It is a fatty part of the chicken, so it will not dry out in the oven. Add 10-15 minutes to the baking time and just keep an eye on it.
Can you overcook chicken thighs?
Unlike with chicken breast it is harder to overcook chicken thighs because they contain more fat. So, as long as you don't cook them for a very prolonged time past the recommended cook time, they should be juicy and moist.
Can I make them ahead of time?
Yes. If you need a make ahead chicken, this recipe is perfect! Just marinate it in airtight container in the refrigerator for up to 2 days. Then bake as per the recipe.
More Chicken Recipes to Try
You might also enjoy browsing through all my healthy chicken recipes!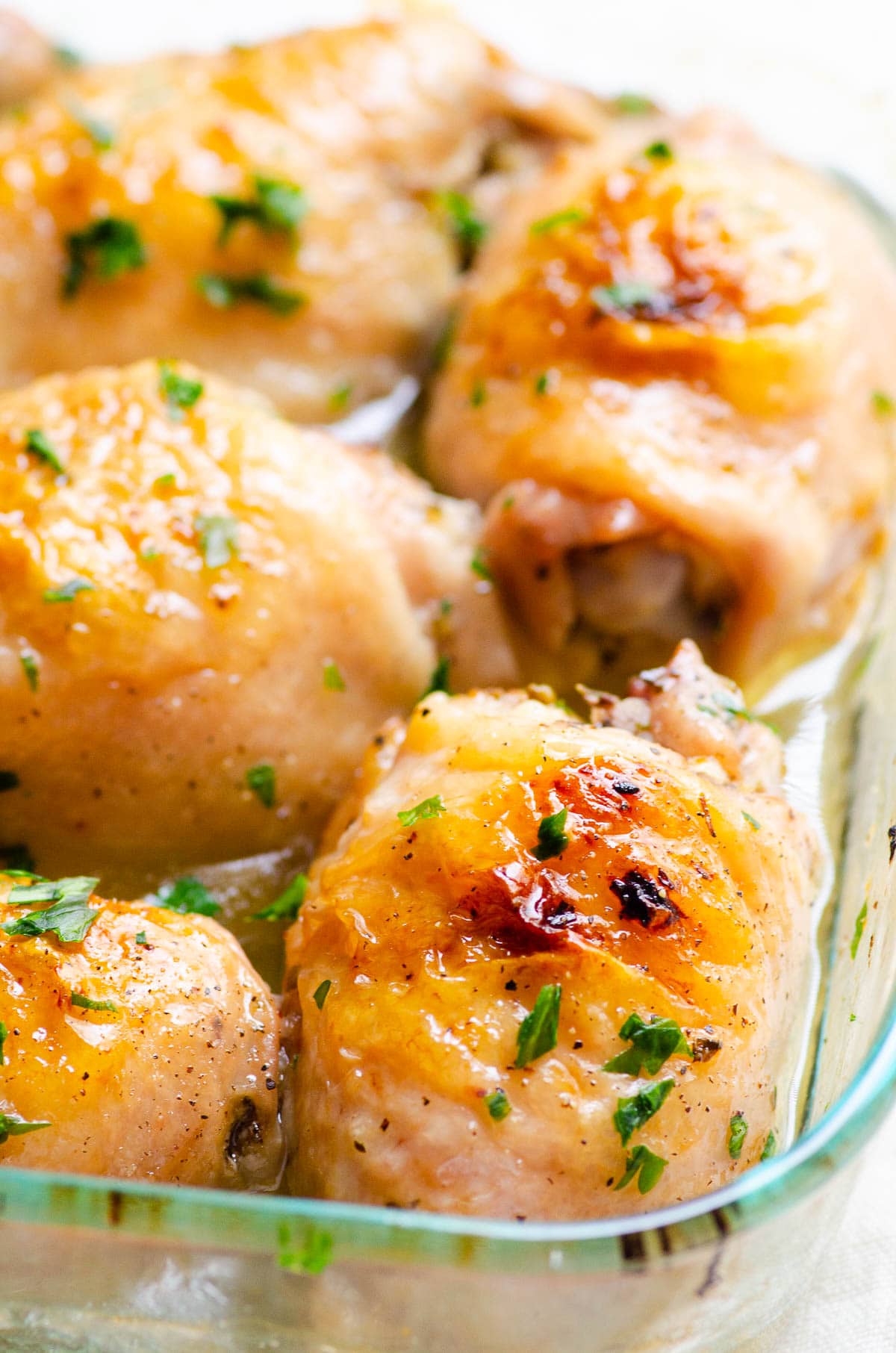 Oven Baked Chicken Thighs
Oven Baked Chicken Thighs recipe packs in garlic flavor, crispy skin and tender, juicy middle! They are ready in just 30 minutes.
Instructions
In 8 x 8 square baking dish, add chicken thighs, garlic, oregano, salt and pepper. Using your hands, toss to coat and let stand for 10 minutes. Preheat oven to 450 degrees F.

Toss chicken again, making sure to spread garlic and spices evenly, and arrange in a single layer skin side up, tucking in skin underneath. You want things tight.

Bake uncovered for 30-40 minutes or until thermometer inserted in the center close to the bone reads at least 165 degrees F, skin starts to brown and lots of juices accumulate in the dish. Using a baster, pour juices over the chicken and then if you like more crispy skin broil to your likeness.

Remove chicken thighs from the oven, cover and let stand for 5 minutes to allow juices to settle.

Serve warm, skin removed for healthier version with brown rice, quinoa or salad.
Notes
Store: Leftovers keep well in the fridge for up to 5 days. They are perfect for meal prep and taste amazing cold.
Reheat: In preheated 375 degrees F oven for about 15 minutes.
Nutrition
Serving:
1
thigh
|
Calories:
333
kcal
|
Carbohydrates:
1
g
|
Protein:
25
g
|
Fat:
25
g
|
Saturated Fat:
7
g
|
Cholesterol:
148
mg
|
Sodium:
375
mg
|
Fiber:
1
g
|
Sugar:
1
g