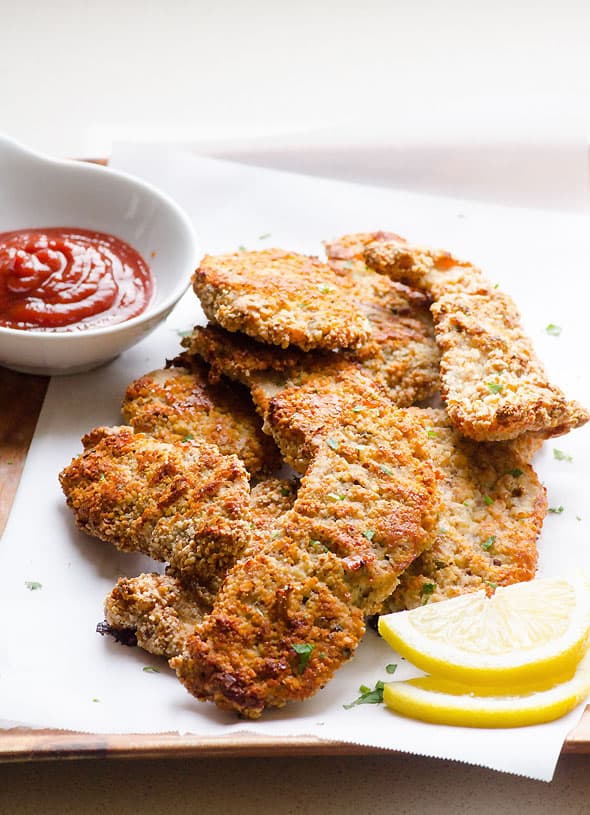 A healthy version of chicken strips that are baked instead of fried, and coated in ground almonds in place of breadcrumbs.
This almond crusted chicken came out fantastic – crunchy on the outside, moist inside and full of flavour. We joked with our 4 year old at a dinner table saying that these are from a healthy McDonald's but his reply was "There isn't one. And even if there was I don't want McDonald's".

How to Make Almond Crusted Chicken
So, you first get bowls with egg wash and almond coating ready.
Then you slice chicken breasts into thin strips. Keep in mind you will flatten them so the strips will look bigger.
Then you have to pound these chicken pieces with a meat tenderizer (or if you don't have one, use a skillet). We are using a piece of plastic wrap to keep our kitchen clean.
When dipping chicken in the egg wash and almond coating, try to hold meat by the ends to prevent too much goodness sticking to your fingers. You can also rinse your fingers after coating each piece in a bowl with cold water.
So, here is a BIG TIP working with an almond coating – before you flip chicken strips they might look under baked and soggy on the bottom. That is OK because almonds will turn golden brown once you continue baking on the other side. So, do flip them, don't be afraid.
This is what they will look like at the end. If you want leftovers, double the recipe. One batch served 4 people and a few pieces were left.
Chicken strips are great as an appetizer with organic ketchup or your favourite healthy dipping sauce like healthy honey mustard dressing, with baby kale salad, along brown rice, quinoa or cauliflower mashed potatoes.
Enjoy!
Print
Almond Crusted Chicken
Almond Crusted Chicken Strips are baked instead of fried, and coated in ground almonds in place of breadcrumbs.
Author:
Prep Time:

15 minutes

Cook Time:

30 minutes

Total Time:

45 minutes

Yield:

18 strips
Ingredients
1.5 lbs or 3 very large chicken breasts, boneless & skinless
1 1/4 cup almonds, ground (almond meal works too)*
1 tbsp garlic or onion powder
1 tsp oregano or basil, dried
3/4 tsp salt
1/8 tsp ground black pepper
2 eggs, large
Cooking spray (I use Misto)
Instructions
Preheat oven to 450 F degrees. Line large baking sheet with unbleached parchment paper, spray well with cooking spray and set aside.
In one small bowl, mix ground almonds (almond meal), garlic (onion) powder, oregano (basil), salt and pepper. In another small bowl, whisk the eggs.
Wash chicken breasts and pat dry with paper towel. Cut into 1/2 inch thick strips lengthwise. Place a few on a cutting board, cover with a piece of plastic wrap and pound with a meat tenderizer a few times. Repeat with remaining pieces.
Dip each strip into an egg mixture, coat completely in almond mixture and place on prepared baking sheet. Try to hold meat by the ends to prevent almonds sticking to your fingers, or rinse your fingers after each piece in a bowl with cold water.
Bake for 15 minutes on one side, flip and bake for another 12-15 minutes or until golden brown. Please note, when flipping the bottom might look under baked and soggy but it will get browned and crispy, trust me.
Serve hot with organic ketchup or honey mustard sauce, or cauliflower mashed potatoes for a complete meal.
Store: Refrigerate in an airtight container for up to 5 days or freeze leftovers for up to 3 months. To reheat, bake from frozen for 10-15 minutes at 375 degrees F.
Freeze: Lay strips on a baking sheet lined with parchment paper, freeze completely and transfer to a large Ziploc bag. Bake from frozen following recipe's instructions + 15 minutes.
Notes
*I grind almonds in a food processor myself. I assume almond flour would work too but I personally like coarsely ground almonds, which is called almond meal.
★ Did you make this recipe? Please give it a star rating in the comments.