How to make Healthy Overnight Oats with only 5 minutes of prep! Wholesome oats, creamy yogurt, and choice of milk are combined with protein rich chia seeds then choose 6 flavor variations for healthy breakfasts all week long.
Other favorite make ahead breakfasts that are on regular rotation in our house include overnight chia pudding, whole wheat buttermilk pancakes, and Instant Pot egg bites.
Healthy overnight oats are raw oats mixed with milk and soaked overnight. Hence, the name. Milk softens the oats eliminating the need to cook oatmeal on the stove.
I love making overnight oats while prepping dinner recipes, so easy!
The most common way to make refrigerator oatmeal is in individual glass Mason jars. Add ingredients, stir, place in the fridge and then just "grab and go" for breakfast in the morning. I love to prep pumpkin chia pudding like that, too!
No cooking, no baking and minimal dishes, it's a win all around just like when I make strawberry smoothie!
What Are Overnight Oats?
Simple put, cold oatmeal! Raw oats are soaked overnight usually in some type of creamy milk mixture. In the morning, the oats are ready for breakfast or healthy snacks.
You can use any type of oats, although old fashioned oats are more commonly used as they come out super soft and delicious.
This no cook oatmeal is appealing for many as it can be made with gluten free oats, can be dairy free, is perfect for busy mornings when you rely on grab and go breakfast items and can be ate cold or warm!
Health Benefits
Whole grain: Oatmeal is a whole grain and a nutritious way to start the day!
Fiber: 1 serving of this healthy overnight oatmeal contains 9g of fiber. 
Gut health: Raw oats are a resistant starch and help keep your ratio of 'good' to 'bad' gut bacteria balanced. You may also like to learn how to make kombucha tea.
Nutritional value: Because there is no heat involved, you get the full nutritional value that oats overnight have to offer!  
Less stress: Yes! Meal prep these overnight nights and make mornings a little less hectic. 
Base Recipe Ingredients
To make basic healthy overnight oats recipe you will need 6 simple ingredients:
Oats: Technically, any oats will work. The only difference is nutrition and texture.
Chia seeds: Add fiber, protein and healthy fats, and also make healthy overnight oats thicker.
Any milk: Any plant based milk like almond milk or soy, coconut or cashew milk, oat milk or regular dairy milk works!
Milk makes your refrigerator oatmeal creamy! You can use water, but your oats will be lacking in both the flavor and texture milk adds.
Yogurt: You can use any yogurt, Instant Pot yogurt, or even plant-based. It makes oatmeal creamy and adds protein!
Maple syrup: Adds taste, I wouldn't recommend using honey because it doesn't dissolve well in cold milk. For sugar free or low sugar omit maple syrup and use mashed banana instead. Or use calorie free dry or liquid sweetener of choice.
Vanilla extract: Just a 1/2 tsp of pure vanilla extract, not the artificial kind for best taste. You could also use almond extract for a variation!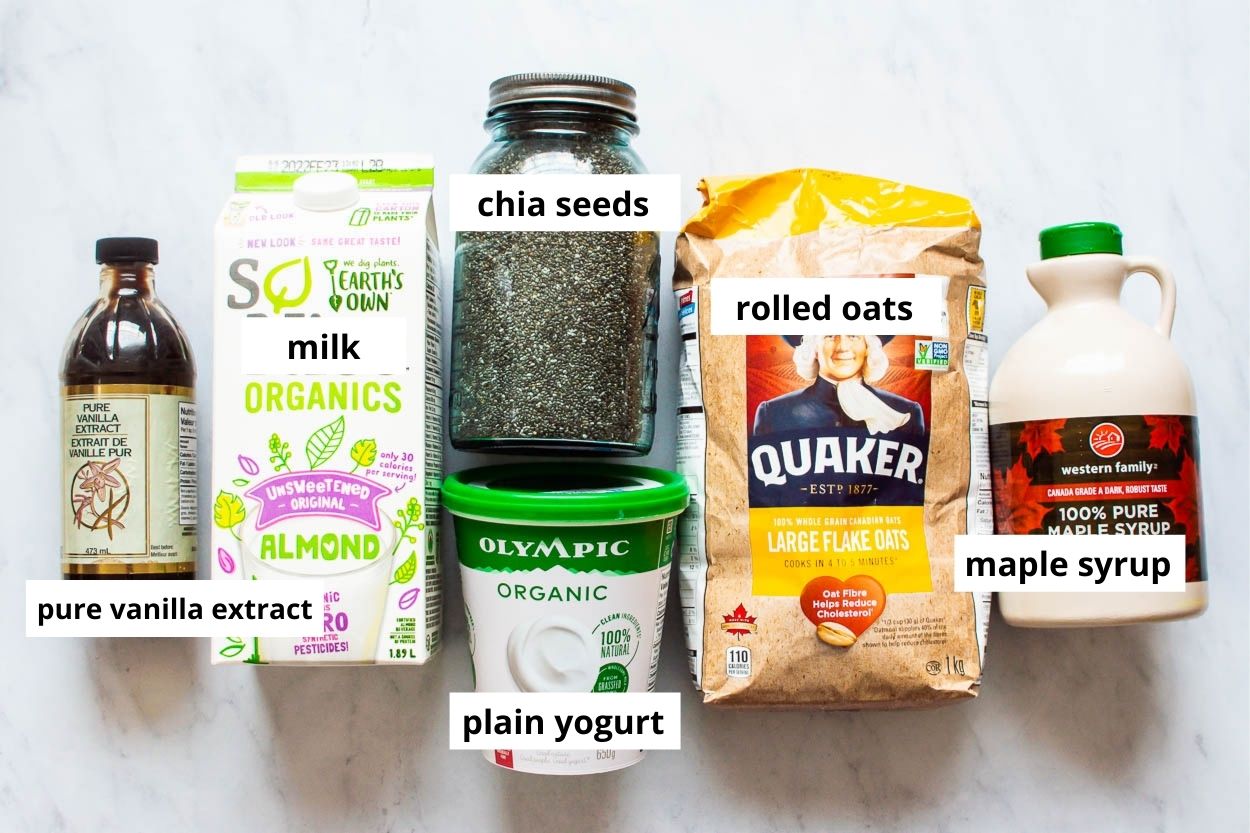 How to Make Healthy Overnight Oats
The best part about healthy overnight oats is how quickly you can prep them! Only easier might be green smoothie.
Prep: Add milk, yogurt, maple syrup, vanilla, oats and chia seeds to any glass container with a lid. Stir well with a spoon.
Refrigerate: Overnight is the best way to avoid dry oatmeal and give time for milk to absorb into oats. However, healthy overnight oats can be enjoyed after 4 hours.
Enjoy: In the morning, stir and if overnight cold oatmeal is too thick, adjust with milk. Heat in microwave or enjoy cold.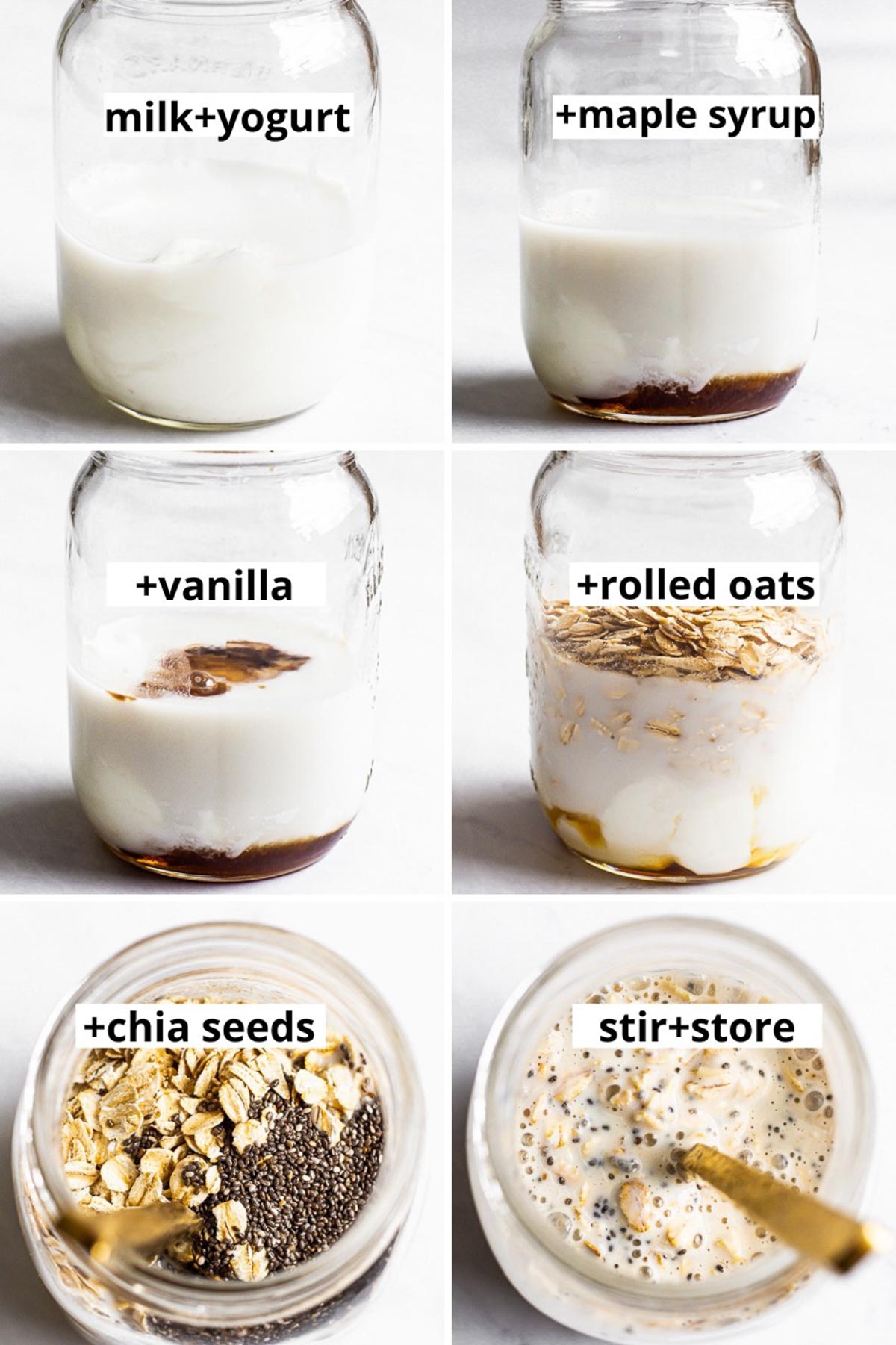 Variation Ideas
My favorite way is to flavor oats when prepping and just grab and go in the morning.
However, you can always make just the basic healthy overnight oats and top with your favorite toppings like nuts, fresh fruit, healthy granola or leftover healthy fruit salad before enjoying.
My favorite 6 flavor variations to basic healthy overnight oats include:
Blueberry: Add a squeeze of lemon and 1/2 cup fresh or frozen blueberries. You could swap the berries for strawberry overnight oats. Now you have fruit pie overnight oats, yum!
Tropical: Use only 1/4 cup any milk, add 1/2 cup canned coconut milk, 1/4 cup chopped pineapple and 1 tbsp of coconut flakes. It's tropical cheesecake overnight oats!
Peanut butter overnight oats and jam: Add 1- 2 tbsp of favorite jam and 2 tbsp peanut butter (or any nut butter). You might also like to add a small amount of protein powder like I do in protein cookies.
Pumpkin: Add 1/4 cup pumpkin puree and 1/2 tsp homemade pumpkin pie spice substitute (or store bought) .
Banana: Add 1/2 mashed up banana and 1/2 tsp cinnamon.
Chocolate: Add 1 extra tbsp of maple syrup, 1 tbsp cacao powder and 1 tbsp mini chocolate chips.
The best part of easy overnight oatmeal recipes are the sky is the limit when it comes to variations! I have even used leftover healthy cranberry sauce in them for a seasonal breakfast.
Best Jars to Use
When it comes to best jars to make your healthy overnight oatmeal, you will want to pick a container that is large enough to stir your mixture together without making a mess.
I like to make oatmeal in these 16 oz Mason jars because they fit it in comfortably and with additions. Plastic lids can be used if enjoying oats at home, for on-the-go you must use tight crew-on metal lids.
How to Store and Meal Prep
Store: Refrigerate for up to 5 days. Always check oats before eating. Five days is great for your basic refrigerator oatmeal recipe. If you are adding fruit, you may need to use within 3 days.
Freeze: I have not tried this but I am sure you can freeze leftovers, texture may change upon thawing.
Meal prep: Make a few variations and store in the refrigerator for easy breakfasts all week! You can also double, triple or quadruple the recipe in a large bowl with a lid or plastic wrap. Then portion out in the morning.
FAQs
How long do healthy overnight oats last?
Per my recipe testing, 5 days is the max, so make these Sunday night to enjoy all work week long!
Are easy overnight oats good for weight loss?
Really this depends on your healthy eating goals. Overnight oatmeal is full of healthy nutrients and fiber, so it fills you up with wholesome ingredients!
How much healthy overnight oats should I eat?
One cup is the serving size, but of course this really depends on your own nutritional goals.
Do I have to use yogurt?
You don't have to, but it does add the best creamy texture.
Will oats expand as they soak?
Yes, so take that into consideration and don't fill your jar to the brim. Oats will absorb milk and typically expand 10-15% but this could vary based on type of oats used.
Oats Too Thick or Too Thin?
If your healthy overnight oats mixture is too thick, add more milk.
If your mixture seems too thin, add more oats and let sit for at least 30 minutes.
Can You Eat Them Hot?
I know many cannot eat a cold breakfast. Or let's say it's January. Sure thing, warm up the oatmeal in a microwave for 45-60 seconds or on a stovetop in small pot. Treat it like healthy breakfast casserole.
How Long Should I Soak The Oats?
Overnight 🙂 Really, though, it will depend on the oats you use. Rolled oats may be good to go within 4 hours. Other oats, like steel cut oats, are best up to 12-24 hours later. Try out a few different oat varieties to discover which refrigerator oatmeal you like the best.
More Recipes With Oats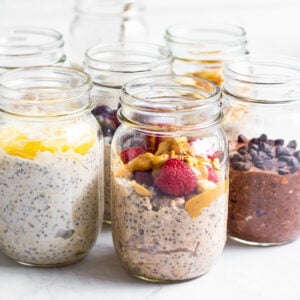 6 Best Healthy Overnight Oats
Ingredients
Instructions
For basic oats, in 16 oz glass container/jar with a tight seal lid, add milk, yogurt, maple syrup, vanilla extract, oats and chia seeds. For flavored recipes, add ingredients as per that recipe.

Stir well with a spoon, put lid on and refrigerate for at least 4 hours or overnight.

When ready to eat, stir and and enjoy. If overnight oatmeal is too thick, adjust with milk. You can eat it cold or warm, to warm up – place in a microwave or on a stovetop in small pot. 
Notes
Store: Refrigerate for up to 5 days.
Freeze: You can freeze overnight oats, however texture may change.
Types of oats: Technically, you can use any oats, however rolled oats yield the best texture. 
Sweetener: Any liquid sweetener will work, however I find honey doesn't dissolve well in cold milk.
Yogurt: You can use any yogurt – plain, flavored, Greek or any plant-based. I tried them all and overnight oats turn out super yummy with any yogurt!
See recipe post for more tips and FAQs.
Nutrition
Serving:
1
cup
|
Calories:
335
kcal
|
Carbohydrates:
50
g
|
Protein:
10
g
|
Fat:
11
g
|
Saturated Fat:
2
g
|
Trans Fat:
1
g
|
Cholesterol:
8
mg
|
Sodium:
278
mg
|
Fiber:
9
g
|
Sugar:
16
g