Packed with bright flavors of citrus and cranberries, Healthy Cranberry Orange Muffins are an easy holiday healthy breakfast idea or snack! Yogurt gives these muffins both a moist and light texture while whole wheat flour adds fiber. 
Love fruity baked goods? You might also like these healthy lemon bars, healthy blueberry muffins or much loved banana bread with applesauce!
These healthy cranberry and orange muffins are not only beautiful to look at but they use simple and wholesome ingredients like many of my healthy muffin recipes that you either already have on hand or can easily find at the store.
With natural sweetener, whole grain flour and healthy fats, there is no reason why our baked goods can't be better for us, too!
I love making healthier versions of my favorite fruity desserts like healthy no bake strawberry cheesecake, healthy 100% fruit healthy homemade popsicles, healthy key lime pie bars, and more!
Bursting with fresh flavor, these cranberry muffins are not only fluffy and moist, but full of holiday cheer. Try healthy strawberry muffins during summer months!
Why Make Healthy Cranberry Orange Muffin Recipe?
Nutrient dense: These healthy muffins swap processed white flour for fiber rich whole wheat or spelt flour! 
Superfood cranberries: Not only do cranberries provide a vibrant pop of color, they are rich in antioxidants and vitamin C.
No refined sugar: Maple syrup is less processed as well as has a lower glycemic index and because it is sweeter to the taste you can use less of it in recipes. 
Yogurt: Not only does it keep these healthy cranberry muffins moist and fluffy, it adds calcium and is lower in fat than sour cream. 
One bowl: You will make the batter for these fresh cranberry muffins in one bowl, because who needs more dishes during the holidays?
Versatile: Use fresh, frozen or dried cranberries and muffins can be made gluten free and even egg free! 
Perfect balance of flavors: Sweet and tart cranberries combined with juicy citrus is sure to make these deliciously moist muffins ones everyone will love!
Ingredients for Orange Cranberry Muffins
Whole wheat or spelt flour: I love using nutrient dense whole grain flours for muffins. If using all purpose flour, use 1 cup for every 3/4 cups whole wheat. You'll also need to reserve a bit of flour for dusting the cranberries.
Liquid sweetener: Maple syrup, honey, or agave. Do not use dry sweetener, it must be liquid.
Plain yogurt: Adds moistness to the muffins. Try to avoid Greek yogurt unless you are a more experienced baker and know how to balance the liquids.
Oil: Neutral oils like avocado, melted coconut oil, light olive oil, or melted butter.
Egg: For binding and lift, see section on variations for egg free.
Orange zest: Pairs so well with cranberries, I also use this combination of flavors for cranberry sauce and cranberry orange oatmeal cookies.
Fresh or frozen cranberries: Either works! You can also use dried cranberries, just be sure they are unsweetened are you will be adding a lot of extra sugar.
Stock up on cranberries when they are on sale during late fall/early winter and store them in the bag they came in the freezer for 8-12 months!
Baking staples: Pure vanilla extract, baking powder, baking soda and salt for both taste and lift in baked goods.
Organic cane sugar (optional): I love to add a little 'sparkle' to these muffins when baking them at the holidays! You could substitute granulated monkfruit (or another granulated sugar free product) to keep these lower in sugar.
How to Make Cranberry Orange Muffins
This is a no fuss cranberry orange muffin recipe. A little prep and some combining in a bowl, and you're well on your way!
Prep: Preheat the oven and spray a nonstick muffin tin, silicone, or otherwise, with cooking spray. Use muffin cups if you have them. If you can find unbleached and chlorine-free muffin wrappers, feel free to use those. They're super convenient and pretty cute! It makes releasing out of the tin really easy. Set the prepared tin aside.
Grate zest: I use my microplane grater and grate the orange peel over a shallow bowl.
Whisk wet ingredients: In a large mixing bowl, whisk the egg for 10 seconds. Then add all of the ingredients with the exception of the flour and cranberries. Whisk until there are no lumps.
Add dry ingredients: Add baking staples, whisk, then add flour and gently stir to combine.
Over mixing your batter will cause too much air to be released and the result will be dense not fluffy muffins.
'Dust' and add cranberries: Grab a medium bowl, and add cranberries and a tbsp of flour. Stir to coat. Once they're nice and coated, add them to the muffin mix and stir gently to combine. I do the same trick with my almond muffins with berries, too!
The flour will help absorb some of the juice from the cranberries so it won't sink to the bottom of the batter. The beauty of these muffins is seeing the flecks of cranberries all over! If you are using dry cranberries, no need to do this.
Scoop and sprinkle: Using an ice cream scoop, pour the batter into prepared muffin tins, trying to divide them as evenly as possible. For no other reason than to have them bake evenly and so they look uniform. If you'd like, you can sprinkle the top with a bit of granulated sugar for that 'holiday' sparkle!
Bake: Bake for a total of 23 minutes, starting with higher heat to help muffins rise to that bakery style look. Then reducing the heat part of the way through. Remove them from the oven to cool before transferring to a cooling rack.
Test for doneness: Insert a toothpick into the middle of one of the muffins. If it comes out clean, that's a good indication they are done. 
Optional Add-Ins and Variations
Gluten free: Try gluten free all-purpose flour. Bob's Red Mill makes it. It's a bit drier, so if you have experience with baking, try adding a bit of liquid like milk to thin out the batter. If you're not experienced, perhaps don't take the chance as putting too much milk it may be a problem! Either way, plain yogurt will give your muffins added richness and a slight tang. So good!
Dried cranberries: If you are using dried cranberries, use unsweetened. This way your muffins won't be overly sweet.
Streusel: Combine flour, butter, and sugar for an indulgent streusel topping.
Sugar: The added sprinkling of sugar on top gives the muffins a lovely added texture, a bit of sparkle, and extra sweetness. I use raw cane sugar. You could use turbinado raw sugar or even your favorite granulated sugar free product.
Glaze: Alternately, skip the sugar and make an orange glaze by combining icing sugar and orange juice, like I do in my healthy gingerbread.
Zest: You could use lemon zest like in lemon zucchini muffins or healthy lemon blueberry muffins, it will add a different flavor profile, but still a lovely citrus taste.
Nuts: A small amount 1/4 to 1/2 cup of chopped pecans or walnuts could be added to the batter.
Chocolate chips: Add 1/2 cup of your favorite chocolate chips- dark, semi-sweet, white or sugar free.
Tips for Best Results
Finding the right yogurt: Use at least 2% for body and thickness but not Greek as it is too thick. See, it really is a science! 
Wet to dry ingredient ratio: If you use dry sweetener like sugar, batter consistency will be thrown off and muffins will not turn out.
Don't over mix the batter: Do not use an electric mixer for this recipe, it will result in dense muffins. Use a spatula and mix gently to combine.
Use pure vanilla extract: For both taste and health reasons.
Proper flour measurements: Although you can get creative with flavours and toppings, measurements aren't as flexible when it comes to baking. I like to use the scoop and level method for flour. Scooping adds air into the flour and then leveling with a knife ensures your measurement is precise. 
FAQs
Are cranberry orange muffins healthy?
This really depends on your definition of healthy! My recipe uses wholesome ingredients for a healthier cranberry orange muffin that contains whole grains, no refined sugar and gets its flavor from fresh orange zest and cranberries.
Can I make these cranberry and orange muffins vegan?
Use an egg replacer and a dairy free yogurt. I have not tested this recipe with a dairy free yogurt, so I can't say exactly what kind to use. If you try, leave a comment!
Can I make these healthy cranberry orange muffins sugar free?
While they still may have some naturally occurring sugar, you could use a liquid sugar free sweetener in place of maple syrup and then a granulated sugar free product for the sprinkle on top.
What type of cranberries should I use in fresh cranberry muffins?
That is the beauty of these muffins, use fresh, frozen or even dried cranberries!
How long do I mix these muffins before baking?
Only until the dry ingredients are incorporated. Otherwise over mixing will lead to dense muffins.
Do I need to cook cranberries before baking muffins?
No, although I do always recommend rinsing them in water!
How to Serve Cranberry and Orange Muffins?
These healthy cranberry muffins are decadent enough to be enjoyed for dessert but healthy enough to grab for breakfast!
Breaking open one of these little treats and watching the steam release is enough to make your heart sing. Enjoy!
How to Store Fresh Cranberry Muffins?
Store: In a cool dry place for up to 3-4 days. Place in refrigerator for longer storage up to 5 days.
Freeze: In a freezer safe container for up to 3 months.
More Healthy Muffins Recipes
Alternately, you may love this list of my healthy muffin recipes!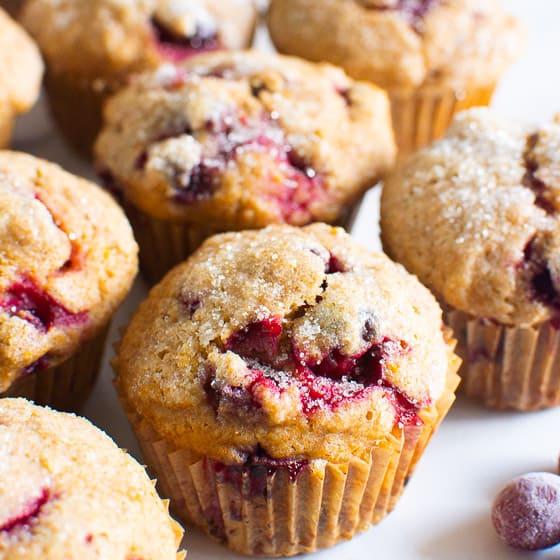 Healthy Cranberry Orange Muffins
Ingredients
1

large

egg

1

cup

plain yogurt

1/4

cup

avocado, melted coconut, light olive oil or melted butter

1

cup

maple syrup, honey or agave

1

large

orange, zest of

1 tbsp

1

tbsp

pure vanilla extract

1

tbsp

baking powder

1/4

tsp

baking soda

1/4

tsp

salt

3

cups

whole wheat or spelt flour + 1 tbsp, for dusting berries

2

cups

cranberries

fresh or frozen

1

tbsp

sugar

for sprinkling on top
Instructions
Preheat oven to 425 degrees F and spray non-stick 12 muffin tin with cooking spray. Set aside.

In a large mixing bowl, whisk the egg for 10 seconds.

Add yogurt, oil, maple syrup, orange zest, vanilla extract and whisk. Add baking powder, baking soda and salt; whisk very well until no lumps. Add flour and gently stir until well incorporated. Do not over mix otherwise muffins will be tough.

In a medium bowl, add cranberries and 1 tbsp flour, stir to coat with a spoon. Add to the bowl with batter and give a few more gentle stirs to incorporate.

Using an ice cream scoop, divide batter between 12 openings of previously prepared muffin tin and sprinkle with sugar.

Bake for 10 minutes in preheated to 425 degrees F oven. Reduce heat to 375 degrees F (no need to wait for oven to cool off) and bake for another 13 minutes or until a toothpick inserted in the centre comes out clean.

Remove from the oven, let muffins cool for about 5 minutes and transfer to a cooling rack to cool off a bit more.
Notes
Store: Store in a cool dry place for up to 3-4 days.
Freeze: In freezer safe container up to 3 months.
Has to be liquid sweetener: If you use dry sweetener like sugar, batter consistency will be thrown off and muffins will not turn out.
All purpose flour? I have not tried it but you can use 1 cup of white flour for every 3/4 cup of whole wheat flour that recipe calls for.
Gluten free flour? The only one I would recommend is all-purpose gluten free flour. 
Yogurt: Greek yogurt is more thick than regular because whey has been removed, batter may need to be thinned. I use at least 2% yogurt. Skim yogurt will work.
Sugar: The added sprinkling of raw cane sugar on top gives the muffins a lovely added texture, a bit of sparkle, and extra sweetness. Omit, or use your favorite sugar. 
See recipe post for more tips and FAQs.
Nutrition
Serving:
1
muffins
|
Calories:
248
kcal
|
Carbohydrates:
44
g
|
Protein:
5
g
|
Fat:
6
g
|
Saturated Fat:
1
g
|
Cholesterol:
18
mg
|
Sodium:
199
mg
|
Fiber:
4
g
|
Sugar:
19
g