Healthy cauliflower soup. Everywhere I look I see soup. I mean farmers market, grocery store and fridge. Waking up it is dark. Coming from the rink I am cold. Outside is so wet can't even open a hottub. It is pouring cats and dogs in Vancouver non-stop. End of October is not the time to visit beautiful PNW. Let me tell you. Neither is November. It is still beautiful but don't come.
I have looked up tickets to Los Cabos in March and I need to rob a bank. Ugh.
Staying put for now in my first world country, cozying up in bed with The Real Housewives (yes, I love watching someone else's drama) and making lots of spinach lentil soup.
Today on the menu healthy cauliflower soup. Healthy vegan cream of cauliflower soup recipe (minus blue cheese crumbles) that starts with sautéed onion in salted organic butter. You can use vegan butter, coconut oil or avocado oil. The idea is to sauté an onion until fragrant and softened. Using what we have on hand without vegan police patrol (hint: cauliflower risotto). I said – skip the blue cheese crumbles. Soup is still delish! Sprinkle with nutritional yeast.
Overall, this cauliflower soup recipe should be made with fridge's leftovers aka when you buy a head of cauliflower and it starts to turn black. That is when you make Buffalo cauliflower soup. Because I bet you have a year (or two) old Frank's hot sauce in same fridge as well.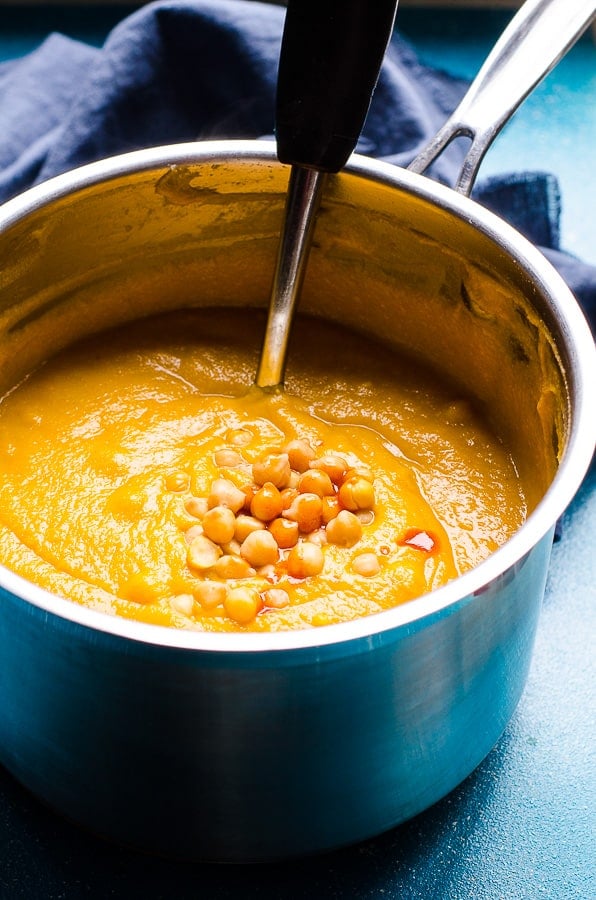 Yep, my life. I always buy more vegetables than we can eat because I am addicted to grocery shopping. I want to buy all produce at the farmers market. Yes, I have a problem.
Though I behaved last Saturday. To the farmers market we arrived in style. In pouring rain, with reusable linen bags and 3 of us. Like the most devoted supporters of local farming. Sustainable organic farming, let me clarify. Alex went with me (a shocker, right?!) and so did our 5 year old (prefaced by a 20 minute drama). "The baby" was calmed down with an organic cinnamon bun ($3.50, ouch but oh well) which gave us 15 minutes to shop.
I loaded up on mini spaghetti squash because I'm planning to develop butter chicken spaghetti squash boats. Kale and celery for green smoothies (Alex is determined to live till 110). Huge Ambrosia apples for snacking – SO GOOD! No spray, sweet, juicy and SO crisp. Mmmm. The bell peppers because I am planning on making slow cooker stuffed pepper casserole. And a few staples like onions (obviously because we are Eastern Europeans), carrots and garlic. Duh.
So, cauliflower didn't come from the farmers market but rather from the Superstore. So, it had to be used up before the fresh produce. Hm, I guess I do have a produce shopping addiction. Which I guess is OK. Much better than a sugar one, right?!
So, yesterday off I went to puree my carrots with cauliflower, adding chickpeas (I think corn would be better) and sprinkling with blue cheese crumbles. While Carole was cleaning my house. Which feels almost like an orgasm. Pardon me but I will say that. Sitting on a couch with a laptop or making my dreams a reality in a kitchen while someone else is vacuuming floors and scrubbing toilets gives me goosebumps. Any sane married woman with children would feel like I do. I just close my eyes and enjoy the humming of the vacuum and inhale the heavenly fumes of a tea tree oil vinegary spray => non-toxic cleaning products.
And you can think of me whatever you want but I earned it. I do feel privileged and uncomfortable to share this information but the point is not to brag but to share a real story of a cauliflower soup. Because in between cleaning and working me and Carole tasted this healthy cauliflower soup both solemnly agreeing that it is amazing with blue cheese. You can't skip the blue cheese (I used organic pasture raised Organic Valley). Just think of the Buffalo chicken wings without the blue cheese sauce. Doesn't make sense, right?! Hot and vinegary velvety smooth soup with sharp and salty pieces of melting blue cheese. So good! Delish!
However, like I said above if you are vegan probably you are used to weird (just different) dairy substitutes and a sprinkle of nutritional yeast would be great on top. I mean it is not the same but will do a cheese's job, sort of. But I am not vegan either so my tastebuds are different. No offences, just giving options.
And did I mention this easy healthy cauliflower soup is ready in 15 minutes with 5-6 basic ingredients?! Hot wings craving killed with cancer fighting vegetable soup. Am I good or am I good?! Enjoy! My belly is rumbling so I am gonna have some hot soup before heading out into the rain for kids' cross country meet.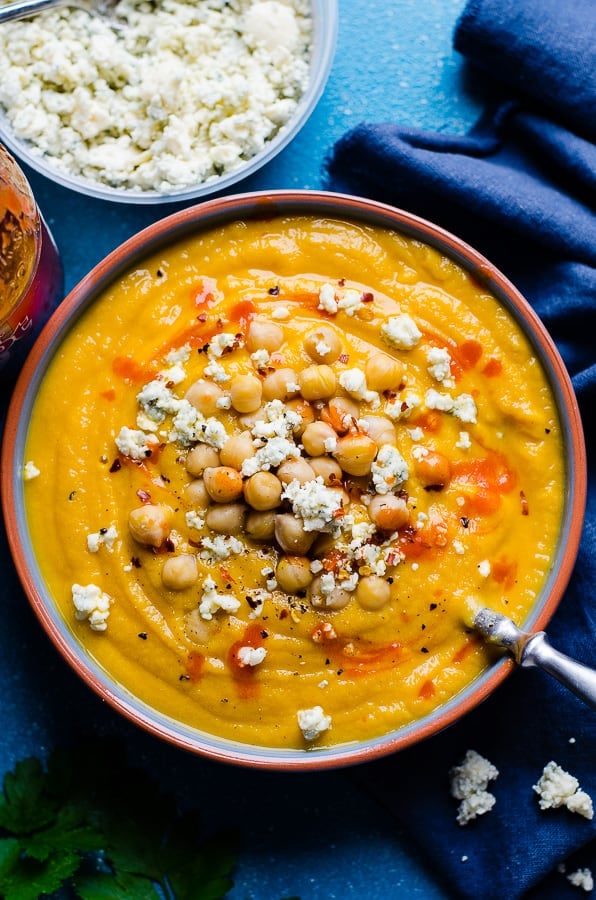 Print
Buffalo Cauliflower Soup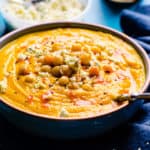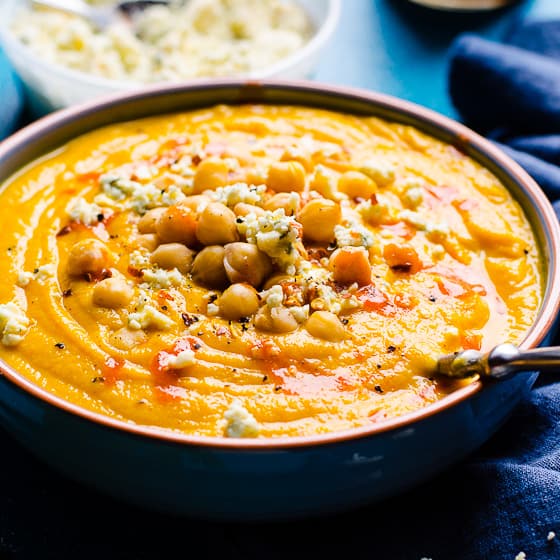 Healthy Buffalo Cauliflower Soup is quick and easy cream of cauliflower soup recipe made in 15 minutes with cauliflower, broth, hot sauce, milk and blue cheese crumbles.
Author:
Prep Time:

8 minutes

Cook Time:

16 minutes

Total Time:

24 minutes

Yield:

6 servings
Ingredients
1 medium onion, chopped
1 tbsp butter, salted*
1 large head cauliflower, chopped into bite size pieces
3 medium carrots, diced
2 cups vegetable stock**
2 cups any milk (I used sweetened cashew)
1/4 cup hot sauce (I used Frank's Red Hot)***
1 tsp garlic powder
14 oz can chickpeas (rinsed & drained) or 1 1/2 cups corn (fresh or frozen)
Blue cheese crumbles, for garnish
Green onion, for garnish
Instructions
Preheat a medium size pot on medium heat and swirl butter to coat. Add onions and cook for 3 minutes, stirring occasionally. Add cauliflower and carrots; cook for 3 minutes, stirring occasionally.
Add stock and milk; stir, cover and bring to a boil. Reduce heat to low-medium and cook for 10-12 minutes or until vegetables are knife tender.
Remove from heat and add hot sauce and garlic powder. Using an immersion blender puree until smooth. Add chickpeas or corn and stir. Serve hot garnished with blue cheese crumbles (so good!) and green onions.
Store: Refrigerate in a glass airtight container for up to 5 days.
Notes
*This is what I had on hand. You can use coconut oil, avocado oil or vegan buttery spread for vegan version. **If not vegan chicken broth would work great. ***Use more or less to taste. 1/4 cup makes mild soup.
★ Did you make this recipe? Please give it a star rating in the comments.