Healthy Cobb Salad loaded with wholesome ingredients from lean chicken breast to fresh greens, salty blue cheese, and crispy bacon. Topped with a healthy ranch dressing no one will realize they are eating a lightened up version!
In summer, cold salads like this chicken cobb salad, avocado corn salad, mango black bean salad and Thai chicken salad are where it's at. Enjoy!
I have to say healthy cobb salad is not the quickest salad I have ever made, definitely not as quick as other salad recipes in my repertoire, but it lasts for days and is perfect for fridge/freezer clean out.
I'm an unconventional cobb salad eater. Not only I tried it first time in Disneyland, I also used the "wrong" dressing in creating my version.
But if you ask me, I don't see much difference between a chef's salad and a cobb salad.
I believe life is too short not to eat or to die from a heart attack, though. So this lightened up salad still has all the favorite cobb salad ingredients that makes it restaurant quality delicious!
Why You'll Love This Recipe
Hearty: Most salads only get to call themselves a 'side'. Not so for this one, it's a meal in itself!
Nutritious: This salad is balanced with protein, fiber, healthy fats, and loads of vitamins!
Lightened up: Instead of large amounts of high in saturated fat bacon, eggs, and blue cheese, this salad uses just enough to still be amazing.
Make ahead: In fact it's encouraged with this salad as the ingredients taste amazing cold!
Ingredients for Healthy Cobb Salad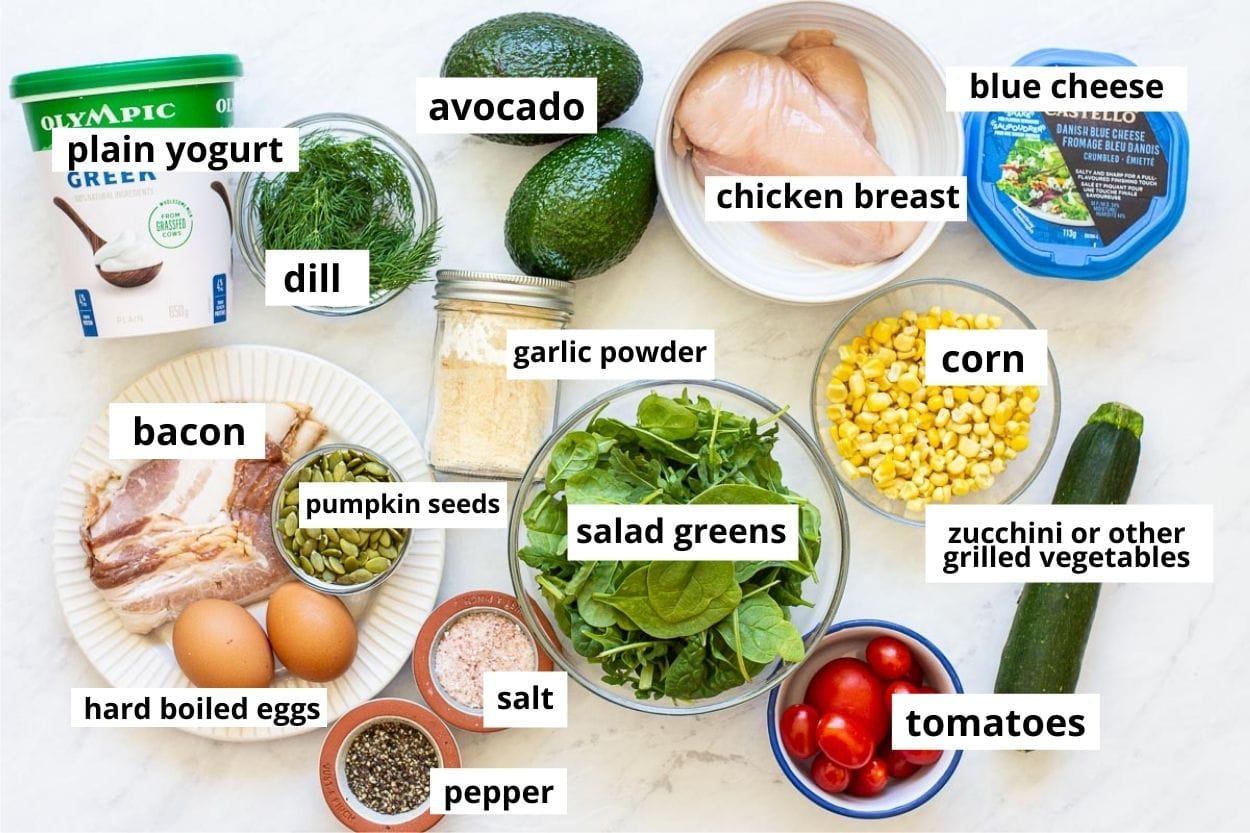 What's not in my healthy cobb salad you mean? It has everything but the kitchen sink.
Greens: Use vitamin and nutrient rich arugula, baby kale or spinach. They offer way more health benefits than iceberg lettuce.
Chicken: I usually use leftovers of Instant Pot frozen whole chicken, but grilled chicken breast or even deli rotisserie chicken ("hello", real life) is fine.
Corn: Sweet corn adds bright color and sweet taste to the salad plus is rich in vitamin C.
Bacon: Just three strips adds enough of that delicious unique flavor.
Hard boiled eggs: This time I used air fryer hard boiled eggs.
Pumpkin seeds: They add healthy fats to keep you full longer as well as crunch.
Grilled vegetables: This is where your nutrition boost is at. I like to use zucchini, bell pepper, and mushrooms.
Avocado: Creamy plus adds healthy fat. Learn how to cut an avocado correctly to avoid any kitchen mishaps.
Cherry tomatoes: Juicy tomatoes bursting with freshness are so good in a salad.
Blue cheese: A unique salty taste like none other, it pairs so well with the sweet veggies and zesty greens.
How to Make Healthy Cobb Salad
This salad has it all going on and really when you break down the steps it's simple! Just prep, assemble, combine, and consume.
Make the dressing: Add all your healthy ranch dressing ingredients to a jar and stir with a fork or my favorite method is to place the lid on and give it a few shakes!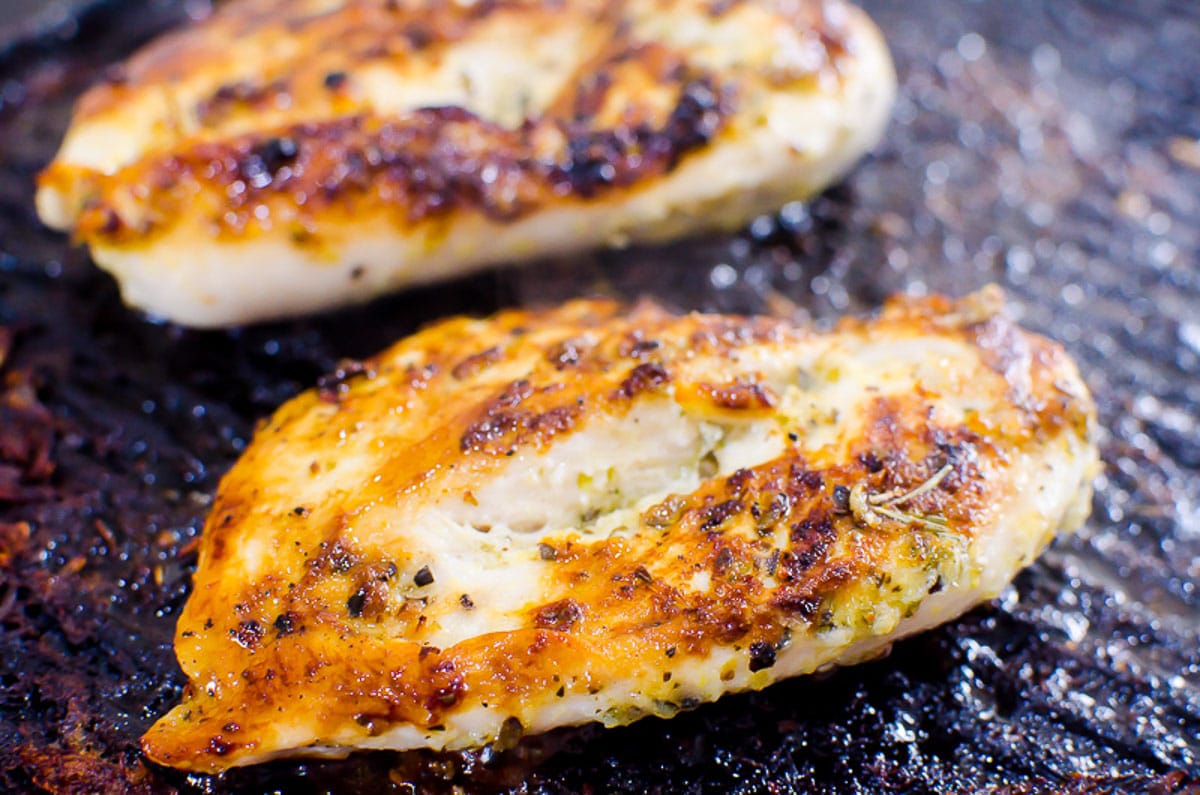 Cook chicken: Use your preferred method for cooking chicken. This time I grilled it and it really depends on the day, my energy levels and weather.
I am in love with air fryer chicken breast lately. So easy! Or use cooked chicken leftovers all together.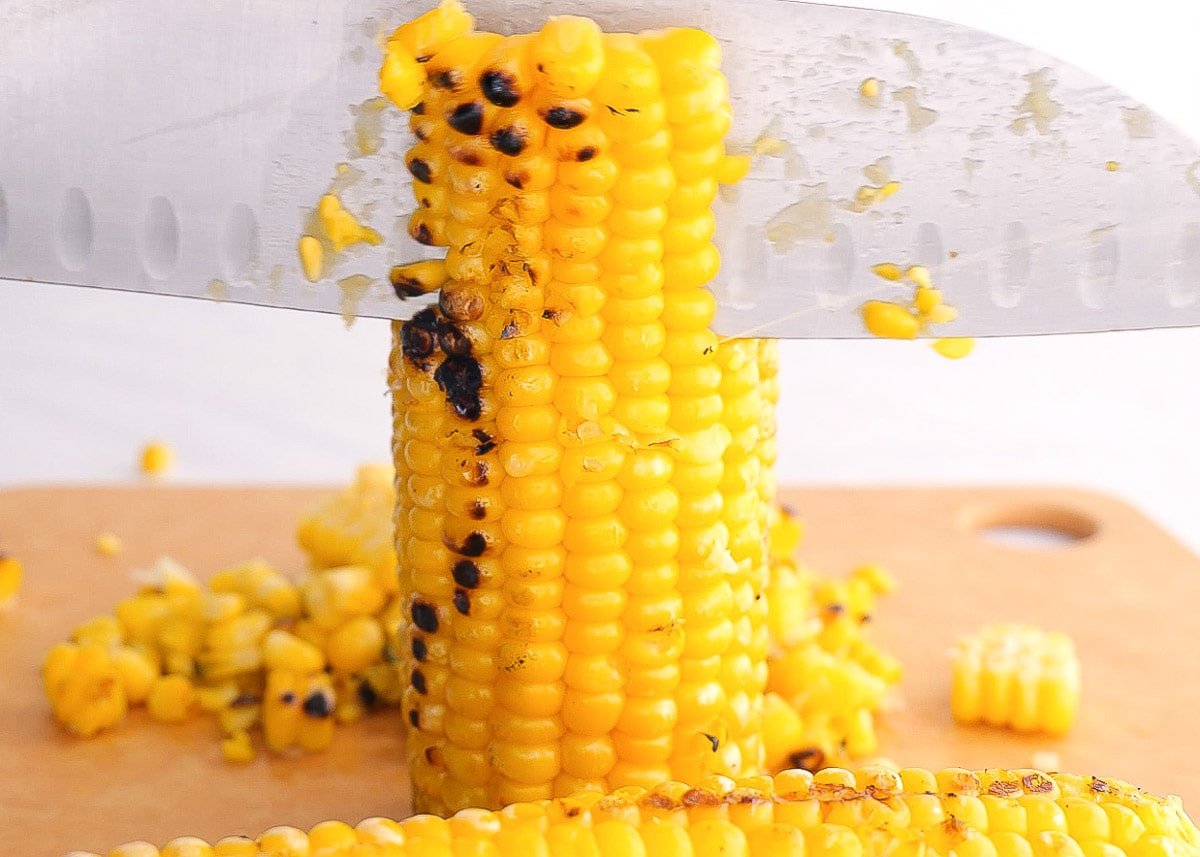 Cook corn: Grill without husk turning slowly every few minutes, boil on the stove, or I love Instant Pot corn on the cob in 2 minutes. Thawed previously frozen corn works, too!
To remove corn kernels from a cob, simply cut them off with a sharp knife. Do not go too deep not to get some of the hard tissue cob.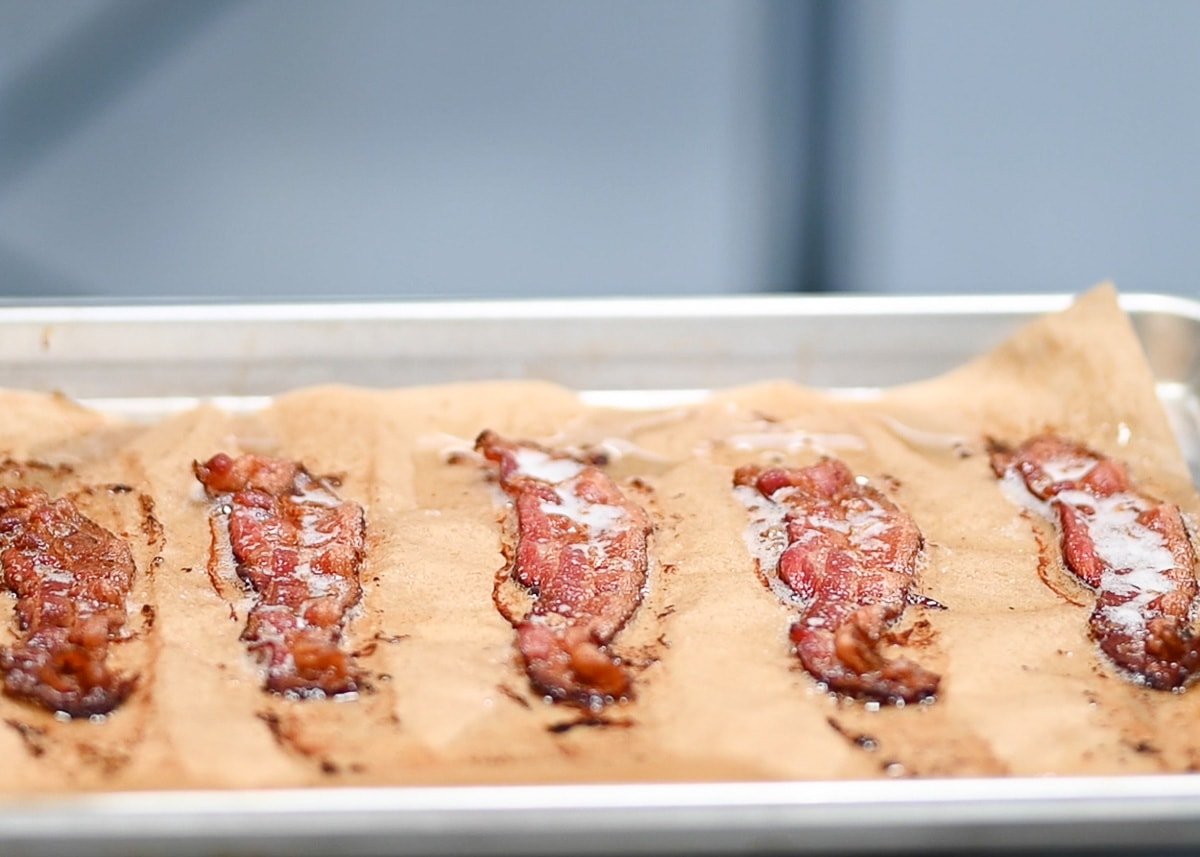 Cook bacon: Pan fry in a skillet until crispy or bake at 400 degrees F for 20 minutes. Then drain on paper towel.
When cool enough to handle, chop into pieces.
Toast pumpkin seeds: Pan fry on low-medium heat after your bacon until fragrant, stirring frequently. Just make sure to drain the bacon grease from the skillet first.
Grill vegetables: Drizzle firm veggies with olive oil and sprinkle with salt, pepper, and garlic powder to taste. Grill on medium heat until nice grill marks appear, turn, and grill more.
I am using zucchini this time. But bell peppers are my second fave.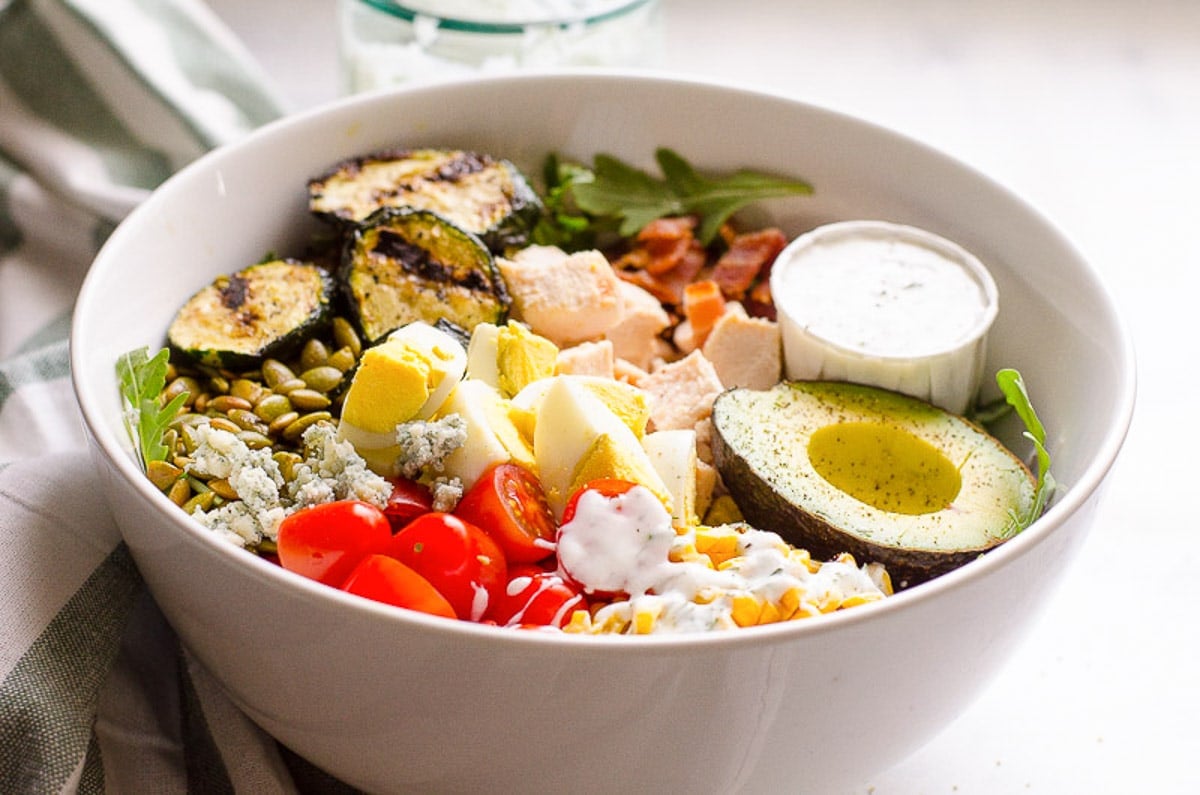 Assemble: The best part! I love to place the greens in first and then arrange the chicken cobb salad toppings around the bowl, and then finish with a drizzle of the dressing. You do you when assembling, though!
Substitution Tip
One of the best things about this chicken cobb salad is that you can use what you have on hand for the most part!
What Dressing to Use?
I used healthy ranch. The base is plain Greek yogurt, therefore dressing has 10 times less calories than store bought.
It is my favorite dressing for a healthy cobb salad because it is creamy and cool. I love the taste of healthy ranch combined together with chicken, bacon, crunchy greens, and tomatoes.
You can also try my poppyseed dressing or avocado cilantro dressing.
What to Serve with This?
I usually eat cobb salad during the summer and it really is a meal in itself! That being said, though, here are a few light healthy sides that I serve with it!
As a starter, I love to serve garlic olive oil bread dip with a loaf of crusty bread. I often serve one of these best charcuterie board ideas, too.
More FAQs
Is cobb salad healthy?
This cobb salad is! It's naturally gluten free, plus by reducing the amount of high saturated ingredients used and adding more fiber and nutrition rich vegetables and seeds.

Plus using very low fat, sodium and calorie dressing, this healthy cobb salad recipe is a delightful compromise.
This salad seems complex, how can I make it easier?
I hear you! The longer list of ingredients may make it seem like it is complex. But indeed, it's not when you use leftover baked chicken breast from last night's dinner, Instant Pot hard boiled eggs from breakfast, and prep your bacon a day or two beforehand.

Now assembling your salad will be a breeze!
Can you keep leftovers?
You can refrigerate healthy chicken cobb salad all prepped in a bowl without the dressing for up to 3 days. Add avocado right before serving otherwise it will go brown.

Cobb salad meal prepped in jars will last for up to 5 days.
More Main Dish Salad Recipes
You might also love to browse all my healthy salad recipes!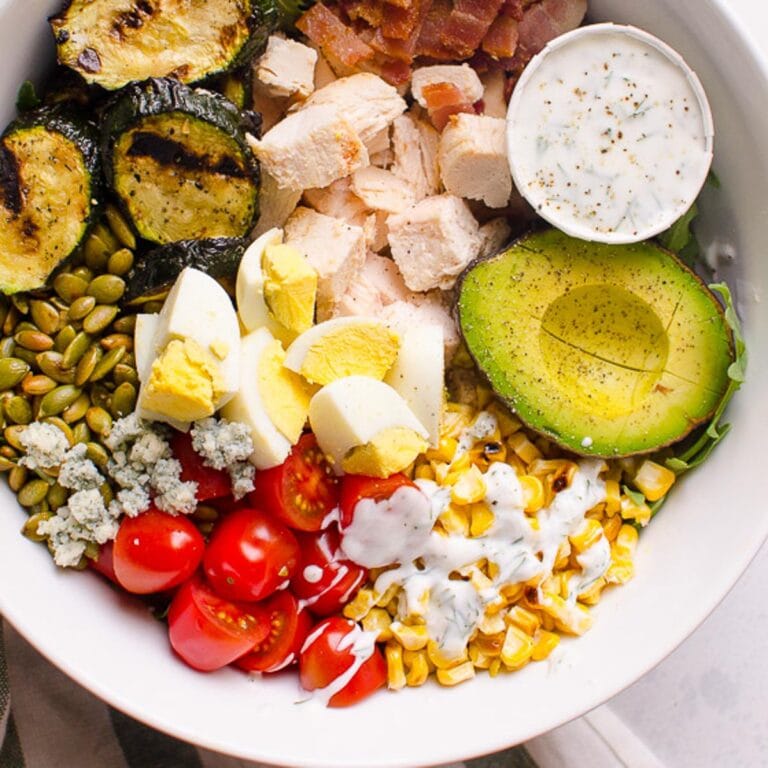 Healthy Cobb Salad with Chicken
Ingredients
Healthy Cobb Salad
1

small container

of arugula or your favorite greens

1

lb

cooked chicken breast

cubed

2

hard boiled eggs

chopped

3

bacon strips

fried, drained and diced

2

cooked ears of corn

or 1 cup frozen (thawed) corn

1/2

cup

pumpkin seeds

roasted

2

avocados

chopped

1

pint

grape tomatoes

cut in halves

2

tbsp

blue cheese

crumbled

1

cup

any grilled vegetables

sliced
Instructions
Make the dressing: In a small jar with lid add yogurt or buttermilk, dill, garlic powder, salt and pepper. Stir with a fork or shake the jar well. Set aside.

Cook corn: Grill without husk turning slowly every few minutes, boil or I love Instant Pot corn on the cob in 2 minutes. When safe to handle, cut off kernels with a sharp knife.

Cook bacon: Pan fry until crispy or bake at 400 Degrees F for 20 minutes. Drain on paper towel.

Toast pumpkin seeds: Pan fry on low-medium after bacon (drain the fat from the skillet) until fragrant, stirring frequently.

Grill vegetables: Drizzle firm veggies like zucchini, bell pepper, mushrooms with salt, pepper, olive oil and garlic powder to taste. Grill on medium heat until nice grill marks appear, turn and grill more.

Assemble salad by combining all ingredients in a large bowl and drizzling with ranch dressing.
Notes
Store: Refrigerate salad without the dressing for up to 3 days. Add avocado before serving. Dressing lasts 1 week refrigerated in a jar.
Meal prep: This is an order of layering salad in a jar to avoid soggy salad: dressing, grape tomato, corn, veggies, greens, bacon, egg, seeds. Add avocado before consuming or skip. Refrigerate for up to 5 days.
Greens: Crisp romaine could be used.
Vegetables: Use leftovers of marinade for grilled vegetables or just use raw sliced cucumber, bell peppers, carrots, broccoli or whatever veggies are hiding out in the back of the fridge.
Nutrition
Calories:
408
kcal
|
Carbohydrates:
18
g
|
Protein:
34
g
|
Fat:
24
g
|
Saturated Fat:
6
g
|
Cholesterol:
141
mg
|
Sodium:
313
mg
|
Fiber:
6
g
|
Sugar:
7
g