Homemade Instant Pot Applesauce made with apples, water, lemon juice, and no added sugar is ready in under 30 minutes. There is no stirring at the stove, just dump the apples, peeled or not, add the water and the pressure cooker does the work!
Then enjoy it on its own for healthy snacks or use it to make healthy apple bread or healthy apple muffins!
Nothing says fall like warm apples which means there is no better time to make this Instant Pot applesauce or healthy baked apples.
Plus, as one of my favorite Instant Pot recipes for beginners it's too easy not to make!
The Instant Pot does all the work for you in this homemade applesauce, no more stirring for hours at the stove! It's pure and simply made, with the option of adding in a little natural sweetener and cinnamon if you'd like.
My kids love it as a healthy and nutritious snack. Sometimes I mix in Instant Pot yogurt and a drizzle of maple syrup, and they're in heaven!
There's just something about the aroma of homemade applesauce, especially when the cooler weather comes knocking. Knowing it doesn't come with tons of added sugar is a bonus.
It's a great way to use up any apples that have been sitting around a while.
You can make a large amount in your pressure cooker and have it for days or freeze whatever you don't use making it a cost effective way to batch cook!
There are so many uses for this Instant Pot applesauce recipe! Use it in baking to reduce oil and act as a natural sweetener.
Healthy banana bread and healthy blueberry muffins are two favorites and we even use it in healthy BBQ sauce.
Ingredients Needed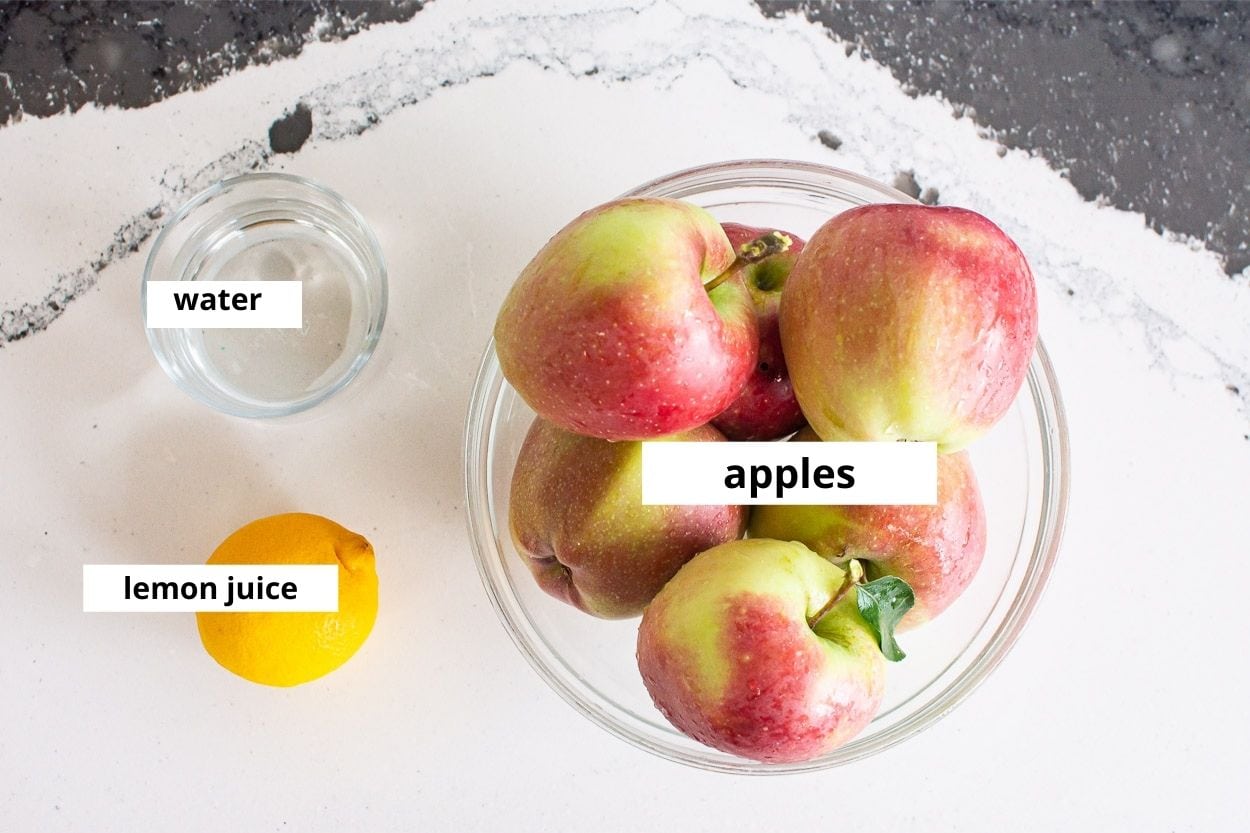 With very little time, effort and only 3 ingredients, you'll never buy store bought again!
Apples: You will need 3 pounds, which is 5-6 large apples. They will need to be cored and quartered. Can be peeled or not.
Cold water: If you double the number of apples for pressure cooker apple sauce, don't double the water.
Fresh lemon juice: Can also use citric acid. Adding either will help keep your applesauce from browning and oxidizing too quickly.
Optional seasonings: Adding a tablespoon of maple syrup as an additional sweetener to your unsweetened applesauce recipe can help if your apples are sour. Adding a tsp of cinnamon adds warm flavor. Season to your liking.
What Are the Best Types of Apples to Use?
What type of apples you use will impact the finishing taste and sweetness of your applesauce. To eliminate the need for any added sugar, use naturally sweet apples such as Gala, Fuji or Honeycrisp.
You can also you use a blend of apples!
Golden delicious, McIntosh and Ambrosia are other popular apples to use. Granny smith is more tart but is a nice balance to sweeter varieties of apples.
How to Make Applesauce in The Instant Pot
Homemade applesauce made in the Instant Pot is so easy! Like, ridiculously easy! The hardest part might be deciding if you want to peel your apples or not.
Prep: Peel (or not) the apples for Instant Pot applesauce. As mentioned above, peeling your apples will give you a similar consistency to store bought. Core and cut the apples into quarters. If not peeling, the easiest way is to use an apple slicer.
Set Instant Pot: Add the apples to 6 or 8 quart Instant Pot along with water. Close the lid and set pressure release valve to Sealing and press Pressure Cook on High or Manual for 8 minutes.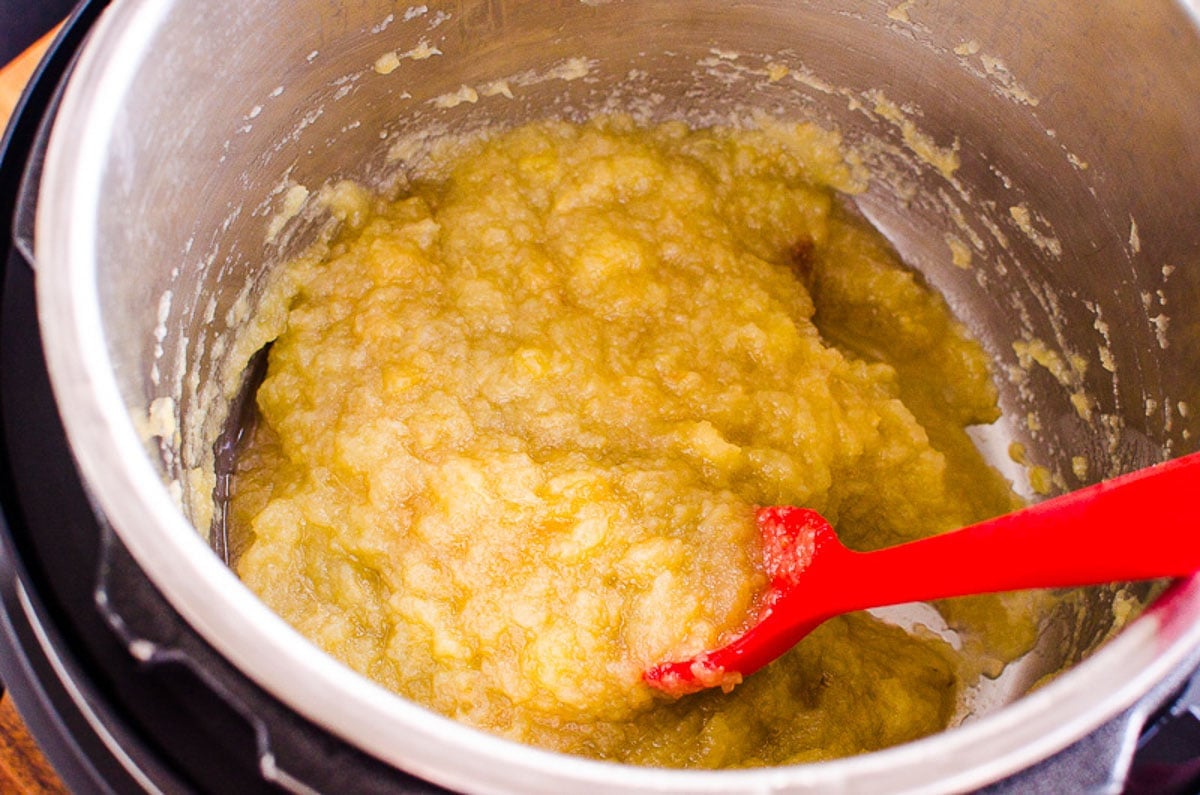 Release Instant Pot: Once finished, release the pressure right away – Quick Release. Open the lid and if you find you have a few pieces that still need mashing, go ahead and do that now using a potato masher. Or blend with immersion blender.
Add: Once your unsweetened applesauce recipe is made, stir in the lemon juice.
Optional additions: If you'd like your Instant pot applesauce sweeter add a bit of maple syrup, and season to your taste, along with a sprinkling of cinnamon if you wish.
Expert Tips
Whether you would like to add in a little something extra or want to know what works best for unsweetened applesauce, here are some tips!
Spices: Add cinnamon or nutmeg, or both after applesauce is finished cooking! You could try adding pumpkin pie spice substitute (which is a blend of cinnamon, nutmeg, ginger, allspice, and cloves).
Sweetener: Maple syrup is always nice with cooked apples, as is honey. You could also use a bit of brown sugar. I used sour apples and added 1 tbsp maple syrup and 1/2 tsp cinnamon after.
Combination of apple varieties: Most people find that a combination of apple varieties produces the best taste!
Remove spots and blemishes: Before cooking remove any any gone bad spots or worm holes with a paring knife.
Don't double the water: No matter the number of apples you add, do not double the water. Add the same 1/4 cup cold water for any amount of apples that are not exceeding the 2/3 max mark.
Thicker applesauce: If your applesauce is too thin for your liking (this is true especially if you do not peel apples as the skin releases water), strain off water right after cooking before mashing or blending. Alternatively, you could continue cooking them down once you've opened the lid.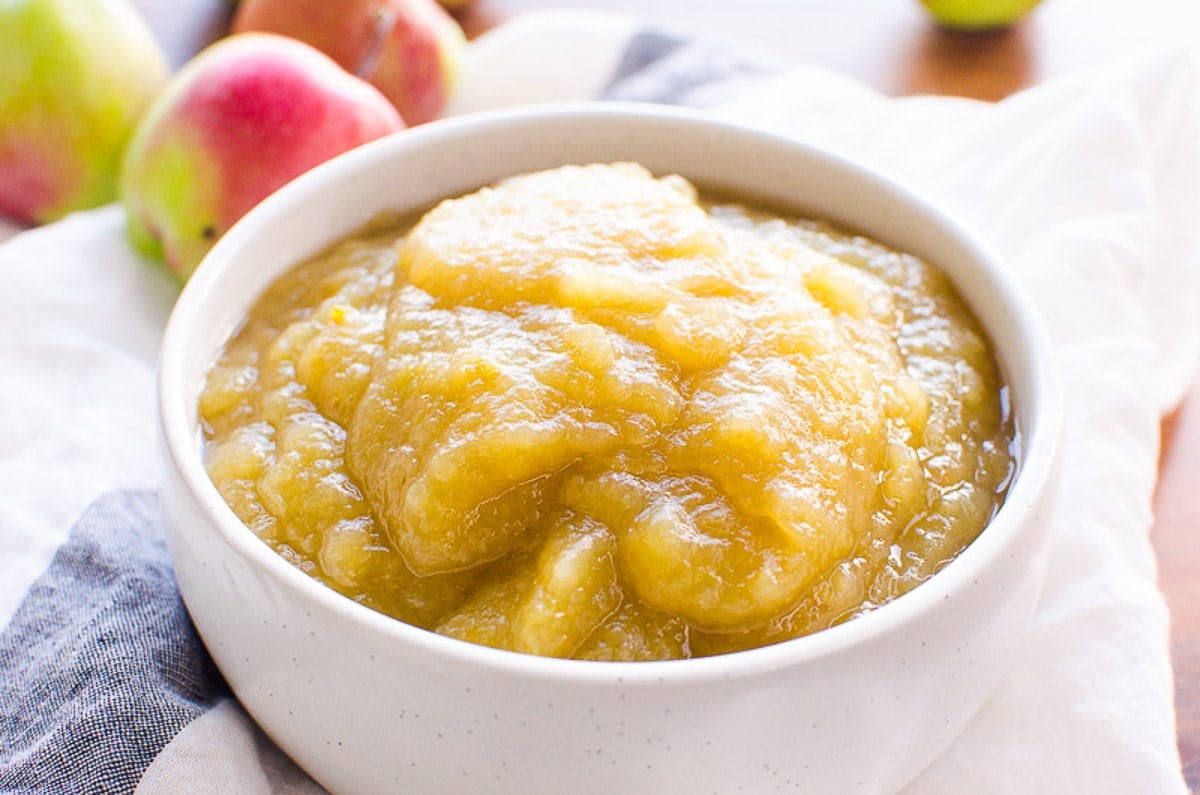 Do I Need to Peel Apples?
No, it is not necessary to peel your apples for this recipe. Most of the vitamins, nutrients and fiber are found in the peel.
So, not only is it less work, it's healthier to leave apples unpeeled. Skins soften during pressure cooking and are easily blended into the applesauce.
If you peel your apples you will have a consistency closer to store bought applesauce, which my kids like. So really the choice is yours!
How to Use Applesauce?
As is. During fall mornings after my lemon water recipe, I love a bowl of warm applesauce all on its own. The balance of sweet and tart balanced by a smooth consistency is a big reward for doing almost no work!
Serve along with some tangy cheese like a high-quality sharp cheddar, cottage cheese, fresh feta, or goat cheese. If you have some baked brie, serve it with a dollop of applesauce.
Spread it: On top of your almond flour waffles, whole wheat buttermilk pancakes, toast, and crepes.
Use in baked goods: Pressure cooker applesauce can be used year round in healthy zucchini bread and healthy morning glory muffins.
Can I Freeze Applesauce?
You can freeze your homemade applesauce Instant Pot in an airtight freezer friendly container, leaving room for expansion for up to 3 months in a fridge freezer or up to 1 year in a deep freezer.
When ready to thaw, leave it on your counter for approximately 6-8 hours. If you would like to serve it warm, reheat it on the stovetop on low until heated through.
In any case, stir for even consistency.
Storage
Homemade applesauce will keep in the fridge in an airtight container for up to 7 days.
FAQs
Can I natural release my Instant Pot applesauce?
Yes. If you are finding that quick release was a bit messy with apple water (or sugary apple water if you've added sweetener) spewing all over, let the pressure subside on its own. Either way, your apples will be 'saucy'.
Why is my Instant Pot applesauce runny?
This is probably a case of adding a little too much water or if you've left the skin on, it produced more liquid than you expected. There are a couple of ways around this when making applesauce in your pressure cooker.

Cooking it down a bit longer until the liquid evaporates, either on saute mode, or by transferring it to the stovetop. Alternatively, you could strain the excess liquid.
Can I double or triple the recipe?
Yes! Do not double the water. You might need to increase the time by 1 – 2 minutes and be careful to not fill past max line.
How many apples are needed to make a cup of applesauce?
About 1 1/2 apples makes 1 cup of applesauce. This recipe makes 4 cups of applesauce, so you need 5-6 large apples.
More Apple Recipes
More Instant Pot Recipes
You may also love this collection of healthy Instant Pot recipes!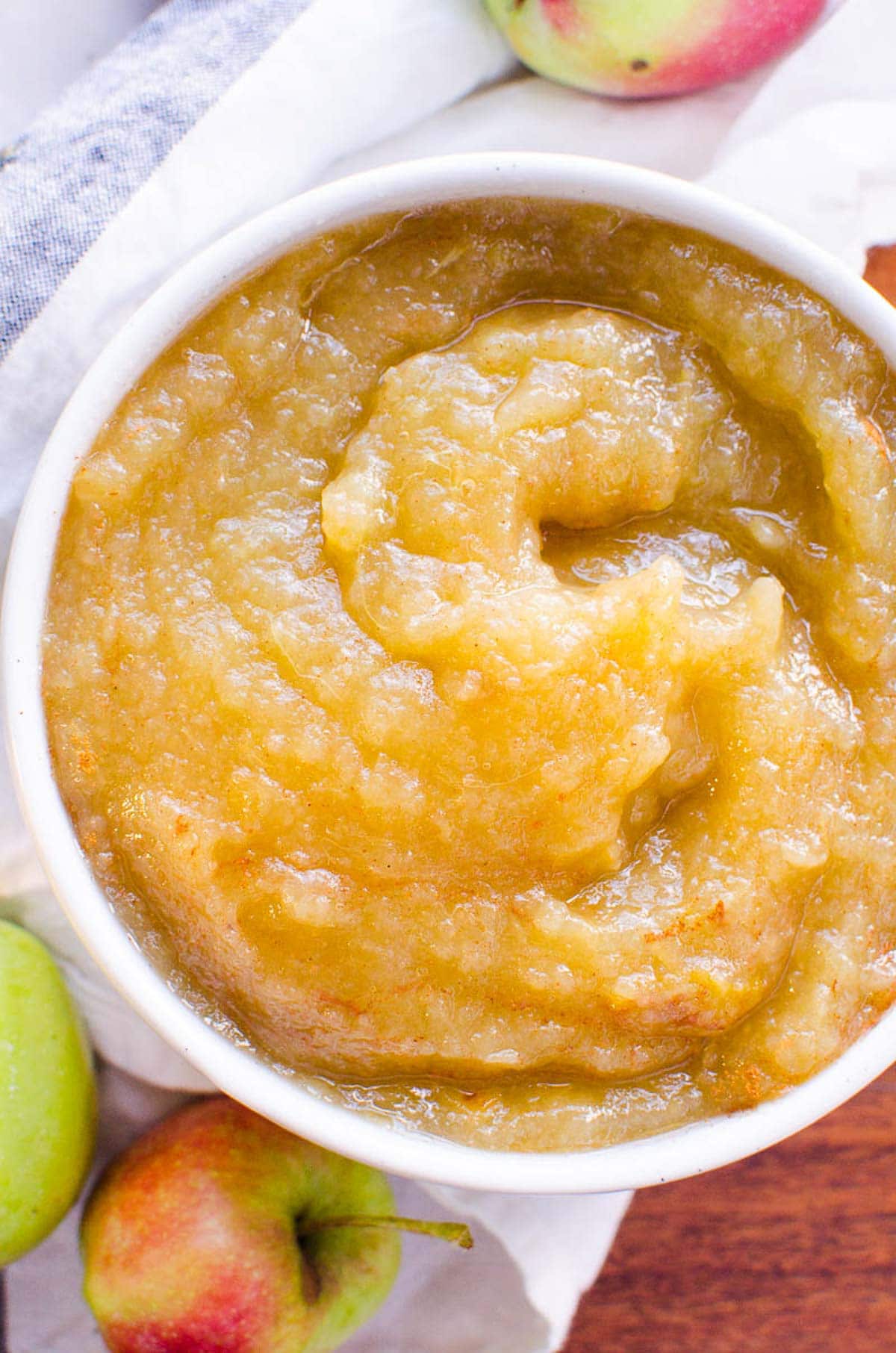 Instant Pot Applesauce (No Sugar)
Homemade Instant Pot Applesauce made with apples, water, lemon juice, and no added sugar is ready in under 30 minutes.
Ingredients
3

lbs

apples

cored and quartered (peeled or not)

1/4

cup

water

1

tbsp

lemon juice

Sweetener and cinnamon

optional
Instructions
Peel or do not peel apples – for store bought texture and colour applesauce I recommend to peel. Core and cut apples in quarters. Add to 6 or 8 quart Instant Pot along with water.

Close the lid, set pressure release valve to Sealing and press Pressure Cook on High or Manual for 8 minutes. After release pressure right away – called Quick Release.

Open the lid. More likely you won't even have to mash cooked apples – I didn't. But if you still see chunks, mash with a potato masher. With unpeeled apples, use an immersion blender.

Add lemon juice, stir, taste and season to your taste with sweetener and cinnamon, if necessary.
Notes
Store:

Refrigerate in an airtight container for up to 7 days.

Freeze:

Freeze in any containers,

silicone bags

or jars leaving some room for expansion for up to 3 months. Thaw on counter for 6-8 hours and enjoy!

Don't double water: No matter the amount of apples you add, do not double water. Add same 1/4 cup cold water for any amount of apples that are not exceeding 2/3 max mark.
Unpeeled apples+no water: If you have older model of Instant Pot that is not as sensitive to Burn, I had success adding unpeeled apples and no water. I found peels contain a lot of water which leads to more runny sauce. While coming to pressure, that water is being extracted and enough to bring pot to pressure. You can try but don't walk away.
Nutrition
Serving:
0.5
cup
|
Calories:
178
kcal
|
Carbohydrates:
47
g
|
Protein:
1
g
|
Fat:
1
g
|
Saturated Fat:
1
g
|
Sodium:
4
mg
|
Fiber:
8
g
|
Sugar:
35
g