Instant Pot Beef Stew is a mouthwatering one-pot dinner with fall-apart beef and tons of chunky hearty vegetables cooked in a delicious gravy-like broth. It's just like my Ukrainian grandma used to make and I'm even sharing her 2 secret ingredients at the end. This soul-warming stew is ready in under 1 hour and is the easiest and best comfort meal that will carry you through the winter season!
We just love easy hands-off recipes because we are a busy family! At the same time, we never skimp on flavour so family meals like Instant Pot beef chili, Instant Pot goulash, and Instant Pot chicken and rice are a breeze to whip up any day of the week and I know everyone will be full and satisfied.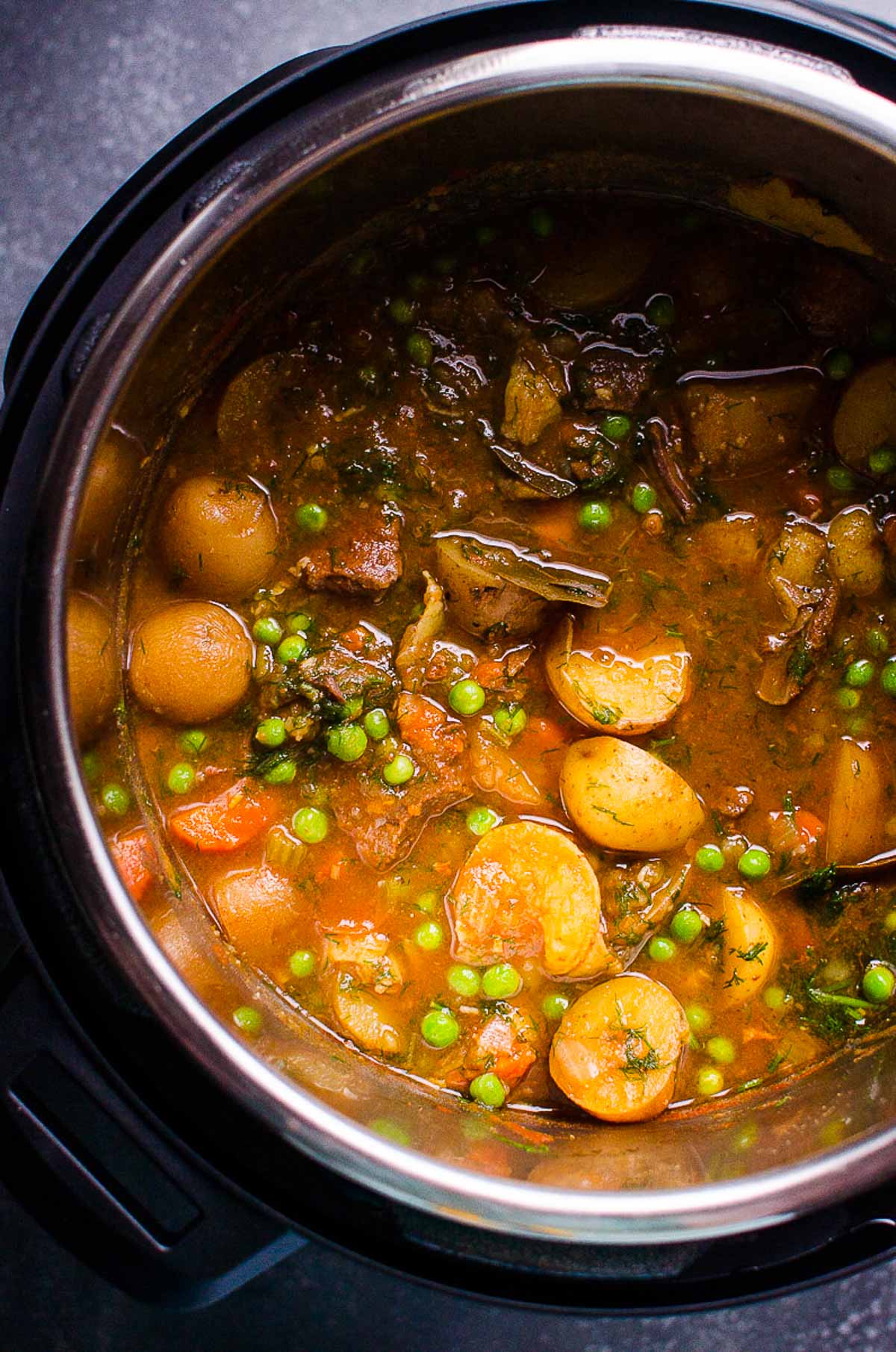 Instant Pot Beef Stew
Food cooked under pressure tastes so much better so that's reason enough to make a delicious Instant Pot beef stew! Fall apart beef, tender veggies, and a broth that has so much flavour is something you can easily have on your dinner table in under 1 hour! With easy-to-follow instructions and simple classic ingredients, this comforting soup is one you'll want to sip on all winter long.
There is no need to saute anything, it's just a dump and set recipe that is hands-off and effortless, perfect for Instant Pot beginners and novices alike. It's also budget-friendly because there are no fancy ingredients, just simple, wholesome, and cheap. If you find beef on sale – stock up on it and keep it in the freezer that way you'll always have some on hand for this and other Instant Pot beef recipes. You can use any cut of beef for this as the pressure cooker will tenderize it into a melt in your mouth bite.
Our other meaty favourites to make in the Instant Pot are Instant Pot beef barley soup and Instant Pot pot roast recipe but it was this beef stew recipe that convinced my husband, Alex, that Instant Pot healthy recipes are worth celebrating. It comes out neither thick nor soupy, packs a lot of flavour, and makes enough to serve a crowd. It's hearty, comforting, and very healthy!
Need more help meal planning? Check out iFOODreal healthy meal plans. We do have Instant Pot meal plans as well.
Why This Recipe for Pressure Cooker Beef Stew Works?
It tastes SO good! It's a delicious stew that kids will love as much as adults do.
It's an easy one-pot meal that has everything you need in one place. Protein, veggies, and starch.
Simple ingredients that pack a TON of flavour.
Makes a lot to serve a large group on a budget.
The pressure cooker tenderizes everything while enhancing the flavour which makes every spoonful delicious!
Leftovers for days! It will keep for up to 5 days in the fridge, so that's plenty! A cost-effective way to eat throughout the week.
Stew vs Soup (what's the difference?)
When you look at a bowl of soup you don't necessarily know what's in it right away. When you look at a bowl of stew, there's no hiding it! That right there is the main difference between the two. A soup is more broth that has the smaller, bite-sized ingredients submerged in it whereas a stew has chunkier ingredients in a smaller amount of broth. Both are delicious and perfect for cozying up on cooler days, but a stew is a heartier way to go. A soup is known for the broth and typically has most of the flavor coming from there but a stew has more complex flavors coming from the chunky meat and veggies.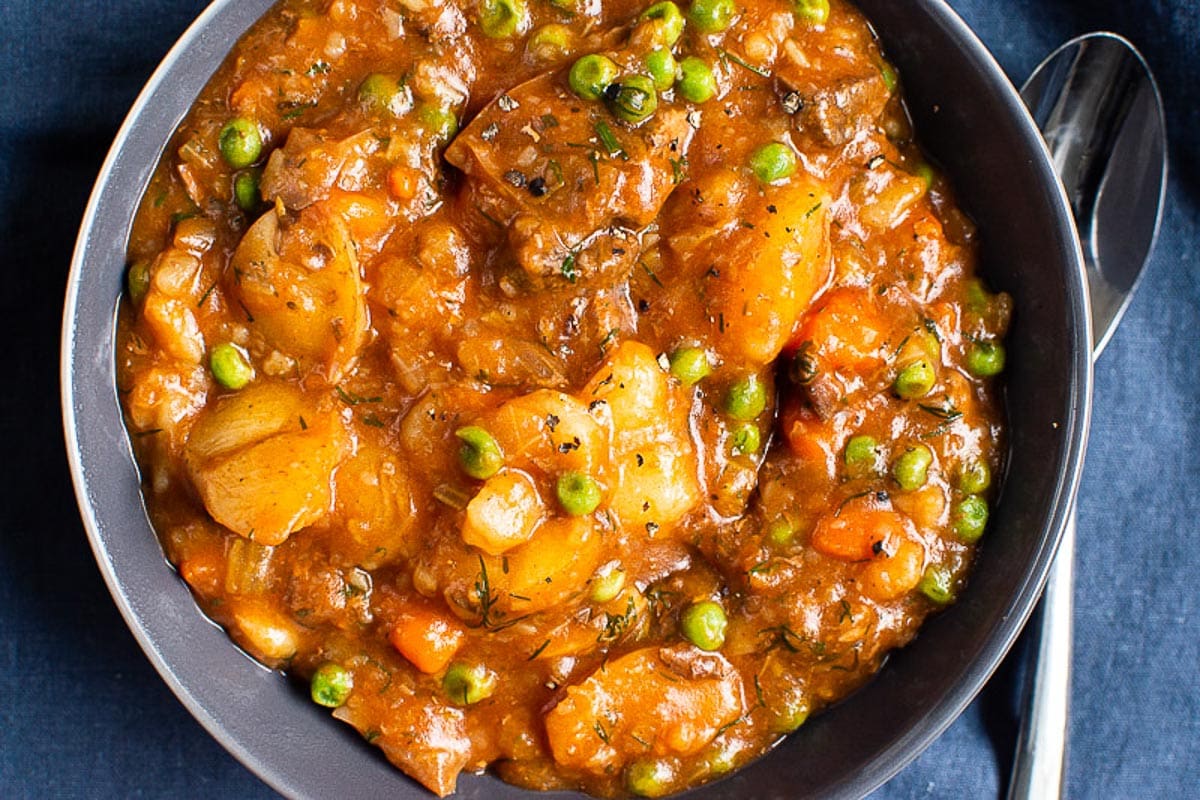 Ingredients for Instant Pot Beef Stew
No paprika, soy sauce, balsamic vinegar, Worcestershire sauce, apple cider vinegar, red wine, etc. Save your money and time. Seriously, it's super easy!
Beef stew meat: An affordable roast like chuck, rump, or any other cheap roast turns into tender beef in the Instant Pot. Just cut it into 1-inch pieces and you are good to go.
Potatoes: Yellow, red potatoes or baby potatoes will keep their shape better because they are waxier than they are starchy. Russet potatoes are good if you like fall apart potatoes in a stew.
Other veggies: Onion, celery, carrot, and frozen peas at the end.
Tomato paste and stock: I used both low sodium. If yours are not, add less salt.
Spices: Oregano, thyme, bay leaves, peppercorns, salt, and pepper are a magical blend of seasoning that imparts so much flavour.
Fresh dill and garlic (do not skip!): These are 2 secret ingredients. You can use less dill than I do, but give it a try.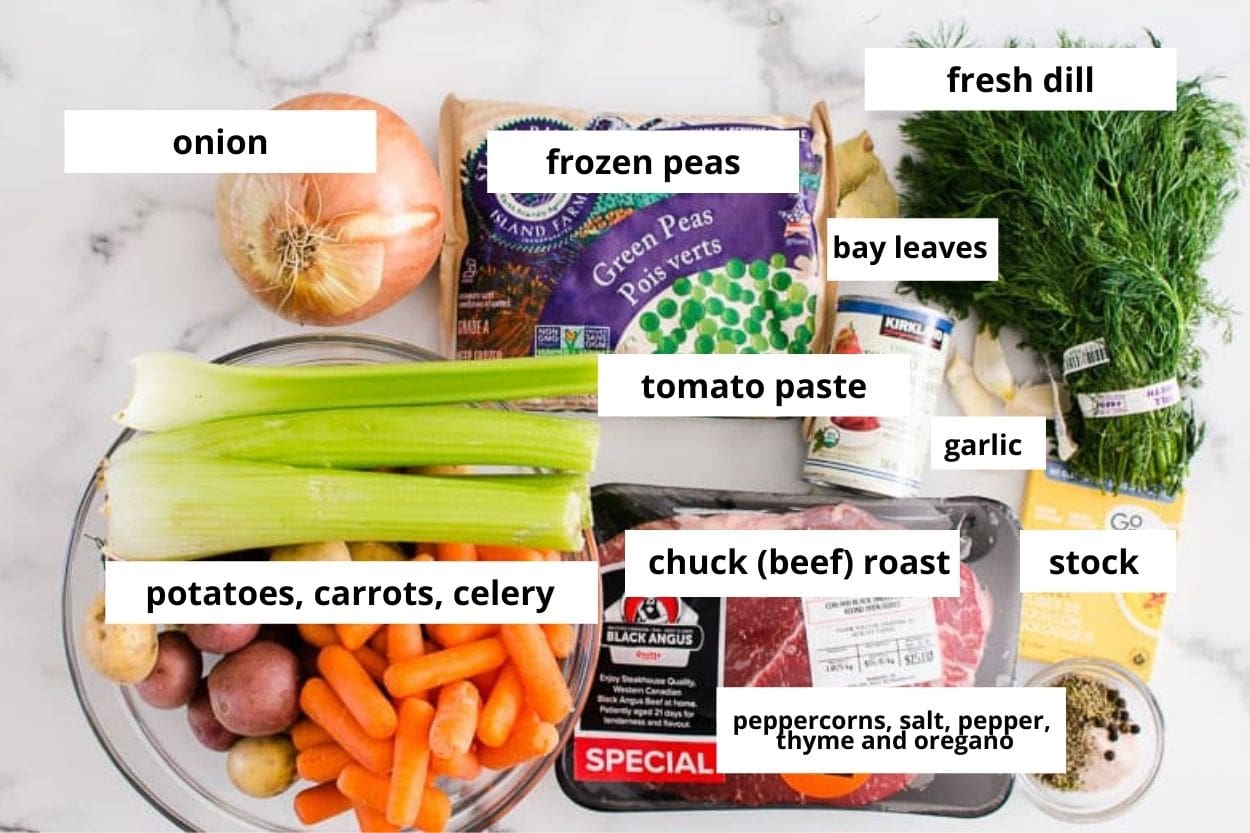 If you are looking for stew recipes without beef, check out my ground turkey stew and chickpea stew with chicken.
How to Make Beef Stew Recipe Instant Pot
There is a detailed recipe card below.
Add ingredients in this order: Vegetables, meat, tomato paste, spices, and broth. This particular order prevents the dreaded Burn notice which happens when there is not enough liquid and whatever ingredients at the bottom have absorbed it all. Keep the order and DO NOT STIR. No need to stir before cooking most Instant Pot recipes. Again, to avoid the dreaded "burn" message.
Cook for 30-35 minutes on high pressure. Those 5 minutes are not a make it or break it bit of time, but the longer any stew cooks/sits, the more flavourful it becomes. It will take about 20 minutes to come to pressure before the cooking time starts.
Release pressure with natural or quick release. Doesn't matter much as stew just gets better with time. I use quick release and vent outside. It's faster but it's also messier!
Add frozen peas: They will help cool the stew nicely. I also love to add it to quinoa stew. But you can skip them, no problem.
Add 2 secret flavour boosters: Fresh garlic and dill. It is one thing to cook garlic and it is a completely different experience to eat a dish with freshly grated garlic along with fresh dill. Try it, I promise you'll be blown away. It works like a charm in stovetop chicken stew and Instant Pot chicken stew as well. Rave reviews!
TIP: If you prefer your stew a little thicker, add a cornstarch slurry to the pot. To do this, switch the Instant Pot to saute. In a small bowl whisk together 4 Tbsp cornstarch and 1/4 cup cold water and add this mixture into the pot, stirring gently. Cook for a few minutes until stew thickens up.
Can I Use Frozen Cubed Meat?
Yes. Just make sure no more than 2-3 pieces are clumped together. As for the cooking time, I show you in the video how I added some frozen meat along with fresh and it cooked perfectly all at the same time. If you're unsure and would prefer to thaw first, if you have the extra time, do that by placing the meat in a bit of water or on the counter. Then separate the pieces.
How Long to Cook Instant Pot Beef Stew?
I like to cook the beef stew for 30-35 minutes for maximum flavor and fall-apartness (yes, that is now a word). However, technically beef stew meat and potatoes are cooked after 15 minutes. If you like more intact and whole potatoes, you can saute meat and veggies in batches, and then pressure cook for 15 minutes.
Optional Add-Ins and Variations for Stew Meat Instant Pot
This recipe is amazing as is, but if you do want to take that extra step to sear your meat ahead of time, go ahead. If you're looking for that crusty brown exterior, your best bet is to use a skillet on the stovetop. Otherwise, keep it simple and saute right in the pressure cooker.
A splash of red wine is a classic ingredient in some stews. It cooks off much of the alcohol but leaves a nice depth of flavour.
Thicken it using arrowroot starch instead of cornstarch if you prefer.
Make sure to add the slurry while the soup is still hot. Waiting for it to cool down won't have the same results. It also won't blend as nicely and you'll find chunks of cornstarch in your stew.
Replace tomato paste with no-salt ketchup for a less intense tomato flavour.
Omit the peas if you're not a fan!

Tips for Best Instapot Beef Stew Results
Skip dried dill weed: I don't recommend using dried dill. If you are not a fan of dill or don't have any on hand, add fresh parsley or skip it altogether.
Game meat: I have used cubed venison and moose many times. Delish!
Venting outside: I vent outside to avoid cleaning countertops and the house smelling like stew for days.
Just throw in the bouillon cube and let the instant pot do its magic!
FAQs
Do I have to brown the meat?
No, you don't. Food cooked under pressure comes out more flavourful than using a stovetop method. The whole point of using the Instant Pot is to save time and not hover over the stove. Now, that doesn't mean you can't brown the meat, but you don't have to.
What size Instant Pot can I use? 
In the recipe card below, you will find instructions for the most popular 6 quart and 8 quart. If you have 3 quart, cut 6 quart ingredients in half but use the same cooking time.
How much liquid to add?
This Instant Pot beef stew recipe calls for 2 cups if cooking in 6 quart and 3 cups in 8 quart Instant Pot respectively. If you would like less gravy and broth, you can use 1 cup in either size. It's the minimum requirement.
Why is my beef stew meat tough?
Usually, to achieve tender and fall apart meat with tougher cuts of beef, you need to cook in either a slow cooker or a pressure cooker. Even the toughest cuts of meat should come out tender once they are cubed and cooked under pressure for 30 minutes. This happens because the moisture is trapped, and the fibres in the meat get tenderized. The meat should come out juicy and tender, but if yours is still tough it's most likely a matter of not leaving it in long enough.
Can I make this without meat?
Yes! to make this a vegetarian stew add 1-2 cans of beans and pressure cook the stew for 15 mins.
Can I use sweet potatoes?
Yes, you can but here's the thing. You'll cook for 20 minutes rather than 30, which means the beef might be tougher and less flavorful. If you are ok with this, just make sure to cut the sweet potato into larger chunks that way they won't fall apart too easily.
I'm gluten free so I can't use bouillon cubes. Can I use beef stock instead of water?
Oh yes, that's a great idea. You can swap the water for a delicious beef broth.
Serving Recommendations
Salad: A simple salad with few ingredients that won't overpower flavors would go well with this beef stew. I recommend this arugula salad or simple Ukrainian cucumber and tomato salad.
Appetizers: Will make the meal even more hearty! Serve hot spinach artichoke dip, cheese ball recipe or french onion dip, healthy comfort food at it's best!
Veggies on the side: You can also quickly throw some veggies on a baking sheet and roast them in the oven, I would do it at the same time as you turn on the stew in Instant Pot. Roasted Brussels sprouts or roasted cauliflower would pair so well.
Bread: Having a basket of crusty bread, either sliced or a loaf to rip off as you go is perfect for sopping up any remaining gravy. Keep it gluten-free bread, whole wheat bread, rye, or sourdough if you'd prefer.
Top off your meal: A bowl of hot stew is meant to be followed by a tasty dessert such as these blueberry crumble bars or almond flour brownies.
Making Instant Pot Beef Stew in Advance
Fridge: Refrigerate stew leftovers for up to 5 days in an airtight container. You can also keep it in the inner portion of the Instant Pot pot with a fitting glass or silicone lid. We love the second storage method because it makes stew easy to transfer from the fridge to the stove to reheat right in the same pot.
Freezing & Reheating
Do not freeze: I am not a fan of freezing beef stew because it contains potatoes. Freezing puts a lot of strain on potatoes that are low in fiber – the water expands and forms ice crystals which makes potatoes mushy upon thawed. If this recipe is too much, cut the ingredients in half and keep the same cooking time.
Reheat: Reheat in the Instant Pot's inner pot right on the stove or in the pressure cooker on Saute mode, stirring a few times. You can also reheat in a small pot on the stove by simmering on low. Always reheat only what you are going to eat to keep the remaining stew fresh for as long as possible.
More Favorite Instant Pot Recipes
Did you know we have entire Youtube channel dedicated to Instant Pot recipes and tips? My goal is to help you become confident with your Instant Pot.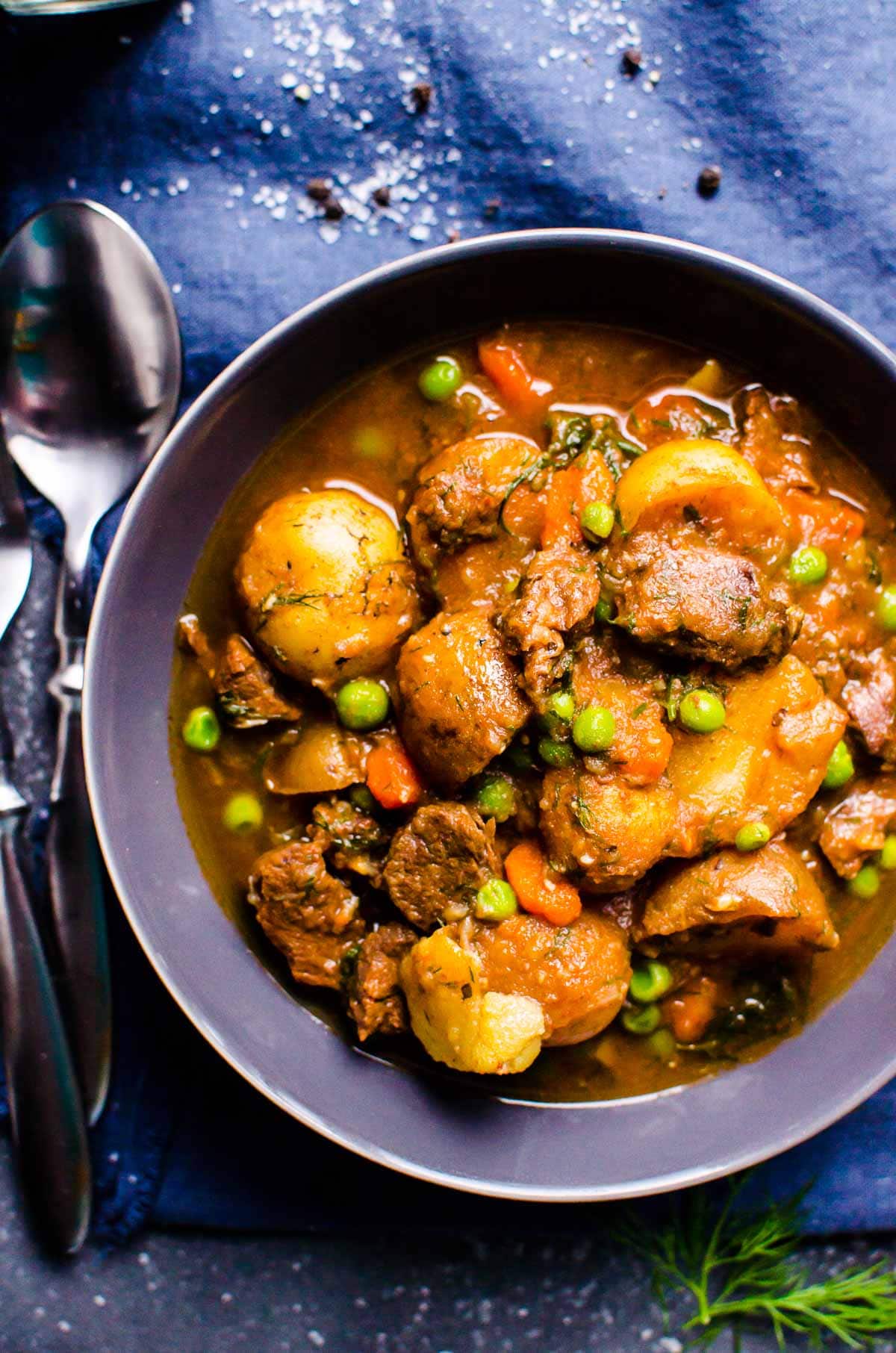 Instant Pot Beef Stew
Mouthwatering Instant Pot Beef Stew with tender beef, vegetables and rich broth in under 1 hour, tastes like it has been simmering all day.
Print
Rate
Servings:
7
(6 Qt.), 11 (8 Qt.) servings
Ingredients
6 Quart Instant Pot
1

medium onion

chopped

2

large carrots

chopped

2

small celery stalks

chopped

3

large garlic cloves

grated & divided

2

lbs

potatoes

cubed

1.5

lbs

chuck or any cheap roast beef

cubed into 1″ pieces

3

oz

tomato paste

low sodium

1

bouillon cube

2

cups

water

1

tsp

oregano

dried

1

tsp

thyme

dried

3/4

tsp

salt
Ground black pepper

to taste

1

cup

frozen peas

1/2 – 3/4

cup

fresh dill

finely chopped
8 Quart Instant Pot
1

large onion

chopped

3

large carrots

chopped

4

small celery stalks

chopped

4

large garlic cloves

grated & divided

3

lbs

potatoes

cubed

2

lbs

chuck or any cheap roast beef

cubed into 1″ pieces

6

oz

can tomato paste

low sodium

2

bouillon cubes

3

cups

water

1 1/2

tsp

oregano

dried

1 1/2

tsp

thyme

dried

1 1/4

tsp

salt
Ground black pepper

to taste

2

cups

frozen peas

1

cup

fresh dill

finely chopped
Slurry
1/4

cup

cold water

2-4

tbsp

cornstarch or arrowroot powder

(6 and 8 quart correspondingly)
Instructions
In Instant Pot, add onion, carrot, celery, 2 garlic cloves, potatoes and beef as you are cutting them. Then add tomato paste, bouillon + water or stock, oregano, thyme, salt, pepper, bay leaves and peppercorns. No need to stir, just flatten tomato paste with a spoon.

Close the lid, set pressure vent to Sealing and press Pressure Cook on High for 30 minutes. Display will say ON, Instant Pot will take about 20 minutes to come to pressure, you will see a bit of steam coming out from a valve, then float valve will rise and countdown from 30 minutes will begin.

When display says OFF, stew is ready. Now your Instant Pot needs to bring pressure down before you can open it, which will be indicated by a dropped down float valve. You can let it do it on its own which will take about 15-20 minutes – Natural Release. OR you can do Quick Release by turning pressure valve to Venting position, which takes 2-3 minutes. I recommend doing so outside to avoid countertop mess and house smelling like stew for days.

Open the lid, add peas, remaining 2 cloves of garlic and dill. Stir.

To thicken beef stew: Switch electric pressure cooker to Saute. In a small bowl, whisk cold water with cornstarch, add to the pot and stir gently. Cook for a few minutes until thickened.

Serve hot.
Notes
Store: Refrigerate in an airtight container or inner Instant Pot pot with a fitting glass lid for up to 5 days.
Freeze: I have not tried to freeze the stew as there are never leftovers and I question how well potatoes would thaw.
You can use frozen cubed meat. Thaw it a bit in water or on a counter (if have time) and separate into blobs of 2-3 pieces. Add 10 minutes to cooking time.
Replace bouillon cubes + water with any stock. I just like to keep dry cubes instead of open carton going bad in the fridge.
If you made a slurry beforehand, make sure to stir it right before adding to the pot. Cornstarch settles fast.
I don't recommend to use dried dill. If you are not a fan of dill or don't have any on hand, add fresh parsley.
Nutrition
Serving:
1.5
cups
|
Calories:
334
kcal
|
Carbohydrates:
35
g
|
Protein:
24
g
|
Fat:
12
g
|
Saturated Fat:
5
g
|
Cholesterol:
67
mg
|
Sodium:
507
mg
|
Fiber:
6
g
|
Sugar:
7
g
Recipes and images are a copyright of ifoodreal.com. It is against the law to republish recipes without permission. Nutritional info is approximate.