Healthy Taco Salad with ground turkey, veggies, greens, cheese, and one simple ingredient that replaces unhealthy bottled dressing. It is easy, filling, and a summer family favorite!
Looking for more salads with Tex Mex flavors? Mexican kale salad, Mexican street corn salad, or Mexican bean salad are the perfect main meal salads.
This healthy taco salad is a fully loaded taco without all the carbs that come with a traditional taco! It's fresh, vibrant, and incredibly delicious.
Make it as simple or as jazzed up with toppings as you like because this 30 minute recipe is completely customizable. Only easier are chicken tostadas ready in 20 minutes!
It's made with ground turkey to keep it nice and lean, homemade taco seasoning to avoid all the added sodium, and beans, tomatoes, and corn, because it is a taco salad recipe after all!
We top it with plain yogurt instead of sour cream which doubles as a creamy dressing!
Eating fresh and healthy doesn't have to be complicated. A healthy taco salad is so full of flavor it won't be hard to get your kids to start loving healthy salad recipes too!
Restaurant vs. Homemade Taco Salad
There's nothing like being able to control what goes into your salad and what stays out. No refined sugars, heavy oils, or sodium in the taco seasoning or the dressing. This isn't the case when you order from a restaurant.
I love making salads that are a complete meal for filling weeknight dinners. Much like my grilled chicken salad they are quick, easy, and perfect for using whatever is in my fridge.
Is Taco Salad Healthy?
It is healthy! Use fresh ingredients, load it up with veggies, and you can't go wrong!
Low carb and gluten free
Lean protein
No heavy oils
Sugar free
Tons of vitamins, minerals, fiber, antioxidants, and more!
You may also love to browse these 45 healthy ground turkey recipes!
The Ingredients
Customize these healthy taco salad ingredients just the way you like it!
Greens salad mix: Sometimes referred to as spring mix. Can also use a head of romaine lettuce, baby kale, or regular kale and spinach.
Black beans: A popular ingredient in Mexican dishes. They add fiber, protein, and texture. Make Instant Pot black beans or here is step by step tutorial how to cook dried beans to further reduce sodium.
Chopped tomatoes: Juicy, acidic, and provides antioxidants.
Avocados: The good fat that gives us the creamy element we all love. Healthy fat is good for you after all, haven't you heard?
Tortilla chips: Multigrain or corn are both made with wholesome ingredients and I look for baked vs. fried.
Shredded cheese: Freshly grated from a block. Any hard cheese will do. Cheddar is a popular choice.
Ground turkey: Lean protein. It's lower in calories and has less fat than ground beef. Can also use leftover Instant Pot chicken breast that has been shredded instead.
Avocado oil: More healthy fat! Used to cook the turkey as it doesn't produce as much oil.
Taco seasoning, divided: Adds classic taco flavor to the salad without all the junk found in a seasoning packet. I use my homemade taco seasoning recipe.
Salt & onion powder flakes: Just to add a bit more flavor.
Corn kernels: Cooked or thawed from frozen, sweet juicy kernels of corn add a pop of color and tons of taste and texture.
Plain yogurt: Regular, not Greek yogurt. It needs to be thin enough to be pourable. Typically, when it's lower in fat, it's higher in carbs, so keep that in mind.
Yogurt Dressing
If you're one to use sour cream on your taco, you're going to love this healthier alternative! Using yogurt as a creamy dressing keeps it simple, and avoids the heavy sugars, sodium, and high calories found in store bought dressings.
I love using plain whole yogurt in so many healthy salad recipes. Case in point, my healthy chicken salad is a reader favorite.
It's one ingredient that most of us already have. It's naturally tangy and super creamy, and it helps all of the ingredients marry their flavors without taking over! Use organic or grass-fed yogurt with a fat content of 3% or more. You'll see, the taste is next level!
How to Make Healthy Taco Salad
There are just a few easy steps that go into bringing this healthy taco salad together.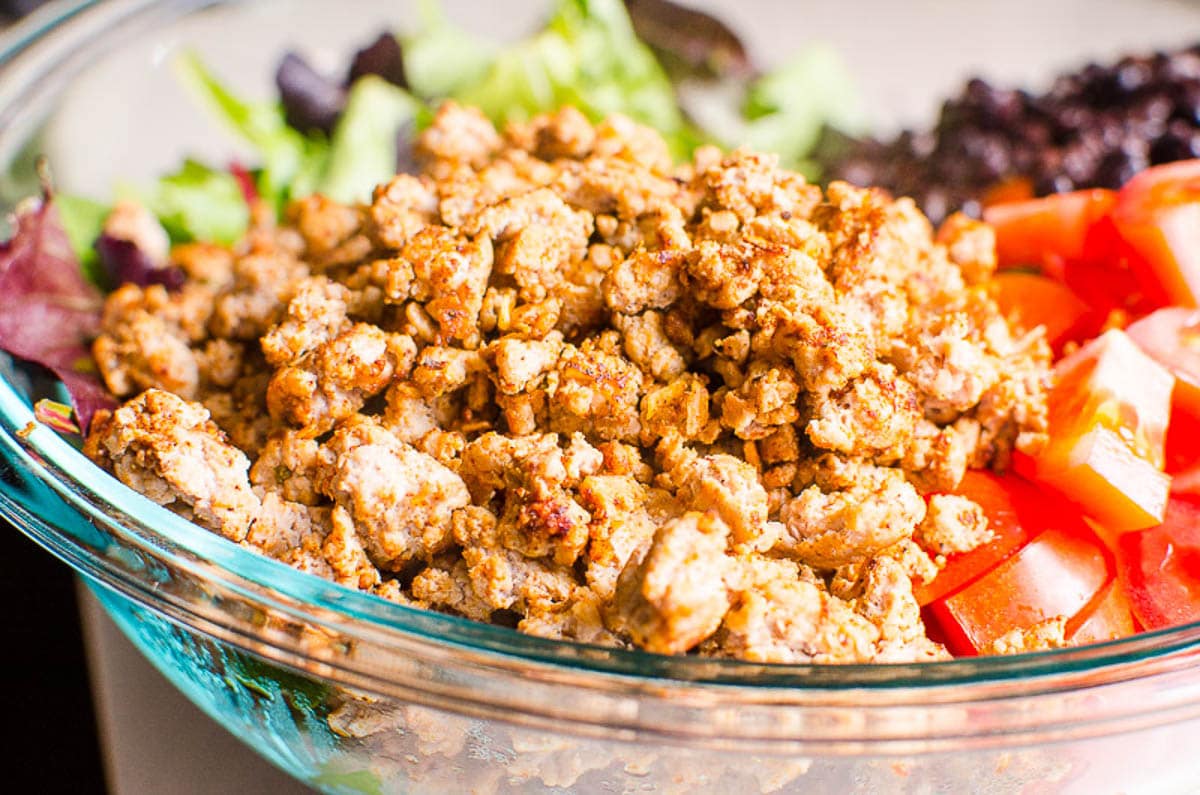 Cook turkey. In a skillet over medium heat, sauté ground turkey in olive oil with taco seasoning and onion flakes. Then remove to a plate.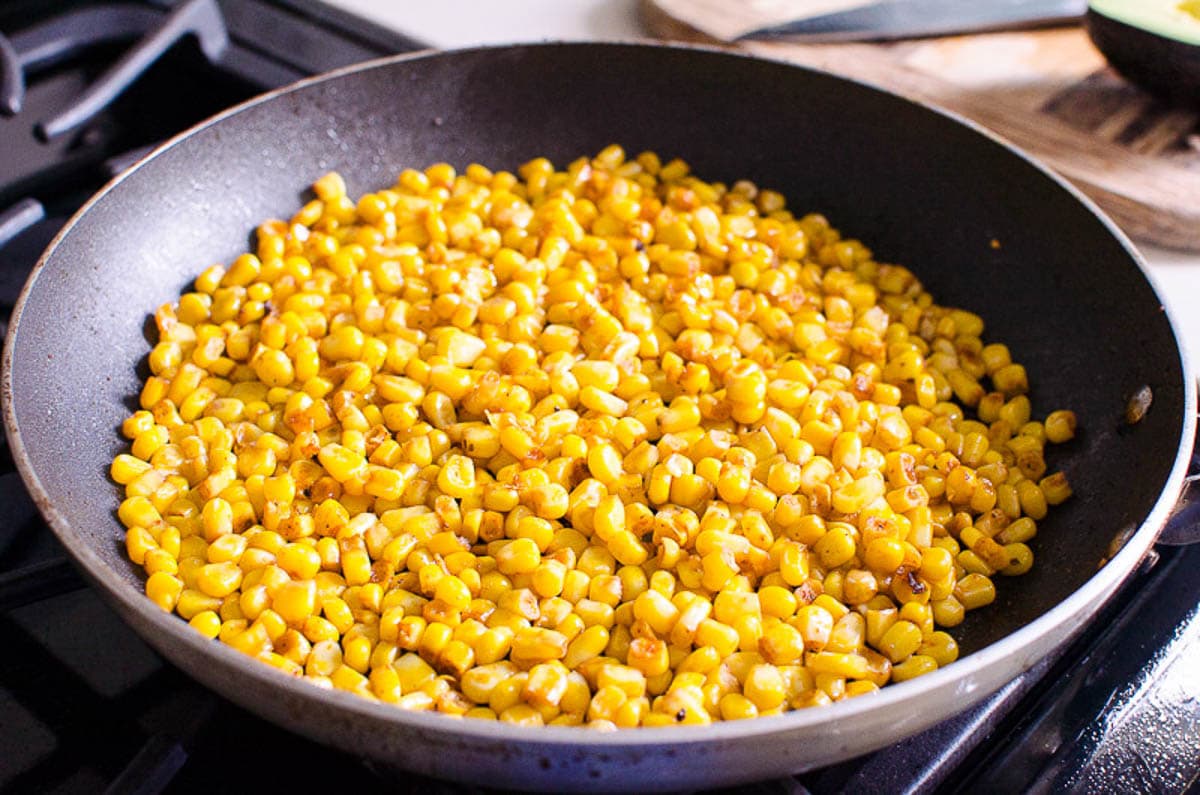 Cook corn. Cook corn with taco seasoning in the same skillet. You want to give it a good char, so cook undisturbed.
Drizzle plain yogurt over vegetables, tortilla chips, cheese, turkey and corn in a large salad bowl. You want to be able to mix salad comfortably as it is a large meal size salad. Then gently toss and serve immediately.
Storage Instructions
To Store: You can refrigerate salad leftovers for up to 2 days. Surprisingly, this healthy taco salad doesn't become too soggy.
To Reheat: Reheat the taco meat and corn in a skillet. The only way to do this is if you've kept them in a separate container in the fridge.
Meal prep tip: Store all the taco ingredients in a glass jar for a week ahead. Just don't add the crunchy chips, avocado, or yogurt until just before serving.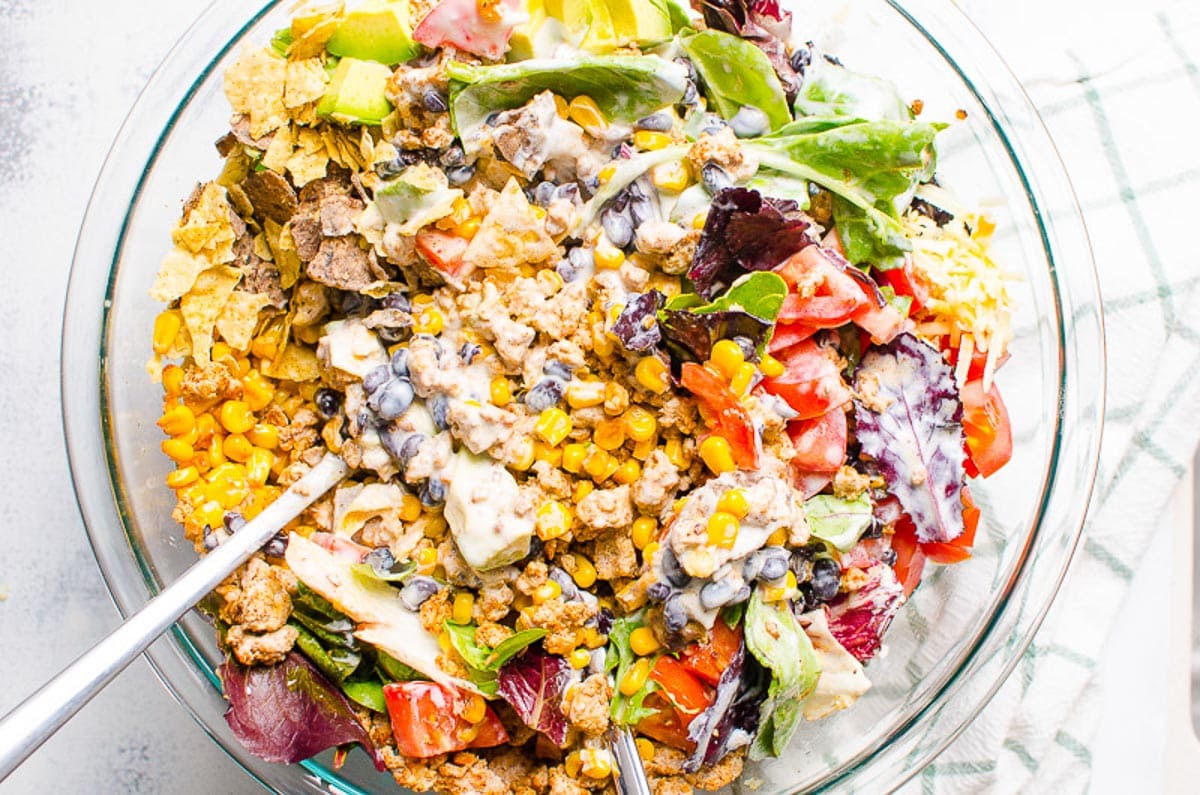 Leftover Ideas
Make a healthy taco salad bowl! Place a large whole grain tortilla in an ovenproof deep bowl (stainless or metal works) and bake at 450 degrees F until crispy. Place salad in a bowl and voila.
Add leftover turkey to one pot healthy taco pasta!
You could also omit the meat entirely and serve this taco salad alongside your protein of choice like this grilled chicken breast, chili lime chicken, or cilantro lime chicken.
FAQs
What tortilla chips are healthy?
Chips are chips. They are a treat, just like air fryer nachos. But some chips contain fewer naughty ingredients. I look for organic and non-GMO chips that are lower in sodium and made with wholesome ingredients.

Brands I buy are Que Pasa, Food Should Taste Good, and Kirkland.
Is healthy taco salad best served hot or cold?
The answer is both! The ground turkey and corn are warm elements added to the crispy, cold, fresh salad base. The combination is insane!

You can enjoy it completely cold straight out of the fridge if that's your jam.
More Healthy Mexican Recipes
You may also want to check out this curated list of healthy salad recipes!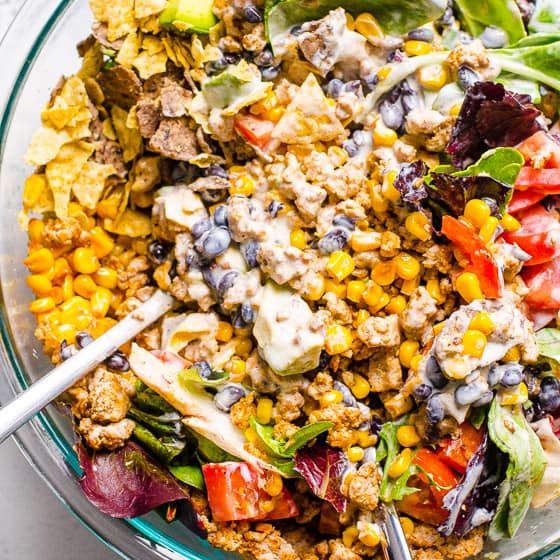 Easy Healthy Taco Salad with Ground Turkey
Healthy Taco Salad with ground turkey, veggies, greens, cheese, and one simple ingredient that replaces unhealthy bottled dressing.
Instructions
In a large salad bowl, add salad greens, beans, tomato, avocado, tortilla chips and cheese. Set aside.

Preheat large ceramic non-stick skillet on medium heat and swirl oil to coat. Add turkey and cook for 5 minutes, constantly breaking into small pieces with spatula.

Add 1 tbsp taco seasoning and onion flakes; cook for another 2 minutes, stirring a few times. Transfer to a salad bowl with other ingredients.

Return skillet to medium heat and add corn. Cook for a few minutes undisturbed, sprinkle with 1/2 tbsp taco seasoning, stir and cook for another minute. Transfer to a bowl.

Drizzle yogurt on top and gently toss. Adjust salt to taste. Serve immediately.
Notes
Store: Refrigerate leftovers for up to 2 days. Surprisingly, this healthy taco salad doesn't become too soggy.
Make ahead: Refrigerate all ingredients except chips, avocado and yogurt for up to 24 hours. Assemble right before serving.
Greek yogurt is too thick to mix well with other ingredients. I used 2% plain yogurt.
You can use Romaine lettuce, spinach or any greens in place of a salad mix.
Nutrition
Serving:
2
cups
|
Calories:
351
kcal
|
Carbohydrates:
25
g
|
Protein:
21
g
|
Fat:
16
g
|
Saturated Fat:
4
g
|
Cholesterol:
45
mg
|
Sodium:
306
mg
|
Fiber:
7
g
|
Sugar:
6
g