Instant Pot Ground Turkey Quinoa Bowls is a healthy 30-minute pressure cooker one-pot meal. It's made with quinoa, ground meat, and veggies coated in a delicious flavored sauce inspired by Chinese takeout but healthy!
Busy? Add one-pot meals like Instant Pot chicken and rice, Instant Pot chicken and potatoes and Instant Pot goulash to your healthy regular dinner rotation. Your entire family will love them!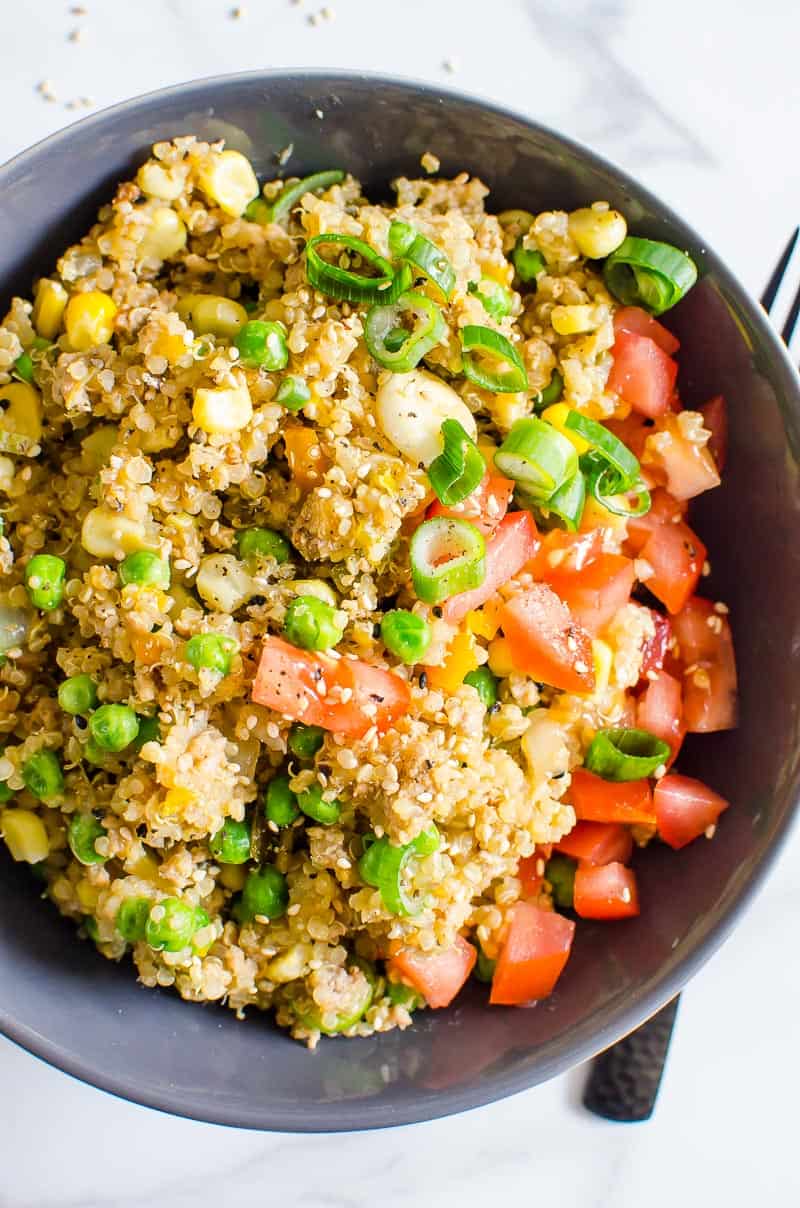 This Instant Pot turkey quinoa bowl is where healthy and hearty meets comfort food. It's healthy because it's made with lean ground turkey, onion, garlic, vegetables, homemade taco seasoning, and of course, quinoa which is a superfood in itself.
It's comfort food because it's a cozy bowl of delicious, well-thought-out flavors and balanced textures in every bite. The finishing touch of the Asian-inspired sauce will remind you of your favorite Chinese takeout, only better!
This Instant Pot ground turkey recipe is made in one pot which is super easy and it's an effortless meal thanks to the pressure cooker. Quinoa in Instant Pot comes out super fluffy!
Turkey and quinoa bowls are pretty flexible. Despite its name, you can use a different type of meat like ground beef or chicken. Switch up the veggies if you like, or play around with the flavors of the sauce. Like it less sweet and more heat? Go for it. Your family will LOVE this wholesome, complete meal no matter what because it's just that good.
I like to make a big pot on any weeknight for after work, school, and my kids' 101 activities. I love that I have leftovers for a healthy lunch ideas the next day and even when I'm working from home, it's much easier to eat healthily and make better choices when there's something I can grab in a pinch.
Why This Recipe Works?
It's yummy! Whether it's the turkey and veggies, the seasonings, or the finishing sauce, it all comes together in one delicious bite. My kids love it, actually my whole family does, and yours will too. Try ground turkey skillet, too!
One-pot meals are always convenient. For clean up and efficiency. It's hands-free once the turkey is cooked.
Makes great leftovers for a healthy lunch or dinner the next day. Having something ready to eat means you're less likely to make unhealthy choices when you're in a rush.
It's cost-effective. All of the ingredients are probably already in your kitchen, and if not, there's nothing outrageous you need to pick up from the store. Simple ingredients but loads of flavor.
It's customizable. No rule states you can't use alternative ingredients to make it exactly as you want it. Adjust the seasoning, switch up the sauce or use a different meat. It's up to you!
It's healthy! Loaded with amino acids, fibre, and antioxidants, quinoa is a powerhouse of nutrients. And it's gluten-free!
Ingredients for Instant Pot Turkey Quinoa Bowls
Ground meat: You will need ground turkey, chicken, or beef, with poultry being the leaner choice. I have made it using ground beef and the results were still amazing.
Quinoa: You need dry, uncooked, and not rinsed quinoa. You can rinse it, but most pre-packaged quinoa does come pre-rinsed. Plus, it is so hard to remove small quinoa seeds from a mesh strainer. If you know, you know!
Seasoning: Then simple seasonings like taco seasoning, oregano, salt and pepper.
Sauce: Water, soy sauce, maple syrup, and honey.
Veggies: Green onion, white onion, garlic, bell pepper, frozen green peas and corn.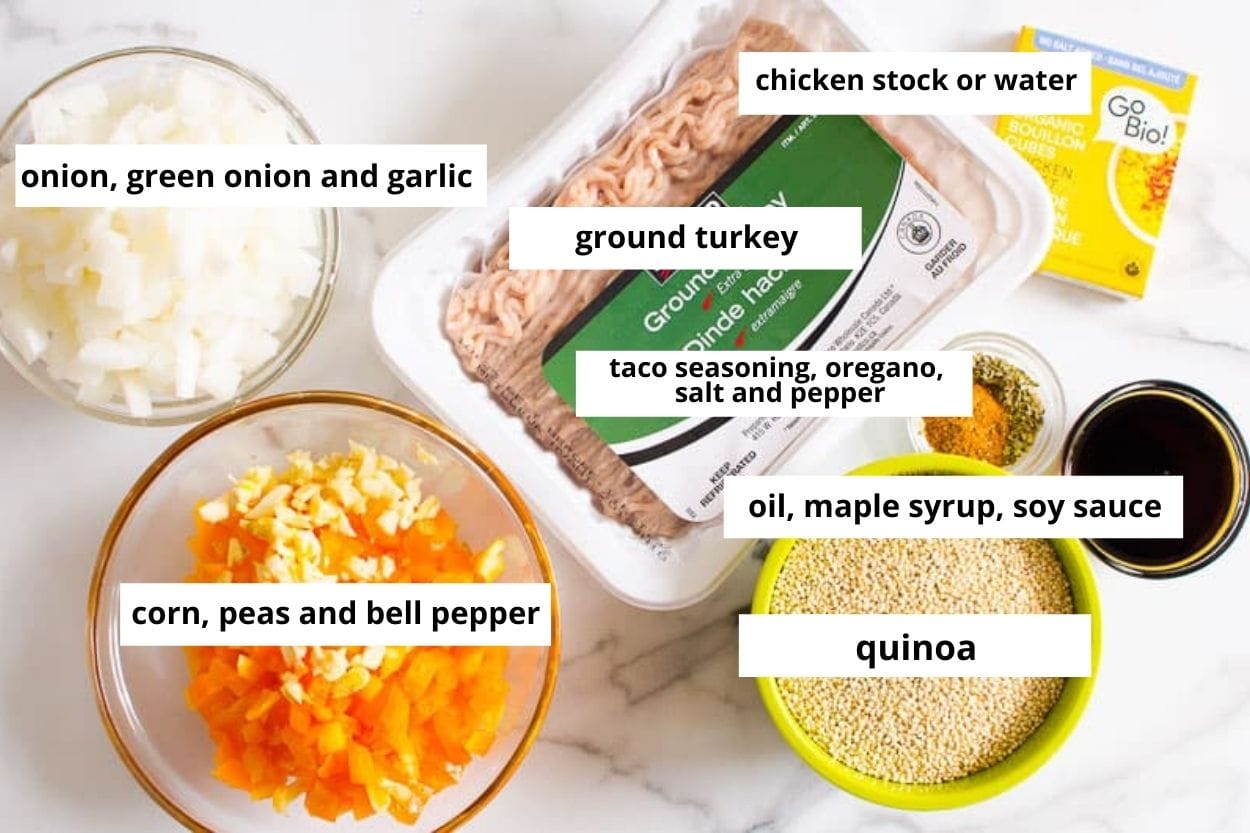 How to Make Instant Pot Ground Turkey Quinoa Bowls
Cook ground turkey until small pieces form.
Deglaze the pot with water and spices.
Add uncooked quinoa and stir.
Add some veggies and cook on low pressure for 12 minutes.
Quick Release.
Add frozen peas and corn and let sit for 5 minutes.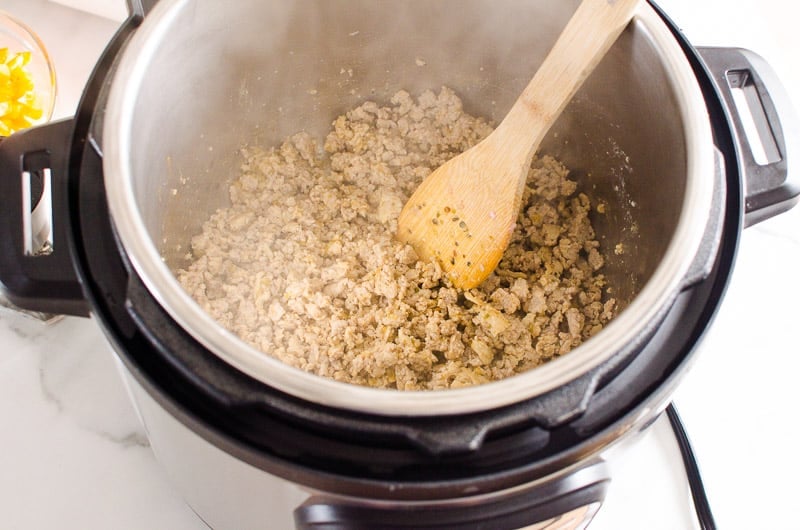 Optional Add-In's and Variations
Use ground beef or ground chicken instead of the turkey.
Replace the veggies with carrots, spinach, asparagus, mushrooms, and zucchini. Or use a combination of each of them.
To completely change the flavor profile, omit the soy sauce and maple syrup. Keep the taco seasoning and add black beans to the corn and throw in some diced tomatoes for a Tex Mex version of this quinoa bowl. It's versatile!
Tips for Best Results
My top tip with any Instant Pot recipe is to always follow the directions as listed. These recipes are tested over and over again and are written in detail for the perfect results.
Break the pieces of ground turkey as you cook them. You want to get them small enough so that you're not eating clumps of turkey with your quinoa but also so that each small morsel gets enough seasoning and flavor.
Remember to deglaze the pot as best as you can to avoid the burn notice.
Do not season the turkey! Add the seasoning with the water and sauce combination after the turkey has cooked.
When it says do not stir, take note of that. This is also to avoid the burn notice as there are certain ingredients that will absorb moisture much faster than others. Layering helps with that.
Can I Use Frozen Turkey?
Forgot to defrost the ground turkey? No problem.
Quickly defrost in Instant Pot. It will come in handy for more than just this recipe. Believe me, we've all been there! Here are the quick directions:
Place the trivet and 1 cup water in the pressure cooker.
Cook on High Pressure for 20 minutes.
Do a Quick Release.
Proceed with the Instant Pot ground turkey quinoa bowls recipe.
Will I Get a Burn Message?
If you get that dreaded Burn message with this pressure cooker recipe, it's due to 1 of 2 reasons, possibly both:
You added dry spices to ground turkey meat and sauteed them together until they started sticking to the bottom of the pot.
You did not deglaze the pot well. Deglazing means scraping off those bottom bits of turkey that get stuck (so much flavor) and if they continue to be stuck, they will be left there to burn.
Truth time. The first scenario happened to me while I was busy photographing the recipe. Therefore, I learned how important it is to add the spices together with the water.
Otherwise, you should not get the Burn message, so don't worry!
What To Do If I Get A Burn Message?
Let's say you did get it. First, don't panic, this Instant Pot ground turkey recipe is super easy to fix without doing much. Because quinoa is such a quick-cooking seed, we cook it on low pressure to allow it to soak up the liquid.
If you get a burn notice:
Check to see if the pressure pin is up. It means the Instant Pot has come to pressure.
If the pressure pin is down, press hard on the lid handle to make it pop up
Or wait a few more minutes even if "Burn" is flashing for pressure to build up more and then press on the lid.
Once the pressure pin is up, press Cancel and let the pot sit undisturbed for 12 minutes.
Then do a Quick Release.
Quinoa and pre-browned turkey will finish cooking this way. Trust me.:)
FAQs
My quinoa was undercooked, what happened?
It's probably only a few grains that were undercooked, not the entire batch. What you can do is cook a few minutes longer next time. For this time, you can cover and allow the heat to continue cooking the quinoa for a little longer. That should fix it.
If I wanted to add sweet potato, when would I add it?
That sounds yum! Add them in with the quinoa. I would not add more than 2 cups, however, and don't forget to add a splash more water because they will absorb some steam. This is to make sure you avoid the burn notice.
What if I don't have Low pressure button?
Make sure ground turkey is fully cooked and then cook the quinoa on High pressure for 1 minute, followed by a natural release.
This dish comes out a bit watery. Should I reduce the amount of water?
Bell peppers release a lot of liquid in the IP. You could reduce the water by 1/4 cup and see how it goes. Or skip the bell pepper altogether or add it at the end for a fresh crispy crunchy addition.
Can I make this recipe using 3 pounds of ground turkey?
You can and it would be the same cook time. You can easily double this recipe, but tripling it might take some finessing. If you use 3 pounds of meat you're still only going to be able to double the remaining ingredients. In this case, you may need to add a little more seasoning to make sure all of that meat gets the flavor.

Tripling all of the ingredients may cause you to go over the 2/3 max line in the Instant Pot and you don't want to do that.
Serving Recommendations
As much as I love quinoa, it is my least favorite food to photograph. It is one of those cases when you shouldn't judge a book by its cover.
This recipe is a one-pot meal. So you do not need anything to go with it (although if pressed to have a side, Asian chopped salad or peanut slaw would be great!). I added chopped tomatoes for a pop of colour. You could sprinkle some sesame seeds on top to give the bowls a little more Asian inspiration.
Enjoy!
Making Quinoa Bowls in Advance
Store: Do a little meal prep and portion everything out into individual airtight bags or containers. It makes an easy grab-n-go lunch and a super easy way to reheat leftovers for dinner. It stays fresh in the fridge for up to 3 days.

Freeze: Once completely cooled, transfer turkey quinoa bowls to the freezer for up to 3 months. These are great to make ahead and keep frozen, or to share with friends, family, and neighbours who could use a healthy, home-cooked, freezer-friendly meal.
Reheat: Thaw in the fridge overnight. You can reheat it in the microwave or on the stove top. You may need a splash of water to avoid burning.
More Quinoa Recipes to Try
More Instant Pot One Pot Meals
Alternately, if you are wondering what else to make for dinner with ground turkey, check out these healthy ground turkey recipes!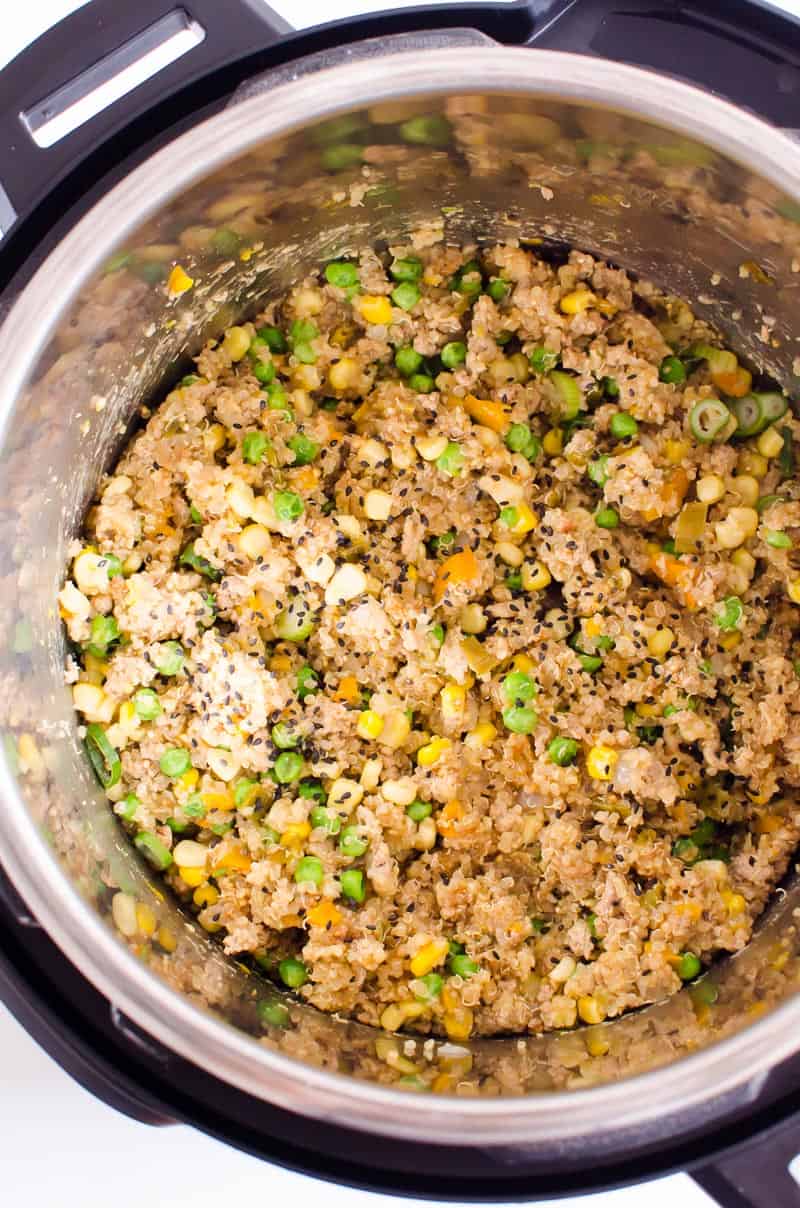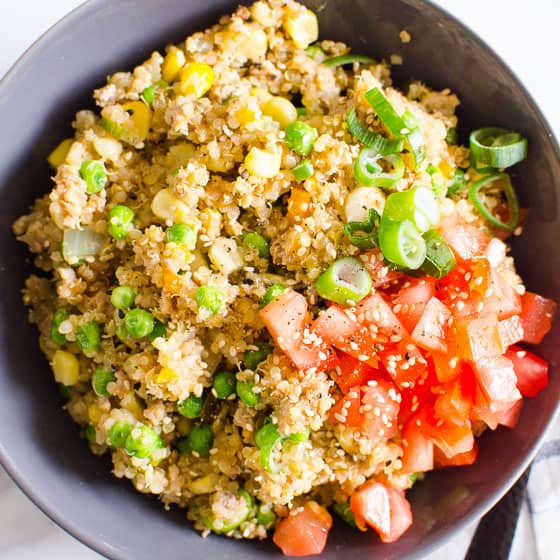 Instant Pot Ground Turkey Quinoa Bowls
Instant Pot Ground Turkey Quinoa Bowls is a healthy 30-minute pressure cooker one-pot meal. It's made with quinoa, ground meat, and veggies coated in a delicious flavored sauce inspired by Chinese takeout but healthy!
Instructions
On

Instant Pot

, press Saute and wait until display says Hot. Takes 3-5 mins. Swirl oil to coat and add ground turkey. Cook until no longer pink or for about 5 minutes, constantly breaking into small pieces and stirring.

Add taco seasoning, oregano, salt, pepper and water. Stir to deglaze the bottom of the pot to avoid Burn.

Press Cancel, add quinoa and stir.

Add onion, garlic, bell pepper, soy sauce and maple syrup. Do not stir. Close the lid and move pressure valve to Sealing, and press Pressure Cook on Low for 12 minutes.

Release pressure using Quick Release method – turn pressure valve to Venting.

Add peas and corn, stir, close the lid and let quinoa and turkey dinner sit for 5 minutes. You can also thaw veggies before adding if you like very-very hot meal. Some readers have reported that. 🙂

Add green onion, stir and serve warm.
Notes
Store: Refrigerate leftovers for up to 3 days.
Freeze: For 3 months in an airtight container.
To avoid burn: Do not add dry spices to ground turkey during saute. Browned bits will stick to bottom.
If you got burn message: Once pressure pin is up, press cancel and let everything finish cooking with lid closed for about 12 minutes.
Nutrition
Calories:
392
kcal
|
Carbohydrates:
55
g
|
Protein:
29
g
|
Fat:
7
g
|
Saturated Fat:
1
g
|
Cholesterol:
42
mg
|
Sodium:
616
mg
|
Fiber:
8
g
|
Sugar:
13
g