This Shrimp and Vegetable Stir Fry is easy, healthy, low carb, and combines your choice of mixed vegetables with a simple, aromatic honey garlic stir fry sauce!
One pan stir fries like this or salmon stir fry and healthy chicken stir fry are perfect for a quick healthy dinner in under 30 minutes.
This easy shrimp stir fry recipe is one of them. It's delicious, versatile dish with a combination of juicy shrimp, mixed vegetables, and sweet and savory honey garlic stir fry sauce.
It is also low carb. Better yet, you can use any veggies you like in this shrimp and vegetable stir fry. Perfect for end of the week when you have veggies lingering in your crisper drawer.
Other healthy shrimp recipes with veggies you might also love include shrimp with zucchini, healthy shrimp salad, or shrimp avocado salad!
Shrimp and Vegetable Stir Fry Ingredients
All you need is a handful of versatile ingredients for this shrimp and vegetable stir fry recipe with a healthy honey garlic sauce.
Shrimp: Use raw or cooked, wild caught shrimp, peeled and deveined. I use 10-30 count per lb, but medium or large shrimp will work. You can use frozen too, but make sure they're fully thawed first.
Vegetables: I used bell peppers, broccoli, and onion for this shrimp and vegetable stir fry.
Fresh ginger and garlic: This garlic shrimp stir fry recipe uses fresh ginger and garlic. A teaspoon of dried ginger instead, in a pinch.
Oil: Any oil will work. i.e., avocado oil, grapeseed oil, coconut oil. Sesame oil will also work and adds extra flavor.
The garnish: I use a combination of raw or toasted sesame seeds and green onions or chives, finely chopped.
Soy sauce: Dark soy will provide the most depth in the sauce. Use tamari/coconut aminos for a gluten free option.
Sweetener: Honey or maple syrup are my preferred options to balance the sauce flavors. Experiment with a sugar free sweetener if preferred, though.
Vinegar: Use rice vinegar or white wine vinegar for the best results. Apple cider vinegar or lime juice could also work.
Water: Homemade chicken broth or vegetable broth would also work for extra flavor.
Cornstarch: To thicken the shrimp stir fry sauce. Arrowroot starch will also work or half the amount of AP flour.
How to Make Shrimp Stir Fry
My top tip to avoid a mushy stir fried recipe is to be prepared! Stir fry cooks quickly, so you will want to have all ingredients ready and prepped.
You will also want to cook the shrimp with mixed vegetables over medium high heat and use a large, wide pan, and do not overcrowd the pan. If you do, the veggies may steam and become limp.

It's important not to overcook it either, the vegetables should be tender crisp, and the shrimp should be just pink and no longer opaque.
Chop vegetables and prepare shrimp stir fry sauce: First, wash and chop all the vegetables into even sized pieces. Also, thinly slice the green onions and finely mince the ginger and garlic. Combine the soy sauce, maple syrup or honey, vinegar, and starch in a medium bowl. Whisk well until lump free, then set aside.
Sauté the garlic and ginger then add shrimp: Heat a large ceramic nonstick skillet or work over medium high heat with 1 tablespoon of oil. Once hot, add half the amount of ginger and garlic. Cook for 30 seconds, stirring frequently. Add shrimp and stir fry for 3 to 5 minutes until they've just turned pink and are no longer opaque. Then remove everything from the pan and set it aside.
Stir fry the vegetables: Add the remaining oil and aromatics to the pan and stir fry for 30 seconds. Then, add the vegetables and cook for 3 minutes.
Add the sauce: Pour the sauce into the skillet and stir well. Allow it to boil and cook until the sauce has thickened. Finally, add the shrimp back into the pan, stir, and garnish with the chopped green onions and sesame seeds. Enjoy!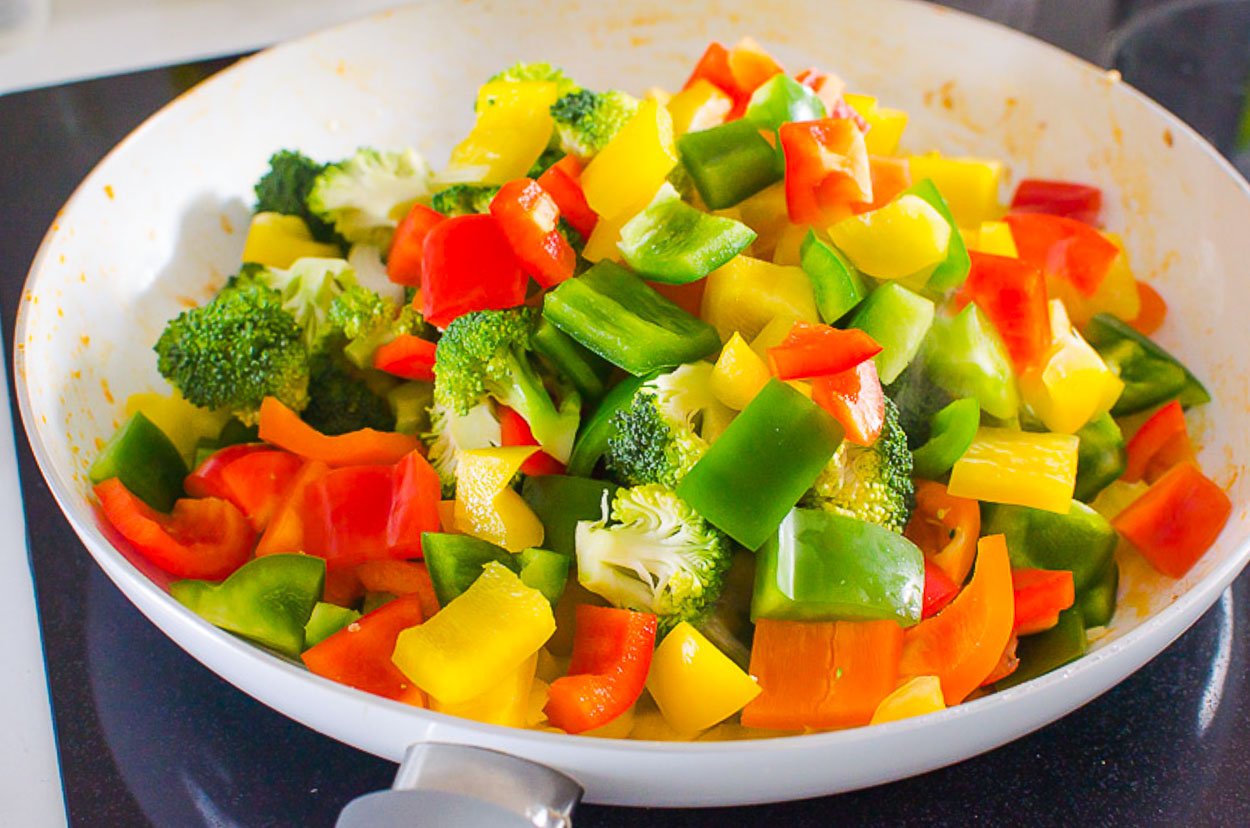 Do I Need to Leave the Tails on the Shrimp?
It really is a personal preference! Some families prefer to eat with tails on and others prefer shrimp without tails.
I always use a 1.5lb bag of frozen shrimp from Costco that is tail-off, peeled, and deveined for this recipe.
What To Serve With This Healthy Shrimp Stir Fry
Grains: Enjoy the healthy shrimp stir fry over a bed of cooked quinoa, Instant Pot brown rice, Instant Pot long grain white rice or other grains.
Pasta: Mix in or serve over brown rice vermicelli, egg noodles, ramen, or whole wheat spaghetti.
Low carb: Learn how to make cauliflower rice for a lower in carbs option or try zucchini noodles.
Lettuce wraps: Swap the chicken for shrimp in these healthy chicken lettuce wraps.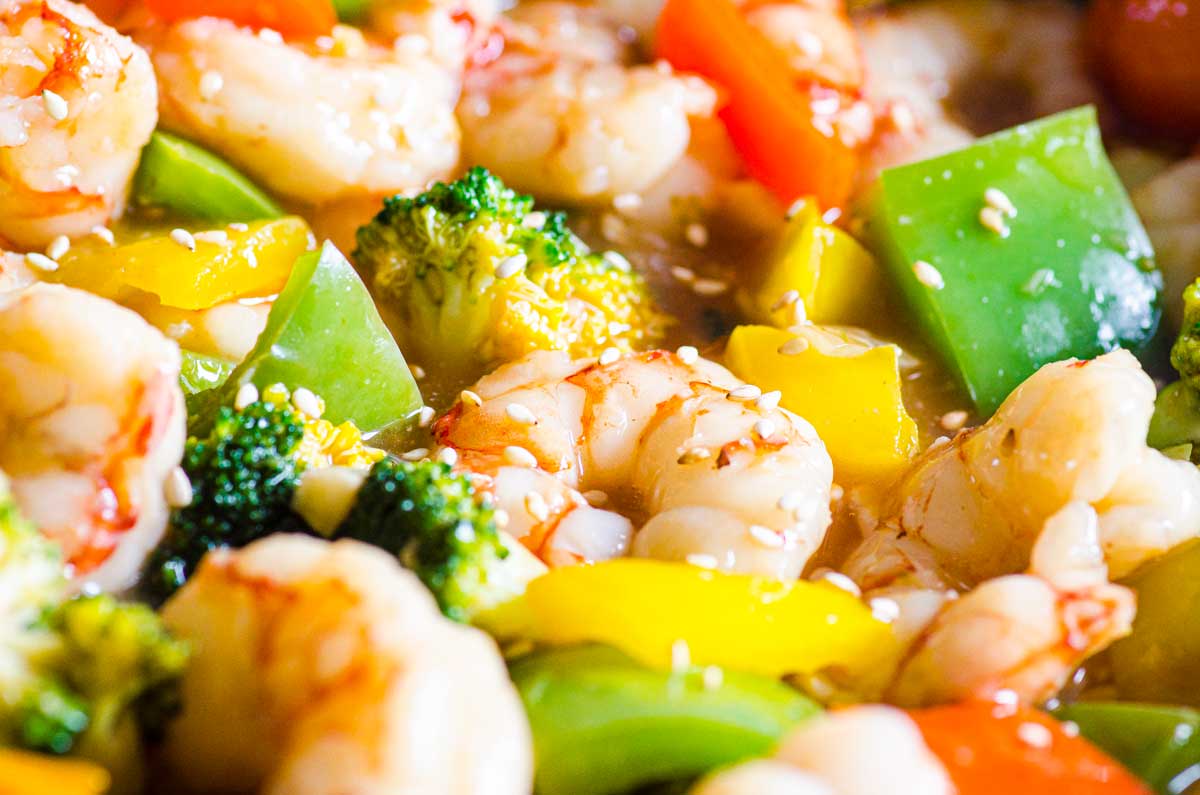 FAQs
Can I use different vegetables?
Yes! Other firm stir fry vegetable options include bean sprouts, shredded carrots, asparagus, snow peas, shredded cabbage, baby corn, edamame, or zucchini. For shrimp with Chinese vegetables, I recommend bok choy, bean sprouts, Chinese mushrooms, or any of these Asian vegetables.
Can stir fry be made ahead?
While stir fries are best ate fresh once cooked, you can wash and chop the stir fry vegetables up to 24 hours in advance and store them in an airtight container in the fridge. The stir fry sauce could also be prepped in advance, just give it a good stir before using. If you are okay with leftovers for healthy lunch ideas, store covered in the refrigerator up to 2 days.
More Shrimp Recipes to Try
More Stir Fry Recipes to Try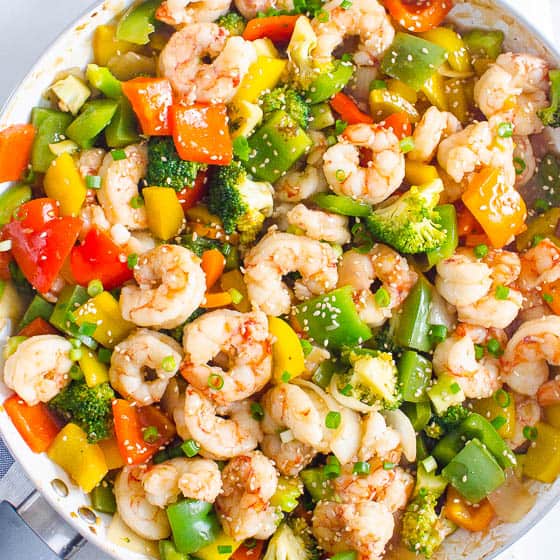 Healthy Shrimp and Vegetable Stir Fry
This Shrimp and Vegetable Stir Fry is easy, healthy, low carb, and combines your choice of mixed vegetables with a simple, aromatic honey garlic stir fry sauce!
Instructions
Make sure vegetables are chopped before cooking the stir fry. Things happen quickly once you get going.

In a medium bowl, whisk together water, soy sauce, maple syrup, vinegar and cornstarch. Set aside.

Preheat large ceramic non-stick skillet or wok on medium-high heat and add 1 tbsp of oil.

Add half amount of garlic and ginger and cook for 30 seconds, stirring frequently.

Add shrimp and cook for 3-5 minutes or until not opaque and pink, stirring occasionally. Remove onto a plate and set aside.

Add remaining 1 tbsp of oil, garlic and ginger. Cook for 30 seconds, stirring frequently.

Add vegetables and cook for another 3 minutes.

Whisk sauce well (cornstarch settles fast at the bottom) and add to the wok. Stir and let sauce come to a boil, then cook for a few minutes until it has thickened.

Add shrimp back, stir and garnish with green onion and sesame seeds.
Notes
Store: Refrigerate covered for up to 2 days. Unused sauce could be stored separately for several days, too. Reheat either in the microwave or on the stovetop until heated through.
Freeze: Do not freeze.
Amount of shrimp: I used 1.5 lbs shrimp and it was a lot. I just didn't want to re-freeze remainder of the package. Less shrimp would be even more healthy and just fine.
Oil: Any high smoke cooking oil like coconut oil and grapeseed oil will work.
Thickener: Instead of cornstarch, you may use arrowroot powder or half the amount (1 1/2 tbsp) flour.
Aromatics and spices: If you don't have fresh ginger, skip or use 1 tsp dried ginger. Make spicy by adding red pepper flakes to taste.
Shrimp and veggies cook more with residual heat, so make sure not to overcook. It is better to undercook this recipe, in fact.
Nutrition
Calories:
323
kcal
|
Carbohydrates:
35
g
|
Protein:
30
g
|
Fat:
8
g
|
Saturated Fat:
1
g
|
Cholesterol:
286
mg
|
Sodium:
354
mg
|
Fiber:
8
g
|
Sugar:
4
g