This is the easiest Instant Pot Ground Beef Stroganoff recipe because it is so fast and effortless without skimping on any of the comforts this delicious signature dish is known for. It's a 30-minute pressure cooker family meal that has all of the classic flavors and creamy textures of the traditional recipe. This healthier version is the BEST!
The whole family will love it just like Instant Pot goulash, Instant Pot jambalaya and Instant Pot stuffed peppers. One pot meals perfect for moms and dads to whip up on any busy night!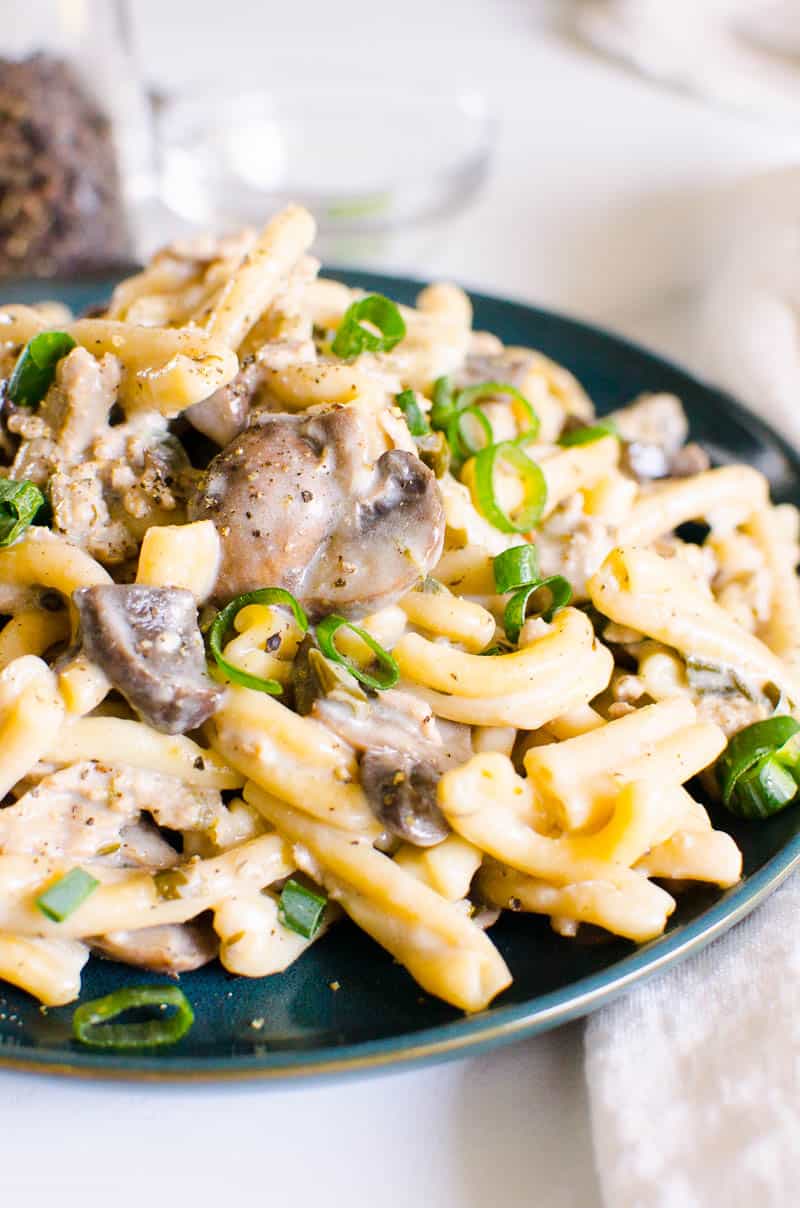 Instant Pot Ground Beef Stroganoff
Beef Stroganoff is classic comfort food and we're keeping all of the traditional flavours with this recipe but making a quicker, healthier version in the Instant Pot that is just the best! I just love healthy Instant Pot recipes!
Pressure cooker beef stroganoff is made with sautéed beef, onions, garlic, and mushrooms covered in a delicious cream sauce without using high sodium cream of mushroom soup. Instead, we are using whole milk and plain yogurt which adds the creamy tang without all the salt. It's made with pure and simple ingredients all in one pot!
Instead of the traditional chunks or strips of beef, I used ground beef because it cooks faster and is the best way to save time and keep it cost-effective as I'm usually stocked up on ground beef anyway. With this recipe, you can use whichever type of meat you'd like. Ground turkey, chicken, or chunks of beef, if you want. If you are looking for a vegetarian version, try my stovetop mushroom stroganoff.
Stroganoff doesn't use any complicated ingredients or even many of them, so it's not only a simple ground beef Instant Pot recipe, it's budget-friendly as well. Easy, one pot dinner just like Instant Pot cabbage rolls, Instant Pot beef stew or Instant Pot meatloaf and potatoes!
Pressure cooker beef stroganoff is one of those healthy pasta dishes everyone will rush to the table for. It's a hearty 30 minute dinner that's so flavorful, creamy and tasty. After a long day, it's nice to be able to whip up a complete dinner that everyone can agree on! Other 30 minute beef dinners that are on our regular rotation include beef and broccoli recipe and beef stir fry recipe.
Why This Ground Beef Instant Pot Recipe Works?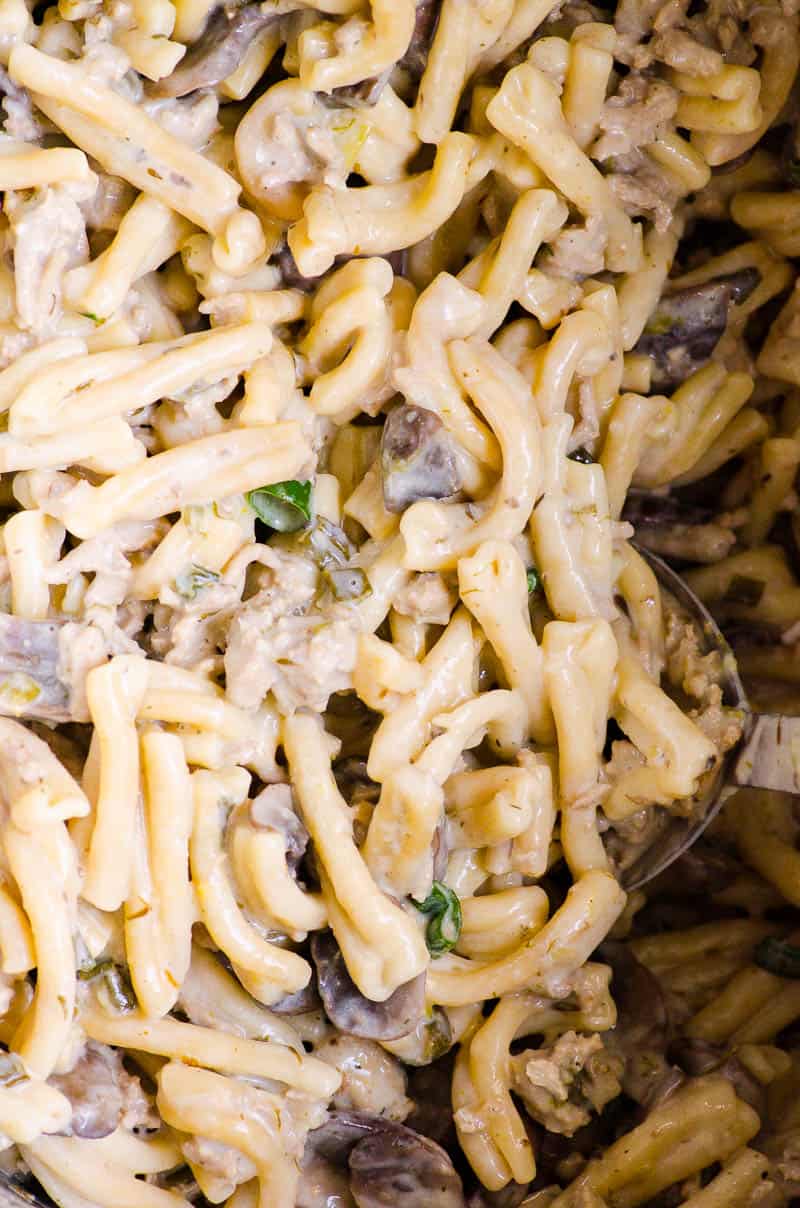 Ingredients for Instant Pot Stroganoff
How to Make Instant Pot Ground Beef Stroganoff
There is a detailed recipe card below.
TIP: Cooking time for pasta varies depending on the type of pasta. White, whole wheat pasta, or egg noodles – cook for 5 minutes. Gluten-free pasta – cook for 3 minutes.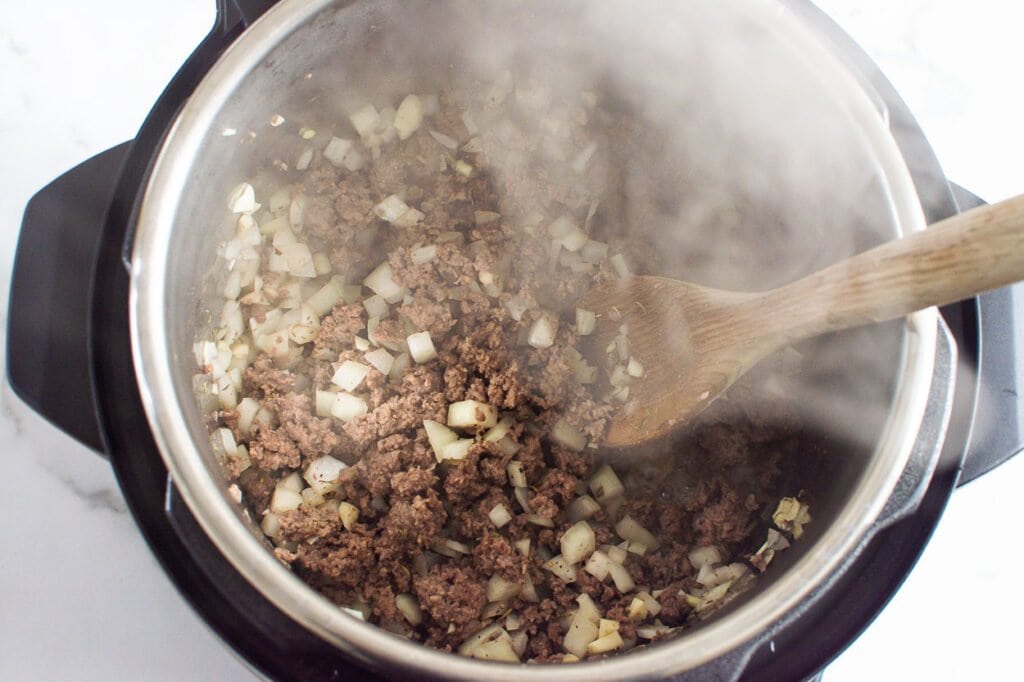 Optional Add-In's and Variations
Tips for Best Instant Pot Stroganoff
FAQs
Can I use cut up chicken breast instead of ground beef?
Yes, you can. This recipe is customizable and many of the ingredients are flexible. You can use cut-up chicken breast (as well as beef chunks or strips, ground turkey, ground chicken, you name it). Saute first, getting a bit of a sear, and allow the pressure cooker to tenderize the meat.
Why are my noodles still hard?
You can always add a bit more broth or water, close the lid and let pasta sit for 5-10 mins. It cooks so fast, it will get there. There's no need to even press anything. Next time try adding 2-3 mins of cook time. It is all about tweaking a bit with different elevations and pasta types.
When I opened up Instapot to stir in dairy ingredients it was all stuck to bottom of pan, it had no liquid left in it and pasta was way underdone. I had to add more broth deglaze and put back on for 2 minutes. Is this normal?
No, it's not normal. Your pressure release valve might have not been set to sealing or might have only been halfway kind of there – maybe it moved a bit (or a lot) from where it should be. This would cause extra steam to be released while it was coming to pressure. This loss of water has happened to me while I was cooking potatoes. The Instant Pot will still eventually come to pressure it just loses too much water along the way if it's not completely sealed.
Can I mix in cooked pasta after the meat with sauce is cooked?
Technically you can, especially if you're trying to avoid wasting any leftovers. Keep in mind, I don't think that will be as tasty since the seasoned broth that the pasta cooks in is what gives the pasta its flavour which makes the entire dish! This recipe is developed as a one-pot meal taking into account the flavouring of each of the ingredients.
Can I use egg noodles?
Yes! It's a very traditional way to enjoy beef stroganoff. It usually takes about 6-8 minutes to cook egg noodles, so the cooking time shouldn't vary too much.
Serving Recommendations
Side Salad: A simple side salad is enough to make sure everyone is satisfied. Try cucumber and tomato salad, spinach salad, or vinegar based coleslaw.
On top of: If you've decided to omit the pasta, serve it over a bed of cauliflower rice, it's a different way to complete your meal!
Making Instant Pot Hamburger Stroganoff in Advance
Storing: Instant Pot hamburger stroganoff can be stored in an inner pot with a lid if you have room in the fridge or an airtight container for up to 3 days.
Reheating: Add a splash of milk or broth when reheating as it gets thicker as it sits. You can reheat right in the inner pot using the Instant pot or in another small pot on the stove. Simmer on low while stirring a few times and until warmed through.
It doesn't freeze well: Cooked pasta does not freeze well, unfortunately. If you want to avoid waste, cut the recipe in half and keep the same cooking time – especially if you're only feeding a few people and don't need a lot of leftovers.
More Instant Pot Pasta Recipes
Did you know we have entire Youtube channel dedicated to healthy Instant Pot recipes and tips? Make sure to subscribe and hit the Bell icon not to miss new videos.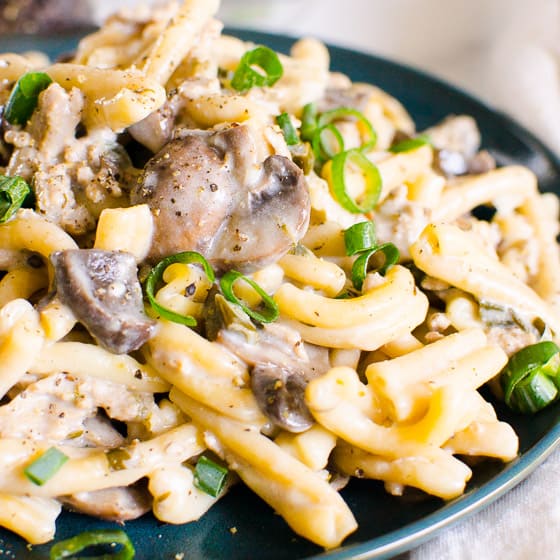 Instant Pot Ground Beef Stroganoff
Instant Pot Ground Beef Stroganoff with classic flavors and creamy textures but fast, effortless, and ready in 30 minutes.
Instructions
On Instant Pot, press Saute and wait until display says Hot. Takes 3-5 mins. Swirl oil to coat if cooking ground chicken or turkey. No need for oil if cooking with ground beef.

Add ground meat of choice and cook for about 5 minutes, constantly breaking into small pieces and stirring. Add onion and garlic half way through.

Add broth, thyme, salt, pepper and stir to deglaze the pot if you see burnt bits on the bottom.

Press Cancel and add mushrooms and pasta. Stir.

Close the lid and move pressure valve to Sealing, and press Pressure Cook on High for 5 minutes.

Release pressure using Quick Release method – turn pressure valve to Venting. Pasta might appear a bit undercooked only on top, don't worry.

Add 1 cup yogurt and 1 cup milk, stir, cover and let stroganoff sit for 10 minutes to create the sauce.

Open the lid and adjust thickness to taste with more milk and/or yogurt, if desired.

Sprinkle with parsley, stir and serve warm.
Notes
Store: Refrigerate leftovers for up to 3 days, in inner pot or airtight container.

Reheat with a splash of milk or broth right in inner pot or other small pot on the stove. Simmer on low while stirring a few times and until warmed through.

Freeze: Pasta does not freeze well.
Can I double the recipe? If you have 6 quart or less Instant Pot, you can't be cause there is not enough room. Cook in 2 batches if need to. With 8 quart pressure cooker you can do 1.5 times the recipe. Same cooking time.
Gluten free pasta: Cook for 3 minutes.
Nutrition
Serving:
2
cups
|
Calories:
482
kcal
|
Carbohydrates:
66
g
|
Protein:
31
g
|
Fat:
10
g
|
Saturated Fat:
4
g
|
Cholesterol:
56
mg
|
Sodium:
485
mg
|
Fiber:
3
g
|
Sugar:
8
g