The best Healthy Black Bean Burgers perfect for meat free Mondays and vegetarian guests. Hearty veggie burger combines black beans with leftover rice and veggies then can be baked, pan fried, or as part of your healthy grill recipes!
Serve in a bun, wrap in lettuce leaves (for a low carb option), or try 'naked' alongside Mexican kale salad or any of these healthy salad recipes!
Along with my family favorite healthy turkey burger recipe, ground chicken burgers, and salmon burgers, I think it's essential to have a good 'go-to' veggie burger in your dinner rotation. That's what healthy black bean burgers are for me!
After years of making and tweaking the recipe, this is the best black bean burger recipe I've ever made!
In fact, this recipe was first introduced on my blog back in 2015! But then, in some mad moment, I decided to delete it, boy was that a mistake.
I got tons of messages asking for it back, and now it's a readers' meat free favorite!
I love black beans. Honestly, they're an ingredient I use year round, from this mango black bean salad in summer to this one pot chili mac in winter and black bean nachos during fall sports.
Why You Will Love This Recipe
Hearty and nutrient-packed burger from the mashed black beans, rice and zucchini.
Savory and smoky taste from onion, garlic and chipotle peppers in adobo.
Holds its shape wonderfully, is easy to make and retains a wonderful crispy sear when it's pan fried.
Contains a fraction of the fat of a traditional hamburger.
Carnivore approved due to a meaty texture that entices meat lovers to lick their plate clean.
What You Will Need to Make Healthy Black Bean Burgers
Black bean burger patties are flavorful and best of all, you only need a few simple ingredients!
Black beans: You can either use low sodium canned black beans or Instant Pot black beans. If you use canned, ensure black beans drained, rinsed and then given a pat to dry.
Zucchini: Squeezed grated zucchini adds unbelievable moisture to the patty.
Rice: Any cooked or leftover rice will work. I often use Instant Pot brown rice leftovers. You could try quinoa or other grains like farro.
Oat flour or breadcrumbs: I prefer my meatless burger with bread crumbs but often use oat flour.
Eggs: Used to bind zucchini burgers.
Onion and garlic: I use a simple combination of aromatics. And there is no sautéing necessary.
Chipotle in adobo sauce: This adds a smoky taste to these to these black bean patties and is my favorite addition. You can substitute it with 1 tsp smoked paprika.
Cumin and salt: To season and taste your burgers.
Oil: I recommend either coconut or avocado oil for pan frying.
How to Make Healthy Black Bean Burgers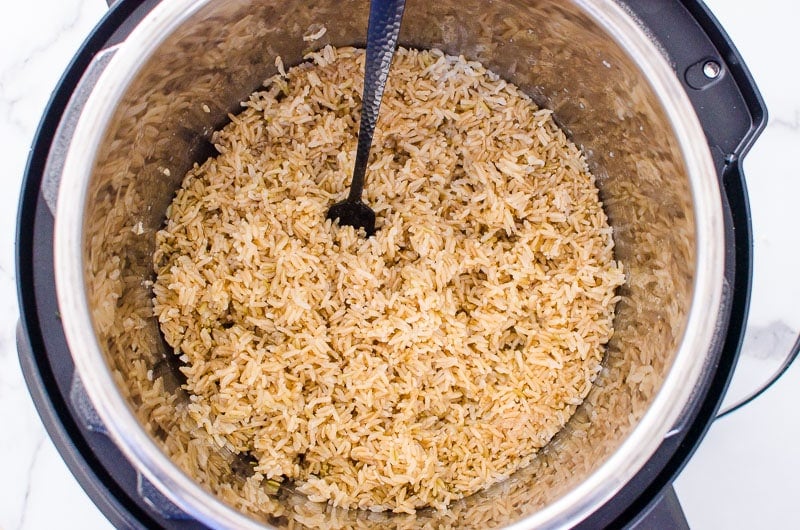 Cook the rice: If you're not using leftover rice, you'll first need to cook it according to the package instructions.
Mash the black beans: I prefer to have chunky pieces of black beans in my black bean patties, so I mash them by hand into a chunky texture. You can also lightly mash (or pulse in a food processor) the rice, helping the burgers bind together better.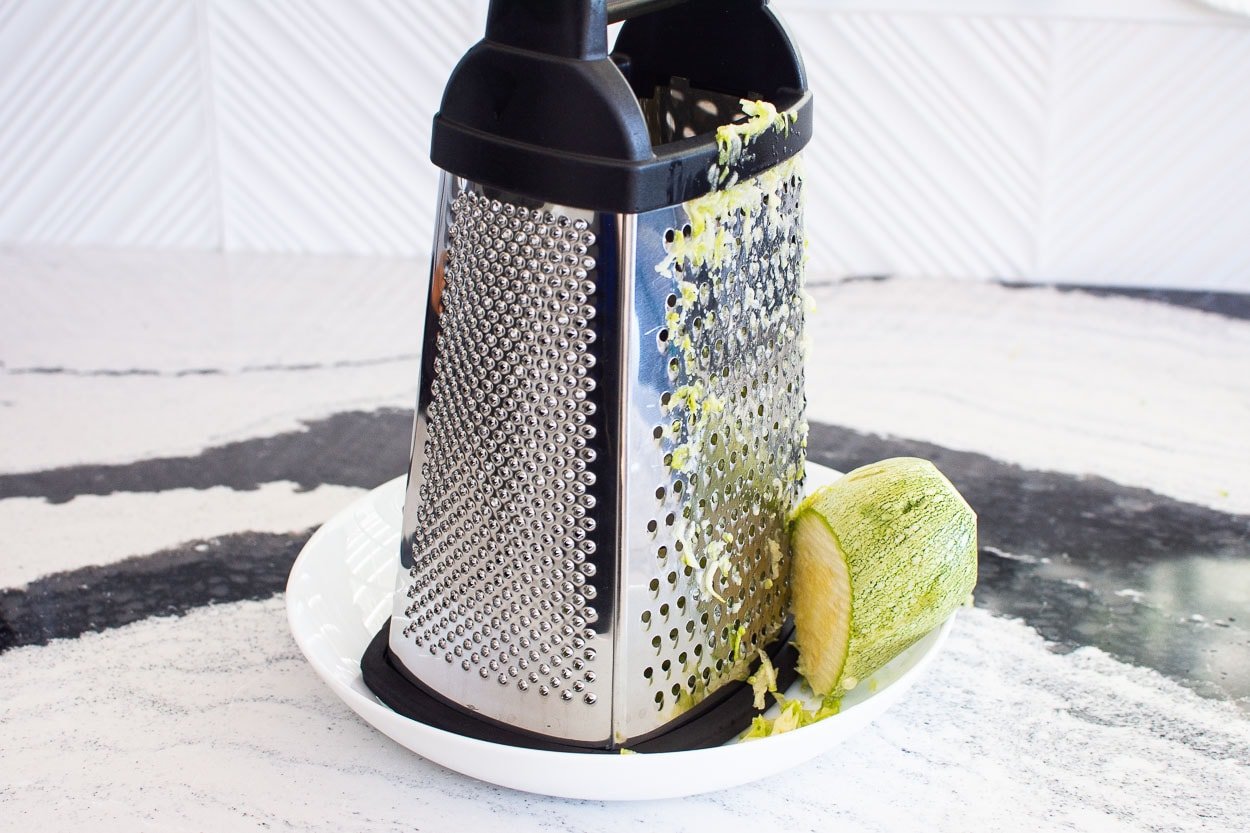 Prepare the zucchini: Grate the zucchini on the medium part of your grater (or using a grating disk in your food processor). Then squeeze out all the excess liquid from the zucchini.
Prepare the remaining ingredients: You need to mince or puree the onion either in a food processor or a chopper. Alternatively, you could use a grater (but get ready to cry!). Prepare garlic using a garlic grater or garlic press.
Mix and shape the black bean veggie patties: In a large bowl, combine all the meat free burger ingredients and mix well (I use my hands). Use around 1/2 cup for smaller burgers or 3/4 cup for larger patties. I like to transfer the shaped patties directly to the heated skillet.
Cook the black bean patties: Add as many patties as possible to your preheated skillet with oil and cook, undisturbed, for between 5-7 minutes per side (try to flip it too early, and it will fall apart). You'll have to cook the burgers in batches, adding a new tablespoon of oil to the pan as needed. See FAQs for baking or grilling methods.
For a cheeseburger, place the cheese slice over the black bean patties in the last 2 minutes, cover with a lid, and allow it to melt while the patties cook.
Make These In Advance
Yes, prepare the shaped black bean patties up to a day in advance and store them on a parchment lined tray in the refrigerator, covered. Proceed with preferred method of cooking when you are ready to eat them.

These healthy black bean burgers can also be frozen after they are cooked and cooled. To reheat, cook in skillet from frozen until heated through. I often swap these meatless burgers for the chicken in chicken burrito bowl meal prep.
Toppings Ideas
There are several ways that you can serve up these black bean burgers. For this recipe, I usually use:
Burger buns: I like to use either whole wheat burger buns or ditch the bread entirely and use lettuce leaves for a low-carb option or serve it 'naked' over salad.
Salad veg: I use a combination of lettuce, tomato slices, red onion slices, pickles, and avocado or easy guacamole recipe. You could also add jalapeño slices of pickled jalapeño in place of the regular pickles.
Cheese: Since this black bean patty has no saturated fat like beef patties, I feel happy to add a slice of mozzarella, Havarti (with jalapeno even!), pepper jack, or white cheddar.
Classic: The combination of ketchup, mustard, and mayo always pairs well.
Sauce: Spicy chipotle mayo, Thai sweet chili sauce, healthy BBQ sauce, or this avocado cilantro sauce.
Tips for Best Results
Use a hot pan: If it's not hot enough when you first add the burgers, they won't sear and crisp up nicely. Make sure the pan is preheated, and the oil is shimmering before adding the black bean patties. This applies to your grill as well.
Don't crowd the pan: If you add too many burgers to your pan, they'll just end up 'steaming' one another and not forming that crispy seared crust that we want. Instead, leave space between each patty and cook them in batches.
Using a ring mold: If you're used to making uneven patties, then using a ring mold, burger press, or even measuring cup can be a great idea for even burger size every single time!
FAQs
Can I omit the egg?
The egg is an important element in this black bean burger recipe to bind the patties together, and I haven't tried the recipe without it.

How to bind my healthy black bean burgers together if they are falling apart?
Cover and chill in the refrigerator for 30-40 minutes or until you're ready to cook them. Especially helpful for grilling.

You could try to blend the rice somewhat into more of a sticky mixture or mash the beans more to use as a binder as well.
What is the best skillet to pan fry the burgers?
When making veggie burgers, my preference is to use a good non stick ceramic skillet. You could also use a well seasoned cast-iron skillet, but it will need more oil to stop them from sticking thus falling apart.
Can you grill black bean burgers?
With this black bean burger recipe, it's best to use either a grilling silicone mat or a layer of tin foil (sprayed with cooking spray) for cooking the burgers on. If you attempt to cook them directly on the grill, they'll likely fall apart.

Grill for 7-9 minutes on each side. Serve with grilled zucchini and Instant Pot corn on the cob during the summer!
Can I bake black bean burgers?
Bake the black bean patties on a parchment or silpat lined baking sheet at 400 degrees F for 20-25 minutes, flipping halfway.
Serving and Storing
These homemade black bean burgers are perfect for serving in a bun with all the regular fixins' or even 'naked' as part of a larger meal. Here are some potential healthy sides and serving suggestions:
Store: Store the baked and cooled black bean burgers in an airtight container in the refrigerator for up to five days. Perfect for healthy lunch ideas!
Freeze: Allow the patties to cool, then lay them on a parchment lined baking sheet to freeze. Once solid, transfer the burgers to a Ziplock bag or a container with parchment paper between the layers. This is great for freezer meals.
Reheat: Reheat healthy black bean burgers from frozen in a skillet and cook as usual but add an extra 5 minutes. It works best if you add a little water to the pan and cook them covered until you flip them over. Reheat chilled patties in skillet or in microwave for a minute.
More Burger Recipes to Try
More Black Bean Recipes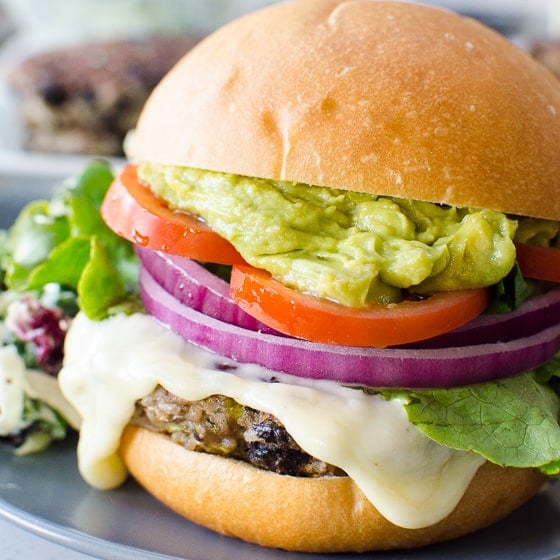 Healthy Black Bean Burgers
Best Healthy Black Bean Burgers are easy to make with black beans, leftover rice and veggies, then can be baked, pan fried, or grilled!
Ingredients
Black Bean Patty:
1

cup

white or brown rice

cooked (measured after)

2

x 14 oz cans low sodium black beans

drained & rinsed

2

large

eggs

3/4

cup

(1 small) grated zucchini

liquid squeezed out (measured after)

1

medium onion

minced or pureed

2

large garlic cloves

minced or grated

1

cup

oat flour

or whole grain breadcrumbs (I prefer latter)

1 1/4

tsp

salt

1

tsp

cumin

1

tsp

chili pepper in adobo sauce

minced (more to taste)

2 – 3

tbsp

oil

for frying
Burger (use your imagination):
7

burger buns

Cheese

mozzarella, white cheddar or (jalapeno havarti go well))

Lettuce

use in place of a bun for low carb version

Tomato slices

Red onion slices

Pickles

Avocado sliced/mashed or easy guacamole recipe

Ketchup and mustard
Instructions
Cook rice as per package instructions.

In the meanwhile, in a large bowl, add beans and mash with a masher until coarse puree with some bean chunks forms. It doesn't have to be smooth, in fact coarser texture means "meatier" burger.

Add eggs, zucchini, onion, garlic, oat flour, rice, salt, cumin, pepper in adobo, and mix with spatula very well.

Preheat large non-stick ceramic or well-seasoned cast iron skillet on low – medium heat and swirl 1-2 tbsp of oil to coat it generously.

Scoop 1/2 cup for smaller or 3/4 cup mixture for larger burgers and form into a patty. Place on a skillet and proceed doing the same with remaining mixture until skillet is full.

Cook patties undisturbed for 5-7 minutes per side. Flip with flat spatula carefully with a quick single flip. Other side will cook faster as skillet gets hotter.

Optional: Top desired amount of patties with a bit of melted cheese, cover and cook on low until cheese is melted.

Assemble burger on a bun with your favorite toppings. Serve immediately.
Notes
Store: Refrigerate cooked patties in an airtight container for up to 5 days.
Freeze: Cook, cool and store in airtight container up to 3 months.
Meal prep: Lay patties on a baking sheet lined with parchment paper, freeze completely and transfer to a large Ziploc bag. Cook from frozen following recipe's instructions + 5 minutes.
Sub chipotle in adobo sauce with 1 tsp smoked paprika.
Grill for 7 – 9 minutes each side on a grilling mat or foil sprayed with cooking spray.
Bake in oven at 400 degrees for 20-25 minutes, flipping halfway through.
Nutrition
Serving:
1
patty
|
Calories:
395
kcal
|
Carbohydrates:
40
g
|
Protein:
9
g
|
Fat:
14
g
|
Saturated Fat:
2
g
|
Cholesterol:
47
mg
|
Sodium:
589
mg
|
Fiber:
5
g
|
Sugar:
1
g