Flavorful, easy and no massaging Lemon Kale Salad with toasted nuts and fresh Parmesan cheese is tossed in a lemon and garlic dressing and ready in only 15 minutes. This healthy salad recipe pairs well with any pasta dish, grilled protein, soup or holiday main.
This is hands down, one of my favorite leafy green salads and close runner-ups are this spring mix salad, lettuce salad or strawberry spinach salad!
Lemon kale salad is my "default" kale salad. Once in a while, I get a craving for chewy leafy kale leaves with a punch of garlic, lemon and parmesan. Kind of like a healthy, more nutrient-dense version of Caesar salad.
That is when I make this easy lemon garlic kale salad. Quick to whip up and I have ingredients on hand 99% of the time. It is simple enough for a weeknight dinner, yet fancy for guests and holidays at the same time. It works as a side dish for just about everything! Healthy chicken Alfredo, oven baked chicken breast or healthy grill recipes pair well with this kale salad with lemon dressing. And for a soup and salad combination, try pairing it with chicken noodle vegetable soup or lentil spinach soup.
Let me convince you to love this hearty green as much as I do! I love that kale is so versatile – use it in a green smoothie or add a pop of color and nutrients to pasta dishes. Prepared correctly in a salad, it's tender yet crunchy and there is no need to massage it. The key is to thinly slice or evenly chop your kale to ensure that each piece is coated in the dressing. The lemon juice will help 'break down' the toughest kale pieces. And the best part? If there any left, kale is hearty enough to hold it's own in the fridge for a few days – hello, meal prep friendly (other salads can't claim that)!
This kale parmesan salad is great make year round! Kale is usually a very affordable green to buy at the grocer, no matter the season but if you are lucky enough to pick it up from your local farmers market during the summertime, do it! So, is kale good in a salad? You betcha it is! And this lemon garlic kale salad is here to convince you of that fact.
Why This Recipe for Lemon Garlic Kale Salad Works?
Lemon. It's no secret that kale is a 'tougher' lettuce – the acidity of lemon helps break down the fibrous leaves of kale making it more tender and easier to chew.
Olive oil, salt and garlic. This combination with the fresh lemon juice makes your kale less bitter and transforms the flavor of kale into a 'taste buds dancing' type of salad.
Balanced flavors. Acidic lemon, salty parmesan and toasty crunchy nuts make the flavor profile of this kale salad amazing!
Budget friendly. Kale is a very affordable year round lettuce. It also holds up well in the fridge, making it perfect for meal planning.
Meal prep-able. Kale holds up well even after you 'dress' it! I recommend eating it within 24 hours, although, it will keep for a few days in the refrigerator (the kale will continue to get softer, the longer it sits, but still tastes great!)
Nutritious superstar. Kale contains vitamins A, K, B6 and C, calcium, potassium, copper and manganese – with this impressive nutrient line-up, I guess the only question is why aren't you eating more of this rockstar lettuce?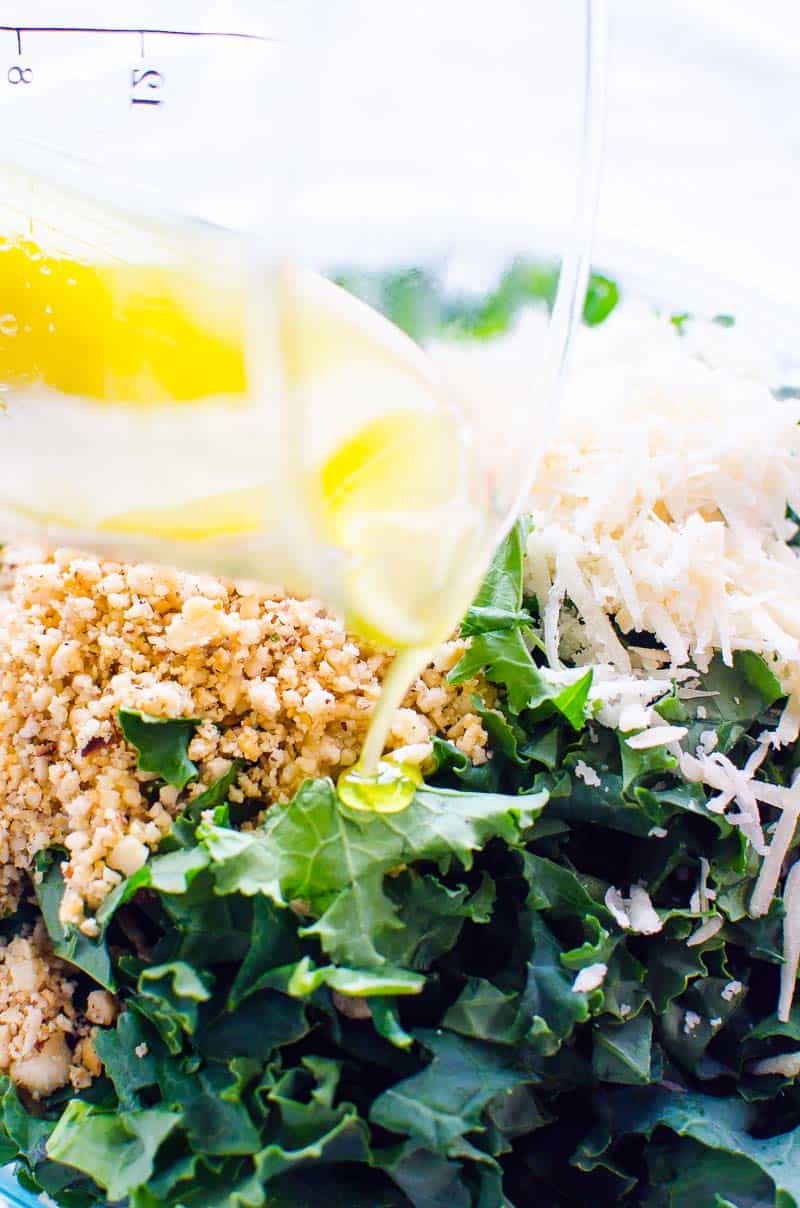 Ingredients for Kale Salad with Lemon Dressing
Kale: Use curly or lacinato kale, I prefer curly in this salad, see more notes below on kale types.
Olive oil: For dressings, my go-to oil is extra virgin olive oil.
Lemon: Freshly squeezed – it not only tastes better but doesn't contain any preservatives.
Parmesan cheese: Freshly grated from a block for both taste and to avoid anti-caking agents founds in shredded.
Almonds, hazelnuts or brazil nuts: These three I find to add the best taste, but you could also use walnuts! Pine-nuts is another option (although pricier!).
Garlic: When is fresh garlic ever not a good idea? Again, fresh garlic will add the best taste.
Salt and pepper: To season and taste.
What Type of Kale Can I Use?
I absolutely love kale. Do you? I go through stages, though! Fall and winter kale cravings truly hit. Must be lack of summer produce and remember kale one of those affordable year round lettuces at the grocer.
Green kale (pictured below on left): Green kale is leafy, curly and light green kale variety. It has thick prominent ribs and creates a lot of volume in a salad bowl. It is more chewy than other kale. I can't explain but kale choice depends really on the cravings. Once you try both kinds, you will know what I mean. Right?
Lacinato "dinosaur" kale (pictured below on right): This is kale with dark green, long and narrow leaves with bumps. Hence, the name. It does look like a dinosaur skin and is very soft compared to green kale. I like to use it for kale Caesar salad because it is less voluminous and you get more dressing with each bite.
You can use any kale to make this kale salad with lemon dressing. I personally do not love purple kale for this lemon kale salad recipe. Or maybe at all.
How to Make Kale Parmesan Salad with Lemon
Prep kale: Make sure to remove the leaves from the ribs and chop them finely.
No need to massage it: If you read many recipes online, most say you do. Well, I don't. I just don't think this extra step is necessary with this simple kale salad. The keyword is "chopped". Then lemon juice in the salad dressing helps to break down the fibers of raw kale within minutes.
Toast nuts: Cook nuts in a skillet until fragrant and lightly browned. Watch closely not to burn and stir often.
Make dressing: This is the best kale salad dressing based on quality extra virgin olive oil. Freshly squeezed lemon juice adds acidity that is so essential to any salad dressing. And how this Ukrainian could skip a zip from freshly grated garlic?!
Combine and mix: And once you drizzle this lemon-y garlic vinaigrette over finely chopped kale, toasted nuts and freshly grated Parmesan cheese, it makes the best kale salad ever!
Tip: Kale salad might be a pain to mix because of its volume. To toss kale salad, I like to use Pyrex bowl with a lid and shake well. Then when I remove the lid, I give shrunk kale a few more final stirs.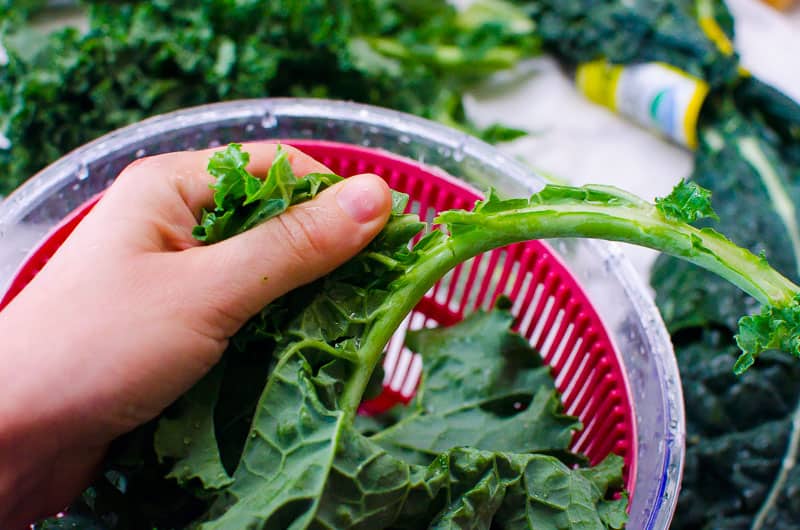 Optional Add-In's and Variations
Red pepper flakes: Add just a pinch in with the dressing to give it a 'kick'.
Lemon zest: Love lemon? Zest some of the lemon peel and include it in the dressing.
Walnuts or pine nuts: Suitable replacements for your nuts.
Nut free? Try some sunflower seeds or even toasted chickpeas.
Dairy free? Sprinkle a little nutritional yeast on the salad or buy a good dairy free parmesan to use instead.
Other cheeses: Goat cheese or feta would also be great in this salad.
Dried cranberries/apples: These would be great to add for a holiday salad – Instant Pot beets would also be a nice way to add color and nutrients!
Winter squash: Sauteed butternut squash would make this a lovely salad to serve during autumn.
Avocado: Dice it or slice it and it will add a creaminess to the salad.
Dijon mustard: Adds bold flavor to the dressing.
Sweetener: If you find lemon too tangy for you, add a touch of sweetener to balance the dressing – I recommend a liquid sweetener such as maple syrup, honey or agave.
Tips for Best Kale Salad Recipe Results
Fresh, quality ingredients: Freshly squeeze lemon juice vs. bottle, fresh grated parmesan from a block vs. pre-shredded will really make a difference in the fresh taste!
Remove the kale ribs: They are way too tough to eat! Save them and sauté in olive oil later or if you have high powered blender, you could possibly use them in a smoothie.
To easily remove the stems of kale (the ribs): Use a chef's knife OR hold the bottom of the stem and run your hands up the sides of the rib while holding it tightly. Leaves should easily remove. Don't forget to rinse your leaves next and then spin them in a salad spinner or pat dry with a paper towel!
Chop kale into thin strips: Thinner strips allows the dressing to evenly coat. Alternately you could chop evenly into bite sized pieces.
Toss kale really well: I like to put the dressed kale in a large pyrex bowl, cover with a lid and shake! You could also use your hands to toss it.
Chill dressing first: If you have time, make the dressing first and then chill while preparing the remaining ingredients – this makes for a colder, refreshing salad, especially if you are making this kale salad with lemon dressing on a hot summer day or warm autumn evening.
Massage it: I know, I know. I said not to do this. But if you are still finding kale hard to eat, try massaging a tiny amount of salt first onto the salad leaves, then proceed with dressing it. I want you to eat more kale, and if massaging it helps, win-win-win!
FAQs
What is the best way to eat kale?
Well this really depends on what appeals to your personal taste! Some people may not like raw kale despite multiple tries – if this is you, you may like it with ground turkey pasta bake or wilted in buckwheat stir fry. Others may not mind it raw, but need it chopped then mixed into a grain salad, like quinoa tabbouleh. And still others may like it raw for example in this lemon garlic kale salad! And if you love it all ways, even better!
How do you cut kale for a salad?
First, you will want to cut the leaves from the stem. For thin kale slices, stack a few leaves together and slice in a circular motion. For chopped kale, rotate the leaves and cut again. No chef knife? You can chop kale easily with kitchen shears if needed!
How long does kale salad last in the fridge?
Dressed lemon kale salad will last 36 hours, give or take some hours there! You could also prepare kale without dressing by removing the stems, preparing the leaves and storing in a ziploc / storage bag in the refrigerator. I find this very helpful when I want to add some kale here or then into eggs, pasta or soup!
Does eating kale have side effects?
Depends…if you are not used to eating fibrous food, you may notice that it helps you go to the bathroom easier. If you find that kale is having what you determine is not a pleasant side affect, it's best ultimately to discuss this with your doctor, nutritionist or dietician.
Which is healthier kale or spinach?
Both vanities contain a host of nutrients! Kale contains more vitamin C than spinach, but spinach contains more folate and vitamins A & K. I say eat both for a well rounded diet!
Serving Recommendations
This kale salad is the ultimate side salad for any dish you can think of. It's simple and flavorful without taking over. Kale parmesan salad goes well with beef, chicken or turkey as well as pasta, soups and grain bowls! Here are some my favorite ways to pair it.
Making Lemon Kale Salad Recipe in Advance
Storing: Unlike its cousins, kale is a very sturdy leafy green. You can store salad leftovers for up to 36 hours without salad becoming soggy.
Make ahead: If you would like to make salad ahead, prepare kale leaves and store in a zip top bag for up to 7 days. I often meal prep kale like this for easy use throughout the week. If you buy chopped kale in bags, you might have to remove the ribs.
Then store toasted nuts in a dry place. Salad dressing can be made for up to 7 days in advance and refrigerated. Remove it from the fridge 30 minutes ahead of serving to allow olive oil to warm up.
More Kale Salad Recipes
Alternatively, check out this big list of healthy salad recipes for more salad inspo!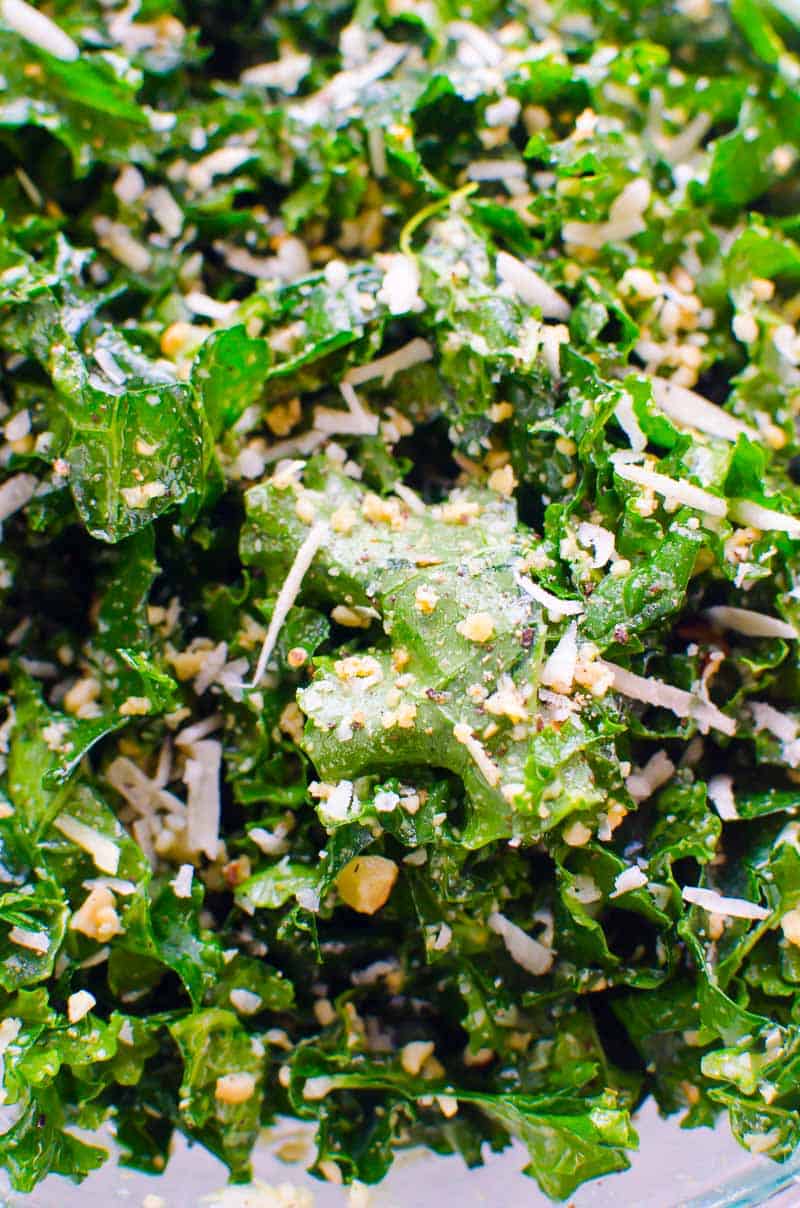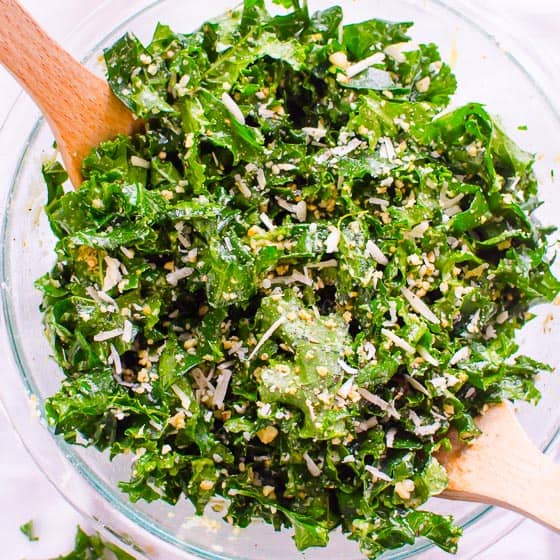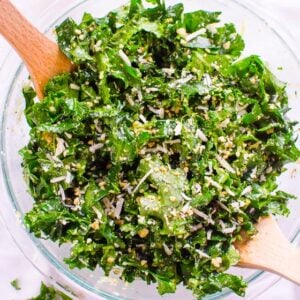 Lemon Kale Salad with Garlic and Parmesan
Flavorful, easy and no massaging Lemon Kale Salad with toasted nuts and fresh Parmesan cheese is tossed in a lemon and garlic dressing and ready in only 15 minutes. This healthy kale parmesan salad pairs well with any dinner pasta dish, grilled protein, or holiday main. Or use it for a classic soup and salad lunch combo! However you pair it, this simple, fresh kale salad with lemon dressing will be your new favorite go-to side dish!
Instructions
Remove ribs from kale, rinse with cold water and spin in a salad spinner.

Chop into thin stripes and add to a large salad bowl.

Toast nuts in a skillet on medium heat until fragrant, stirring often. Transfer to a salad bowl.

Add Parmesan cheese and toasted nuts to the salad bowl.

In a small bowl, add olive oil, lemon juice, garlic, salt and pepper. Whisk with a fork and pour over salad.

Stir gently until well combined. Serve within a day.
Notes
Store: You can store salad leftovers for up to 36 hours without salad becoming soggy.
Nutrition
Calories:
175
kcal
|
Carbohydrates:
5
g
|
Protein:
4
g
|
Fat:
16
g
|
Saturated Fat:
3
g
|
Cholesterol:
3
mg
|
Sodium:
266
mg
|
Fiber:
1
g
|
Sugar:
1
g