These stove top Skillet Enchiladas are going to be your new favorite one-pot dinner under 30 minutes! Beef enchilada skillet combines juicy ground beef (or chicken/turkey), simmered in a homemade healthy enchilada sauce, before being loaded with hearty beans and corn, and then topped with just enough cheese to be hearty without weighing you down!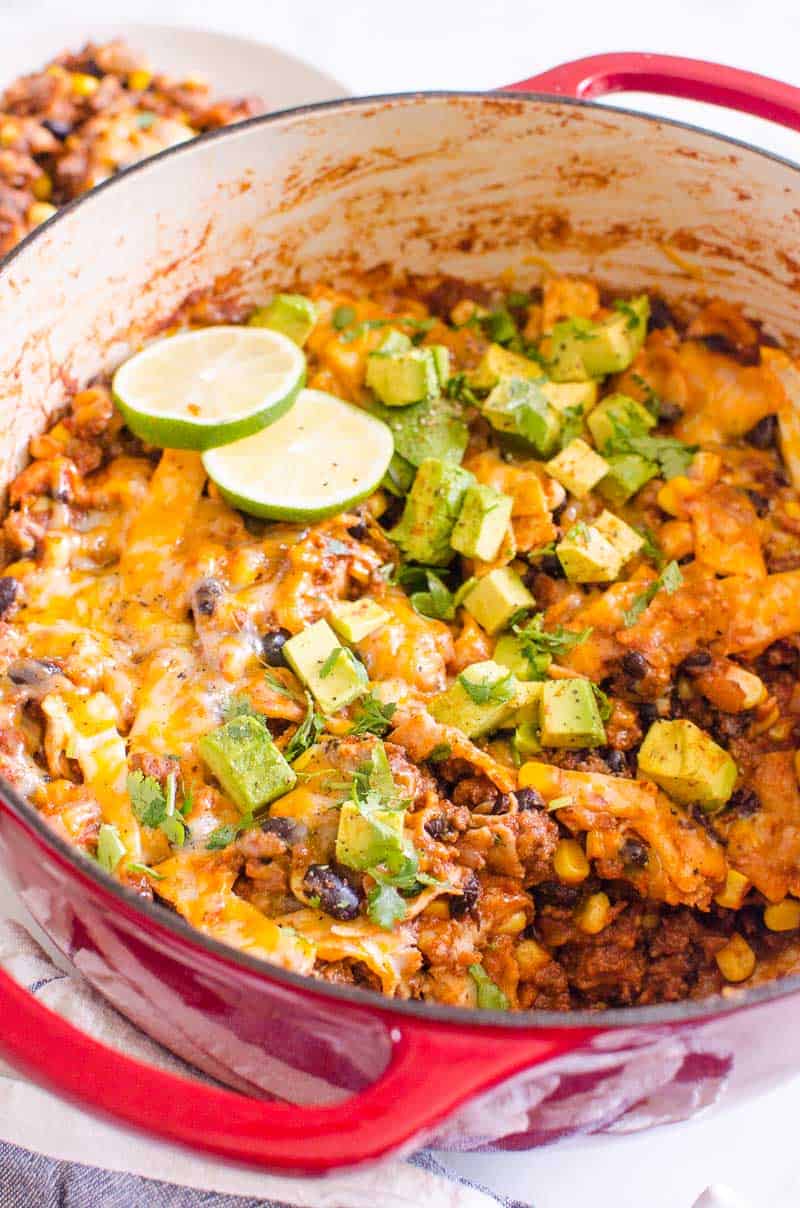 Healthy One-Pot Skillet Enchiladas
I've always loved enchiladas (and low carb chicken enchiladas), but I'm also busy (and sometimes lazy), and these skillet enchiladas are the answer to my dreams. You still get the delicious combination of juicy meat simmered in a flavorful homemade enchilada sauce (yay for no preservatives!), with tortillas and cheese – but skipping the assembling/rolling steps (which cuts your prep practically in half!).
Instead, brown the meat and then chuck all the ingredients in a pot and cook to perfection. My family and I are now obsessed with one-pan versions of our favorite Mexican and Tex-Mex dishes like a taco skillet and similar healthy Mexican casserole!
Even requiring minimal prep and just one pan for these stove top enchiladas, there are still ways to further reduce this recipe's prep and cook time. For example, swap our raw ground meat for pre-cooked leftovers (i.e. Instant Pot shredded chicken) and get these skillet enchiladas from kitchen-to-table in 15 minutes! And, if that's not good enough, there are tons of ways to adapt this recipe, too, based on what you have available and your dietary/flavor requirements (keep reading for all my top suggestions!).
Once cooked, the fun doesn't end there. Then it's time to top the beef enchilada skillet with your toppings of choice – and if you ask me, that's practically as important as what's in the pot! Creamy yogurt or sour cream, salsa, cilantro, lime, guacamole – there are tons of options to please everyone!
These healthy enchiladas are the hearty, wholesome dish I love to prepare for my kids all year round when I can't even be bothered to make tacos. Which isn't often, I'll admit!
We have ground chicken tacos, ground turkey tacos, beef tacos, and carne asada tacos that I swap out almost weekly!
Why This Recipe for Beef Enchilada Skillet Works?
This beef enchilada skillet recipe requires minimal chopping and only one pan – for a low-effort mid-week meal (and easier clean-up!)
This one pot enchilada recipe is ready in under 30 minutes or as little as 15 minutes when using pre-cooked meat!
You can swap out the protein – use beef, turkey, or chicken-based on what you have and how 'lean' you want the stove top enchiladas to be.
Swap out supermarket sauces for a homemade healthy enchilada sauce – control the sodium and fats and avoid all preservatives, chemicals, and processed ingredients!
These skillet enchiladas are also super versatile and customizable! Swap out the meat, adjust the spice level, add extra veggies, and finish with the toppings of your choice. You can even make a gluten-free, meat-free, or dairy-free option!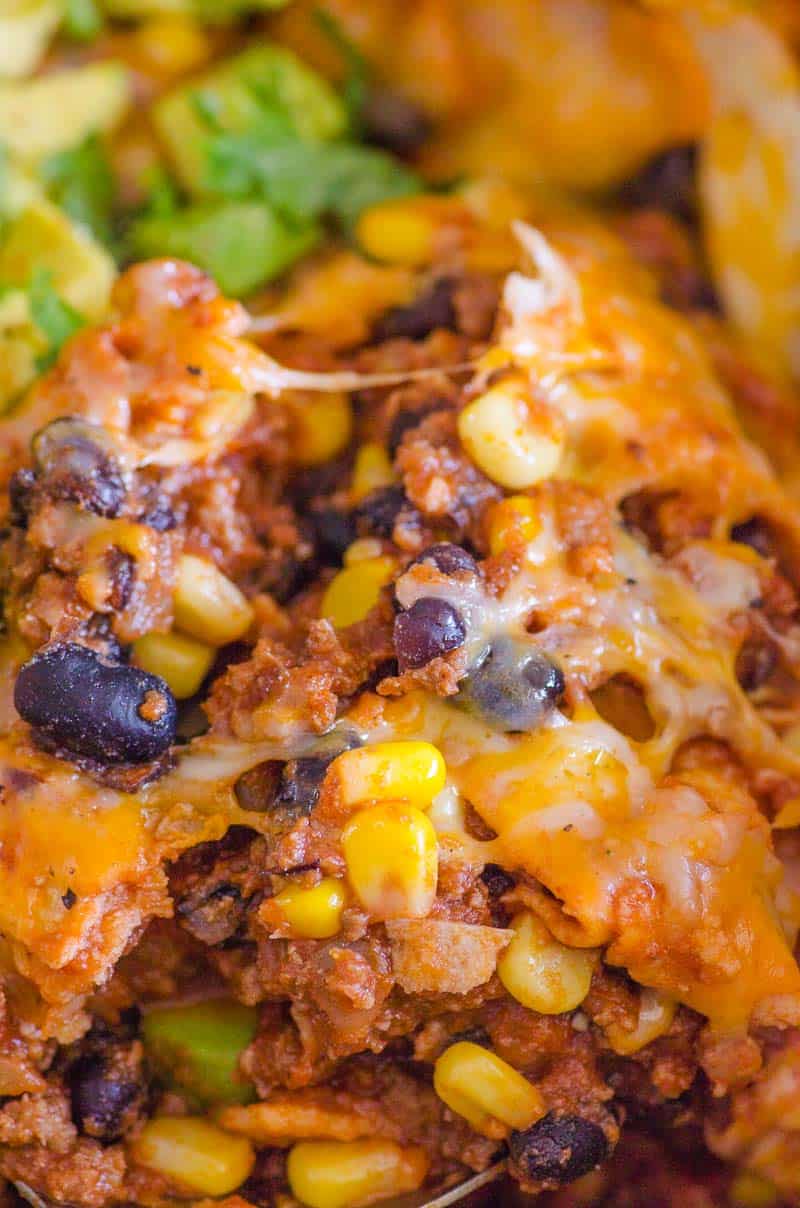 Ingredients for Mexican Skillet Enchiladas
Protein: I used ground beef for these stove top enchiladas. Use a lean version if preferred (I recommend 85-90% lean). Read the FAQs for substitutions.
Aromatics: This recipe uses onion and garlic – though if you want to skip all the chopping (and cut down even more time from regular enchiladas), you could use a teaspoon each of onion powder and garlic powder instead.
Tortillas: I used whole wheat tortillas cut into strips. You can use corn or wheat tortilla, though, based on what you have (read FAQs)
Black beans: I use a 14oz can low-sodium black beans (or pinto beans). Alternatively, use dried beans cooked yourself (you'll need around ¾ cup of the dried beans)
Corn: I like to use frozen corn for ultimate freshness. You could use canned in a pinch for this one pot enchilada recipe.
Cheese: I recommend using cheddar or Tex-Mex, though Monterey Jack will also work (but is milder). Feel free to use a reduced-fat cheese if preferred.
Tomato: Use low-sodium tomato sauce and tomato paste. You could also use Rotel or diced tomatoes with chiles , though the color won't be as deep.
Broth: Use low sodium chicken broth or Instant Pot chicken broth, vegetable broth, beef broth or water.
Maple syrup: To offset the tomato's acidity, you can use maple syrup, honey, or granulated sugar.
Spices: The homemade enchilada sauce uses a simple combination of chili powder, cumin, and salt and pepper
Keep reading below (after the recipe how-to) for more information on any add-ins and recipe variations!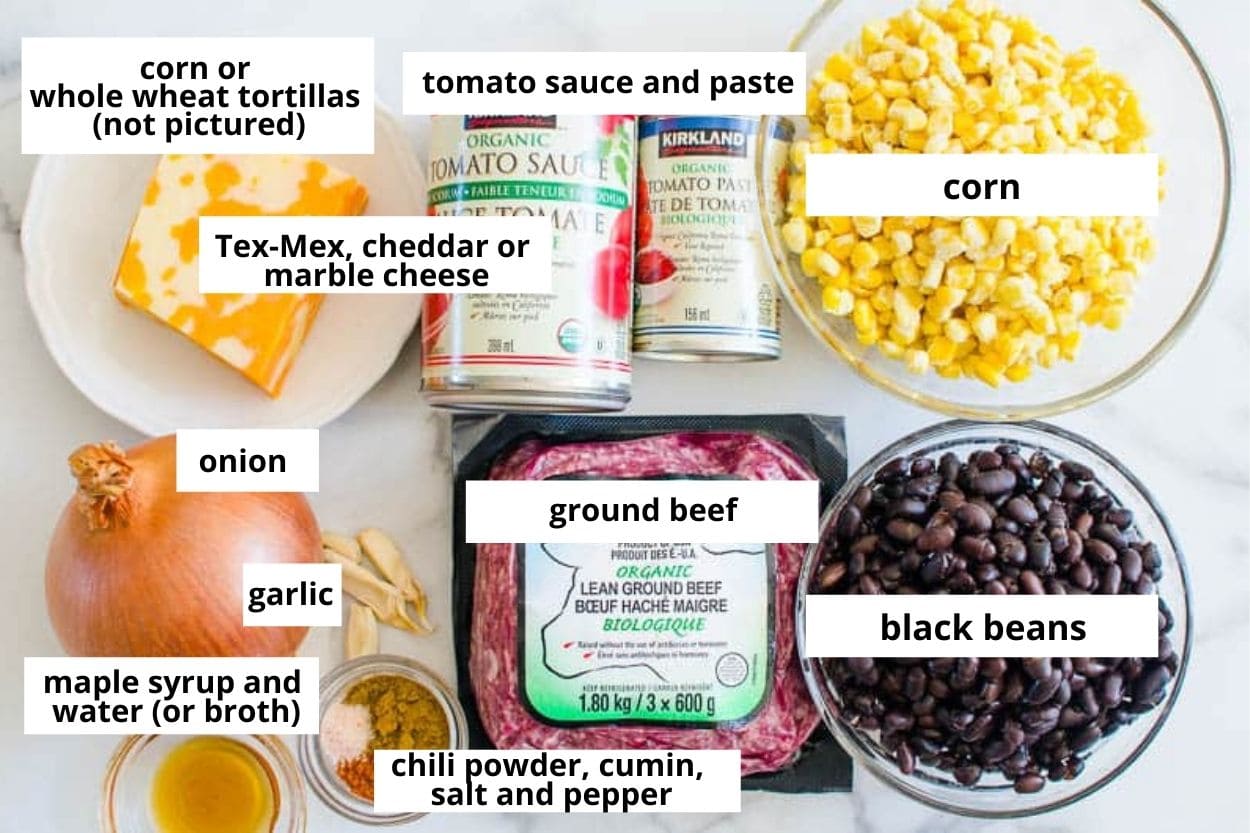 How to Make Stove Top Enchiladas
Prepare the ingredients: First, peel and finely dice the onions, mince the garlic, and slice the tortillas into bite-sized strips.
Saute the beef: Preheat a large, deep skillet (or Dutch oven) over medium-high heat. Add the ground beef, onion, garlic, and spices and cook until browned – around 10 minutes. While cooking, stir often, breaking the meat down into small pieces.
You can optionally drain the fat from the ground beef before adding the sauce ingredients in the next step. However, I never do.
Add the enchilada sauce ingredients: Add the tomato sauce and paste, sweetener, stock (or water), beans, corn, and tortilla strips, and stir well. Then cover the pot with a lid, reduce the heat to low, and cook for 10 minutes.
Add the cheese: Remove the pot from the heat, sprinkle with the cheese and then replace the lid; allow it to stand for a few minutes so the cheese can melt. Then enjoy your tasty stove top enchiladas!
Optional Add-In's and Variations
Other seasonings: You can experiment with adding taco seasoning, oregano, or smoked paprika/hot paprika – to taste.
Other vegetables: You could add zucchini, bell peppers, spinach, olives, or tomatoes to bump up the veggies in this beef enchilada skillet.
Grains: You could mix (cooked) grains into the one pot enchilada for an even heartier meal. I recommend using some quinoa or brown rice – but then you'll either need to slightly increase the sauce ingredients or decrease the amount of chicken or beans.
Chipotle pepper: You can add a chipotle pepper in adobo sauce for some smoky, spicy flavor.
Jalapeños: For increased heat, you could add some finely diced/sliced jalapeno (seed removed). Adjust the amount to personal taste.
Vegetarian enchilada skillet: If you want to make a vegetarian version, I recommend using firm tofu pieces (scrambled) or soy protein. You could also use a meat-alternative mince or shredded meatless chicken, but those are usually highly processed.
Gluten-free: Make sure to use GF tortillas – otherwise, this skillet enchiladas recipe is naturally gluten-free.
Recipe Notes and Tips for Best Results
For less mushy tortillas: You can pan-fry the tortillas in a little oil until lightly toasted. Then remove them from the dish to saute the beef and onion before adding them back in just before the cheese. Alternatively, you can lightly char the tortillas over a flame (if you have one) for extra dimension of flavor.
Don't skip the garnishes: If anything, they're as important as the dish itself when it comes to Tex-Mex and Mexican cuisine. At a minimum, sour cream (or Greek yogurt), avocado, and cilantro (or scallions) help round off all the flavors.
Serve leftovers as chilaquiles: Since many of the elements are the same, leftovers make for great chilaquiles. Top off with a fried egg and enjoy!
The salt content: If you aren't using low-sodium beans/tomato products, then reduce added salt to the recipe.
Forgot to thaw meat? Use Instant Pot frozen ground beef method to quickly defrost.
FAQs
What tortillas should I use for easy enchilada bake on the stovetop?
Technically, either corn or flour tortillas will work for these stove top enchiladas. However, I prefer corn tortillas. Not only do they hold up better in the sauce, but they add extra flavor too (more traditional Mexican flavor – like this chicken tortilla soup). Flour tortillas will be mushier.
What is the best skillet/pot for skillet enchiladas?
I love to use a Dutch oven for this beef enchilada skillet recipe as I don't own a large enough cast-iron skillet. However, you can make it work with several types of pots:

• Dutch Oven: These pots are cast-iron coated with enamel. I am obsessed with mine (I have two). Once the lid is on, Dutch ovens retain heat and spread it incredibly well and evenly. Just avoid cheap no-name brands. I love my Lodge ones, which are great AND don't break the bank like Le Creuset.
• Cast-iron skillet: Use a large 12-inch skillet with a tight lid. Once again, Lodge is my preferred brand.
• Non-stick skillet: Make sure that it's at least 12″ and has a tight lid. I've had great results with Green Pan. Out of all the ceramic skillets I've tried, this one holds its "non-stickiness" the longest.
Can I substitute the beef for another meat?
Yes. I've tested this recipe with ground beef, ground turkey, and ground chicken with varying success.
• Beef: I don't usually use ground beef due to the high-fat content. However, for the occasional treat, I'll give in, especially when it makes for dishes as delicious as these skillet enchiladas (or sheet-pan steak fajitas and for homemade meat sauce for lasagna and spaghetti). Since the remainder of the ingredients are very 'lean,' this dish does well with the extra fat.
• Turkey: Ground turkey is my usual go-to and beef alternative. However, for these skillet enchiladas, it just wasn't 'wow.' The turkey taste and smell were prominent, so something felt 'off' though they are healthier.
• Chicken: The healthiest of all three options is ground chicken. When I've tried it, I prefer the results over the turkey version. However, it's not as 'comforting' and hearty. You could also use shredded rotisserie chicken or leftover cooked chicken like pressure cooker shredded chicken breast or oven roasted chicken breast manually chopped/shredded– for a dish that's ready in under 15 minutes!
Serving Recommendations Skillet Enchiladas
Topping ideas:
Top the entire stove top enchiladas dish or create a 'platter' for people to choose from and customize their portion.
Avocados (cut and chopped, avocado salad, sliced, or guacamole)
Cilantro (or parsley)
Jalapeño (fresh or pickled) and/or pickled red onions (which are pink!)
Lime wedges
Sour cream or yogurt(the latter is the healthier option)
Sliced black olives
Hot sauce (so everyone can adjust the heat to their preferred level)
Crushed tortilla chips
Side dishes:
While you don't necessarily need any side for this one-pot enchilada recipe, here are some options.
Making Stove Top Enchiladas in Advance
Make ahead: There are several ways you can take 'shortcuts' to prep the skillet enchiladas in advance, including:
Veggies – You can chop the vegetables in advance and store them in the fridge, covered, for up to a day.
Meat– You can cook the ground beef three days in advance and store in the fridge (or one month in the freezer). That way, you can skip the meat browning step and cut down on cooking time.
The recipe– You could also prepare the recipe up until the point of adding the tortillas and store it in the fridge for 2-3 days or in the freezer for two months.
Storing: Store any leftover skillet enchiladas in an airtight container in the fridge for 3-4 days.
Freeze: Allow the beef enchilada skillet to cool completely, then freeze in a freezer-safe container for up to 3 months. Allow it to thaw in the fridge overnight before reheating. Just note that the tortilla strips will be more tender upon thawing.
Reheat: I recommend gently reheating the leftovers in a baking dish in the oven (At 350F/175C) until warmed through (around 20 minutes). Alternatively, you could use a microwave- heat for 2 minutes, then microwave at 20-second increments until completely heated through.
More Healthy Mexican-Inspired Dinners
You can also browse through my entire collection of healthy dinner ideas or Mexican recipes, for more inspiration!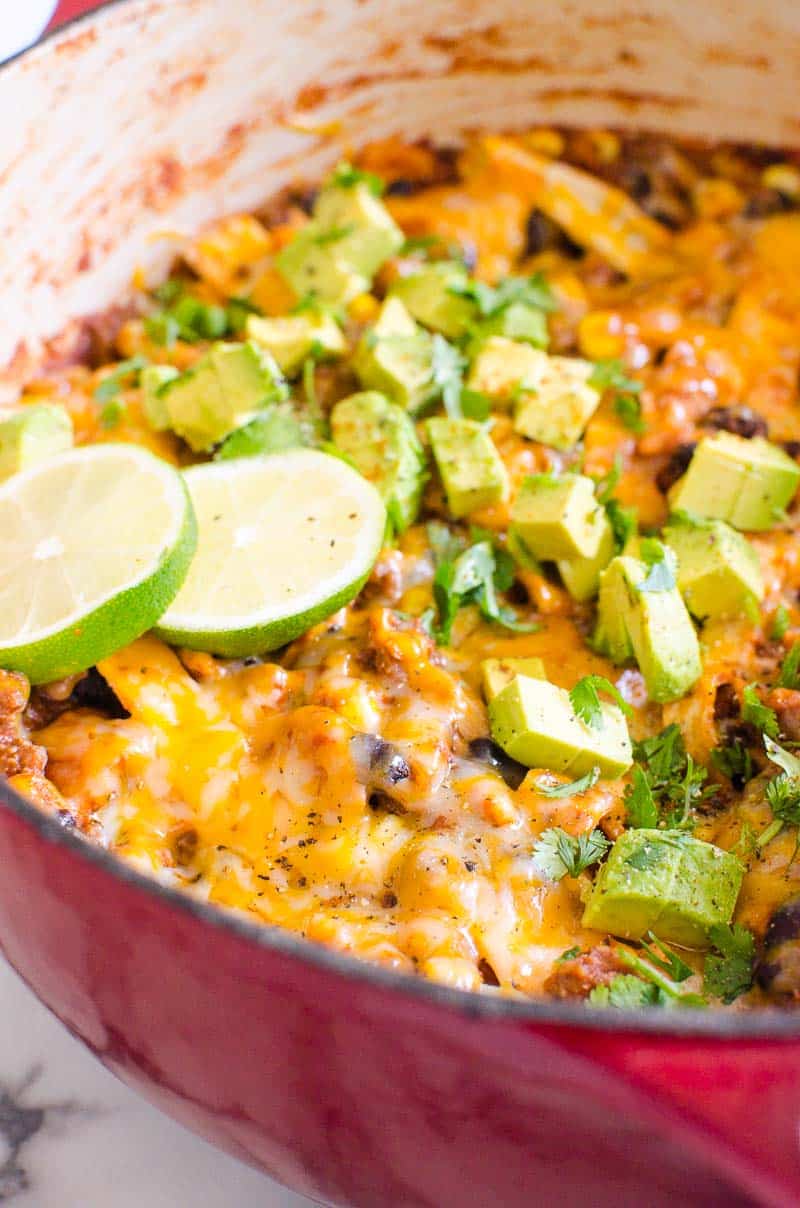 Skillet Enchiladas
These stove top Skillet Enchiladas are going to be your new favorite one-pot meal in under 30 minutes! Beef enchilada skillet combines juicy ground beef (or chicken/turkey), simmered in a homemade healthy enchilada sauce, before being loaded with hearty beans and corn, and then topped with just enough cheese to be hearty without weighing you down!
Instructions
Preheat Dutch oven or large deep skillet on medium-high heat. Add ground beef, onion, garlic, chili powder, cumin, salt and pepper. Cook until browned or for about 10 minutes, stirring and breaking into pieces often.

Add tomato sauce, tomato paste, maple syrup, water, black beans, corn and tortillas. Stir, cover, reduce heat to low and cook for 10 minutes.

Turn off heat and sprinkle enchiladas skillet with cheese. Cover and let stand for a few minutes or until cheese has melted.

Garnish with desired toppings like cilantro, green onion, jalapenos, lime and yogurt. Spoon into plates and serve hot.
Notes
Make ahead: Prepare the recipe up until the point of adding the tortillas and store it in the fridge for 2-3 days or in the freezer for two months.
Store: Store in an airtight container in the fridge for 3-4 days.
Freeze: Freeze in a freezer-safe container for up to 3 months. Allow it to thaw in the fridge overnight before reheating
Nutrition
Calories:
365
kcal
|
Carbohydrates:
30
g
|
Protein:
26
g
|
Fat:
11
g
|
Saturated Fat:
6
g
|
Cholesterol:
67
mg
|
Sodium:
591
mg
|
Fiber:
7
g
|
Sugar:
8
g