Easy and low fat Healthy Chicken Salad Recipe that is a must for hot summer days, healthy lunches and quick dinner. Low in calories and sodium with Greek yogurt and a touch of mayo this lightened up version retains all the flavor of a classic chicken salad.
We also love this avocado chicken salad!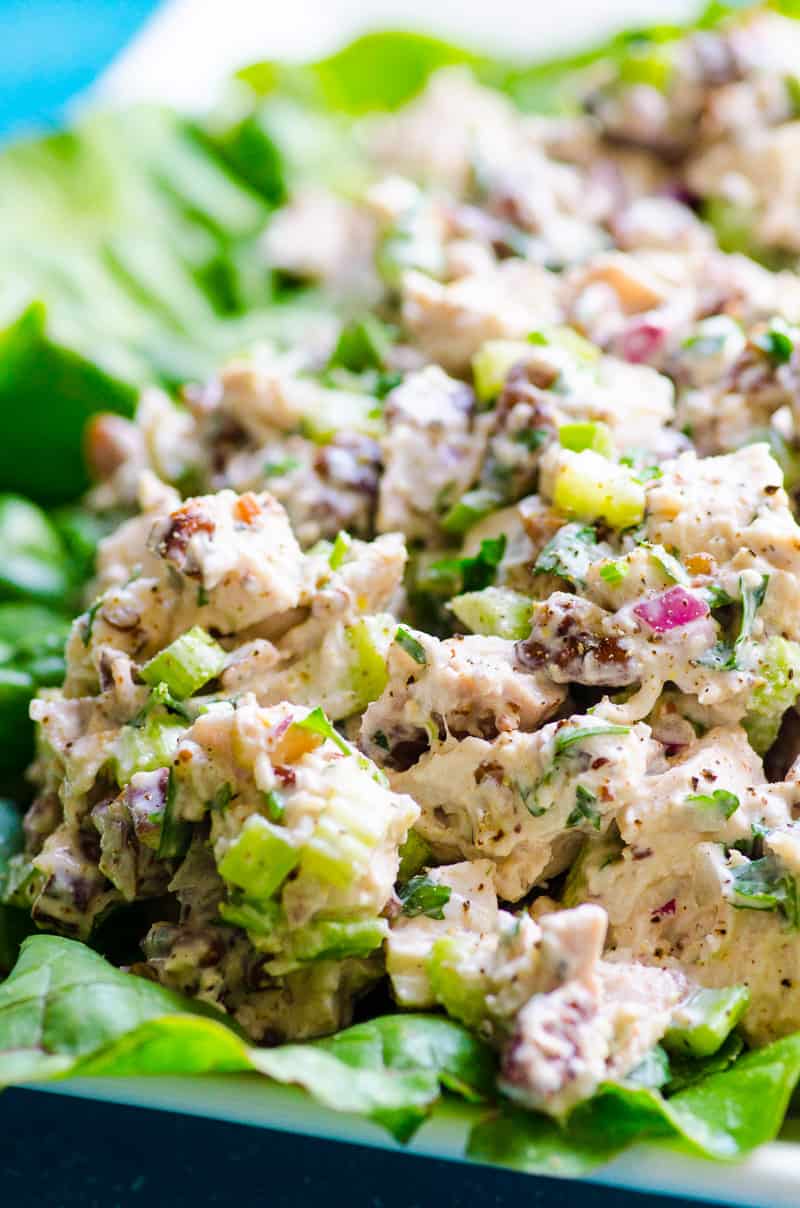 Healthy Chicken Salad Recipe
My goal with this healthy chicken salad was to keep it super simple, so we can pull it off any time. Cold salad with creamy texture, crunchy celery and red onion, this healthy salad recipe is flavorful, protein packed and tasty.
During our Southern California road trip I had chicken salad for quick lunch at Legoland. While an 8 oz serving cost US $10 and made my teeth cringe from sodium, it was extremely satisfying in 115 degrees F heat. Of course, I kept thinking we can do better, of course. 🙂
Same goes for healthy white chicken chili, mac and cheese and yellow chicken curry. Homemade versus restaurant's always tastes and nourishes better.
Traditional chicken salad with mayo contains 310 calories, 25 grams of fat and 700 milligrams of sodium per 1/2 cup serving. Yikes! Our healthy chicken salad recipe contains only 145 calories, 11 grams of fat and 186 grams of sodium. That's a huge nutrition difference.
Swapping plain Greek yogurt with just a touch of mayo for all mayo makes this a healthier chicken salad that has authentic taste while at the same time easy on your waistline!
Also, using homemade lean baked chicken breast vs. store bought rotisserie chicken reduces sodium a lot. We often skip store-bought and make our own Instant Pot whole chicken.
Why This Recipe Works?
Authentic taste: By still using a touch of mayo, you retain classic chicken salad taste.
Fresh ingredients: Herbs such as parsley or dill add loads of flavor you would be missing if you used dried.
Easy: By using leftover chicken, this healthy chicken salad recipe can be on the table in 15 minutes.
Healthy: No guilt here as this salad only contains 145c and 11g of fat compared vs. 310c and 25g of fat in the original!
Budget friendly: I omitted grapes as they tend to be a costly fruit and you can use whatever nuts you have on hand in your pantry!
Ingredients and Substitutions
You will need just a few simple ingredients to make this healthy chicken salad.
Cooked chicken: You can use any leftover cooked chicken. If you have Instant Pot, cooking chicken in batches for weekly meal prep becomes a simple task. Follow this Instant Pot chicken breast recipe for fresh chicken, or this Instant Pot frozen chicken breast if you forgot to thaw chicken.
Mayo and yogurt: Regular yogurt adds creaminess with less calories. I recommend to use more than 2% fat for better taste. And IMHO, a bit of mayo makes healthy chicken salad recipe real. Buy organic or avocado oil mayo. A little goes a long way and you avoid consuming GMO canola oil that comes with "regular" mayo.
Celery and red onion: These veggies add crunch and flavor. White onion or green onions are OK too.
Nuts: I used pecans and toasted them lightly on a skillet to add more crunch and flavor. You can use any nuts like cashews, almonds, pine nuts and walnuts.
Seasonings: Dijon mustard or regular prepared mustard. Then any acid like white wine vinegar, red wine vinegar or lemon juice. Truly any! Salt and ground black pepper.
Fresh herbs: Fresh parsley, fresh dill, fresh basil leaves or even fresh cilantro add a lot of flavor while making missing mayo unnoticeable.
Recipe Tip
Add red grapes or green grapes for a hint of sweetness, if they are on sale or you have them. As much as I love grapes I know they are expensive, so I did not include them as part of the recipe and I would like to keep this recipe simple.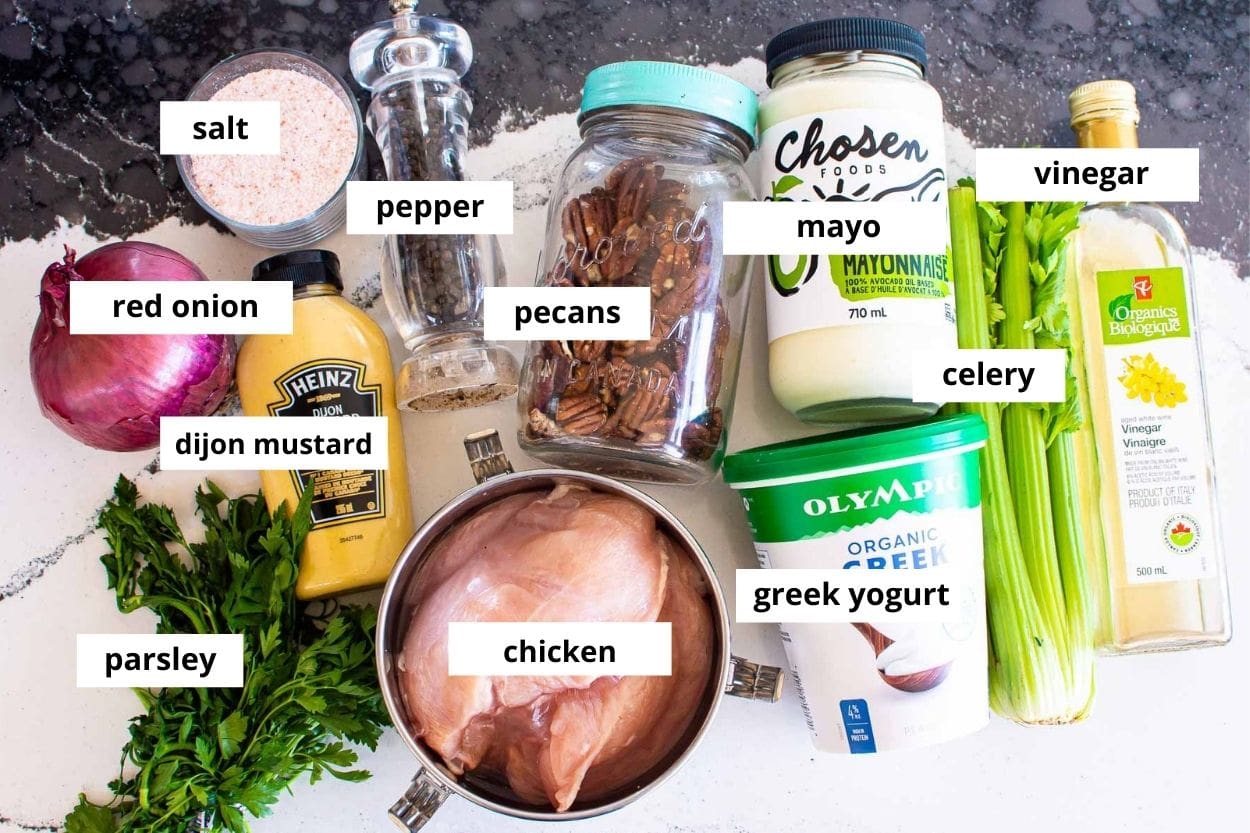 How to Make Healthy Chicken Salad
Here is a quick overview how to make healthy chicken salad step by step. Find full recipe card with measurements below.
Cook chicken breasts if you don't have leftovers already from meal prepping. Air fry chicken breast or make Instant Pot shredded chicken breast. If you love dark meat, you can use baked chicken thighs.
Toast nuts in a small skillet on low-medium heat just until fragrant and brown-ish. You will smell them. 🙂 Cool and chop.
Combine all ingredients in a large bowl: Toasted pecans, chicken, celery, onion, parsley, yogurt, mayo, mustard, vinegar, salt and pepper. Stir gently to mix and adjust salt to taste, if necessary.
Refrigerate for at least 2 hours as this salad tastes best cold. Just like avocado egg salad or healthy potato salad.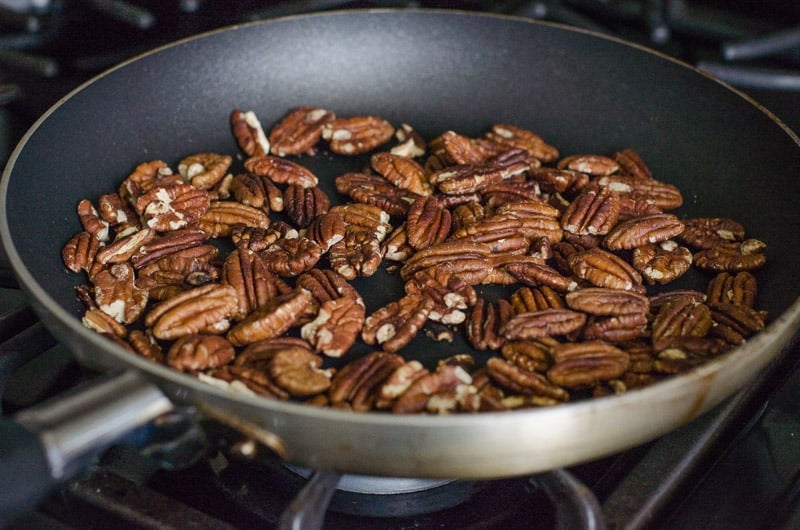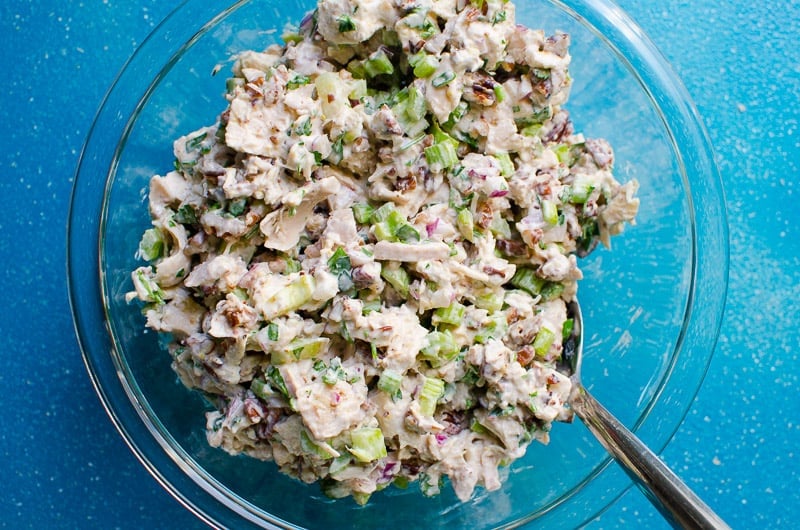 Serving Recommendations
Prepare this best chicken salad in the world and serve it in one of our favorite ways. Sky is the limit!
Healthy chicken salad sandwiches: Serve between slices of bread with lettuce. My favorite bread is sprouted whole grain bread like Ezekiel.
Over salad greens: On a bed of lettuce, spinach or kale leaves. Or add a scoop to spinach salad recipe or lettuce salad.
Low carb: On Swiss chard leaves or any lettuce. Kind of like chicken lettuce wraps or try it will grilled romaine!
Whole grains: Serve with cooked quinoa or brown rice or in a whole grain tortilla.
Soup and salad: A classic restaurant combination with lentil spinach soup.
Cold pasta salads: As part of a picnic spread with healthy pasta salad or tomato pasta salad.
With a vegetable platter: Fresh raw veggie such as carrots, peppers, snap peas, cucumber with healthy veggie dip or hummus.
Making Healthy Chicken Salad Recipe in Advance
Refrigerate healthy chicken salad leftovers for up to 5 days. I like to place it in a glass container or bowl with tight plastic lid.
I have not tried freezing it but I don't think creamy chicken salad freezes well. It has a lot of fresh veggies to go limp once thawed. But maybe because they are coated in mayo and yogurt… Let me know if you try. 🙂 We never have any leftovers to freeze.
FAQs
How is this chicken salad healthy?
To make low fat chicken salad, I cut back mayo in half and add 1/2 cup plain (Greek) yogurt to make salad creamy, reduce saturated fat and calories. I recommend to use 2% and higher fat content yogurt because fat-free Greek yogurt lacks flavour and is flat.
Is it healthy to eat chicken salad everyday?
Really, this is somewhat of a loaded question! I would not recommend eating typical chicken salad every day as the fat, calories and sodium content are quite high.

Eating healthy chicken salad every day might be acceptable but I still believe in everything in moderation. It's good to mix it up with other easy healthy lunch ideas.
Can you substitute Greek yogurt for mayo in chicken salad?
You can and we did! We added a touch of mayo to the Greek yogurt to keep the authentic chicken salad taste. You can use all Greek yogurt, but you might miss that authentic taste.
Can I used grilled chicken for this salad?
You could use grilled chicken breast for this salad or you could just make our perfect formula grilled chicken salad with poppy seed dressing. Actually, just put both on your easy lunch list for this summer!
More Healthy Chicken Recipes to Try
Browse all 65 healthy chicken recipes to discover even more!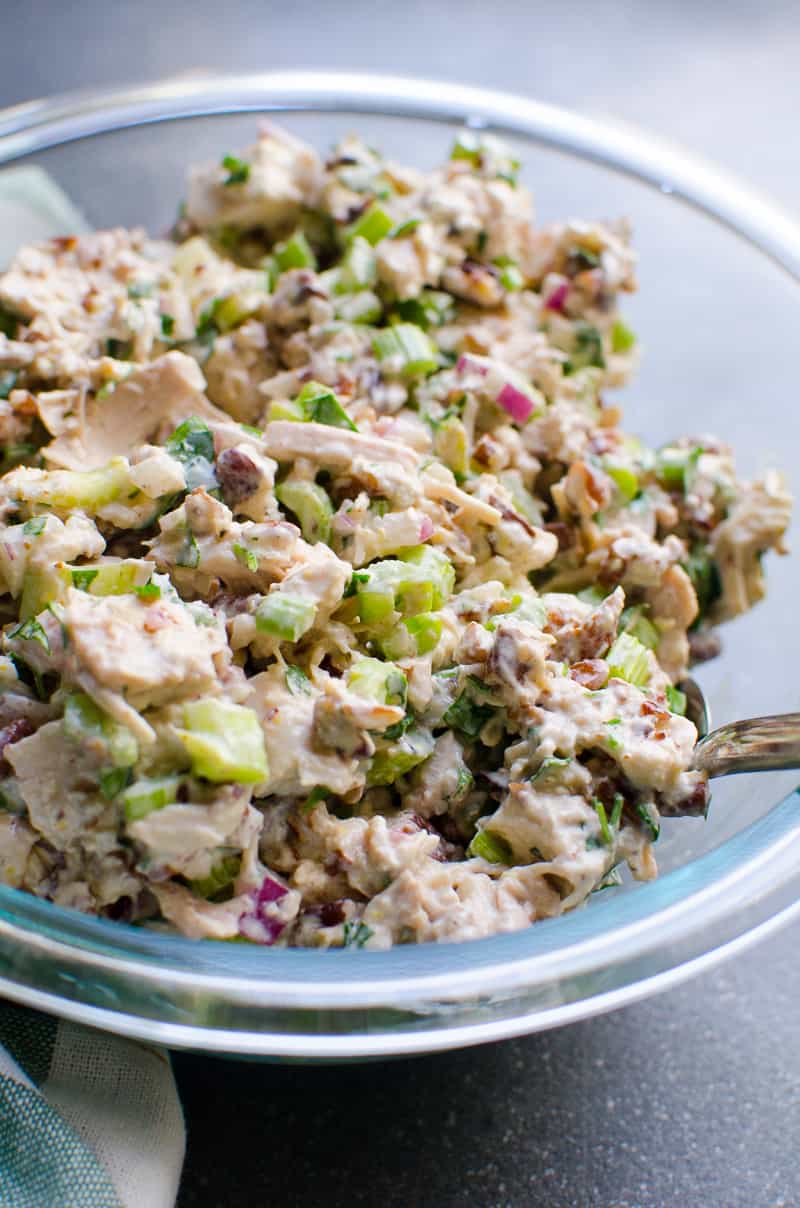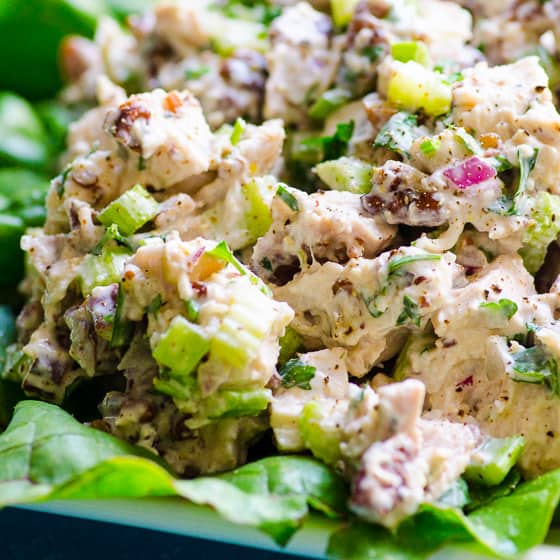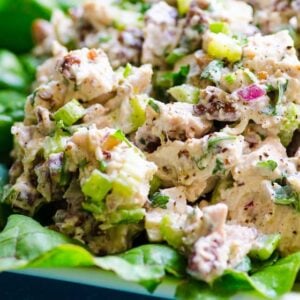 Healthy Chicken Salad Recipe
Easy and low fat Healthy Chicken Salad Recipe that is a must for hot summer days, lunches and quick dinner. Low in calories and sodium with Greek yogurt and a touch of mayo this lightened up version retains all the flavor of a classic chicken salad.
Ingredients
1

lb

cooked chicken

3 cups cubed

3/4

cup

3 large celery stalks

diced

1/4

cup

red onion

finely chopped

1/4

cup

parsley or dill

finely chopped (optional)

1

cup

pecans, almonds or cashews

1/2

cup

plain yogurt

2+% fat

1/4

cup

mayo

I used avocado oil mayo

2

tsp

Dijon mustard

1

tsp

any vinegar

except balsamic

1/2

tsp

salt
Ground black pepper

to taste
Instructions
In a small skillet, add pecans and toast on low-medium heat until fragrant and brown-ish, stirring often. Transfer to a cutting board, let cool a bit and chop coarsely.

In a medium bowl, add toasted pecans, chicken, celery, onion, parsley, yogurt, mayo, mustard, vinegar, salt and pepper. Stir gently to mix and adjust salt to taste if necessary.

Refrigerate for at least 2 hours as salad tastes best cold.

Serve with greens, quinoa, brown rice or make a chicken salad sandwich with whole wheat bread.
Notes
Store: Refrigerate in an airtight container for up to 5 days. I have not tried freezing the salad and am not sure fresh veggies and herbs will hold up well to it.
How to cook chicken for salad: Here is how to bake chicken breast. If you have Instant Pot, you can make Instant Pot frozen whole chicken or Instant Pot whole chicken and use breasts from it. Or just make Instant Pot chicken breast.
Onions: White or green onion would work well in place of red.
Sweet addition: Add sliced grapes or chopped apple if you wish. Grapes are pricey often, so I keep them out.
Use any mayo: I use avocado oil mayo because it is healthier and we always have it on hand. Olive oil mayo or vegenaise work as well.
Please do not use 0% yogurt: It tastes chalky and salad will taste flat. Plain regular or Greek yogurt with fat content 2% and higher work.
Nutrition
Serving:
0.5
cup
|
Calories:
180
kcal
|
Carbohydrates:
2
g
|
Protein:
8
g
|
Fat:
16
g
|
Saturated Fat:
3
g
|
Cholesterol:
32
mg
|
Sodium:
173
mg
|
Fiber:
1
g
|
Sugar:
1
g