Healthy Salmon Burgers packed with wild salmon, red lentils, and several aromatics for a juicy, pescatarian treat. Pan fry until golden and serve up in a bun or lettuce with mango slaw or freeze for later!
Other crowd pleasing burgers include healthy black bean burgers, ground chicken burgers, and turkey burgers!
Grilling season is slowly but surely creeping up on us, and I can't wait for grilled cedar plank salmon and grilled salmon. But in the meantime, it's great to have a healthy salmon burger recipe I can pan fry any day of the week!
These easy salmon burgers are one of my family's favorite healthy dinners!
I used to buy salmon burgers from Costco, as I loved that they were made with wild salmon. I wasn't, however, a fan of the canola oil on the ingredients list.
That's when I came up with the idea to make my own homemade salmon burgers. While I do have a recipe for canned salmon cakes, this recipe uses fresh salmon for a flavor packed meal.
These salmon burgers are filled with healthy fats, omega fatty acids, protein, B vitamins, potassium, B vitamins, and antioxidants and that's all just from the salmon.
Add in nutrient rich red lentils, flavor packed aromatics, and an egg for binding and that's all you need for the best healthy salmon burger recipe.
How to Cook Healthy Salmon Burgers
The key to a great salmon burger is that your patties stay together while they cook so preparation is key.
For this recipe, you will need finely minced salmon. While some may like to hand mince their salmon, I find it much easier to use my food processor.
Add your cubed salmon to your food processor and pulse 15 – 20 times. You may need to do this in two batches. Don't over process it into a mush, or the texture will be off! We don't want a 'paste,' just finely chopped salmon bits, to retain texture.
Since these healthy salmon burgers contain no breadcrumbs, after combining them with the other ingredients, shape them by packing them in a 1/2 cup. Handle gently and now you are ready to pan fry!
Use the minimum amount of oil needed to pan fry the burgers for crispy results without weighing them down with oils, and you have a light yet filling lunch or dinner!
The Ingredients
One of the best things about making any food at home from scratch is being 100% in control of every single ingredient that you're going to eat. This healthy salmon burger recipe is no exception.
Red lentils: They add extra protein and fiber, and act as a 'binder'. Naturally gluten free and because they're the same color as the fish, they blend in perfectly.
Salmon: I recommend buying wild salmon, not farmed. I use Sockeye salmon. Any wild species will work, pink, Coho, or spring salmon.
Quality matters when it comes to picking your salmon! If you see 'Atlantic' on the package, then 9/10 it's farmed!
Egg: You'll need to use one egg to act as an additional binder for the healthy salmon burgers.
Aromatics: I used onion, garlic, Dijon mustard, parsley, salt and black pepper. If dill is in season, though, then I recommend using dill instead of parsley. Cilantro would also work.
Oil: I recommend either coconut or avocado oil for a neutral, high heat option.
Burger buns: I like to use either whole wheat burger buns or ditch the bread entirely and use lettuce leaves for a low carb option.
Mango slaw: I love how the sweetness of the mango slaw pairs with healthy salmon burgers.
The Directions
Cook the lentils: Add your lentils to a small pot with water, cover, and bring to a boil. When boiling, reduce the heat to low and simmer for 10 minutes, then set aside.
Mince your salmon: While the lentils cook, add the salmon to a food processor and pulse a few times until it's finely chopped. Then transfer it to a large bowl.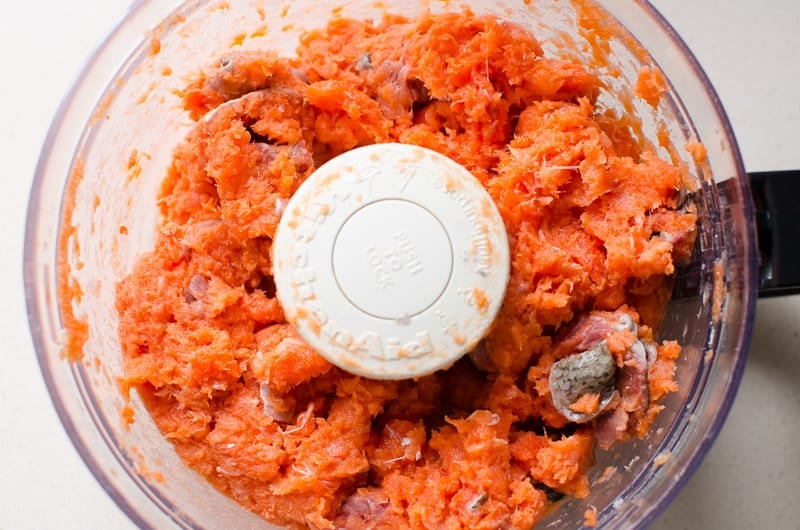 Prepare the salmon burger mixture: Add the onion and garlic to the food processor and process into a puree. Stop to scrape down the sides of the jug when needed. Then add it to the bowl with the salmon and add the lentils, egg, mustard, parsley, salt, and pepper. Mix well using your hands until it's thoroughly combined.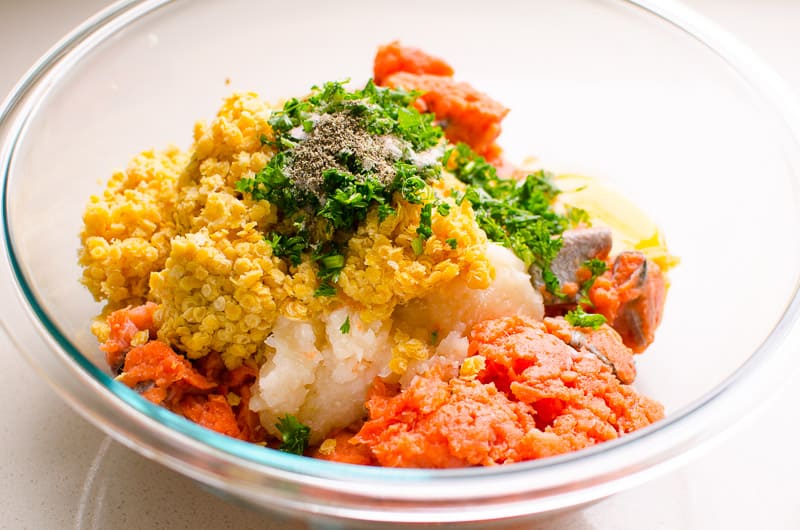 Shape the patties: Preheat a large non-stick skillet over medium heat with 1 tbsp oil. To form the salmon burgers, pack a ½ cup measuring cup with the mixture, then use your hands to shape it into a patty that's around 1-inch in thickness (be careful, they're delicate). Cook salmon burgers in batches.
Cook the healthy salmon burgers: Add as many patties as possible to your heated skillet that can fit and cook for four minutes or until the edges begin to turn white. Then carefully flip the burgers and cook for a further 4 minutes. Repeat with remaining mixture.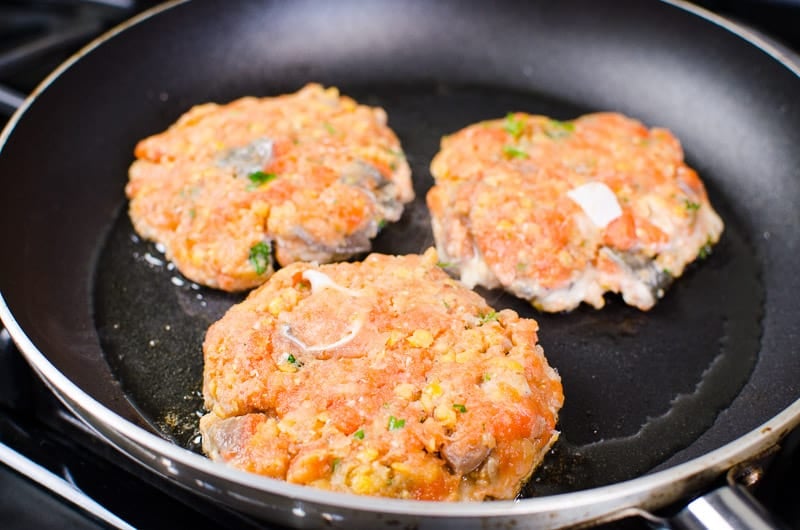 Add more oil between batches of cooking your healthy salmon burgers so they don't stick to the pan.
Prepare slaw: While you are waiting on your salmon burgers, prepare your mango slaw.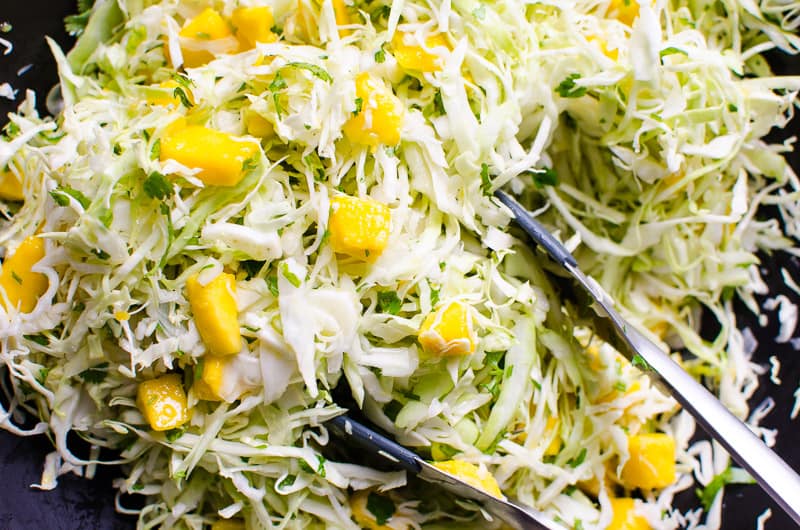 Expert Tips and Tricks
Chill the patties: If you want to further 'bind' the patties, chill them in the refrigerator for 20 minutes (an hour is best for grilling).
Add a splash of lemon: Splash burgers with a little bit of lemon juice after cooking to brighten and increase 'fresh' flavors.  
Don't puree the salmon: This will yield gooey, mushy salmon burgers. All you want is a finely chopped consistency. That's why it's important to remove the salmon when you use the processor for the onion and garlic, too.
Don't overcook the burgers: Or you'll end up with dry, tough burgers!
The salmon skin: I kept the salmon skin on for extra nutrients (you won't feel or taste it in the burgers). However, feel free to remove it with a sharp knife before processing the salmon.
Experiment with seasonings: I like to keep things very simple and allow the salmon to shine. However, feel free to add a little chili/cayenne powder, Cajun seasoning, or Italian/Mediterranean herbs to the burger mixture. 
FAQs
How much salmon do I need?
For this recipe you need 2 pounds of fresh salmon. Approximately, 1/2 a fillet is 1 pound, so you will need one whole fillet. Weigh the salmon if you are not sure.
Can I omit the egg or substitute it?
I use the egg as a binder in this salmon burger recipe, which is critical while cooking the patties. You could experiment with using 2 – 3 Tbsp thick Greek yogurt in place of the egg, but I have not tested it.
Can I make salmon burgers without a food processor?
Yes. You will need to hand mince the salmon. The easiest way to do this is to chop the salmon almost like a fine grid, creating slices ½-inch (or less) apart. You can then go back over the salmon with your knife a few times to further slice some of the pieces.

For the onion and garlic, mince the garlic using a garlic grater or by hand, chopping and scraping it against your chopping board. Slice the onion in a similar way to the salmon but continue to chop until they are very fine pieces or use a grater.
Can you bake salmon burgers?
I can't see why not, though I haven't tried with this salmon burger recipe. Bake at 450 degrees F for 15-20 minutes, flipping halfway (carefully) or until the burgers have an internal temperature of at least 145 degrees F.
What Should I Put on Healthy Salmon Burgers?
If the mango slaw doesn't sound like 'your thing,' here are a few other salmon burger toppings:
Can I Cook These on the Grill?
Yes, you should be able to. You just need to be careful, to avoid the salmon patties falling apart. Chill them for 40-60 minutes to help them hold together even better.

Make sure to clean and oil the grill well. Use a grilling silicone mat if you have one, or grill them over a piece of aluminum foil (sprayed with cooking spray).
How to Know When Salmon is Done?
To check the healthy salmon burgers are ready, make sure that they feel firm when pressed in the middle. It should have lightened in color, be opaque, and flaky. Alternatively, you can use a thermometer to make sure the center of the burger is 145F.
What to Serve with These?
When I think of what goes with salmon, there are a few ingredients that I naturally want to pair it with, including avocado or sweet potato. Here are a few dishes that you could serve alongside the healthy salmon burgers.
Meal Prep and Storage
Make ahead: You can assemble the salmon patties up to a day in advance and store them, covered, in the refrigerator.
Store: Once baked, the salmon burgers will last in an airtight container within the fridge for up to 5 days.
Freeze: Allow the patties to cool entirely before laying them on a parchment lined baking sheet and freezing. Once frozen, transfer the now solid burgers to a large Ziplock bag.
Reheat: To reheat frozen uncooked healthy salmon burgers follow the same instructions above but add 5 minutes. To reheat leftover cooked patties just cook over low heat in the skillet until warmed through.
More Burger Recipes to Try
More Healthy Salmon Recipes
You might also enjoy browsing my entire collection of salmon recipes or healthy grill recipes for year round enjoyment!
Healthy Salmon Burgers with Mango Slaw
Healthy Salmon Burgers packed with wild salmon, red lentils, and several aromatics for a juicy, pescatarian treat.
Ingredients
1/2

cup

red lentils

uncooked

3/4

cup

water

2

lbs

salmon fillet

cubed

1

medium onion

cubed

2

tbsp

Dijon mustard

3

tbsp

parsley

finely chopped

1

tsp

salt

1/4

tsp

ground black pepper

2

tbsp

oil

for frying

10

whole wheat burger buns and/or lettuce leaves
Instructions
In a small pot, add lentils and water, cover and bring to a boil. Reduce heat to low and cook for 10 minutes. Set aside.

In the meanwhile, add salmon to a food processor and pulse a few times until it has finely chopped texture. Do not over process into fine mush. Transfer to a large bowl.

Add onion and garlic to a food processor; process until pureed, stopping and scraping the sides of the bowl. Transfer to a bowl with salmon along with cooked lentils, egg, Dijon mustard, parsley, salt and pepper. Then mix well using your hands.

Preheat large non-stick skillet on medium heat and swirl about 1 tbsp of oil to coat. Pack 1/2 cup measuring cup with salmon mixture, using your hands form into a patty and place carefully on a skillet. Add as many patties as skillet can fit and cook for 4 minutes or until white edges appear. Carefully flip and cook for another 4 minutes. Repeat with remaining mixture, cooking in batches and adding more oil.

To serve, place warm salmon patty on a bun or lettuce leaves (my choice) and top with a slaw.
Notes
Store: Refrigerate in an airtight container for up to 5 days.
Freeze: Cooked leftovers can be frozen for up to 3 months.
Freezer meal:

Place burgers on baking sheet lined with parchment paper, freeze completely and transfer to a large Ziploc bag. Cook from frozen following recipe's instructions + 5 minutes.

Red lentils: They act as a binder. You can try to replace them with breadcrumbs or quinoa if needed, but I haven't tried this.
Salmon: I recommend buying wild salmon, not farmed. I use Sockeye salmon.
Aromatics: If dill is in-season, though, then I recommend using dill instead of parsley. Cilantro would also work.
Oil: I recommend either coconut or avocado oil for a neutral, high heat option.
Please see Recipe Post for more Tips and FAQs.
Nutrition
Serving:
1
patty (no bun)
|
Calories:
198
kcal
|
Carbohydrates:
7
g
|
Protein:
21
g
|
Fat:
9
g
|
Saturated Fat:
3
g
|
Cholesterol:
66
mg
|
Sodium:
315
mg
|
Fiber:
3
g
|
Sugar:
1
g